Escort has now released firmware 1.8 for the Escort Redline 360c (purchase the RL360c here).
This is a relatively minor update and is available over WiFi or via Detector Tools. Escort has posted a changelog so let's talk about the improvements with this latest update.
Slight improvement to Ka sensitivity
We've seen an improvement in Ka sensitivity when firmware 1.6 was released and it looks like 1.8 also adds further improvements. Testing would be required to see how much of an improvement there is and if it applies to all Ka frequencies. Regardless though, Ka band sensitivity improvements are always welcome. 🙂
Reduced false alerts from CAS sensors in GM vehicles
Looks like we're getting some improvements to the BSM filtering, specifically against GM vehicles. Awesome.
Escort states that is development is on-going so as they continue working on this, hopefully we'll see even more improvements down the line.
Additional improvements for arrow transitions
The Redline 360c is also getting some improvements to its arrows. Escort has released several updates now that all featured improvements to arrows and they're stating that development is still on-going.
With 1.8 against radar sources pointed at me, I notice improved arrow transition speeds compared to 1.7. With 1.7, the arrows would typically flip after passing a source. With 1.8, they point sideways before I pass and then flip to the rear after I pass.
When passing radar sources aiming in the opposite direction, arrow transition speed is more similar with the two firmwares.
Minor bug fixes
No details on what the bug fixes address, but these are definitely welcome nonetheless.
How to Update your Redline 360c
There's two ways to update your detector: over WiFi or via your computer.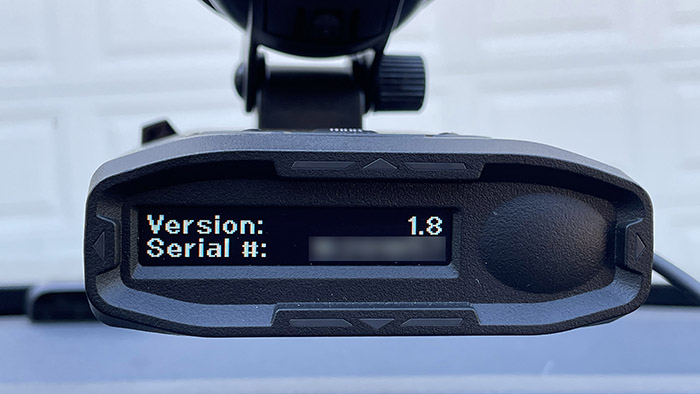 If you'd like to update with your computer, make sure you download Escort Detector Tools. Plug in your RL360c via USB, and the software will update your detector.
If you've got your detector connected to a WiFi hotspot, it will check for the latest update on startup. When the update is available, it'll prompt you and you can press the Vol + button to start the update process.
Once you update your detector and have a chance to run it, let me know how it works out for you, especially if you see improvements in the arrow performance.
For full discussion and testing, head over to this thread on RDF.
Finally, if you haven't done so yet, you can purchase your Redline 360c here.
This website contains affiliate links.

Click here to read my affiliate disclosure.