Dashcams are awesome to pair with a radar detector, but what's the best dashcam and why do you need one? (Updated October 2019)
Car Dashcam Reviews
Why Do You Need A Dashcam?
Accident: Dashcam Protects Driver from False Accusation
Dashcams are a must-have in case of an accident. Here's an example of a vehicle that accidentally backed into another car while stopped at a stop light. The at-fault driver ahead was initially apologetic and then later went back and told his insurance company that he was rear ended, pinning the blame on the dashcam owner. Only the dashcam saved the rear driver from paying the deductible and having to deal with the hike to his insurance. Full story here.
This website contains affiliate links. Click here to read my affiliate disclosure.
Accident: Rear Dashcam Protects Driver
Some dashcams also come in two channel variants (front and rear camera) which is incredibly helpful in case something happens from behind such as how this next driver was hit from behind while stopped, pulling into a parking space. The police incorrectly wrote up the police report and the driver behind who was at fault tried to blame it on the front driver. Again it was the dashcam footage that saved the front driver and the driver in the rear was proven to be 100% at fault. Full story here.
Accident: Dashcam Protects Parked Car from Hit & Run
You can also use the to monitor your car when you're parked as well in case anything happens while you're gone. Check out this driver who backed into my car while I was parked. The camera detected the impact and recorded the whole thing while the other driver drove off. As soon as I got back in the car, my dashcam told me that an impact was detected while the car was parked.
(Note: If you want this feature, make sure you opt for a camera that can automatically switch between driving mode and parking mode, no button pressing required.)
Recording Radar Detector and Laser Jammer Saves
Dashcams also let you record your saves so you can go back later and review how things went and even share your saves with others.
Dashcams Record Crazy Events on Road
Even if you don't get into an accident (knock on wood), crazy stuff happens on the road and it can be incredibly helpful to have a dashcam rolling.
Make Beautiful Scenic Videos
On a lighter note, if you go on road trips through beautiful places, you can share clips of your drives with your friends!
What Makes Dash Cameras Unique?
Dashcams are different than action cameras like GoPros. I love GoPros and use them for most of my normal YouTube videos, but specialized dashcams do a few key things that GoPros can't. For these reasons, dashcams are better as permanent set-it-and-forget-it cameras:
Automatically power on and start recording when you start your car
Automatically stop recording and power off when you park
When your memory card gets full, it overwrites old footage so you can record endlessly
Detect any impacts such as accidents and protects that clip from being overwritten
Offers the ability to record while your car is parked and shut off before draining your car battery
Can notify you if anything happened to your car while parked
Advanced ones automatically upload important footage to the cloud and remotely monitor your car from your phone
Best Dash Camera of 2019?
There's different dashcams at difference price points, with different features, and different levels of video quality. Which one should you get?
Here's my top picks including both basic and inexpensive dashcams as well as higher end and more feature-packed dashcams.
Best Budget Front only Dashcam: Viofo A119 v3 ($109)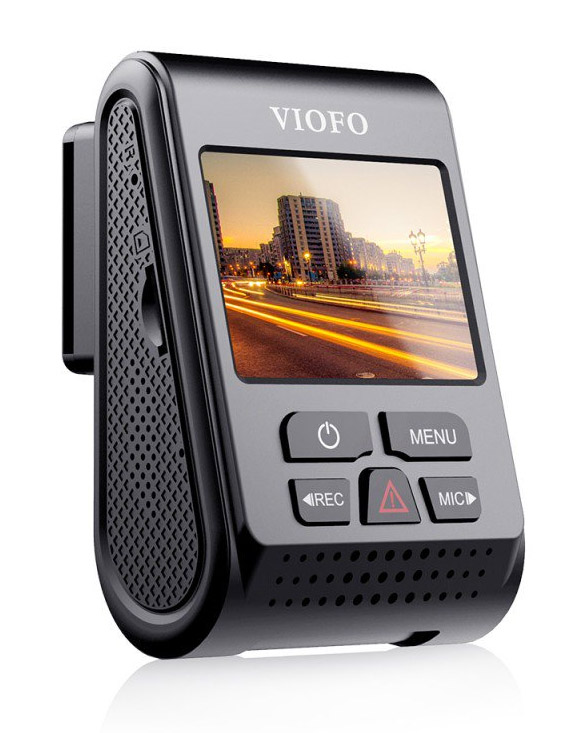 The best dashcam you'll find in the ~$100 price range is the Viofo A119 v3. It starts at just $109 and offers outstanding video quality for its price point, recording at just over Quad HD (2x the resolution of 1080p at 2560×1600) using a new 5MP Sony Starvis sensor. In fact it has some of the best video quality you'll find at this price point. It also adds some features only previously seen on higher end dashcams.
Daytime video quality is great and it does a very nice job capturing license plates. Low light sensitivity has been increased significantly compared to previous models and so now it also does a great job of recording even in difficult dark situations.
The A119's wedge-shaped design means it sits flush against your windshield. The lens tilts up and down to ensure you can point it forward. The 2″ LCD on the back makes it easy to change settings, view recorded footage, and aim the dashcam's lens. Video quality is very good with the A119 v3. If anything interesting happens on the road, a quick tap of the red emergency record button on the back (bottom, center) will mark this clip and protect it from being overwritten once your card fills up.
If you get it with the optional GPS mount ($10, recommended), the dashcam can log your speed and location and display that on screen. It also helps the camera automatically sync the time and date with GPS satellites. The GPS mount also adds an additional power connector more conveniently at the top of your dashcam's mount, instead of just the one built into the side of your dashcam, giving you a more streamlined install. With the power cable plugged into the mount, it' easier to mount and unmount your camera.
The new 3rd generation version of the A119 adds buffered parked recording capabilities, something only previously seen on higher end dashcams. When you wire in the optional new hardwire cable ($15) into the GPS module, the dashcam can also record while you're parked, using your car's battery for power. It can use motion detection to capture when something happens, plus it can specifically record impacts to capture a hit-and-run. The A119 v3 adds buffered impact detection so it can record continuously, capturing everything before, during, and after the impact. (Previous versions would only record and save the video after the impact so you'd miss the event itself. This new 3rd gen model with buffered recording will save the video 15 sec before and 30 sec after the impact, ensuring you capture the entire event.)
The A119 v3 has completely new internals compared to the various A119 v2 models. This essentially takes all the best features from the A119 v2, A119S, and A119 Pro, packs them all into one camera, adds even more functionality, and gives us one of the best budget dashcams available on the market. Here's my complete review of the A119 v3:
Purchase the Viofo A119 v3 with GPS
Purchase an inexpensive MicroSD Card: 64gb, 128gb, 256gb
Purchase the Viofo hardwire cable
Best Affordable Front/Back Dashcam for Driving & Parking: Viofo A129 Duo ($159)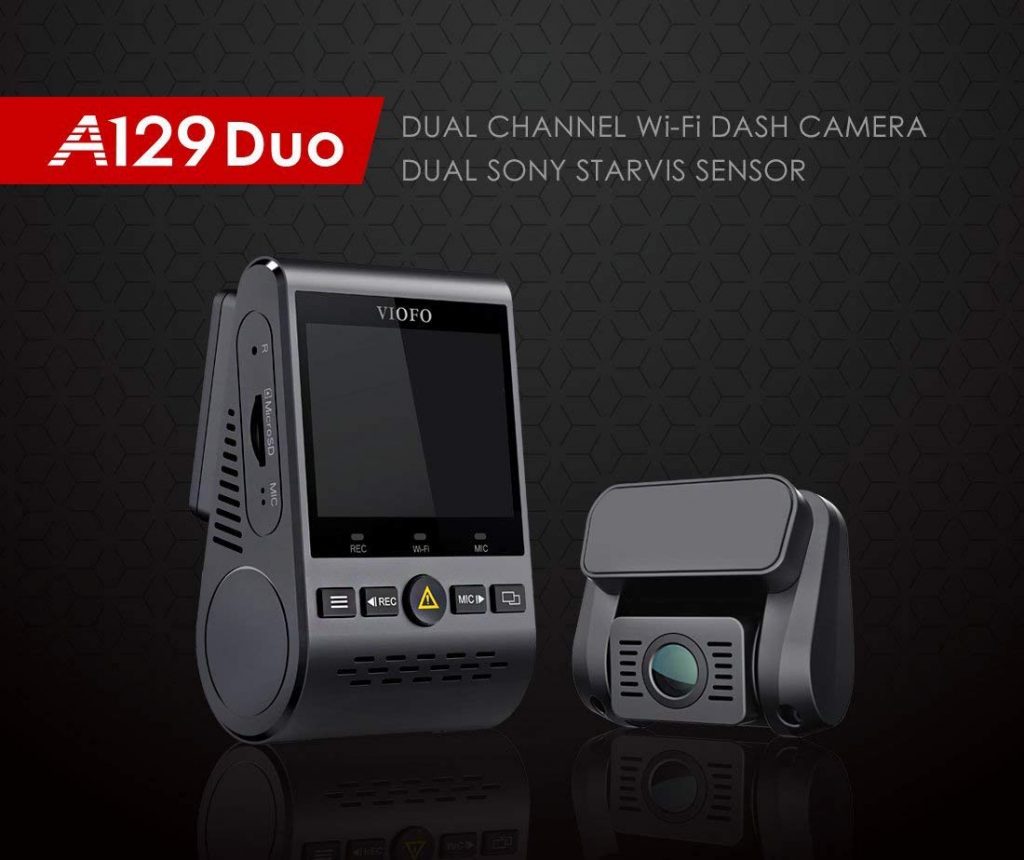 If you also want your dashcam to be able to record while you're parked, take a look at the Viofo A129 Duo. It looks similar to the A119 series dashcams, but it has been physically redesigned. Like the A119 v3, it can record while driving and while you're parked, plus a firmware update has now added buffered parking recording too.
Besides the new parking mode functionality, they've also added WiFi so you can change settings and view and download footage from your phone, making things much more convenient. You can also use the back screen itself to do the same thing. (The A119 doesn't offer WiFi so everything is done from its LCD screen.)
One of the two biggest differences is that the A129 is also available as a dual channel version (hence the name Duo) meaning you can get it with a rear camera if you'd like to also have a second camera installed on your rear window, recording everything happening behind you. The other big difference is that the A129's cameras record at 1080p/Full HD instead of 1440p/Quad HD so it doesn't have quite the same resolution and detail. (Note: For higher video quality, you can step up to the 4K A129 Pro Duo instead.) Recording both front and rear, as well as when driving and when parked, you now get complete coverage with your dashcam.
Buy the Viofo A129 Duo (no GPS): $159
Buy the Viofo A129 Duo (with GPS): $169
Buy an inexpensive MicroSD Card: 64gb, 128gb, 256gb
Best High End Dashcam: Blackvue DR900S-1CH ($369) or DR900S-2CH ($479)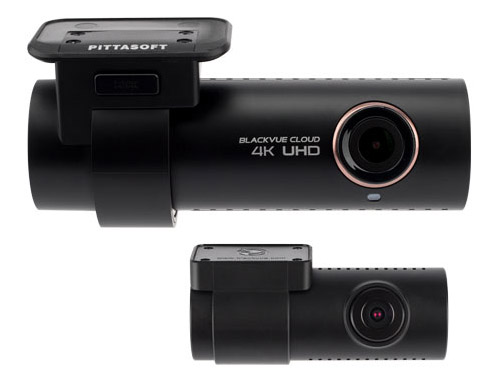 Finally, my favorite dashcam and the one that I personally run in my own car is the Blackvue DR900S-2CH. It's jam packed with useful features, shoots in 4K to capture details, offers the best parking mode recording available of any manufacturer, is available in a single and dual channel version depending on if you'd like a rear camera, and offers cloud support for remote notifications and alerts to your phone. In short, it's my top pick for title of The Ultimate Dashcam.
4K video (4x the resolution of 1080p) is the big new feature for the DR900S over its predecessor, and my previous primary dashcam, the DR750S-2CH. Stepping up from 1080p to 4K, the DR900S is noticeably better at capturing details such as license plates farther away than previous models. It also adds a new and more efficient compression algorithm (H.265) which allows file sizes to be comparable to 1080p while offering you the detail of 4K.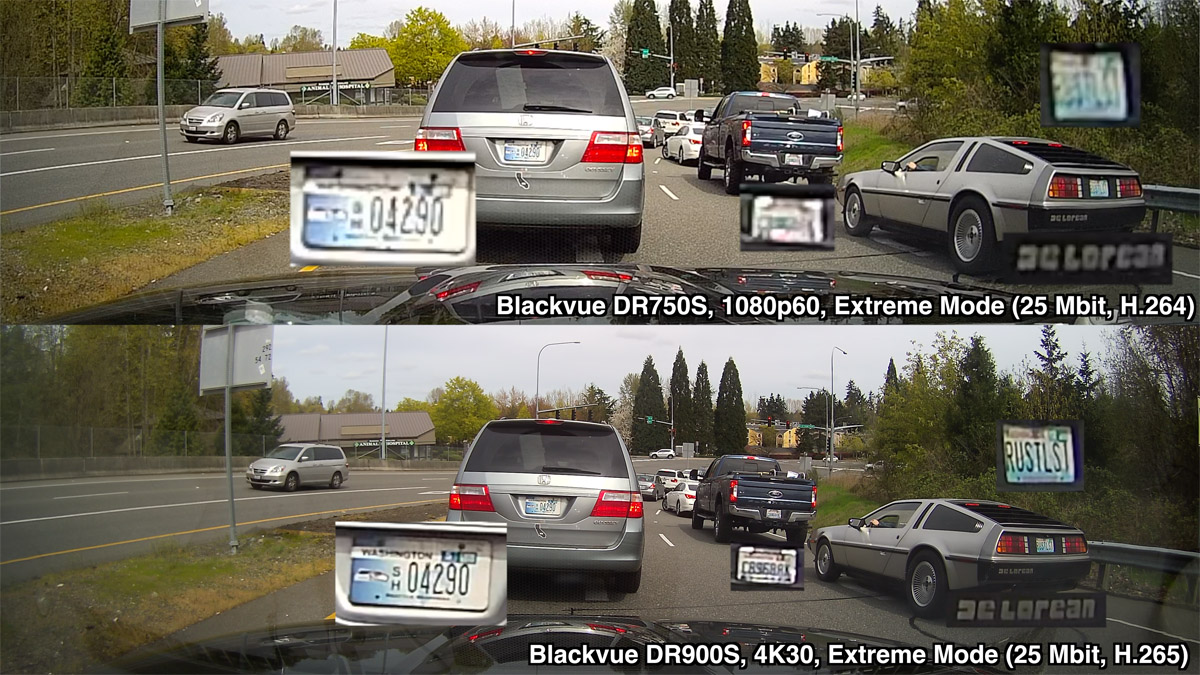 Built in to the camera you'll find GPS to log your location and speed (which can be disabled) as well as WiFi so you can pair it to your phone to view footage and change settings. When paired to a WiFi hotspot in your vehicle or in a nearby building like home or work, the DR900S can send notifications and video clips to your phone in case of an accident. You can also log into your dashcam remotely and see what it's seeing in realtime like a security camera which is awesome for additional peace of mind.
Blackvue's dashcams also offer the ability to automatically switch between driving mode and parking mode automatically, an absolute must if you want your dashcam to record while you're parked. When you're parked, your DR900S is powered by either your car battery using the Power Magic Pro voltage monitor (I get about 12 hours of record time) or a dedicated battery pack like the Blackvue B-124 (I get about 20 hours of record time) and the camera offers motion detection, time lapse recording, and impact detection.
Should someone hit your car while you're gone, the dashcam will verbally tell you next time you get in. You can view the footage immediately from your phone or when  popping the memory card into your computer. If you're worried about a thief stealing your dashcam, your DR900S can be set up to automatically upload any events to the cloud as soon as they happen so the thief is captured on camera as soon as they touch your car and so you'll have all of your important footage saved even if the camera itself is stolen.
The DR900S is the complete all-around package. You can get it in a single channel form (front camera only) or in the dual channel form (front cam is 4K, rear cam is 1080p). I prefer running the dual channel version for complete coverage and protection. If you're looking for the best dashcam on the market, this is the one I'd recommend you get.
Note: The Blackvue branded cards are pretty pricey and not necessarily better than other brands of cards. Take a look at the links below for less expensive cards that are designed specifically for dashcam usage, work great with the DR900S, and will save you some cash. 🙂
Purchase the Blackvue B-124 dedicated battery pack