Dashcams are awesome to pair with a radar detector, but what's the best dashcam and why do you need one? (Updated June 2018)
Why Do You Need A Dashcam?
Recording Radar Detector and Laser Jammer Saves
First off, dashcams let you record your saves so you can go back later and review how things went and even share your saves with others.
Accident: Dashcam Protects Driver from False Accusation
They're also ideal in case of an accident. Here's an example of a vehicle that accidentally backed into another car while stopped at a stop light. The driver ahead was initially apologetic and then later went back and told his insurance company that he was rear ended. Only the dashcam saved the rear driver from paying the deductible and having a hike to his insurance. Full story here.
Accident: Rear Dashcam Protects Driver
Some dashcams also come in two channel variants (front and rear camera) which is incredibly helpful in case something happens from behind such as how this next driver was hit from behind while stopped, pulling into a parking space. The police incorrectly wrote up the police report and the driver behind who was at fault tried to blame it on the front driver. Again it was the dashcam footage that saved the front driver and the driver in the rear was proven to be 100% at fault. Full story here.
Accident: Dashcam Protects Parked Car from Hit & Run
You can also use the to monitor your car when you're parked as well in case anything happens while you're gone. Check out this driver who backed into my car while I was parked. The camera detected the impact and recorded the whole thing while the other driver drove off.
(Note: If you want this feature, make sure you opt for a camera that can automatically switch between driving mode and parking mode, no button pressing required.)
Dashcams Record Crazy Events on Road
Even if you don't get into an accident (knock on wood), crazy stuff happens on the road and it can be incredibly helpful to have a dashcam rolling.
Make Beautiful Scenic Videos
On a lighter note, if you go on road trips through beautiful places, you can share clips of your drives with your friends!
Dash cams vs. GoPros
Now dedicated dashcams are different than normal cameras or action cams like GoPros. These are specialized cameras that are designed to be permanently installed in your car, they automatically turn on and off with your car, and they're always there in the background when you need them.They're more like set-it-and-forget-it cameras. Once the memory card fills up, it begins overwriting old unnecessary footage so you can record on it indefinitely. It also has G-sensors and the ability to manually mark clips so that it doesn't automatically overwrite footage that you truly do want to save. Dashcams are specifically suited to driving and protecting drivers.
Best Dashcam of 2018?
There's different dashcams at difference price points, with different features, and different levels of video quality. Which one should you get?
Here's my top two picks: one basic and inexpensive dashcam for recording your drives and a second high end dashcam to record whether you're driving or you're parked.
Best Affordable Dashcam: Viofo A119 v2 ($79)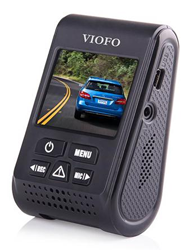 The best dashcam you'll find in the ~$100 price range is the Viofo A119v2. It starts at just $79 and offers outstanding video quality for its price point, recording at 1440p (2x the resolution of 1080p).
Its wedge-shaped design means it sits flush against your windshield. The LCD on the back makes it easy to change settings, view recorded footage, and aim the dashcam's lens. Video quality is great.
If you add the optional GPS mount, the dashcam can log your speed and location and display that on screen. It also adds a power connect at the top of your dashcam's mount, instead of just the one built into the side of your dashcam, giving you a more streamlined install. With the power cable plugged into the mount, it also makes it easier to mount and unmount your camera.
The main downside of the dashcam is that it's best suited to recording your drives, not when your car is parked. It offers some motion detection, timelapse, and impact detection functionality, but you have to manually go into the menu and switch modes every time you start and stop driving which gets old quick. Higher end dashcams can do this switching for you automatically, a must if you want your dashcam to record while parked.
Viofo also sells the A119S with better low light performance, but the A119 still does a good job at night and offers better detail thanks to its 1440p resolution over the A119S's 1080p. The new A119 Pro is available now featuring a new lens and sensor, but the original still seems to hold the edge in quality.
The A119 is a great affordable dashcam and you'll be hard-pressed to find something better at this price range.
Purchase the Viofo A119 with GPS
Best High End Dashcam: Blackvue DR900S-1CH ($369) or DR900S-2CH ($479)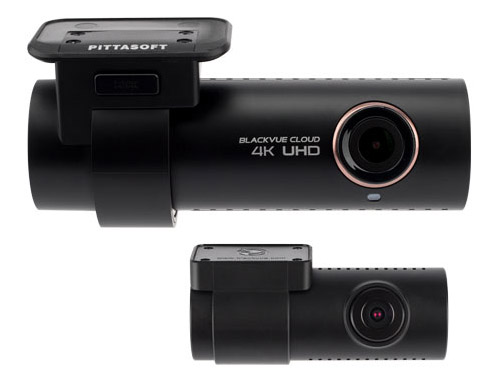 My favorite dashcam and the one that I personally run in my own car is the Blackvue DR900S-2CH. It's jam packed with useful features, shoots in 4K to capture details, offers the best parking mode recording available of any manufacturer, is available in a single and dual channel version depending on if you'd like a rear camera, and offers cloud support for remote notifications and alerts to your phone.
4K video (4x the resolution of 1080p) is the big new feature for the DR900S over its predecessor, and my previous primary dashcam, the DR750S-2CH. Stepping up from 1080p to 4K, the DR900S is noticeably better at capturing details such as license plates farther away than previous models. It also adds a new and more efficient compression algorithm (H.265) which allows file sizes to be comparable to 1080p while offering you the detail of 4K.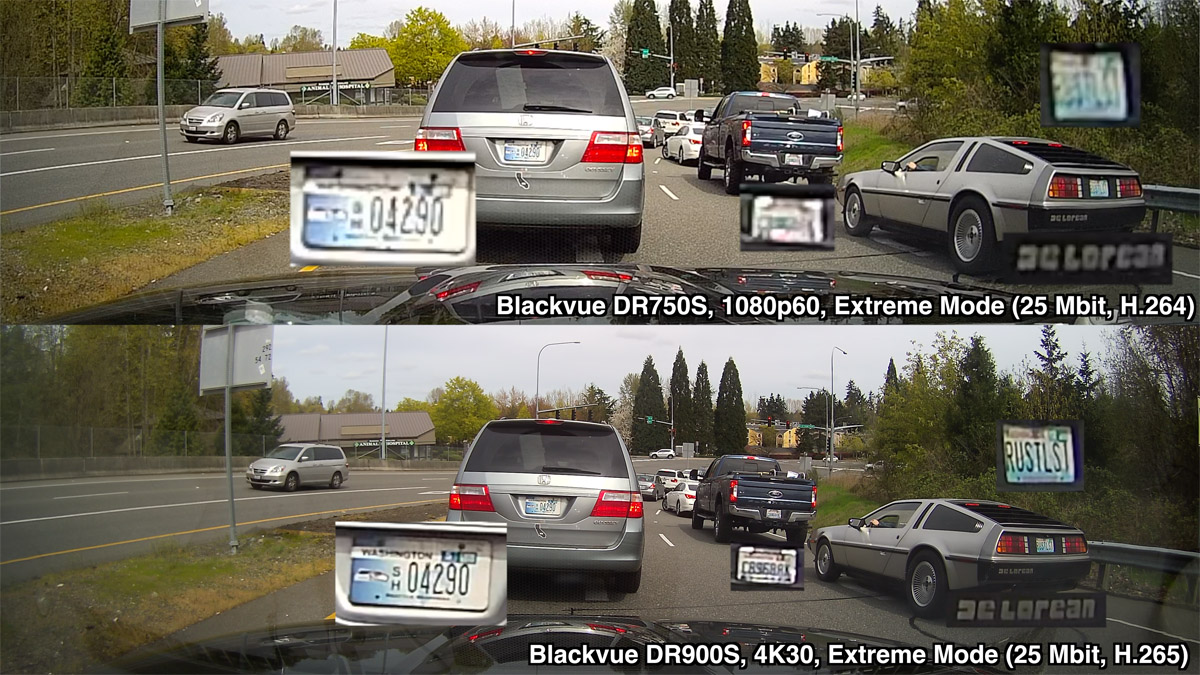 Built-in to the camera you'll find GPS to log your location and speed (which can be disabled) as well as WiFi so you can pair it to your phone to view footage and change settings. When paired to a WiFi hotspot, the DR900S can send notifications out to your phone in case of an accident. Via the app, the dashcam can also be tracked remotely and realtime video can be streamed from the dashcam to the app or even livestreamed to Facebook.
Blackvue's dashcams also offer the ability to automatically switch between driving mode and parking mode automatically, a necessity if you want your dashcam to record while you're parked. When you're parked, your DR900S is powered by either your car battery using the Power Magic Pro or a dedicated battery pack like the Blackvue B-124 and offers motion detection and impact detection. Should someone hit your car while you're gone, the dashcam will verbally tell you next time you get in. You can view the footage immediately from your phone or by popping the memory card into your computer. If you're worried about a thief stealing your dashcam, your DR900S can be set up to automatically upload any events to the cloud as soon as they happen so the thief is caught on camera as soon as they touch your car.
The DR900S is the complete all-around package. You can get it in a single channel form (front camera only) or in the dual channel form (front cam is 4K, rear cam is 1080p). I prefer running the dual channel version for complete coverage and protection.