When it comes to staying protected from speeding tickets, radar detectors are great for protecting you from radar, but they're not helpful when officers use laser. Since you don't get advanced warning against laser, practically speaking radar detectors are essentially speeding ticket notifiers, if they alert at all. Against laser, the proper tool is a laser jammer. Laser is actively used all over the country and so for full protection, you'll need a laser jammer to complement your radar detector.
(Last updated July 2022)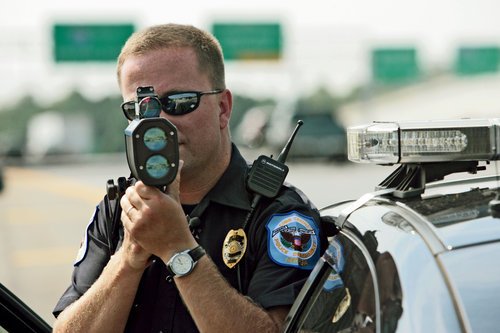 Laser jammers not only detect when an officer is shooting you, but they also actively jam the laser gun, giving you enough time to slow down and disable the jammer. (Learn about laser jammer laws here.) They are the perfect complement to your radar detector.
After testing all the best laser jammers myself and on many other people's cars, running different laser jammers myself for years, regularly talking with the laser jammer manufacturers, and reading over hundreds of different tests conducted over the years, I've got a pretty good sense of how they compare and how well they all work.
There are a number of different laser jammers available on the market. Each have their strengths and weaknesses. There's several I would recommend, depending on your specific needs. There's also several I would not recommend in any situation. Let's take a look at an overview of the very best and worst laser jammers available on the market, the pros and cons of each, and which laser jammer you should choose for your vehicle.
Here's my complete video (nearly 45 min long) going over the subject. Keep reading below to read instead of watching. 🙂
Recommended Police Laser Jammers:
AntiLaser Priority: Best Laser Jammer of 2023
Cutting to the chase, for many years now, the best laser jammer has been the AntiLaser Priority (starts at $1,009). It is the most effective laser jammer on the market. It jams even the newest and toughest guns with anti-jamming capabilities, it is regularly updated as new laser guns come out, and it is the jammer that I personally depend on to keep me protected, just like most other countermeasure enthusiasts. The ALP is the gold standard for laser jammers. (Sometimes I wish saying which one is the "best" was this simple with radar detectors, haha.)
The jammer works extremely well, you can install up to 8 heads (4 front and 4 rear) for complete protection on both small and large vehicles, it has multiple ways to automatically disarm, there's several optional accessories to help make your experience even better, and your ALP's can be quickly turned into simple parking sensors for areas where laser jammers are illegal.
Are there downsides? A few. Certain things that are included with other jammers out of the box are optional extras with the ALP. For example, it has a little speaker in the controller for audio alerts, but the external speaker for louder alerts and voice alerts are an optional add-on. Firmware updates and programming are done on your computer and you copy the files over to your ALP using a USB thumbdrive. If you'd like to do this using your phone which is more convenient, it requires an optional Bluetooth module which also costs extra. Also if you want to integrate it with a radar detector like the Net Radar DSP or Radenso RC M so both devices share the same controller and display, you can do that, but it doesn't work perfectly cleanly and you will lose some functionality. Personally I prefer running the laser jammer standalone and running my radar detector independently. (Here's my recommendations for the best radar detectors.)
Proper installation of any laser jammer is critical or else your install can prevent the jammer from working properly. Therefore, before you order, please be sure to read over my complete AntiLaser Priority setup guide to go over how many heads to order for your vehicle, where and how to properly install them, which accessories to get, how to set up and configure your jammers, how to test it out once you're up and running, etc.
Click here to read my ALP setup guide.
Purchase the AntiLaser Priority (USA).
Purchase the AntiLaser Priority (Canada). Use the coupon code "VortexRadar50" to save $50 off your ALP. (Coupon valid in Canada only.)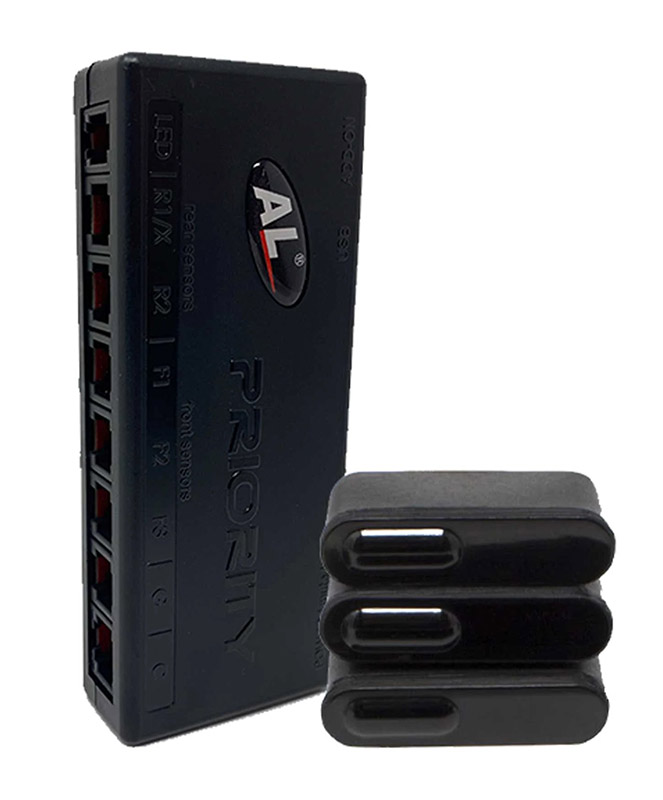 Now that said, while the ALP's are awesome, there are several other laser jammers that I would also recommend that, based on your specific use case, may be a better choice for your particular needs.
Stinger Fiber Jammers: Smallest Laser Jammer Heads
If you drive an exotic sports car and you're looking for the least visible laser jammer possible, take a look at Stinger's new fiber optic laser jammers (starts at $1690 for duals).
It uses pairs of extremely tiny transmitters and receivers roughly 2-3mm in diameter which means they can be inserted into panel gaps, stealthily cut into body panels, or placed into honeycomb grills without cutting in areas where traditional laser jammers wouldn't fit. They are significantly less visible once installed.
Unlike Stinger's previous gen laser jammers, these ones actually work well and they are able to consistently jam newer guns like the Stalker XLR or DragonEye.
While I'm not a huge fan of the Stinger VIP radar detector, their new laser jammer is the real deal. It costs roughly 2x the price of an ALP so it's typically something people go for when looks and aesthetics are the top priority.
You can integrate it with the Stinger VIP radar detector or run it standalone with either their smaller new strip display or just with an alert LED. Since the fibers are different than a traditional jammer, to best determine how many many fibers you need and where they should be installed on your vehicle, I'd recommend that you contact a Stinger distributor in your area.

Purchase the Stinger fiber jammers online.
Escort ShifterMax: Integrates with the Max Ci 360
Next let's take a look at Escort's latest and greatest laser jammer, or what Escort refers to as "laser shifters." Depending on which radar detector you pair it with and what interface it comes with, it's called different things, but the laser jammer itself is the same. When paired with the custom installed Escort Max Ci 360 ($3500) or Escort iX Ci, it's called the Escort ShifterMax.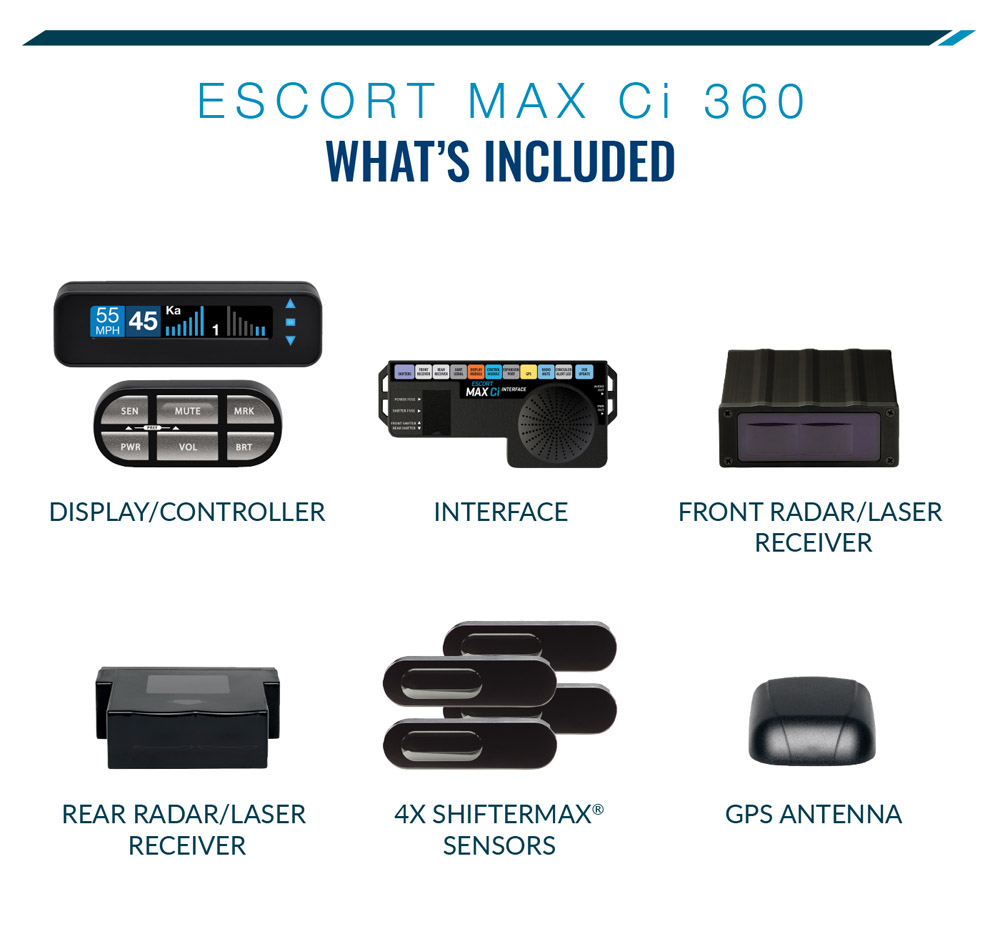 The ShifterMax, unlike Escort's previous jammers, is able to (somewhat) jam some of the newest guns like the DragonEye. It is also receiving updates over time to add features and improve jamming capabilities which is good news.
That said, I'm not a huge fan of the ShifterMax and the only situation I'd recommend it is if you're running the Max Ci 360 for radar (it's an excellent radar detector) and want a fully integrated radar detector and laser jammer package. Personally I'd recommend getting the radar only Max Ci and running the ALP for laser, but if you want you want the radar and laser alerts to both share the same controller and display, you can opt for the Escort ShifterMax instead.
There are a quite a few downsides to this jammer though unfortunately. The ShifterMax is able to jam newer guns, but not as well as the ALP. Updates are less frequent and Escort has a history of blowing off customers who test their jammers and report its limitations and areas for improvement. It's missing some basic functionality like laser gun identification. Getting Escort to add critical functionality like a timer to automatically disable the jammers after a set period of time took forever, despite that it's a basic feature that every other jammer offers. The ShifterMax sometimes reports front and rear alerts incorrectly. It is also limited to only 4 heads total which is fine for small vehicles (2 heads per side), but testing is showing that jamming the DragonEye effectively requires 4 heads per side which means you can protect the front, but not the rear. A 6 head Bridge Box is in development, but as usual with Escort, it's taking foreeeeever….
In short, while this is a big step up from Escort's previous gen jammers, it still is not on par with the very best competition on the market. The main reason I would see someone choosing to get one is if they're getting a Max Ci 360 and want to integrate Escort's laser jammers into one package. For most people though, I'd recommend getting the Max Ci standalone and choosing a different laser jammer such as the ALP.
The Escort ShifterMax is available from your local installer.

Escort ZR5: Wire it in to your windshield mount Escort radar detector
The Escort ZR5 ($999 for duals) is fundamentally the same jammer as the ShifterMax, except that it's designed to either be run standalone or paired with a windshield mount Escort radar detector serving as its interface and controller. Otherwise it's the same as the ShifterMax with the same pros and cons.
Actually, there is one other notable difference. The ShifterMax now has the important ability to automatically disarm. This feature is not (yet) available on the ZR5 so when you get shot, you'll need to slow down and doubletap the mute button on your radar detector to disable the jammers. This is a basic and critical function of a jammer that Escort still hasn't made available. Additionally, the implementation of this feature in the first place is pretty poor because there is no confirmation that your jammers have actually disarmed. It's these slow updates that are one of the biggest issues with Escort's jammers. Laser jammers are a long term investment, but Escort's long term update and laser jammer support is spotty at best.
At the end of the day, there are no real benefits to running the ZR5 over the ALP, but there are a bunch of downsides. The only benefit I can think of is that you can have your alerts play through your Escort windshield mount radar detector (the ZR5 is compatible with the Redline 360c, MaxCam 360c, Max 360c, Max 360, Redline EX, and iXc). However, there are so many other downsides that it's really hard to truly recommend the ZR5 unless you happen to come across a deal on one and you have your heart set on pairing it with your Escort radar detector, but I do think it's worth mentioning.
Click here to purchase a set of Escort ZR5's online.

Escort ZW5: Wireless jammers, easiest to install
Unlike the ZR5, the Escort ZW5 ($999) does have one big advantage over the competition: The laser jammer system is wireless which means you don't have to run a cable through your vehicle's firewall and into the cabin. This makes for a quicker and easier installation, especially for cars that are difficult to work on. If you're having a professional do the install, the fewer hours of labor required means that it costs less to install too. It is also appealing if you lease your vehicle and don't want to cut any holes in your vehicle's firewall.
In order to install the ZW5, you install the two laser jammer heads in your grill and wire them to your vehicle's battery for power as well as a the wireless communication interface. You then install a special power cable in your cabin to power your radar detector (both cig. lighter and hardwire cable options are available), and your RD's power cable communicates to the wireless interface box in your engine bay to operate your laser jammers. This way, the laser jammer in your grill can wirelessly communicate with the Escort radar detector on your windshield.
Once it is all set up, it is effectively like a ZR5 with all the same pros and cons. Compared to the ZR5, there are two other notable difference though.
The first is that the ZW5 officially only supports two heads. The bridge box (what the laser jammer heads physically plug into) supports up to 4 heads. I've tested it and it does work with 4 heads plugged in, but Escort says the system doesn't have enough power to reliably support powering 4 heads plus the wireless communication box in the engine bay. Because of this, you're limited to two heads which means the system is best geared towards smaller vehicles, or maybe midsized sedans at best. It wouldn't be suitable for larger vehicles, SUV's, or trucks.
The second difference is that unlike the ZR5, the ZW5 can only be installed on the front of your vehicle. In theory if you tried to hook up two more heads, you'd have to run the cables back from your trunk, through your cabin, through your firewall, and up to the bridge box in your engine bay, completely defeating the whole purpose of running wireless jammers. The ZW5 is designed to be used in the front only. This is okay in most places because officers generally shoot the front of your vehicle. In some places they shoot front and rear, and in a few other places they shoot the rear more than the front, but in most places the front is the officer's primary target so the ZW5 would be effective in most places.
If you drive a smaller vehicle, you're looking for front protection only, you're running a windshield mount Escort radar detector, you're willing to learn to double press the mute button when shot to manually disarm, and you're willing to sacrifice some jamming capabilities in order to get the added convenience of a wireless install, the ZW5 could be a great option.
Purchase an Escort ZW5 with the cig. lighter power cable.
Purchase an Escort ZW5 with a hardwire power cable.

Adaptiv TPX Laser Jammer: Designed for Motorcycles
Finally, if you ride a motorcycle, take a look at the new Adaptiv TPX motorcycle laser jammer (starts at $599). This is a new laser jammer that's performing surprisingly well in my testing and on other people's motorcycles. It can jam older guns and the newer tougher guns like the DragonEye and it has some unique features designed specifically to be used on a motorcycle.
The TPX jammer comes with two heads. There's an optional third head ($199) for the rear as well. The jammer comes with a waterproof CPU to be installed somewhere on your bike, a wired remote to configure the jammer and manually disarm (it can automatically disarm too), a headphone jack so you can wire it in to your helmet, and an external alert LED to attach to your handlebars so you can easily see the alerts.
It doesn't have all the bells and whistles of other jammers, but it has the essentials, it's an effective jammer, it's less expensive than other jammers, and it has a bunch of unique features designed specifically to be used by motorcycle riders.

Use the coupon code "VORTEX" to save 10% off your purchase.
Purchase an Adaptiv TPX motorcycle jammer.
Purchase an optional rear laser jammer head.
Purchase a rear head license plate holder.
Not Recommended Police Laser Jammers:
Now there's a number of different laser jammers that are outdated, no longer being supported, incapable of jamming newer guns, have critical reliability issues, or in the worst cases, can't actually jam any laser guns at all. You may read about these jammers, new or used, when doing your research online, so let's go over some other laser jammers out there and quickly go over how they compare.
TMG Alpha-15
The TMG Alpha-15 is an affordable laser jammer that is capable of jamming many newer guns, plus it can integrate with the JBV1 app on Android, but seeing many critical reliability issues, I am no longer comfortable recommending it. I've had 3 CPU's die on my car, plus if a head gets damaged or a cable gets unplugged, there is no user warning and the entire system can go down. Many people have experienced driving with what they thought was a properly operating TMG that boots up and everything, but actually offering zero protection or warning. While there are some things you can do to work around these issues, due to the TMG's poor design, I can no longer recommend it.
Laser Interceptor
Laser Interceptor used to be the best laser jammer on the market. They worked great against older laser guns with fixed and predictable pulse patterns. However, once newer laser guns with variable pulse rates started coming out, the LI couldn't keep up with jamming laser guns with unpredictable pulse rates.
They were quickly superseded by newer and more advanced jammers and are no longer even available for sale. You may find them available still on the used market and they do work well against older laser guns, but they aren't worth investing in today to stay protected.
Escort Laser ShifterPro
Escort used to build their own laser jammers such as the ZR3 and ZR4, and while they were great laser detectors, they were never particularly good laser jammers. To improve their product offerings, they started reaching out to other manufacturers to build jammers for them that they could sell under the Escort brand name.
Back when LI was the best, Escort partnered with them to create LI's that would integrate with their own custom installed radar detector, the Escort 9500ci. These new Escort branded LI's were called the Escort Laser ShifterPro, or LSP's.
Unfortunately they never received a single update, even as the LI's were updated, and the suffered the same fate as the LI's as they were incapable of jamming the newest guns. Like the 9500ci radar detector, the LSP's have since been discontinued. The Max Ci 360 and iX Ci / ShifterMax now replaces the 9500ci / Laser ShifterPro.
Blinder HP-905
Back in the days of LI, there was another good laser jammer available, the Blinder HP-905 Compact. They are what I ran before I upgraded to ALP's.
Like the LI's, the HP-905 was very good at jamming all the laser guns available at the time. I actually preferred them at the time over the LI's for two reasons. First, the heads were much smaller and easier to fit into your grill. Second, the control switch allowed you to not only disable the jammers before you get hit, but also switch them to detection only mode before you get hit. This way if you see an officer up ahead, you can disable your jammers beforehand, let him get a reading so he doesn't get jammed in the first place, and yet still get notified if he shoots you and what gun he's using.
Unfortunately it also isn't able to jam the latest and greatest guns on the market. There are a few companies still selling the HP-905 online, but the jammer is no longer being updated and it's not one you should consider today.
On a related note, after the man who used to distribute the Blinder jammer sadly passed away back in 2016, the other people with the company partnered with Escort to create a successor for the HP-905 and Laser ShifterPro which today is known as the Escort ShifterMax. 😉
K40 Defuser Optix
K40's does a great job with marketing and with customer service, but unfortunately their products perform quite poorly. Their latest and greatest K40 RL360di is a bottom of the barrel radar detector and their Defuser Optix laser jammer is one of the worst laser jammers I've ever tested.
In a nutshell, K40's jammers (they call them "defusers") struggle against even older easier laser guns. They also aren't able to jam the DragonEye as advertised. They are able to somewhat jam some of the older easier variants, but against the newer versions, they don't even detect the laser gun, much less jam it. K40 is using older technology and it shows.
I like that K40 products have just a remote alert LED which allows for a pretty stealthy looking install in the cabin, but unfortunately the performance just isn't there and it isn't one that I would recommend.
Rocky Mountain Radar Odin
The last laser jammer isn't really a laser jammer at all. It's a so-called "scrambler" that's built into Rocky Mountain Radar's windshield mount radar detector, the Odin.
Rocky Mountain Radar likes to advertise their radar and laser "scrambling" capabilities that supposedly scramble police guns and prevent them from being able to get a speed reading on your vehicle. I've tested their previous gen top of the line RMR C-495, Judge, and Judge 2.0, as well as their current flagship, the RMR Odin, and none of them have any effect against any police radar or laser gun when it comes to preventing a speed reading from a moving vehicle.
RMR is largely considered to be one of the biggest scammers in the countermeasure industry and really the only reason I'm including them here in this list is just to let you know in case you happen to stumble across their products when doing your research that they're not a serious company and they don't make effective products. Their radar and laser scramblers are not worth consideration.
Veil
Finally, let's quickly mention Veil, a special laser-absorbing paint designed to coat your headlights and license plate area to reduce reflections back to the laser gun and make it harder for the gun to get a reading. Laser guns can get readings on parts of the car that aren't treated with Veil, but unfortunately we haven't found it to be effective even if the officer does target the parts of your car with Veil applied.
The previous generation seemed to work better, but Veil's formula cracked headlights on multiple vehicles. Veil G5 was then released with an all new formula that was designed to be safer on cars, but the paint came out to be comically dark.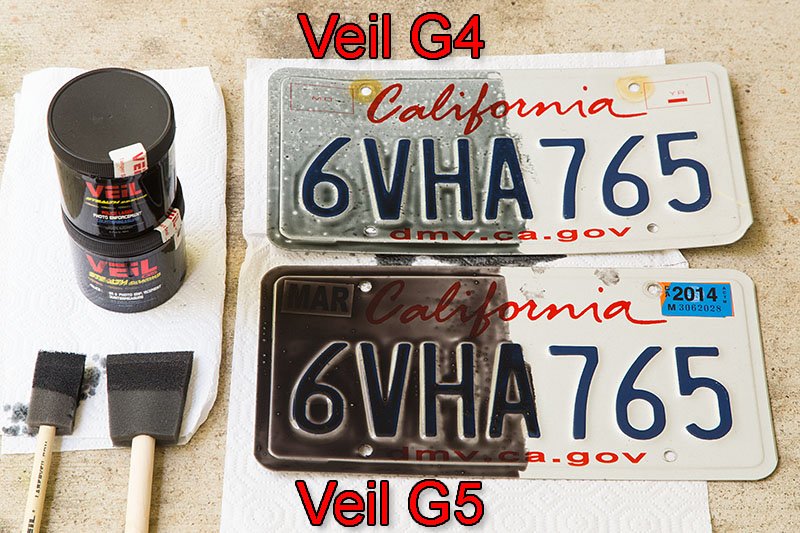 Besides the obvious visual issues, independent testing has repeatedly shown that Veil isn't effective in the first place.
Since then, Veil has updated their formula, essentially diluting it to make it less opaque, but given that it wasn't effective in its stronger form, well… Now there's Veil G6 and we've all stopped wasting time with it. At the end of the day, I recommend that you simply save your money and don't purchase Veil.
Best Police Laser Jammer?
So what's the best laser jammer to protect you from all the different laser guns being used across the country?
Let's summarize everything, going over all the best laser jammers on the market and what each jammer is best suited for.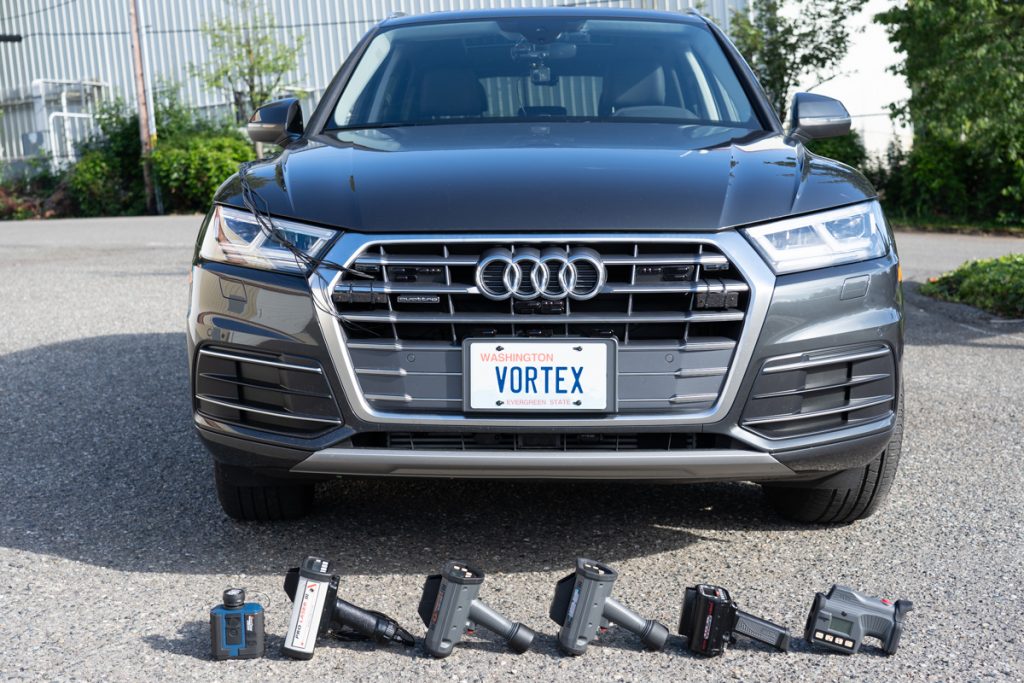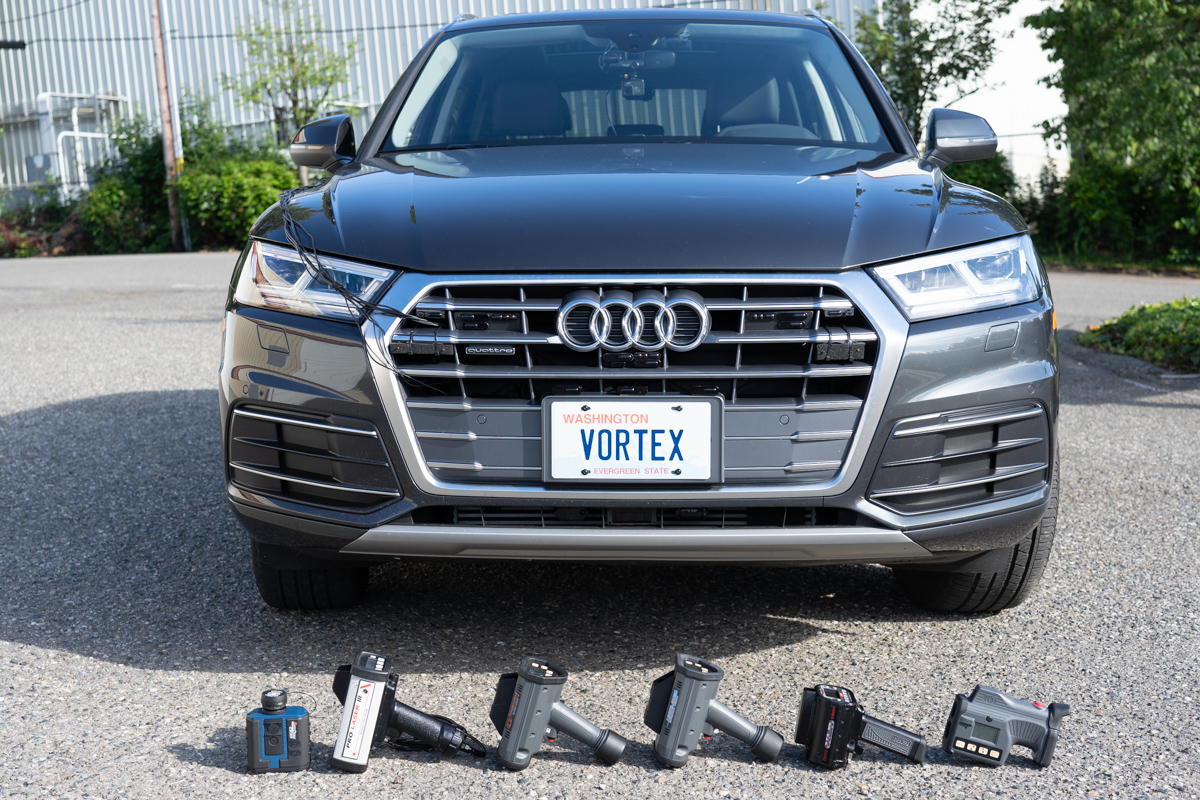 AntiLaser Priority: Best laser jammer for 95% of people. Most effective jammer, continual updates and improvements, the gold standard. This is what I depend on, trust, and recommend. Purchase the ALP here. (Be sure to read over my ALP setup guide first.)
Stinger Fiber Jammers: Super teeny tiny heads, best hidden option for exotic cars, twice the price as the competition, not super great track record of updates. Purchase the Stinger fiber jammers here.
Escort ShifterMax: Integrates well with the Escort Max Ci 360. Not as capable or effective as the ALP, updates aren't as frequent, lacks advanced functionality, and limited to only 4 heads total, but one controller and display for radar and laser. Purchase the Escort ShifterMax here.
Escort ZW5: Wireless jammers, no drilling through vehicle's firewall required, quickest and easiest install. No automatic disarming, limited to 2 heads, front protection only, no updates yet released, requires Escort windshield mount radar detector. Purchase the ZW5 cig. lighter version here and the ZW5 hardwire version here.
Escort ZR5: Integrates with windshield mount Escort radar detector or can be run standalone. No automatic disarming, limited to 4 heads, front protection only, no updates yet released. Purchase the ZR5 here.
Adaptiv TPX: Motorcycle-specific laser jammer with all of the basic features, plus the ability to wire into your helmet for audio and a waterproof external alert LED for your handlebars. Purchase the TPX motorcycle jammer here.
Summary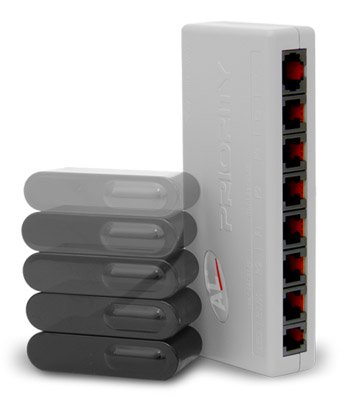 Article Name
Best Police Laser Jammer Reviews
Description
Reviews of all the best laser jammers from AntiLaser, Escort, Stinger, TMG, Adaptiv, Laser Interceptor, Blinder, and K40. Find out which is best for you.
Author
Publisher Name
Publisher Logo