Time to test all of the best laser jammers from AntiLaser, Escort, Stinger, TMG, Adaptiv, and K40 to find out which one performs the best!
In this test we're going to focus purely on performance. For more information, check out my complete comparison review of all the best laser jammers.
Laser Jammer Lineup:
AntiLaser Priority Triple: 3 Regular Heads (fw 5.5.5 / 8.4)
AntiLaser Priority Triple: 2 Regular Heads + 1 Tx (fw 5.5.5 / 8.4)
Escort ShifterMax Triple (fw 1.10)
TMG Alpha-15 Triple (fw 8.05)
K40 Defuser Optix Triple (Original firmware version, no updates yet released)
Stinger Fiber Triple (VIP 4.6.00UK, Laser Center 3.1.0)
Adaptiv TPX Motorcycle Laser Jammer Dual (will be officially announced this week, original firmware)
All the laser jammers are production jammers running the latest available firmware.
I also did some comparison testing with and without custom fabricated removable perspex covers to see if they made a difference.
Here's a look at my grill (almost) fully loaded with jammers. (The center Stinger fiber pair were previously in the center slot where the center K40 is located in this pic.)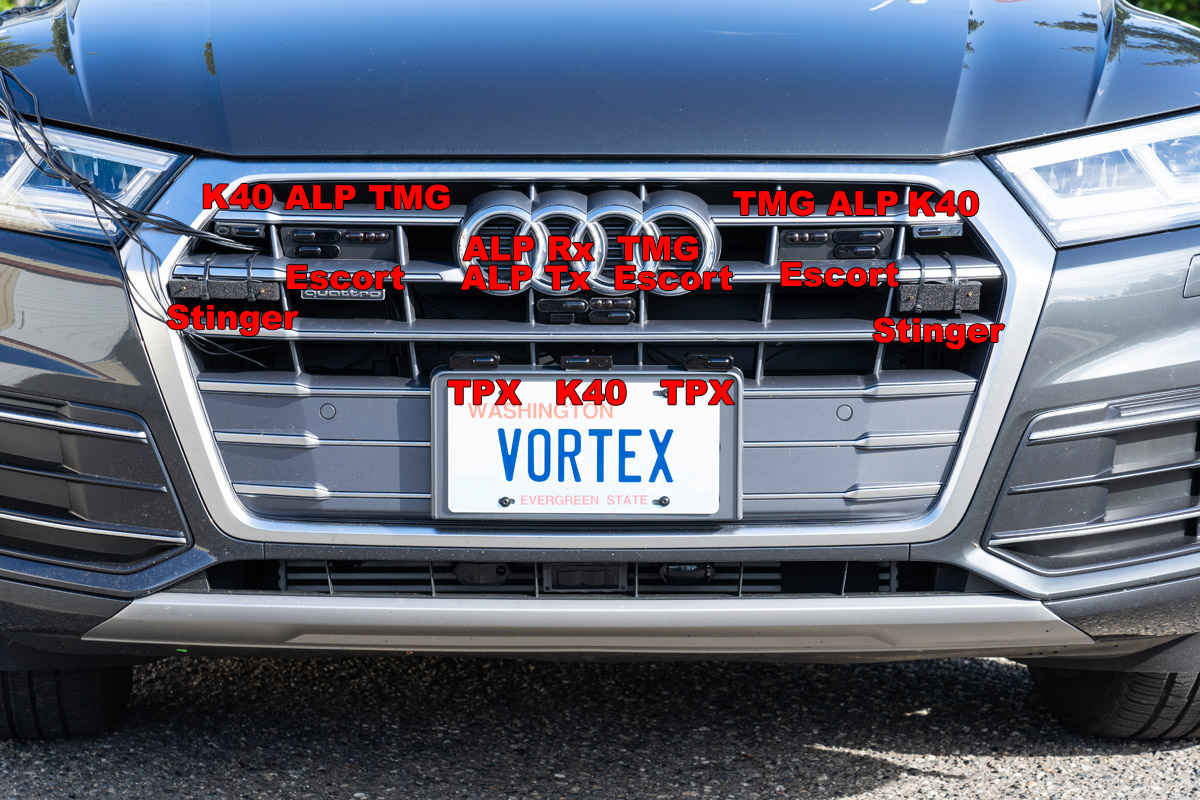 Full disclosure: Some of the jammers were provided from the manufacturers for free for testing (Escort, Stinger, TMG, Adaptiv), some I purchased retail (ALP, K40), and some (Escort) covered the costs for installing their jammers onto my vehicle. All the jammers were installed as close as possible to the manufacturer's recommended areas, though sometimes very slight adjustments were made for the sake of realworld practicality. All the heads were aligned as best as possible according to the manufacturer's recommended specifications. No laser jammer manufacturer was present on site, but most were available over the phone or email for support as needed. Every jammer was otherwise tested in the same manner to keep a level playing field and all the results, good and bad, are all shared here based on how the jammers performed.
Laser Guns:
DragonEye SpeedLidar (Apr '16 build date, recertified with late model firmware) (Provided by @Jag42)
DragonEye SpeedLidar #2 (unfortunately died shortly into testing, originally a Laser Ally, recertified with recent SpeedLidar firmware) (Provided by @Jon at Radenso)
DragonEye Compact (Jan '18 build date) (Provided by @RaggedEdge)
LTI TruSpeed S (Provided by @Jag42)
Stalker XLR (Provided by @RaggedEdge)
Kustom ProLaser III (Provided by @Vortex)
All laser guns run with ECCM / Jammer Rejection enabled. With each jammer, it got three runs against each gun, testing against the driver headlight (DHL), front plate for center mass (CM), and passenger headlight (PHL) before switching to the next gun.
The test course was ~1200 ft long or so.
Now I'd like to work on an updated "best laser jammer" type comparison, so for this post I'm not going to go into a ton of additional detail about my thoughts about each jammers. Instead I'm going to focus on the test results and what we saw.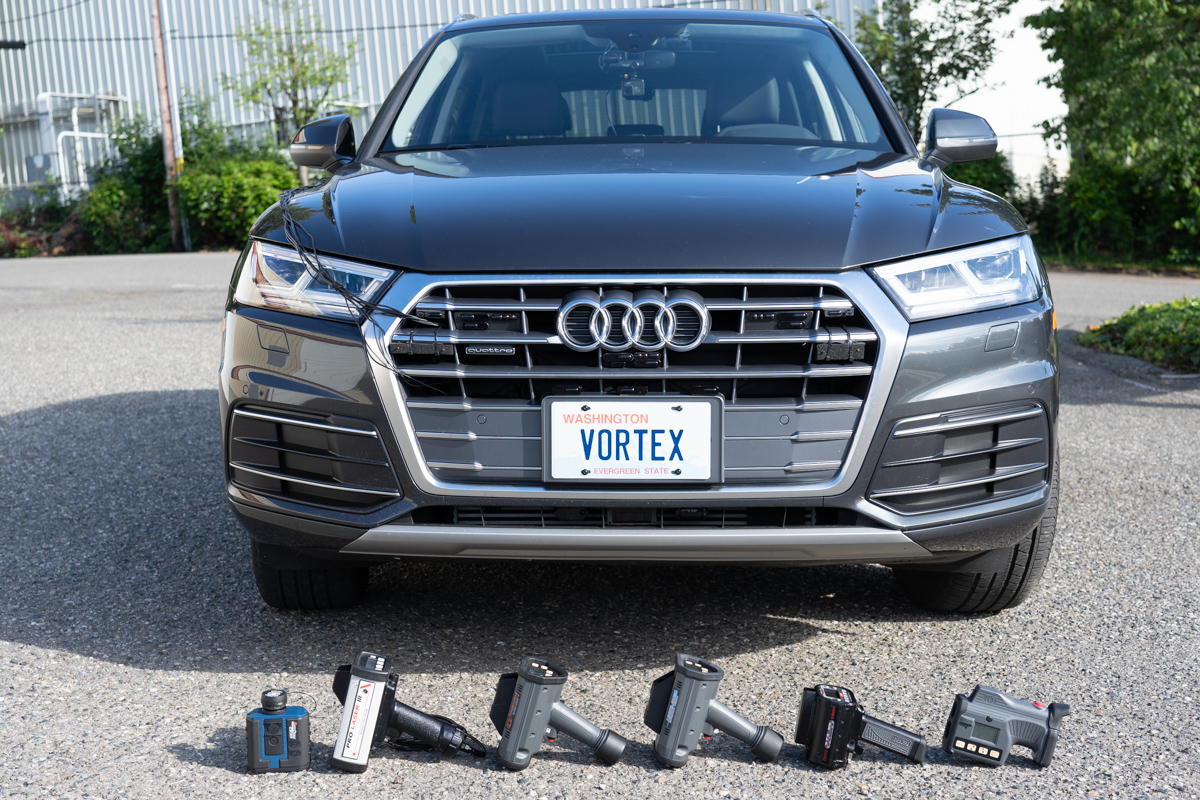 Laser Jammer Test Results
Let's go over the performance of each laser jammer, ranked in order from worst to best.
#6 K40 Defuser Optix

The K40 was IPT (instant punchthrough) to both DragonEyes we tested with. In fact it didn't alert whatsoever. K40 does specifically state that their jammers are capable of jamming the DragonEye. Maybe this applies to other older versions of the gun, but I haven't been able to verify this claim myself. Every other jammer tested was able to both detect and jam (to some extent) both guns. K40 gave no alert whatsoever.
Update: @PY004 recently tested a set of Defuser Optix duals and against the different DragonEye Compact he tested with, it was able to jam down to 150 ft CM. It was essentially IPT on the headlights though. Here are his test results. So the good news is that K40 does the the ability to detect and jam certain versions of the DE, but in no way does it compare to the competition in providing proper protection against the latest DragonEye guns.
Moving on to the other guns, against the PL3 it did just fine. In fact it was only the relatively easy to jam PL3 that it was totally successful.
Against more medium difficult guns like the XLR and TSS, it struggled as well.
Since the K40 testing was going faster than expected since it wasn't alerting to the DragonEyes, we tried a few other things with the extra time.
For example, we tried a quick pass turning off ECCM (electronic counter counter-measures) on the DETC and without the anti-jamming capabilities, the K40 was able to go JTG. Additionally, @meismyname pulled out his Ultralyte 100 LR and luckily for K40, it was able to jam that older gun too just like the PL3.
So K40 comes in last place, struggling against both the XLR and TSS and being the only gun to neither alert to nor jam either DragonEye gun tested.
Just like in my latest custom installed radar detector test, the K40 RL360di comes in at the bottom of the pack.
#5 Escort ShifterMax
In fifth place was the Escort ShifterMax included with the Max Ci 360. Unfortunately Escort's latest jammers were giving me some unexpected issues. Here are the initial batch of results:

Lots of PT's with the DragonEyes as well as with the TSS. The only full JTG run I was able to get was with the PL3. Additionally the jammer was reporting most every shot as a rear alert, even though I'm only running front jammers.
I verified all the DIP switches, including for jammer 3 (front) and jammer head 4 (unused), were set to front.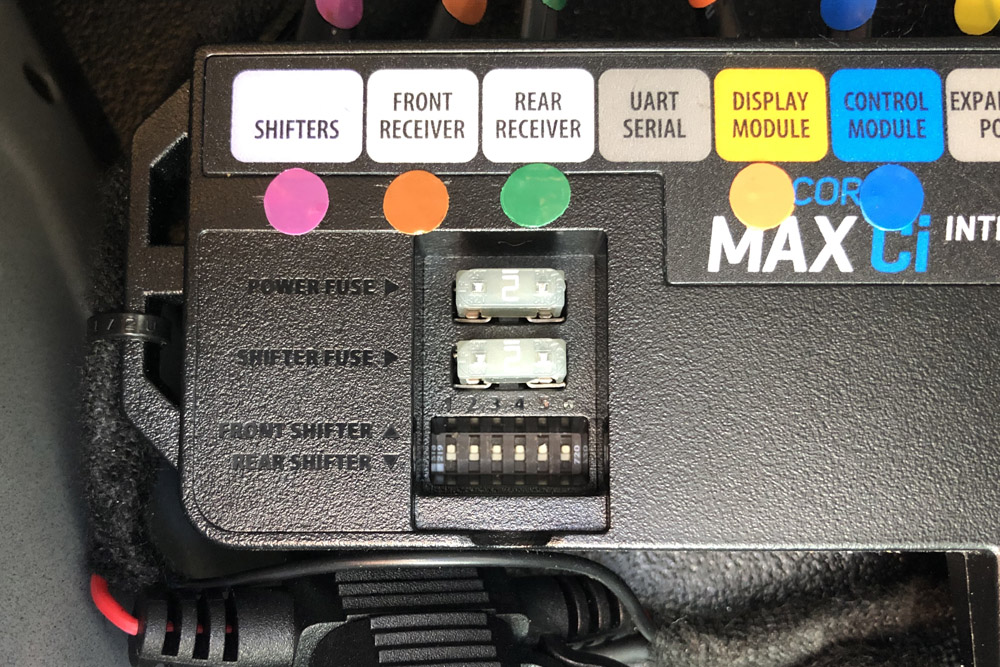 I tried switching all the DIP switches from front to rear and back to front in case any of them weren't fully in the front position, but no luck. I tried running ports 3 and 4 as if they were rear jammers, but I still couldn't get front alerts to show up as front alerts. I thought maybe something weird was going on and only certain heads were firing, like maybe only what it thought were the "rear" head(s), and that could be part of the reason for all the PT's.
I got in touch with Escort and they said they'd never seen this before. They suggested I do a factory reset and then give the system about 10 minutes to sit idle for the heads to communicate to the system. We did that over our lunch break. Once lunch was done, I configured all my settings again, but when we resumed testing, I continued to see the jammer alert as rear. Going through the rest of the test, I noticed this issue seemed to happen primarily with the DragonEye guns. With the other guns, with the exception of maybe one or two runs, the Max Ci 360 correctly reported them all as front. It was all very weird and I have no idea what was going on.
Anyway, here are the results after the factory reset and throwing out the original set of runs.

Again, still struggling against the DE. It was good against the PL3 and XLR, but it struggled against the TSS which is a gun that most every modern jammer should be able to handle at this point.
Now Escort has been working on updated firmware to improve DragonEye jamming capabilities. They were hoping to have it available before my test, as was I, because I always want to test the latest and greatest from everyone. It would stink to have a new firmware update be released just after after I finish testing, you know? For this test, I ran firmware 1.10 which adds the AutoJTK support. They said their next update won't be out for a while so unfortunately the timing didn't work out. Knowing this, I wasn't expecting perfect DE jamming capabilities, but I was definitely expecting better performance against the TSS.
Either way, given some of the strange directional issues I saw, I can't say with certainty that the Escort system was operating and jamming properly in the first place. It's possible that the jamming was working fine and it was just the arrows that were messed up, but I don't know for sure. Nevertheless, the results are the results.
Update: Escort has followed up with their engineers and confirmed that against certain versions of the DragonEye, the Max Ci 360 will report the wrong direction. Hopefully this bug is fixed in a future firmware update.
#4 TMG Alpha-15
Next up, here are the results from the TMG:

We were getting some long distance PT's with the TMG. With everything I'd read on the forums, I was expecting it to jam down to about 300 feet or so, but we had PT's up to nearly 1,000 feet away. The total length of the test course, depending on when I first get shot, is only around 1,200 feet.
We were all pretty disappointed in these results.
I talked to @Jag42 about it and he suggested that it could perform better with the outer heads pushed out closer to my headlights and front plate like this: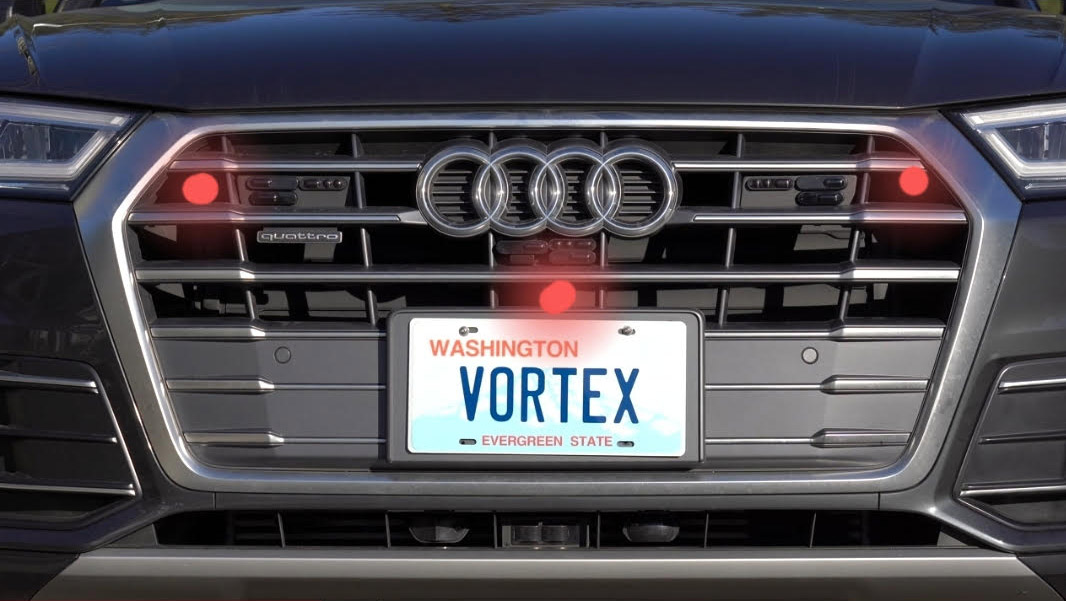 I suppose that could help, especially given the limited sensitivity of the TMG heads compared to the ALP and others. However, TMG's longest PT of the day was at CM and I don't think that moving the two heads even farther away from the center would have helped fully solve the issues that I saw. Maybe on a smaller car or with an added 4th head it would have performed better.
The TMG was fully JTG against the PL3, TSS, and XLR which is awesome, so it performed better than the Escort and K40, but on my vehicle it did not provide adequate protection against the DE.
Now TMG is working on a new VPR head, similar to how the ALP has their Tx head to help combat the DragonEye, and hopefully once that is available, those of us running TMG's will finally be able to consistently get reliable jamming capabilities against even the tougher guns, but unfortunately that's not where things stand today. Even though TMG is a capable jammer in many respects, against the toughest guns, currently they are still playing catch up.
If you'd like to pick one up, you can order a TMG from their website and use the coupon code "VORTEXRADAR" to save $70 off your order.
#3 Adaptiv TPX Motorcycle Jammer
Next up is a new motorcycle-specific jammer from Adaptiv that's going to be announced this week.
It's not designed for automotive usage so to simulate testing on a motorcycle, I put both heads on either side of the top of my plate and ran it as a set of duals, only targeting the front plate.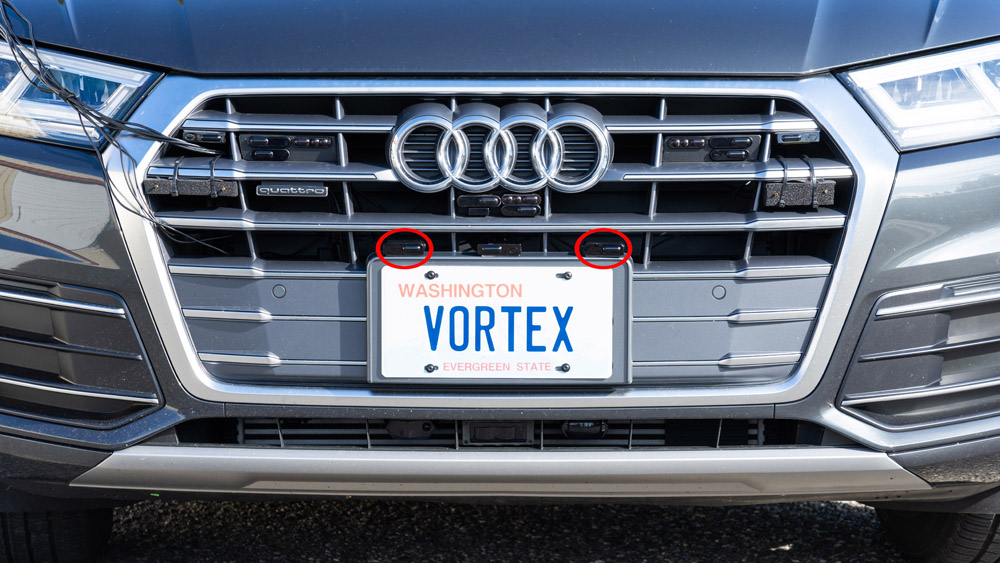 Here's what we saw: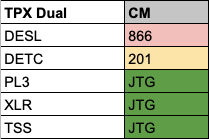 Looking pretty good here! JTG against the PL3, XLR, and TSS which are the guns most people will encounter. Also able to jam the DETC down to close range. It did struggle against the late model DESL, but was able to still go against it better than I expected, especially considering it's only running two heads and every other system tested was configured as a set of triples. (@meismyname has an ALP dual with two regular heads and without a third head or a Tx head, the ALP was fully IPT the whole length of the course against that gun, so that is very impressive for a dual head setup.)
Since it was doing so well, for grins we decided to also test the headlights.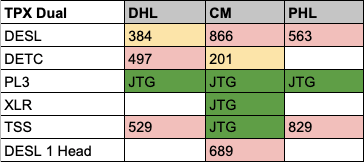 Impressively, it was still able to JTG the PL3. Again, the two heads were both right on the front plate and nowhere near the headlights.
It did start to struggle against the TSS, but that's understandable here. Interestingly, against the DragonEye, it did better with a set of duals than the TMG did with a set of triples with two of its heads up near the headlights… (Note: TMG, not Adaptiv who makes the TPX, has since shared that their jammers do sometimes perform better against certain guns with a set of duals instead of triples, but then they go IPT against other guns.)
Anyway, out of curiosity we also tried to run the TPX against the DESL with one head, something I doubt any jammer can do successfully. As expected, it wasn't great, but we were curious and after all, testing is all about trying stuff and seeing what happens!
Either way, this is looking to be an impressive jammer so far, especially considering it was only set up with two heads. There is an option to run a third head for the rear of a bike. I asked about running it up front, but they said the system isn't designed to be used on a car with three heads up front like that so we skipped testing that.
This system will retail for $550 and the additional rear head will be $200. The jammer will start shipping soon and it is already available for preorder. For those who are interested, you can go ahead and pre-order the laser jammer, optional rear head, and license plate bracket at a discounted price.
If you pre-order, you'll get the system for $100 off. They're doing a 50% deposit now and then when the jammers are ready to ship next week, you'll pay the rest then. Pre-orders are available until June 3rd and then after that, you can use the coupon code "VORTEX" to save 10% off your TPX.
#2 Stinger Fiber Jammers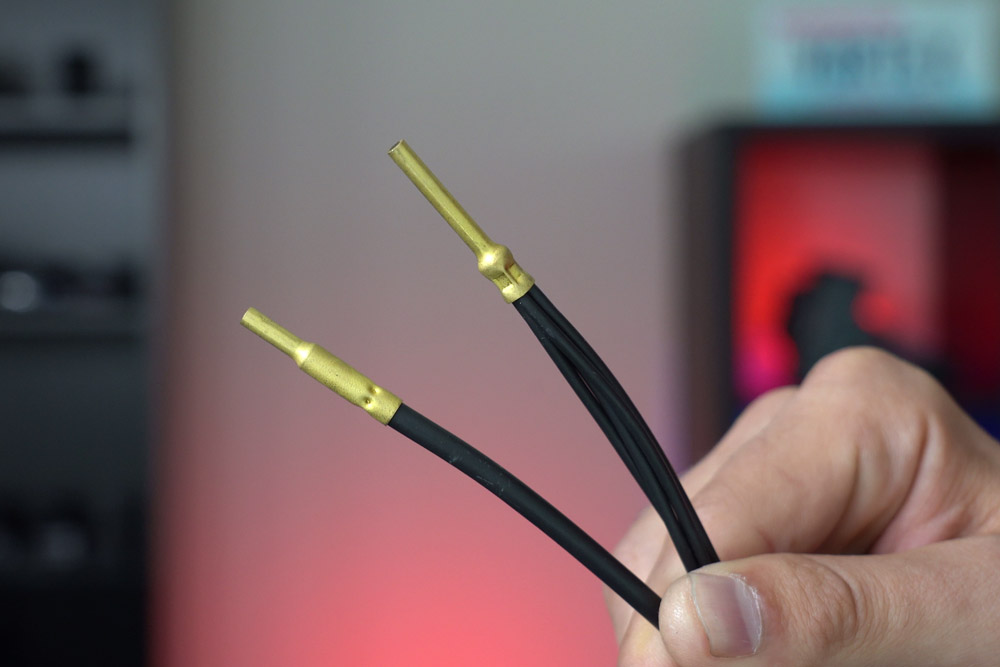 Stinger just released their next gen jammers with teeny tiny fiber optic heads for both the Tx and Rx sides. Unlike their previous gen jammers and fibers, this is the first one I've tested that actually performs as advertised. Check out the results…

With the Stinger, yeah it is able to jam even the latest DragonEyes we tested with. Now you'll notice there are some PT's. With this setup, like with other jammers, we found that proper alignment of the heads is really important in order for it to work properly. Stinger recommends that the heads are mounted perfectly straight, but with a 5 degree tilt up. (Anywhere between 0-10 degrees up is fine. You just want to avoid any angling down.) At first we tried taping the heads to my grill directly using duct tape, but that didn't give us the solid fit and angle we were wanting. @meismyname thought up the idea to cut up some of the packing foam the Stinger laser center ships with and mount the heads into the foam itself. That actually worked pretty well.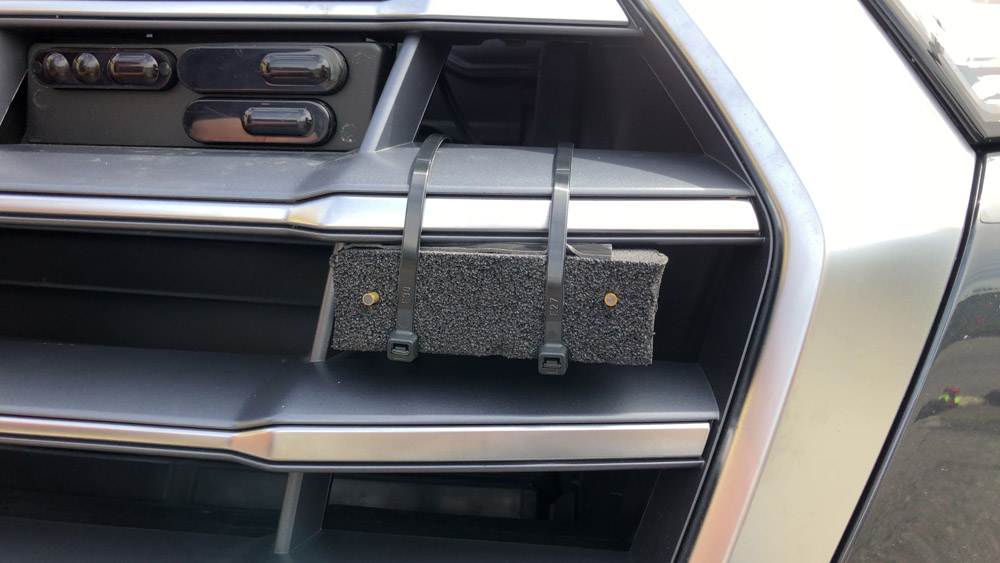 We secured the foam with doublestick tape and zip ties. That wasn't perfect, but it worked way better.
Now while we were testing, sometimes we saw some odd PT's. When we went back to go check on the heads in that area, we noticed that the foam had shifted a bit. Once we realigned the heads, it was JTG.

We did this head alignment with both a 288′ PHL PT with the PL3 and a 700′ CM PT with the TSS. Once we adjusted the heads, JTG. To make it easier to see head alignment, we eventually wound up sticking the tips of the heads out of the foam about a centimeter. We didn't try adjusting the heads with the DESL runs, but based on what I've been able to see with my quick testing install, this system looks like the real deal. Significantly better than their previous gen jammers. Great work Stinger!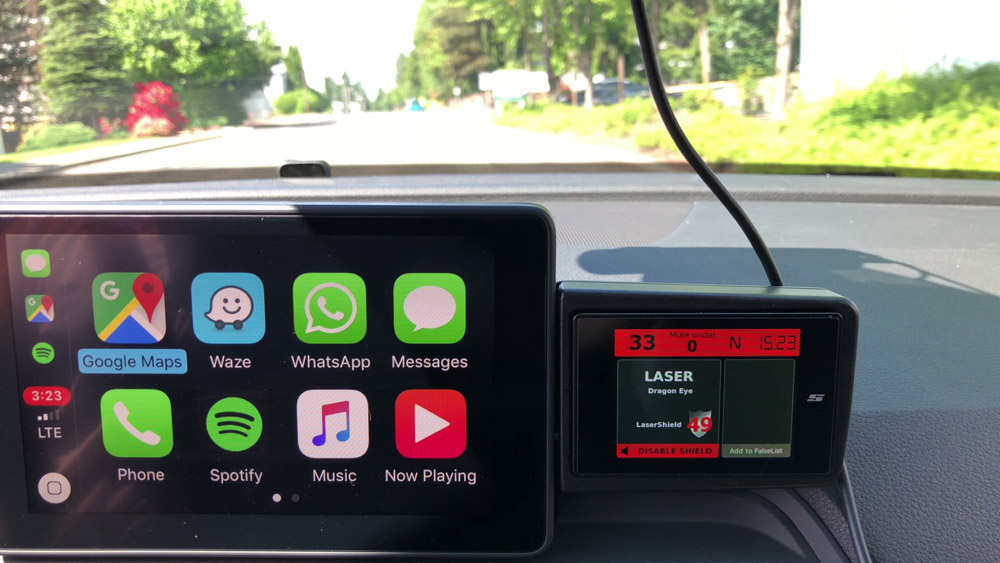 These new fibers cost roughly double a comparably equipped ALP so they're not cheap, but for those wanting the tiniest and most hidden install, especially if your grill isn't favorable to installing a traditional laser jammer, take a look at the new Stinger Fiber Jammers.
#1 AntiLaser Priority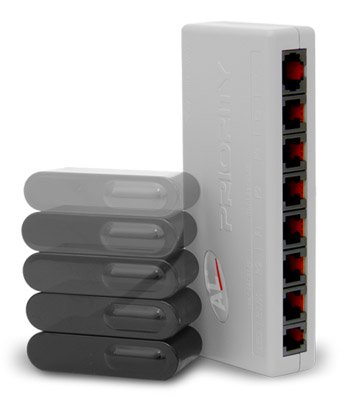 Finally, coming down to the most effective jammer, the AntiLaser Priority wins yet again. Not a huge surprise. There's a reason the vast majority of enthusiasts run the ALP.
That said, I was honestly pretty worried about how they'd perform. It's the first time I've tested my car and my heads are recessed slightly which may cause problems with the jammer getting confused by reflections coming back from the grill. It was a decision that I made with my installers and it was a bit of a gamble. To make it look halfway decent, especially once you add perspex covers in front of the heads, we tucked them back ever so slightly.
Now I'm not going to lie, I was starting to lose a little sleep about this the night before the test. Would my install prevent the jammers from working properly? That's great that we could learn about the impacts of recessed heads, but it wouldn't allow the ALP, TMG, or Escort to perform at their best. I guess I'd have to drive back down to Portland again to get my setup tweaked. There'd be other people at the test without recessed heads so I could compare to their results, plus maybe my rears would perform better and they're not tucked back the same way so that would tell us more too. Those were my thoughts of how I could work around any issues that could arise with recessed heads.
For my center jammer cluster, I've got both a regular ALP head and a Tx head.
Which one would perform better? Would I get better results with the regular head, given its additional receiver and the added detection capabilities? The Tx head should perform better against the DE, but I don't see that gun around here. What would I lose against standard guns?
Well, here are the results with the 3 regular heads:
Mostly JTG, and a couple close range PT's against the DE. All things considered, I'm impressed to see how it fared without a Tx head!
Switching the center head to a Tx sensor, here's what I saw: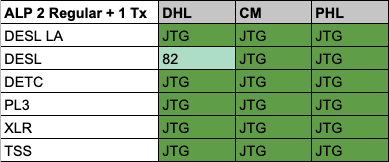 Much better performance against the DragonEye and still JTG elsewhere. Awesome.
Now that said, I did have a very strange 480′ PT with the PL3. We were all very confused about that and wondered if it was a power supply issue on the gun. The gun is a cig. lighter powered gun and I had it plugged into a USB battery pack with a USB to cig. lighter adapter. We plugged it in to @Panic's 12v cig. lighter and tried again. JTG. Was it a power supply issue? Was it just a random PT? I don't know. Either way, that's the only time we saw that.

Moving on to the Perspex testing, since the 2 Reg + 1 Tx sensor setup worked better, I covered all of my heads with Perspex and here's what I saw:

Switching over to the rears, 2 Reg + 1 Tx and also covered in Perspex, here's the results:

Testing with the ALP is kind of boring. It performs so well that it's just one pass after another with no gun able to get a reading. I guess there's a reason that most enthusiasts runs one.
🙂
I was just glad to see that my install worked well, even with the heads slightly recessed, as well as when covered up with Perspex. Setup and placement for this stuff is really important though, so if you want an ALP too, be sure to check out my ALP setup guide.
Read my setup guide to learn how to install your ALP.
You can purchase the AntiLaser Priority online here.
I was just glad to see that my install worked well, even with the heads slightly recessed, as well as when covered up with Perspex.
So those are the results of our testing. The AntiLaser Priority, once again, proves why it's the most effective laser jammer available on the market.
Thanks so much for everyone who supplied equipment, as well as to everyone who came out including @meismyname, @Ctse, @Partybot, @Panic, @RaptorALP, and @Jon at Radenso! (Note: Jon was in town for a training and came by to hang out during the testing, but he did not shoot any guns or drive any cars. He was just there to spectate. Stinger wanted to come too to help position the heads on my car, but it didn't work out timing-wise.) Thanks to the laser jammer manufacturers for being available for troubleshooting and questions as well! That was also super helpful. Finally, thanks to Musicar Northwest for helping me out with this killer install! Finally getting to see how it performs, I'm now even more pumped about it. 
🙂
This website contains affiliate links.

Click here to read my affiliate disclosure.