After testing the brand new Escort Redline 360c last month, we discovered a bunch of critical issues. Fortunately Escort has since released firmware 1.3 which helped resolve most all the problems that we saw in initial testing. Now that the detector is working properly, I headed back out to retest the Redline 360c. With the new firmware, it now behaves much better and performs very well. As a bonus, I had a chance to also test out the brand new Escort Max 3 as well.
Since this is a retest from last month's test, here's what I wanted to find out this time:
Do the Redline 360c arrows now flip properly when passing the source?
Does the Redline 360c ramp up properly as you get closer to the radar gun?
Does the Redline 360c's rear antenna now work properly and allow for long rear detections?
How sensitive is the Redline 360c's front antenna compared to the Uniden R7 and V1 Gen2?
Does the Redline 360c outperform the Max 360c?
How does the new Max 3 perform compared to the Max 360c?
If you'd prefer watching the video of the testing, here's the test results:
Radar Detectors: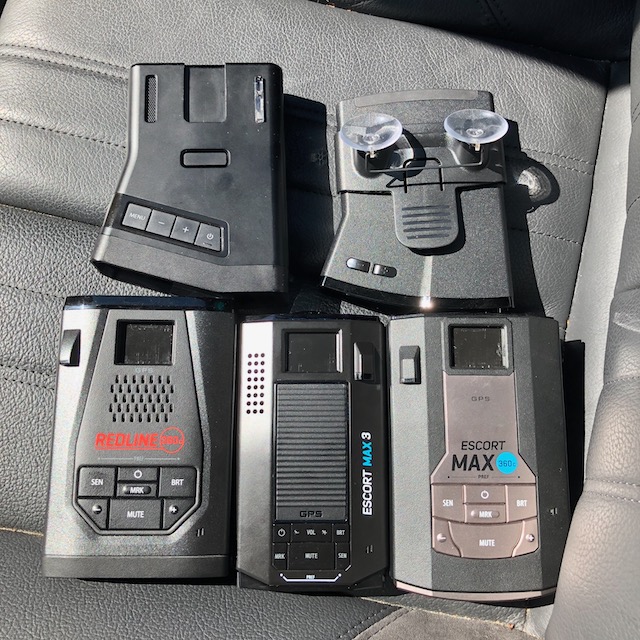 All of the detectors were set up the same: X band off, K band on, Ka segmented 2/5/8, K band BSM filters on, & Ka filters off.
Radar Guns:
Kustom Falcon HR (K Band)
MPH Bee III (33.8)
Stalker II (34.7)
Decatur Genesis II (35.5)
Test Course:
The test is the same ~half mile red barn test course I've used for years. The red barn is ~2,550 ft from the radar car. There's another bend in the road~1,500 ft where there's less foliage in the way so lots of detectors will alert there.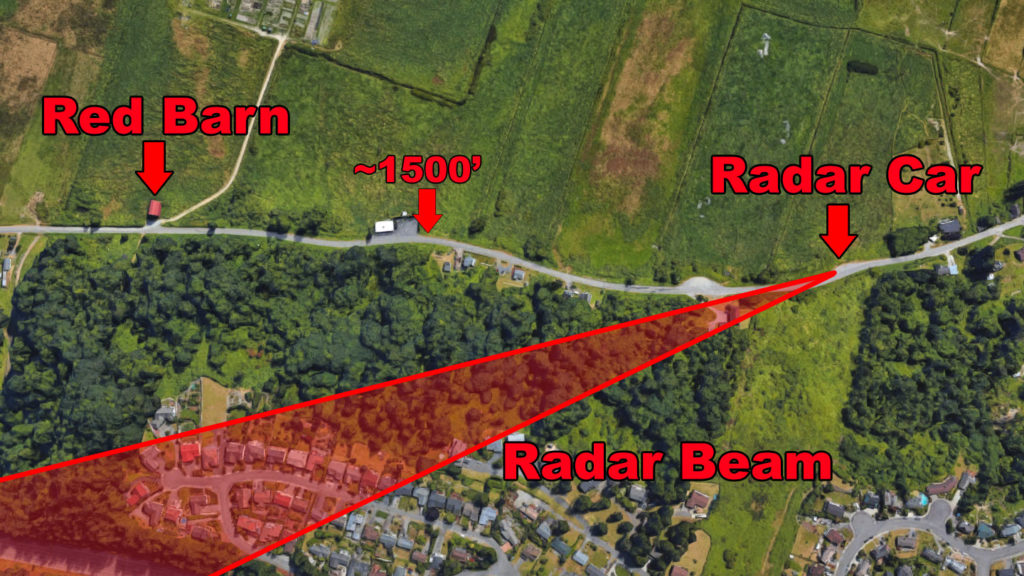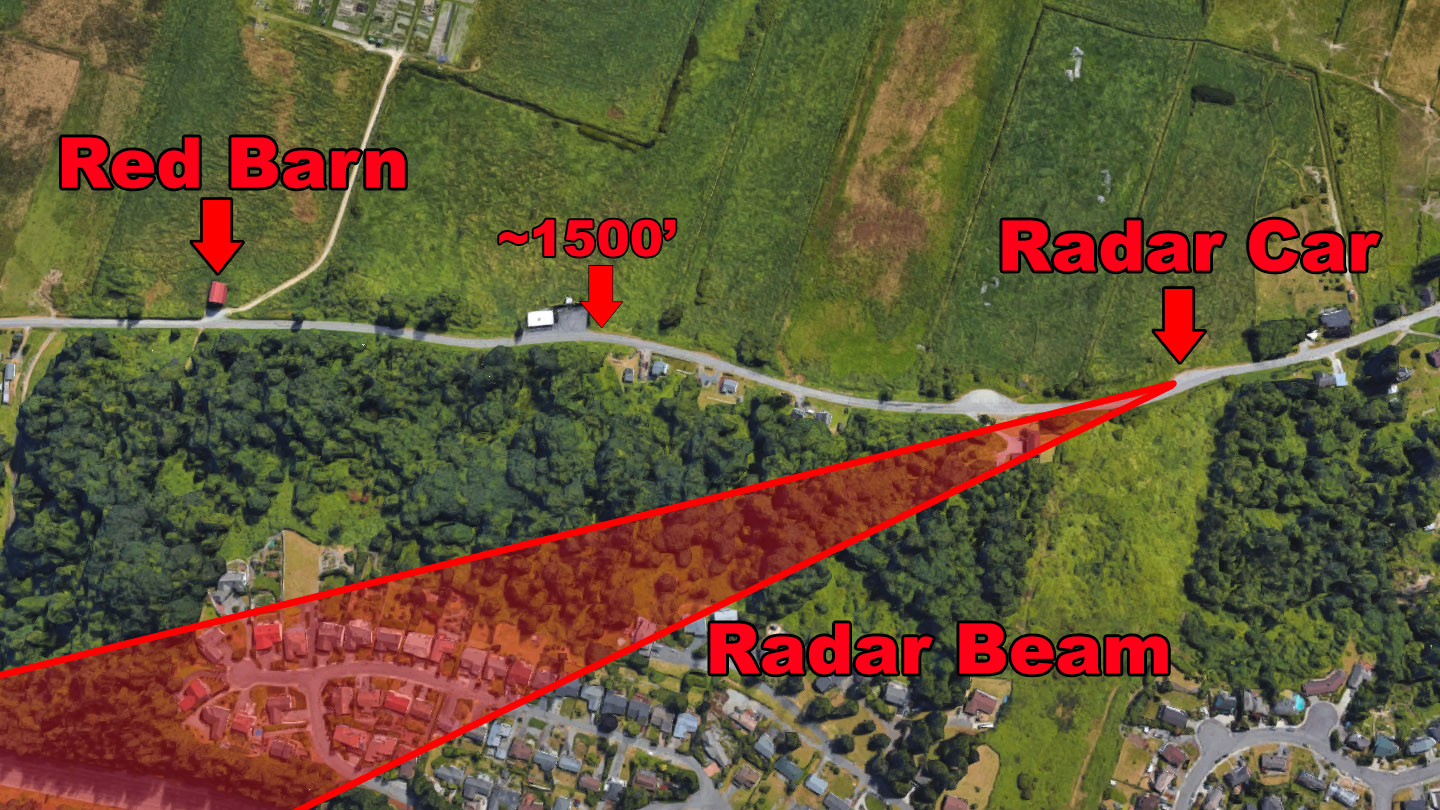 Redline 360c 1.3 Ramp-up & Arrow Flipping:
Starting off with signal presentation, firmware 1.3 makes the Redline 360c much better. Now it progressively ramps up as you get closer to the radar gun. Plus once you pass, the arrows now flip properly as well. Here's an example test pass on 33.8:
Heading the other direction, the same applies. Plus the rear antenna now does a good job of continuing to hold onto the signal after you pass. This is the type of behavior I'd expect from a detector with arrows. Here's a sample rear test pass on 35.5:
K Band Front Results:
Moving on to range testing, let's start with K band. I tested with the Falcon HR on the dash. (Its linearly polarized antenna performs the same upside down or right side up, but upside down is easier to rest on the dash.)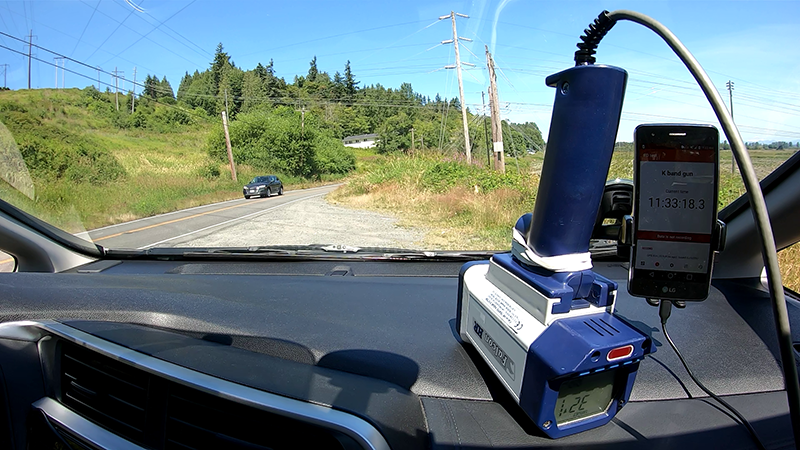 The Falcon HR is a lower powered radar gun (not as low as MRCD or anything), but it still blasted plenty of signal downrange and so detectors gave plenty of advanced warning, typically alerting just after the red barn.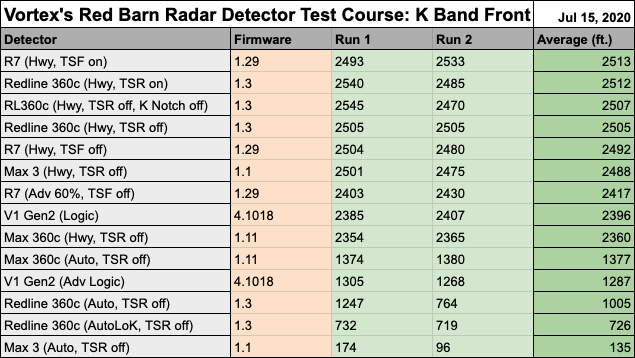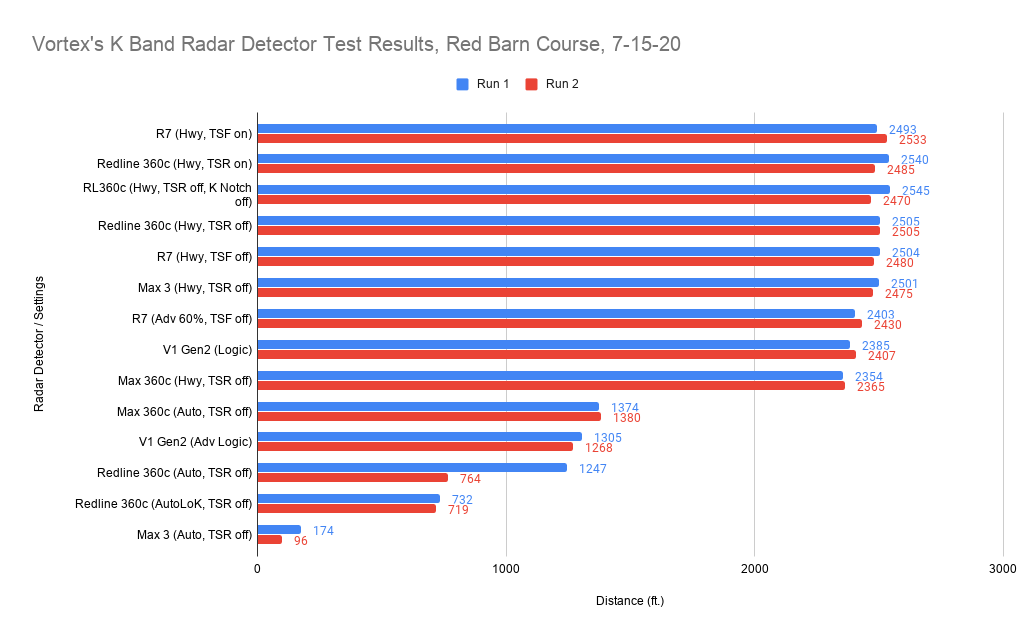 TSR didn't reduce range this time like it has in previous tests. I guess this time the signal was sufficiently strong and consistent around the red barn for that filter to not make a difference.
Auto Mode definitely made a difference though. It reduces detector sensitivity at lower speeds and raises it at higher speeds. I ran the course with cruise control set at 35 mph and as expected, Auto Mode reduced the Redline 360c's range and AutoLoK reduced it further. Disabling the K Notch filter (which adds additional BSM filtering) didn't impact range in this test.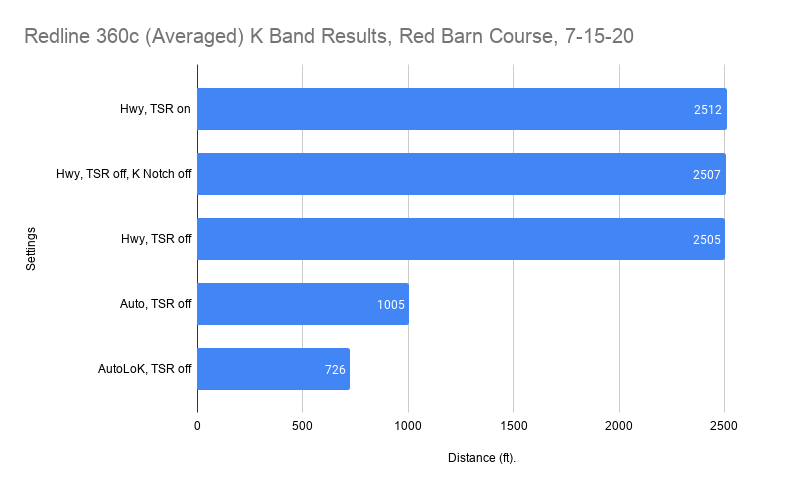 Something else I noticed about the Redline 360c on K band is that when running it in Highway Mode, it always got overdriven at close range. When I was in the kill zone, it jumped from showing just 1 signal to showing 3. It never happened in Auto or AutoLoK. Here's a full K band run so you can see the ramp-up as well as the overdriving issue.
In terms of range, the Max 3 performed even worse. It did fantastic in Highway mode, but when I set it to Auto mode, it performed worse than the Redline 360c set to AutoLoK. In fact, it managed to get C/Owned on both passes, only alerting once I could already see the vehicle and the radar gun was able to get my speed. Ouch… It didn't provide any advanced warning.
Auto Mode is nice for helping reduce false alerts such as automatic door openers around town, but it looks like the filtering here is too aggressive.
Something else you'll notice from that Highway mode run, it didn't alert properly in the kill zone. The signal ramps down and gets really weak as I get close, then it suddenly jumps to full strength on screen, but doesn't start screaming full tilt until I'm just about passing the radar vehicle. It's not doing a good job of communicating the threat level. We saw something similar with the initial release of the Redline 360c and it was improved with its new firmware update. It looks like we may have the same issue here. Fortunately, Escort is now aware of this issue and they will be fixing this in an upcoming update.

K Band Rear Results:
Moving on to rear detection driving the other direction, here's how long the detectors would hold onto the signal after passing the radar vehicle and it continued shooting towards me from behind: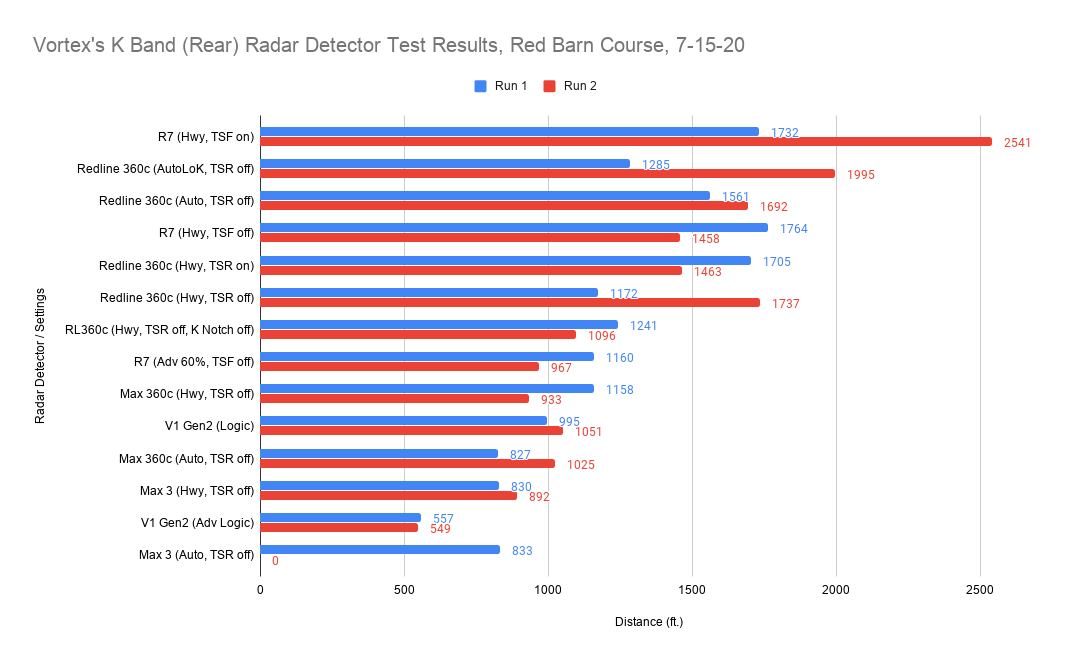 Personally I don't care about having the longest range ever from the rear, but it is nice to have. (The rear antenna's function is primarily to give you arrows.) Unlike last time, this time the Redline 360c's rear antenna performed in line with other detectors that also have a rear antenna. I'm glad to see its rear antenna now working properly.
The big concern here though is the fact that Auto Mode again destroys the Max 3's performance. In Highway mode it did great, but when switching to Auto, things went downhill quick. The first time it didn't alert until I was just about passing the radar car. The second time I got no alert whatsoever. Nothing.
(It had me wondering if the radar gun was still even on and it's why I pulled over after the last front detection test. The gun was still on and transmitting. As I continued testing with other detectors, they all performed normally. It was just the Max 3 behaving this way…)
For the time being with firmware 1.1, I would recommend not using Auto Mode with the Max 3. Stick to Highway mode.
33.8 Front Results:
Next let's switch to Ka and start with 33.8. To cut down on range, I once again moved the radar car forward a bit to tuck it behind a bush and reduce how much signal was traveling down range. It helped somewhat, but these are sensitive detectors and they all still did great.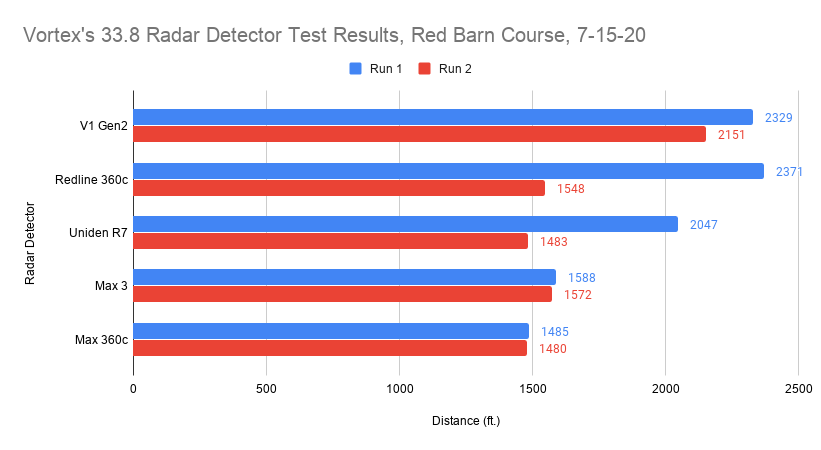 The V1 Gen2, Redline 360c, and R7 all managed longer distance alerts at least once. The Max 3 and Max 360c never did. Interestingly, like with K band, the Max 3 managed slightly longer alerts than the Max 360c.
33.8 Rear Results: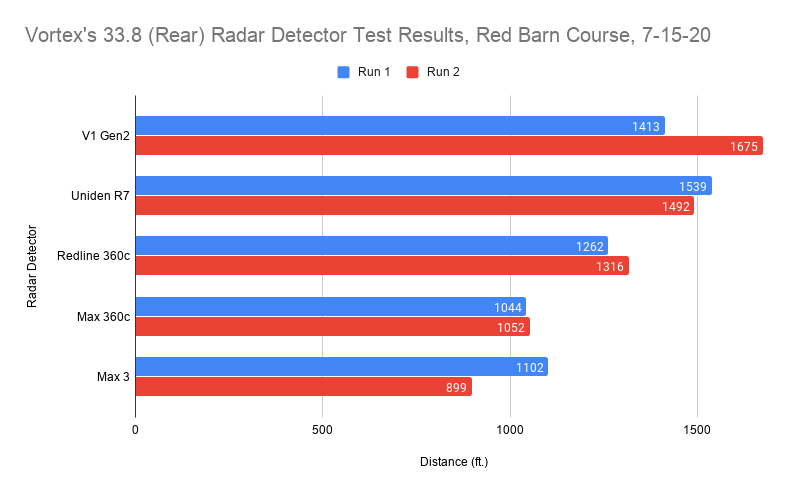 From behind, the V1 Gen2 and R7 hold onto the signal better than the Redline 360c which does better than the Max 360c and Max 3.
34.7 Front Results:
Next up, let's switch to 34.7.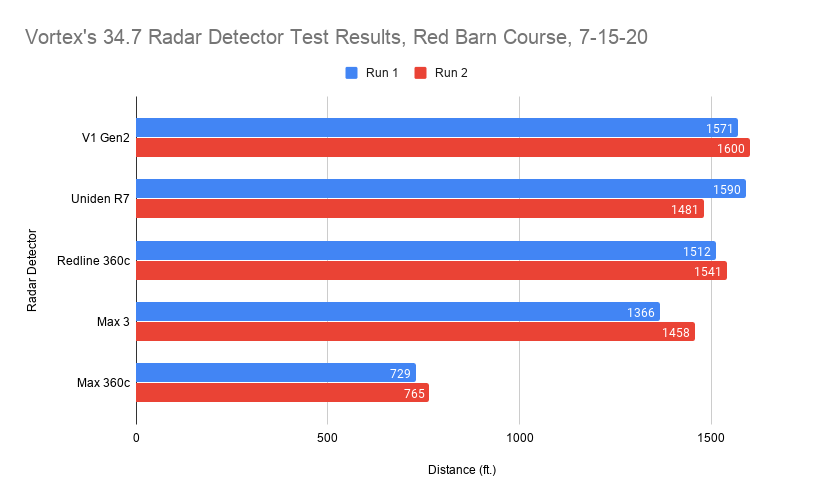 The V1 Gen2, R7, and Redline 360c all turn in comparable results. Surprisingly, the Max 3 was pretty close, but the Max 360c didn't alert until way later. I expected the Max 360c to lag behind the other arrow detectors, but I wasn't expecting the Max 3 to beat out the Max 360c like that…
34.7 Rear Results:
Next up, here's a look at rear detection: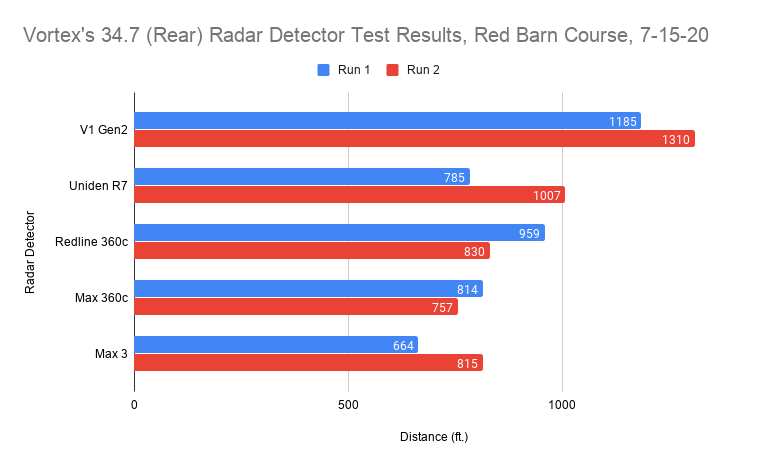 The V1 Gen2 managed the longest rear detections on 34.7 and it did an excellent job here.
35.5 Front Results:
Finally, let's look at 35.5.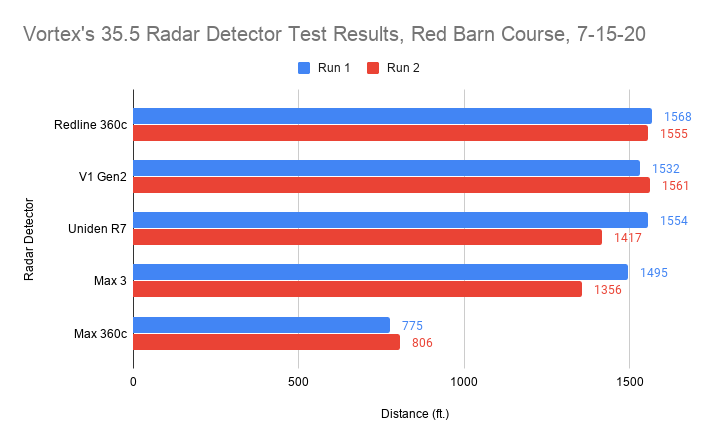 The results here were extremely similar to what I saw on 34.7. The Redline 360c, V1 Gen2, and R7 all alerted right in the same spot with the Max 3 trailing behind just a smidge. The Max 360c lagged behind quite a bit further.
It can be tough to see differences in sensitivity when things are terrain limited, but it does look like the Max 3 is more sensitive than the Max 360c. I expected them to either perform similarly or, if anything, for the Max 360c to outperform the Max 3.
35.5 Rear Results:
Finishing up with 35.5 from behind, things here are more in line with what I expected.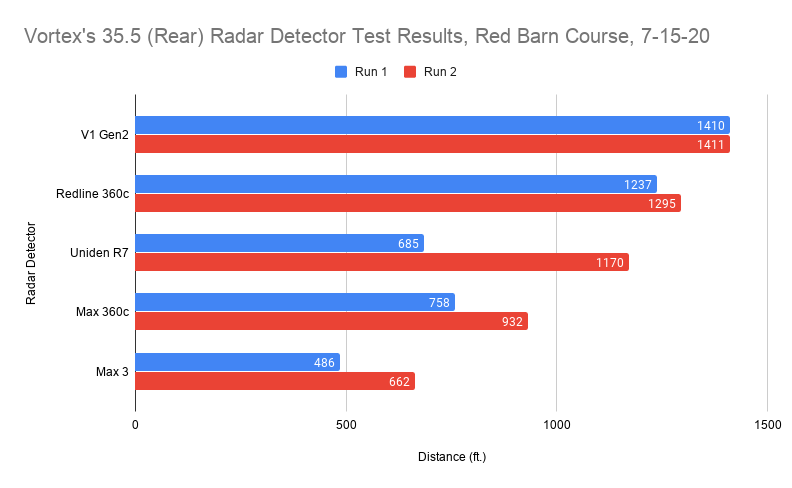 V1 Gen2 did great from behind yet again. Its rear antenna is super sensitive. Redline 360c was just a bit behind, followed by the R7. Then the Max 360c and then the only detector without a rear antenna in this group, the Max 3.
Conclusions:
So here are the main takeaways from this test:
Redline 360c's arrows now work properly
Redline 360c's ramp-up now works much better
Redline 360c performs in the same ballpark as the R7 and V1 Gen2
Redline 360c outperforms the Max 360c
Max 3 is surprisingly more sensitive than the Max 360c on Ka band
Max 3 has some ramp-up issues that need to be addressed
Max 3's Auto Mode sensitivity reduction is too aggressive for use when K band is prevalent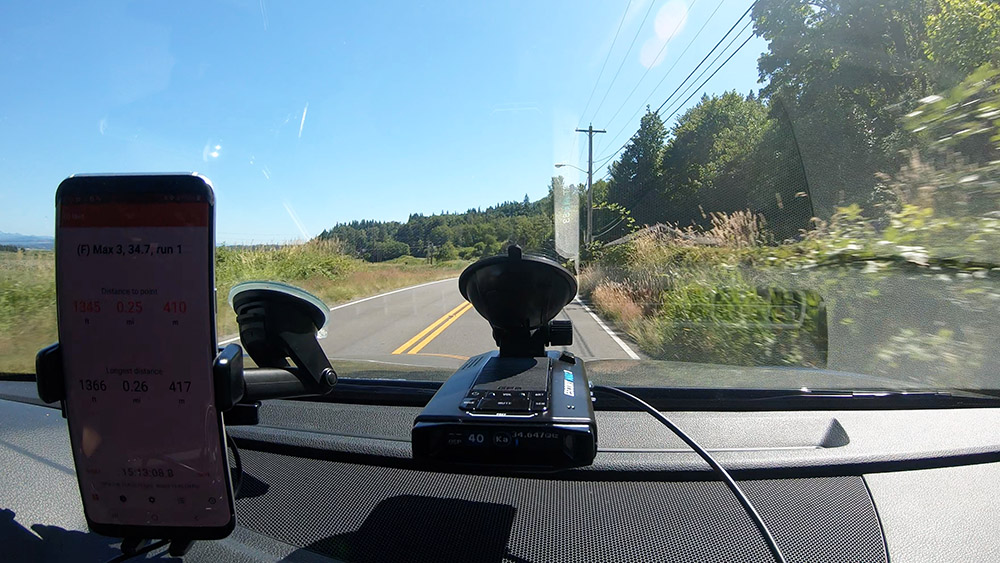 The Redline 360c is now performing and behaving the way I would expect. It doesn't "noticeably" outperform the R7 and V1 Gen2 the way Escort claimed, but it is in the same league. I'm much happier with its performance and behavior now with this new update.
The Max 3 is showing tremendous promise, outperforming the Max 360c. It's got some issues with this initial release though. I'd say run it in Highway Mode for now if you have K band in your area and don't use Auto Mode with firmware 1.1. Hopefully Escort will successfully address this and its ramp-up in a future update.
Finally, if you'd like to purchase any of these detectors, here's the links to where you can buy the Redline 360c, Max 3, V1 Gen2, Uniden R7, or Max 360c.
This website contains affiliate links.

Click here to read my affiliate disclosure.
Summary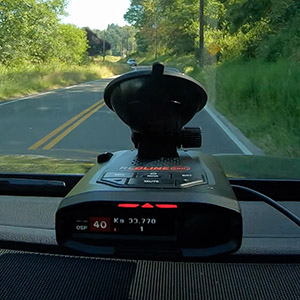 Article Name
Escort Redline 360c 1.3 and Max 3 Testing
Description
The Escort Redline 360c now performs much better with firmware 1.3. The Escort Max 3 shows promise, but has some issues. Here's how they perform.
Author