Time to test out the brand new $749 Escort Redline 360c. Escort claims it offers "noticeably" better performance than the Uniden R7 and Valentine 1 Gen2, longer range than the Max 360c, and 2x the range of the Redline EX.
How good is the new RL360c in practice? Time to run it head-to-head against the toughest competition and see how it compares.
Update: In response to the problems discussed in this test, Escort has released a new firmware update to fix these issues. You can see my updated retest here.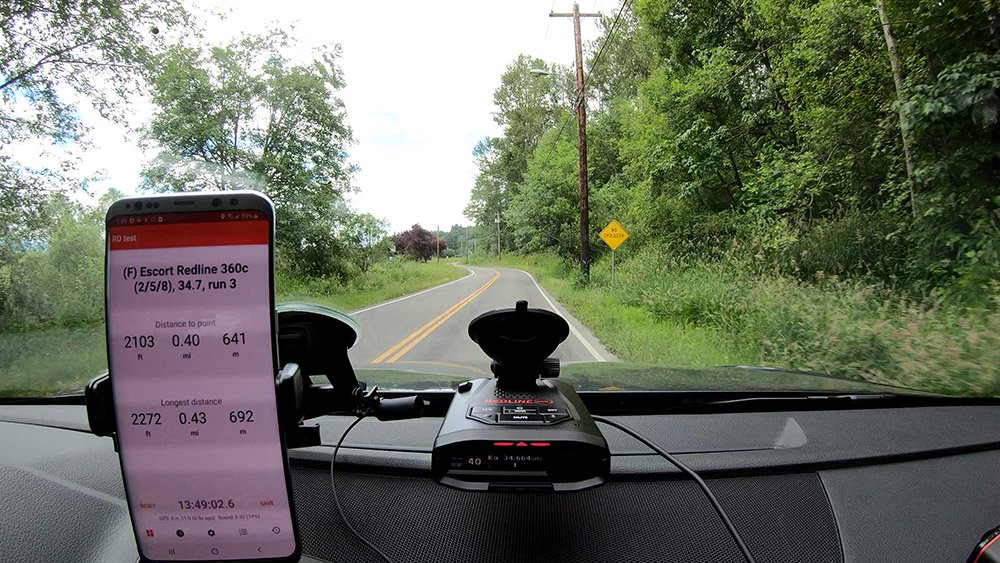 Radar Detectors:
Radar Guns:
MPH Bee III (33.8)
Stalker II (34.7)
Decatur Genesis II (35.5)
Test Course:
Here's a look at the red barn test course itself. I've marked both the radar car and red barn on either end. This time we tested both front and rear detections by driving back and forth between the red barn and radar car.
On this map we do front detections by driving from left to right towards the radar gun. Rear detections are driving from the radar car back towards the red barn. There's two spots marked on the map where detectors commonly alerted. The longer ~2200′ location is shortly after the red barn for front runs. Then there's a bend you come around where you clear the trees to your right and at ~1500′ there's another common detection zone.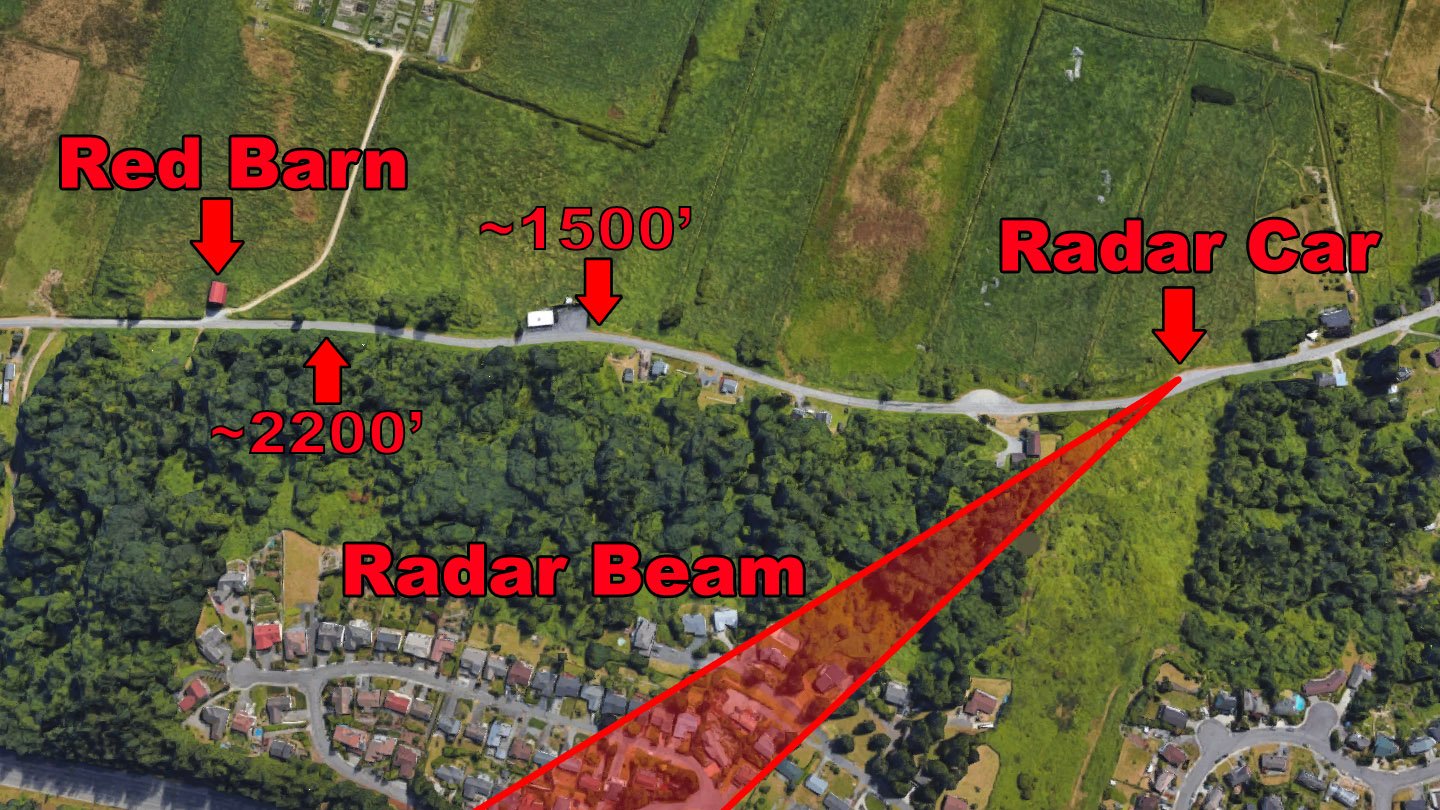 The radar car was parked behind a huge bush to block a bunch of the signal. It turns out it didn't help too much since these are all very sensitive detectors, but it did make for a super short kill zone of ~160 ft.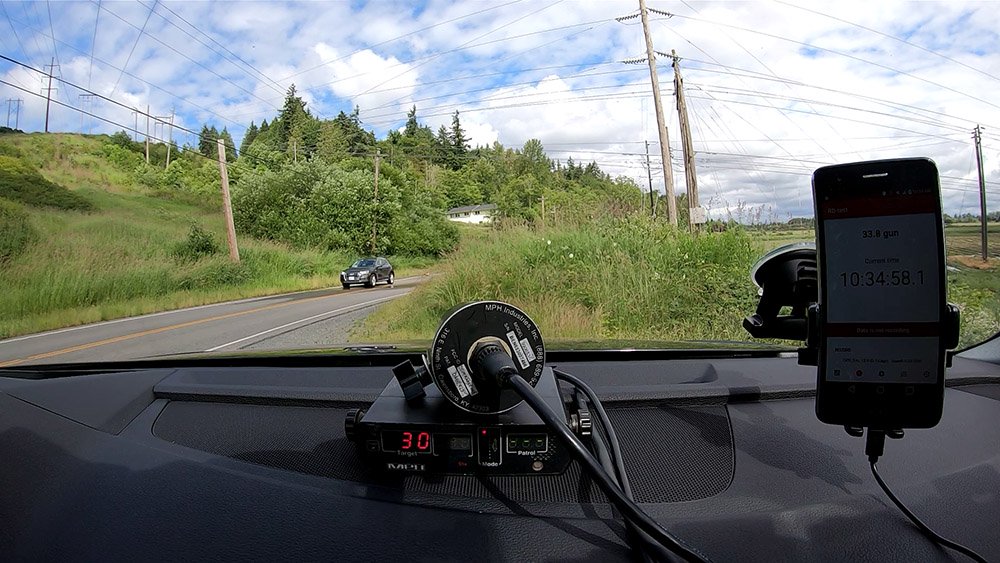 Weather was clear and traffic was light throughout the day.
33.8 Front Results:
Let's start with 33.8 results for front detections.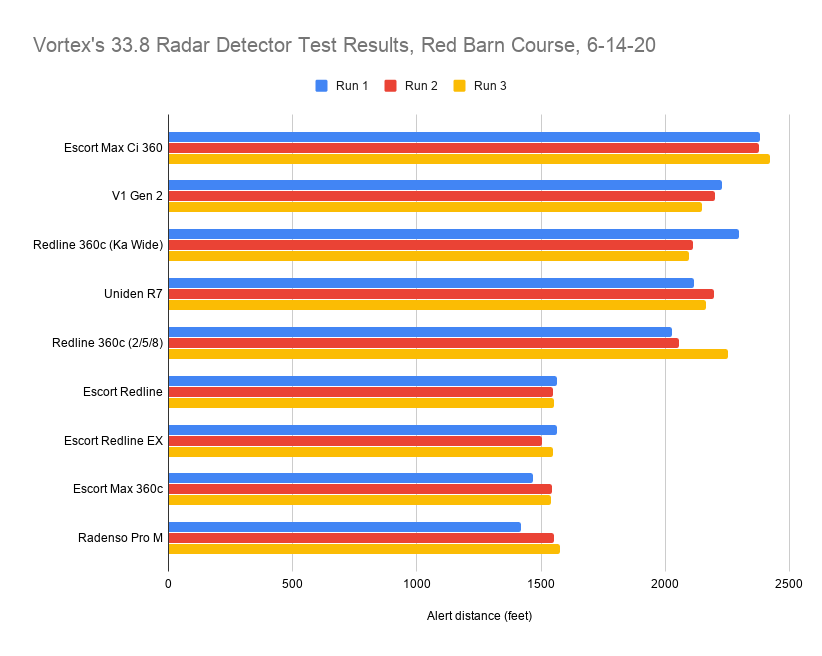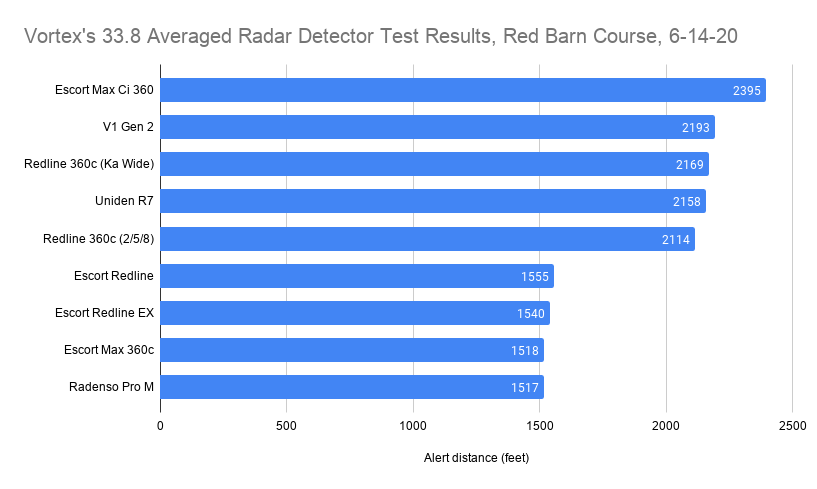 Detectors basically split up between two groups.
The longest range detectors were the Max Ci 360 (which beat out everything else), the V1 Gen2, RL360c, and R7.
In the lower half, we had the RL O, RL EX, Max 360c, and Pro M.
Great job by the RL360c. One thing that was really strange though is that while RL360c managed long range detections, its rampup was awful. Instead of a nice progressive rampup that gets stronger as you get closer to the source, the signal comes and goes and doesn't properly alert full tilt as I get into the radar gun's kill zone. Additionally, unlike every other detector, the arrows didn't flip back after passing the radar vehicle.
So great range, but terrible alert presentation.
33.8 Rear Results
We also did some rear testing, measuring until the last beep of the detector while the radar gun keeps hitting us from behind. It's not a perfect way to test since there's always a question of the latch time, but it was pretty straightforward to test while we drove back to the start of the course.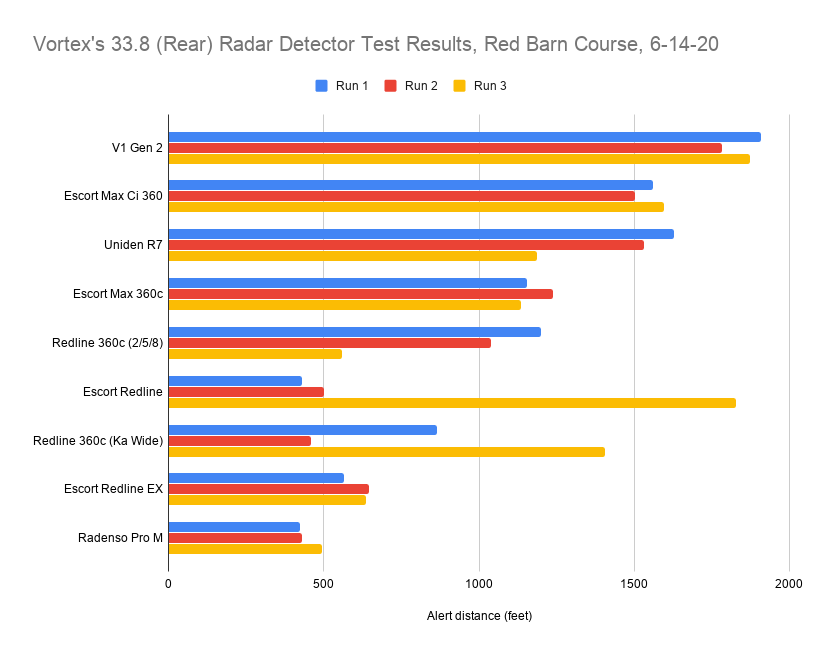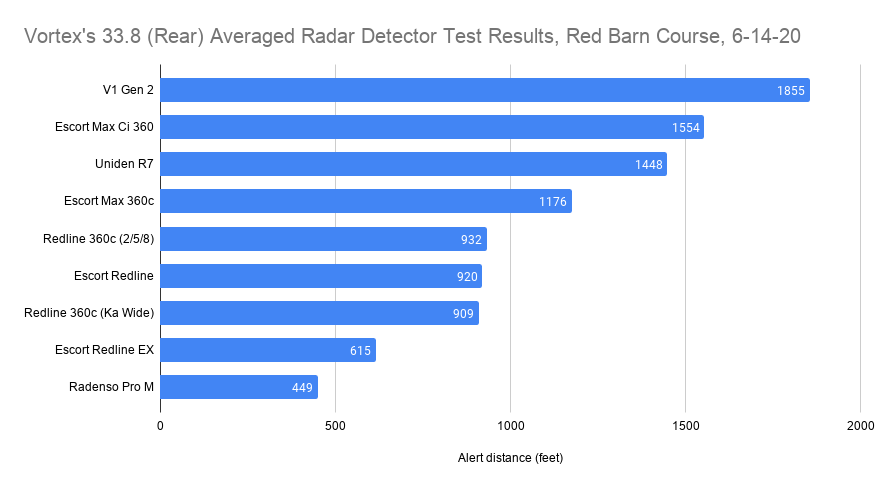 The V1 Gen2's rear horn did awesome. The R7 and Max 360c did well too, with one shorter run for the R7. The R7's rear bal was set to 100%.
The RL 360c had pretty poor and inconsistent rear detections, despite its rear horn.
The rear antenna overall sucks. Throughout the test I got poor detection range, super late arrow flipping, or no rear arrow flip at all. The other arrow detectors all flipped nicely when passing the radar gun, but not the RL 360c.
Escort says this is a known issue and that an update is coming to fix this. Regardless, I was surprised to see it as an issue in the first place given that Escort has done a bunch of arrow detectors already at this point. Hopefully the new firmware update really does fix this.
The RL360c did manage one longer rear detection, so there was at least that. The RL O also had a long rear detection, strangely enough. I'm guessing it was picking up a reflection from a vehicle ahead or something, but without arrows, I don't have a way to verify.
34.7 Front Results: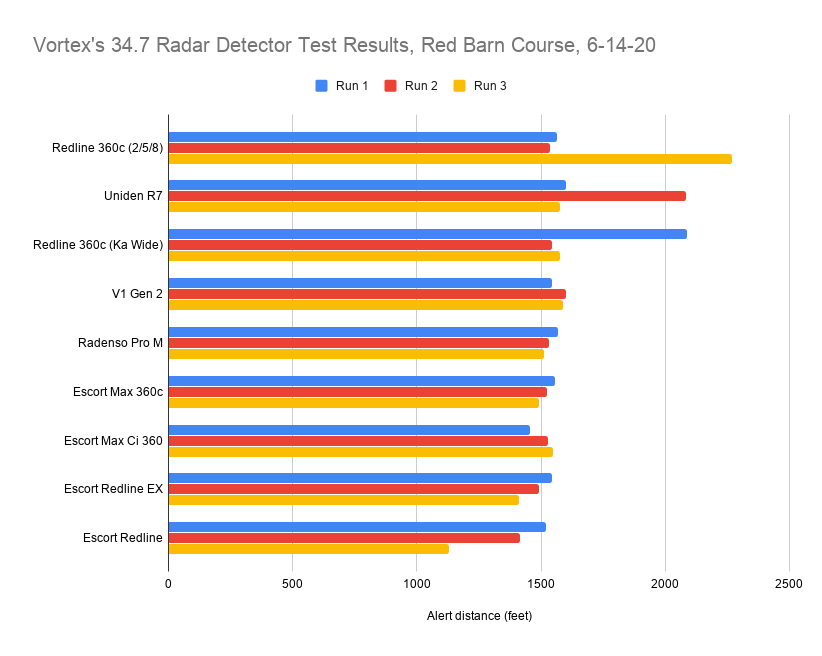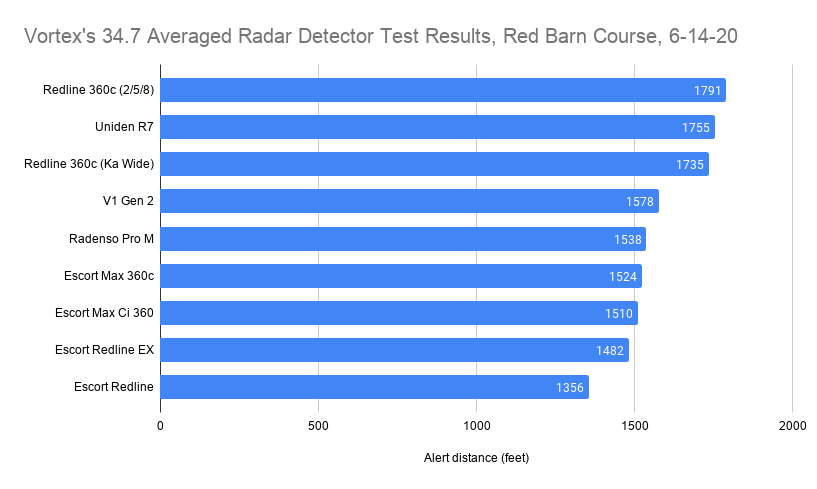 Things were super terrain limited against the Stalker. Most every detector alerted right as I rounded a bend towards the radar gun and so we weren't really able to see some of the sensitivity differences between detectors like we had before.
The RL 360c and R7 each managed one longer range detection just after the red barn, but otherwise they alerted in the same spot as the other detectors. (Technically the RL360c did it twice since I gave it 3 runs with KaSW and another 3 segged 2/5/8 to see if segmentation makes a difference.)
34.7 Rear Results: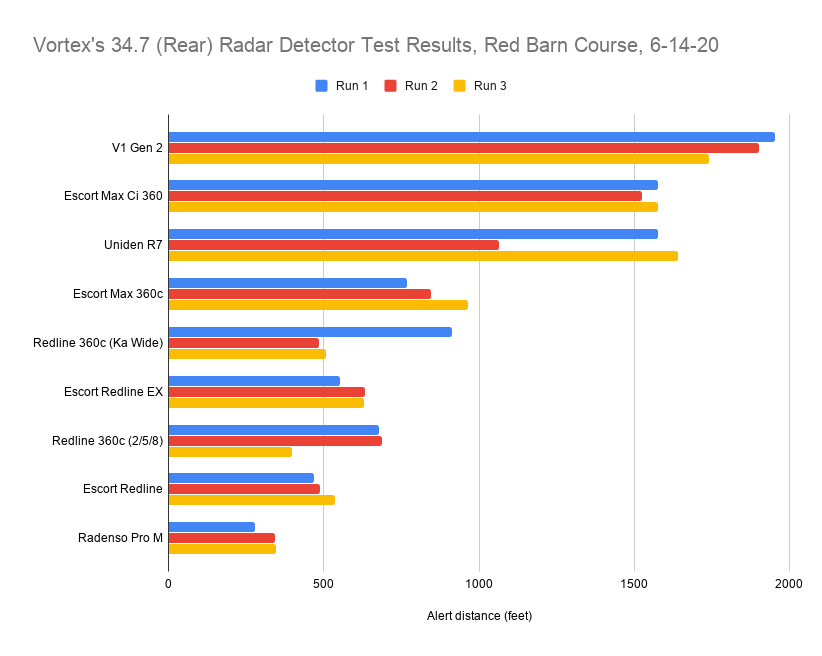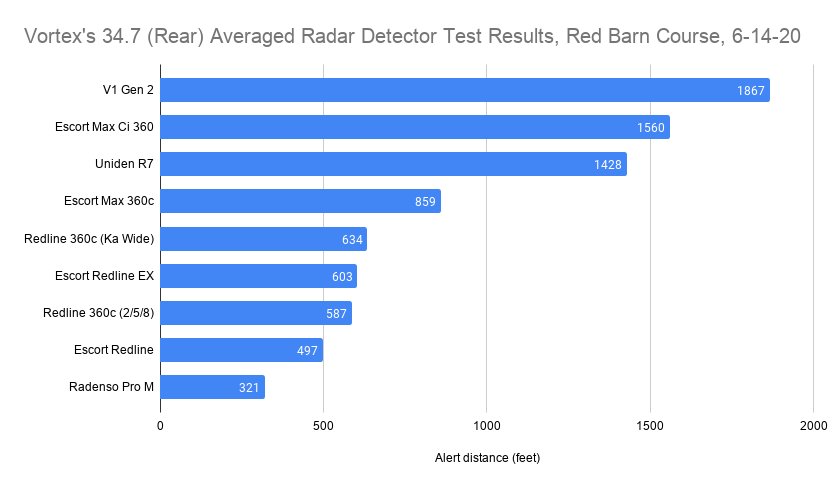 Again, killer job by the V1 with its rear antenna.
Also good showing by the Max Ci 360 and R7.
Max 360c lagged behind, then the RL360c lagged further still.
The non-arrow detectors all landed towards the bottom as expected. The RL360c was hanging out with the non-arrow detectors, almost as if it didn't have a rear antenna at all.
35.5 Front Results:
35.5 started splitting up detectors as well since only some managed alerting shortly after the red barn.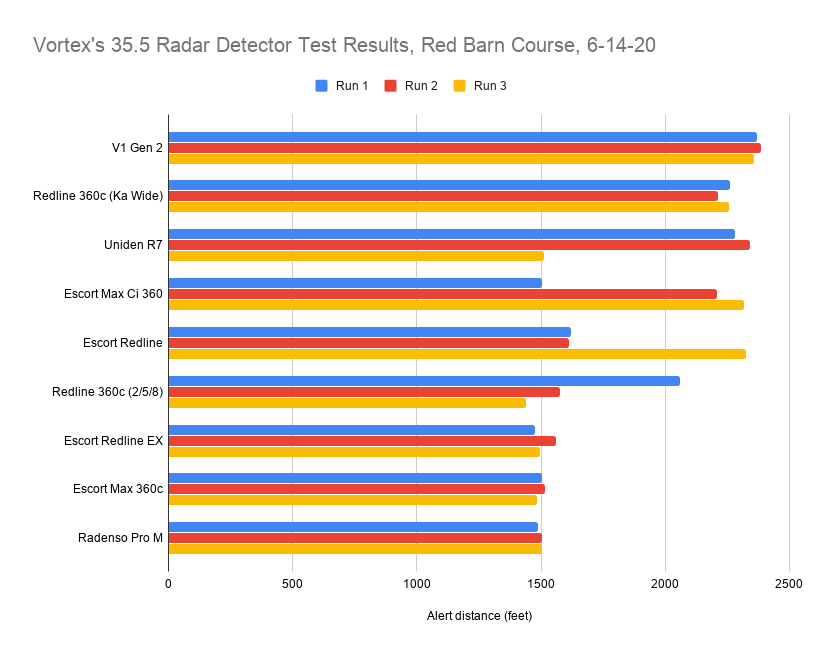 V1 Gen2 and RL360c (running Ka wide) both did great, with the V1 doing the best overall. R7 did as well, with one shorter run when a big moving truck drove towards me and blocked the signal from reaching the longer distance alert spot for run 3.
RL360c had some shorter runs with the detector set to 2/5/8. Escort told me segmentation is supposed to help, FWIW, but they're saying it doesn't do anything on ERF. If anything, I figured 2/5/8 would improve things. Maybe the shorter runs were also due to traffic? I dunno.
The Max Ci 360 and RL O also managed some longer distance alerts, with the O outperforming the EX.
The RL EX, Max 360c, and Pro M only had shorter distance alerts.
35.5 Rear Results:
Finally, here's the rear testing results. Again the V1 Gen2 crushed it.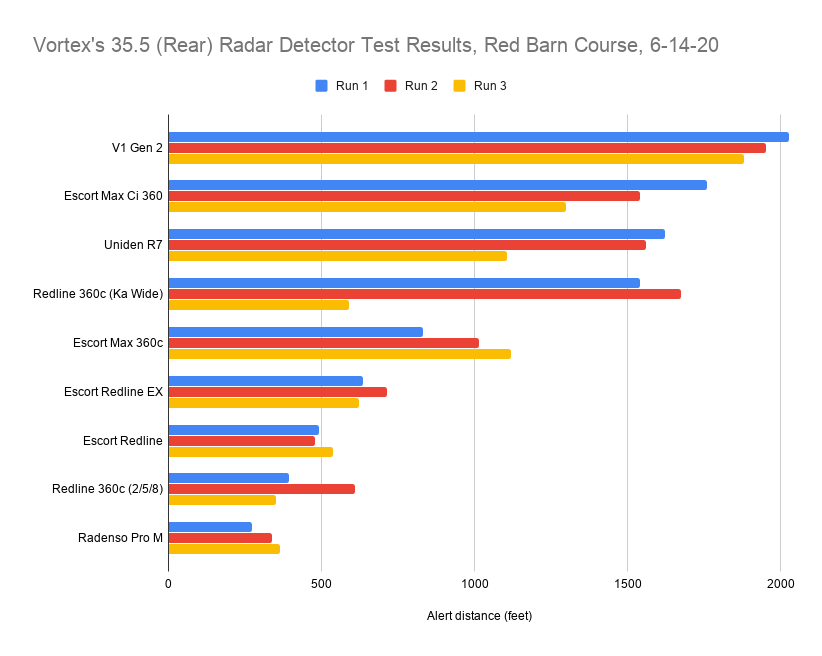 Max Ci 360 and R7 also had some really nice rear detections. The RL360c mostly alerted behind the Max 360c, but it did manage two better alerts.
The bottom of the barrel again went mostly to the non-arrow detectors, but the RL360c was hanging out down there too.
and here's the averaged results to simplify things: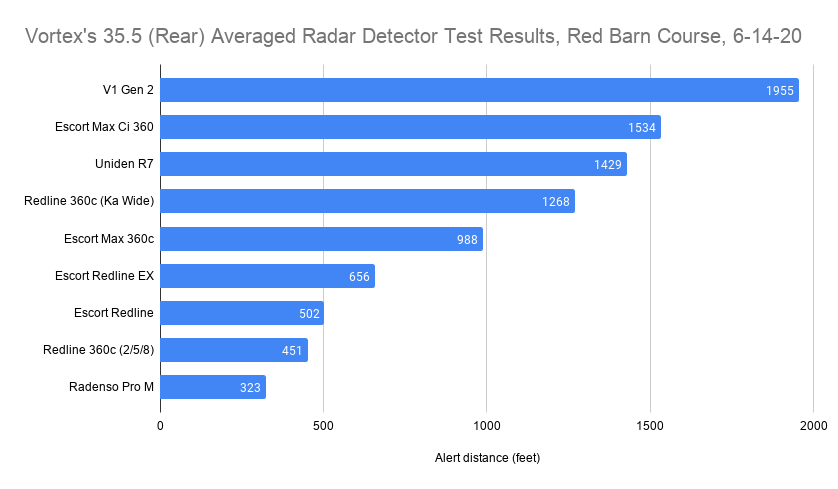 We ran out of time to test K band so unfortunately we weren't able to do that.
Overall the RL360c did great in forward detection range, but its rear detection and arrow functionality, along with its rampup, are awful.
Quick Neighborhood Test
The front sensitivity in this test was a bit surprising to me because a few days earlier, I had set up a radar gun in my driveway and did some quick comparison tests driving towards my house.
The RL360c didn't do nearly as well in this particular test, especially on 33.8.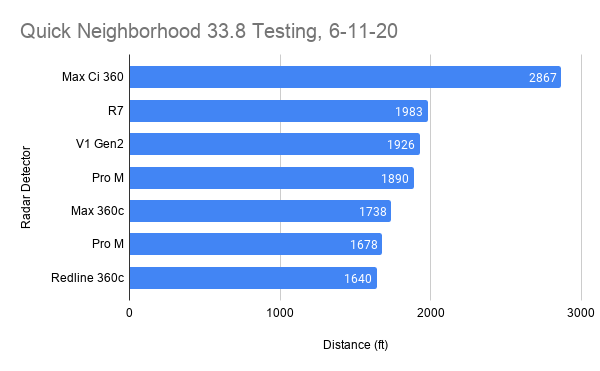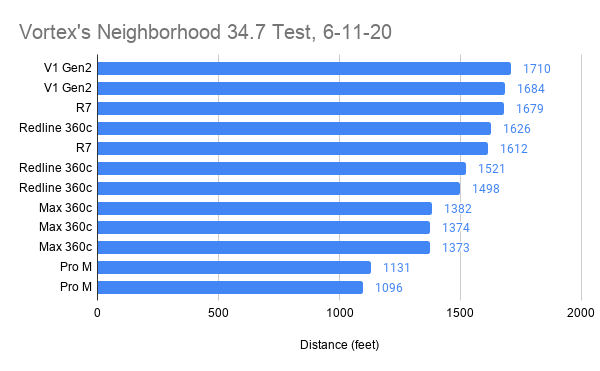 This was on an earlier firmware, 1.1, which got pushed to RL360c's due to an error in Escort's update server. The detector shipped with 1.2 and it's what I tested on the red barn course. I thought maybe the earlier firmware didn't perform as well, but @BagNDrag on RDF also did some RL360c vs V1 Gen2 testing and found that his RL360c running 1.2 lagged behind the V1 as well on 34.7, so I don't think this is a firmware issue.
Either way, I think we need a lot more testing and data points to really get a feel for how it compares. As always, this is just one test on one course with one set of detectors. We gotta look at lots and lots of tests to get a feel for the big picture.
Final Thoughts
While the Redline 360c holds a lot of promise and looks great on paper, and even though it is capable of producing top notch detections, its inconsistent front detection performance, very poor rear performance, abysmal ramp-up, and laggy or altogether non-functioning arrows are a big disappointment.
Many of these problems are known issues and Escort told me they're actively working on a firmware update to address these issues. I genuinely hope they fix these issues quickly and effectively because this is priced as a high end detector and it needs to perform like one.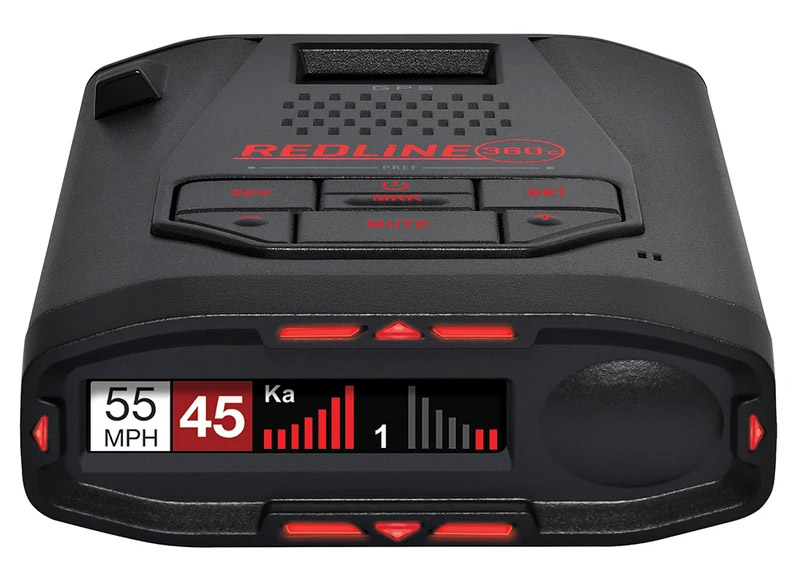 On a final note, a big thank you to @ferius, the developer of Highway Radar, for helping me both with testing as well as with his amazing RD Test app! That app was invaluable for collecting all this data and saved me hours of work. 🙂
This website contains affiliate links.

Click here to read my affiliate disclosure.