So how does the new Valentine 1 Gen2 stack up in terms of long term detection? Well this week I went to find out by testing it against all the other best radar detectors on the market.
Radar Detectors:
Every detector was set up with X off, K and Ka on. Detectors were segmented 2/5/8 when it made a difference (V1 Gen1, Redline EX, Uniden R7, Radenso Pro M). I also ran with the Ka filters disabled for the V1 Gen1, R7, and Redline EX. You can't disable them for the Max360c and V1 Gen2 so it's always running with Ka filters. I meant to disable it for the Pro M, but I forgot since I normally run with it on, unlike the other detectors where I normally run it off. Ka filters on the V1 Gen2 and Max 360c are always enabled and can't be disabled.
Radar Guns:
MPH Bee III (33.8)
Stalker II (34.7)
Decatur Genesis II (35.5 & K Band)
Test Course:
The test course is the tried and true red barn test course. It's a relatively difficult course with a few bends and trees blocking the signal. Maximum detection range is about half a mile.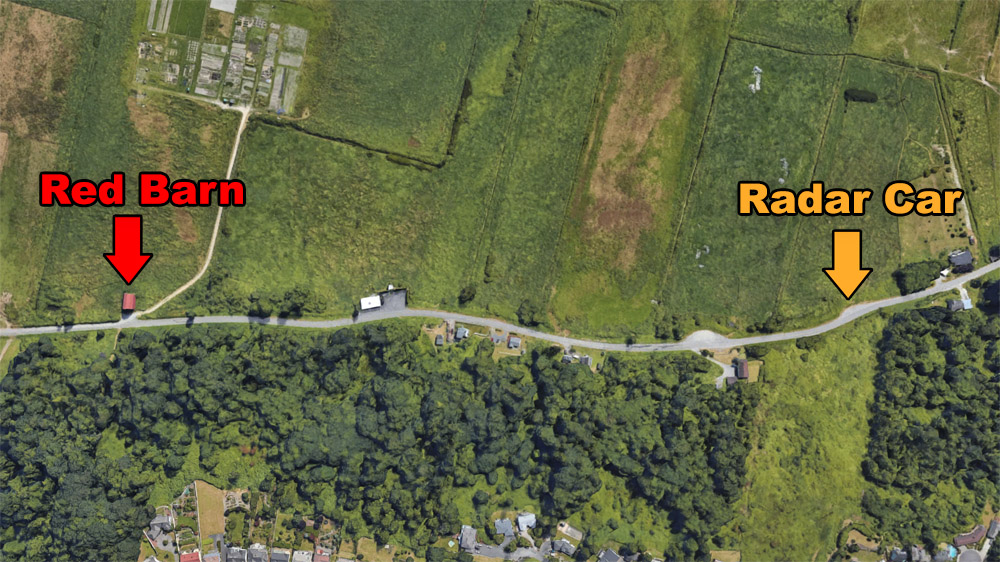 Traffic was pretty minimal thankfully. Cars can and do affect the detection ranges so results may vary. This is one of the main reasons I ran 3 runs per detector on Ka. (I reduced it to 2 per detector / settings combo on K band to save time.)
Weather was sunny and clear.
33.8 Test Results:
Starting off, here's a look at the results on 33.8: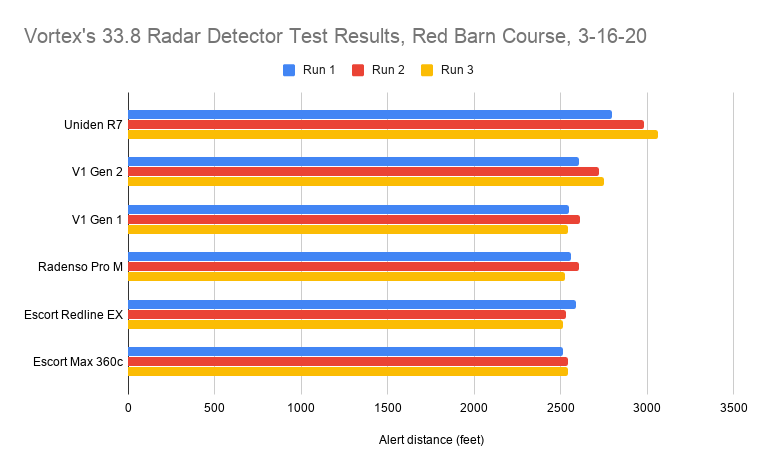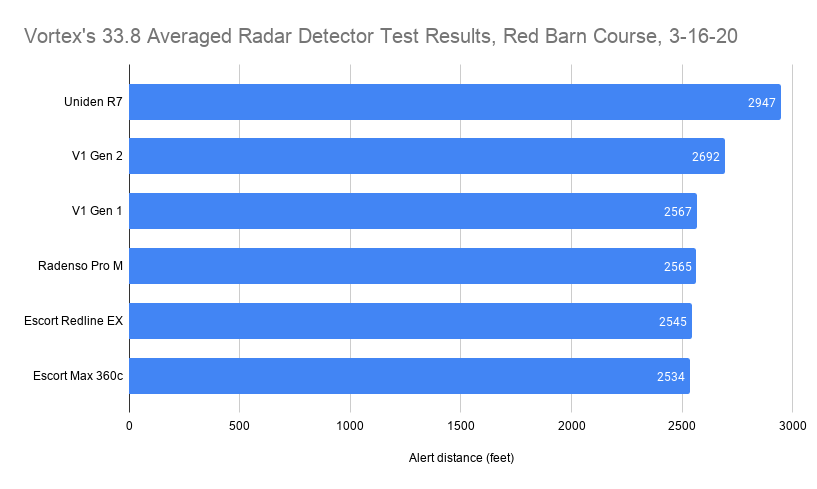 Not a huge difference between detectors. The R7 got the longest distance alerts, followed by the V1 Gen2, and everyone else clustered together.
So R7 and V1 Gen2 are the most sensitive, but the test course is set up such that we can't really see a big difference between detectors. It's certainly good to know that depending on conditions and terrain, different detectors with varying sensitivity can alert right around the same spot, but that doesn't help us understand which detectors have the best sensitivity.
I wanted to get more separation between detectors (most everything was alerting near the red barn) so I modified the radar gun placement for subsequent runs to make things harder. For 33.8, the radar gun had pretty clear line of sight downrange. After we finished, we moved the radar car maybe 50 feet forward to obscure it behind a bush to block some of the signal (it limited the radar gun's detection distance downrange too of course), and this helped create a little more separation between tiers of detectors.
34.7 Test Results: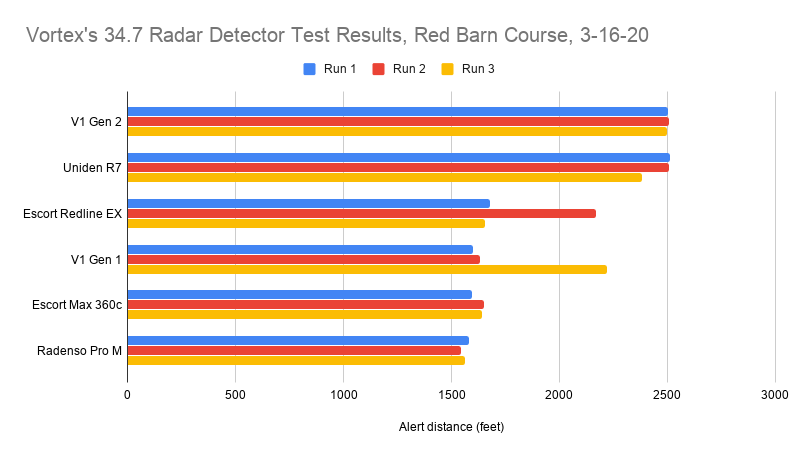 V1 Gen2 and R7 both managed long distance alerts every time. The results were virtually identical, with one slightly shorter run with the R7, likely due to traffic. (There's a reason we do multiple runs…)
Redline EX and V1 Gen 1 each managed one longer detection (but still not R7 or V1 Gen2 range) with the other two detections being closer to the Max 360c and Pro M.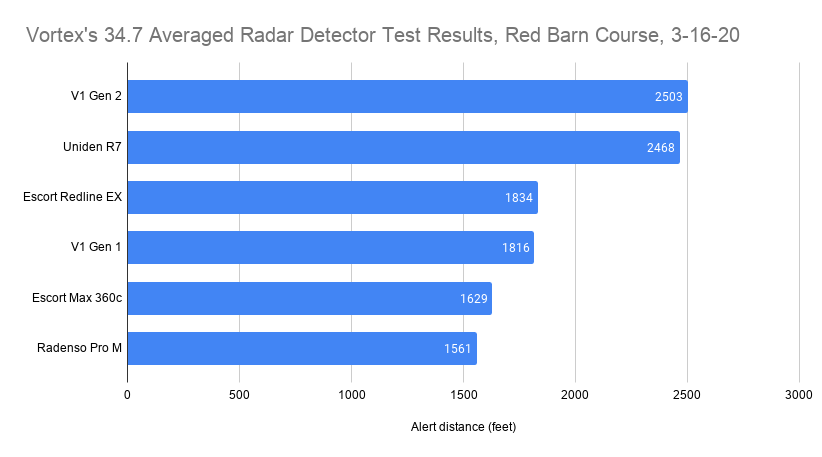 Still plenty of alert distance by all the detectors, but we're starting to see more separation between detectors now.
An impressive showing by the new V1 Gen2! Finally we have a detector that can properly take on the R7 on 34.7!
Also a quick note about the Pro M. As I mentioned it earlier, I ran it with Ka Filter enabled due to some false alerts I'd been getting on Ka. I meant to turn it off for testing, but I forgot to do so. The R7, V1 Gen1, and Redline EX I tested with the Ka filters disabled. The Pro M had the filter enabled. Last year it managed to beat the V1 Gen1 and Max360c on 34.7 with the filter disabled and so it looks like that does affect the range. For testing purposes, I do wish that I had also done a set of passes with the Pro M with Ka filter disabled to see how much that would improve things, but honestly I forgot to change that. Sorry about that. Instead we've got a test of the settings that I actually use in the real world, not just the settings which are optimized for testing like I did last year. Next time I go test (perhaps when Theia comes out), I can retest with the filter on and off.
Speaking of which, I wish the V1 Gen2 had additional filtering available on Ka. I actually get more false Ka alerts with it than with any other detector, and it doesn't offer a Ka filter you can enable so…
Anyways, let's move on to 35.5, traditionally the hardest Ka frequency detect.
35.5 Test Results: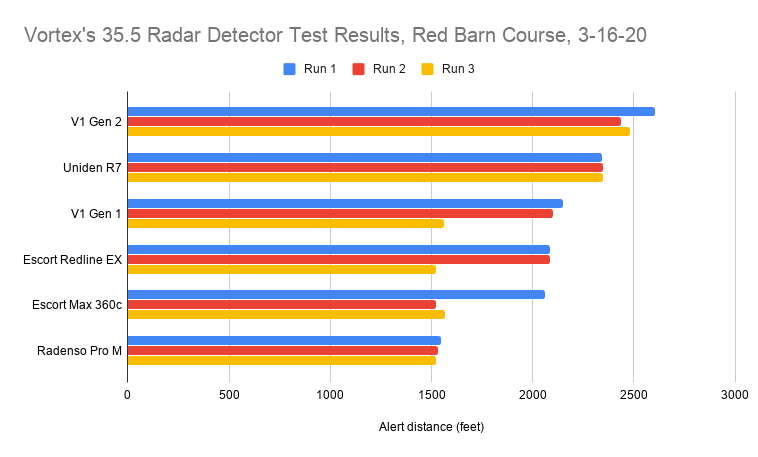 On 35.5, the V1 Gen2 managed to extend its lead over the R7 with every detection longer than the R7 was capable of. Amazing…
V1 Gen 1, Redline EX, and Max360c all managed one or two longer detections (again not quite up to R7 or V1 Gen2 territory), but otherwise had shorter detections.
The Pro M had the shortest detections.
Here's a look at the results averaged together to simplify things: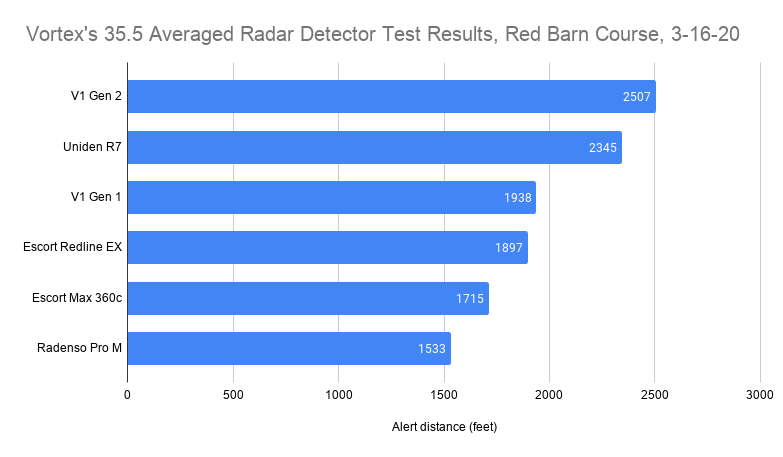 K Band Test Results:
Next, moving on to K band. There was a lot to test here so we dropped down to 2 runs per detector / settings combination to save time. This was with the Genesis II. It's a normal circularly polarized K band gun, nothing fancy or low powered.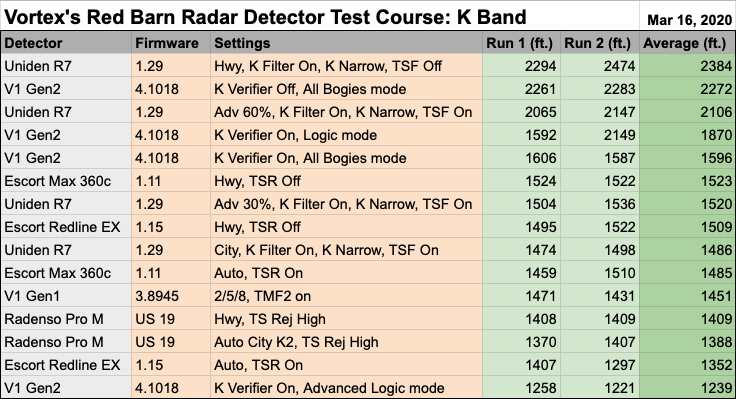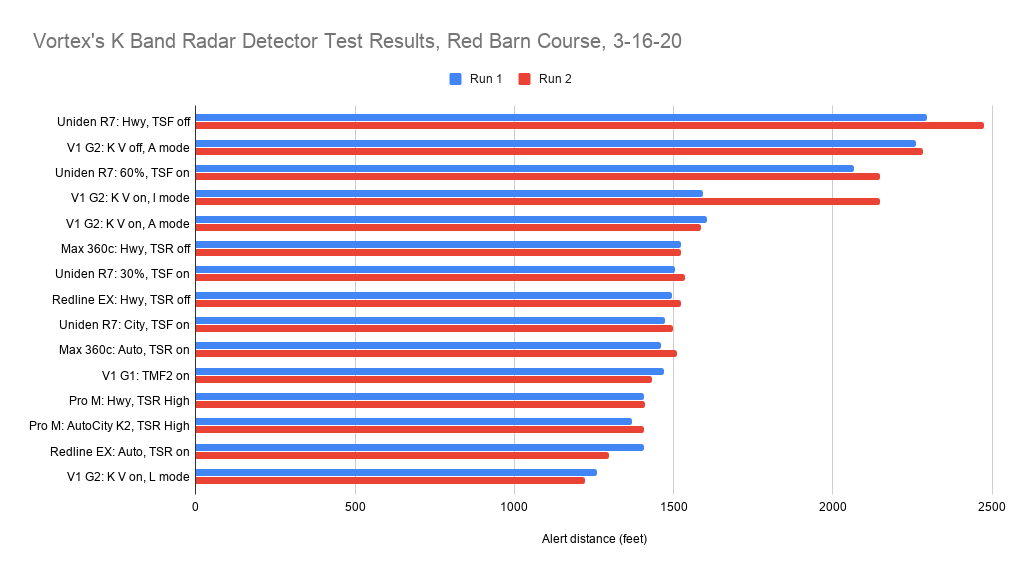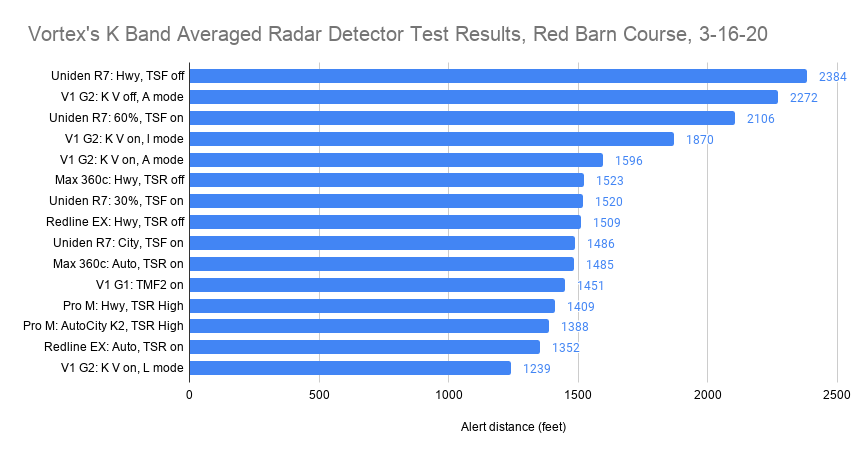 I was most curious to see how the V1 Gen2 compared with K Verifier on/off and the different logic modes compared to the R7 at different sensitivity levels. The R7 (with K filter on) is more sensitive than the V1 Gen2 with K Verifier off (which is useless in practice due to extreme false alerts). The V1 Gen2 with Advanced Logic mode (big L mode) is pretty great at filtering out many false alerts, but it's also less sensitive than the R7 in City mode with TSF on…
Testing the V1 Gen2 K Band Filters & Logic Modes:
Now focusing in on just the V1 Gen2's different settings, here's a closer look at how its filters affect range: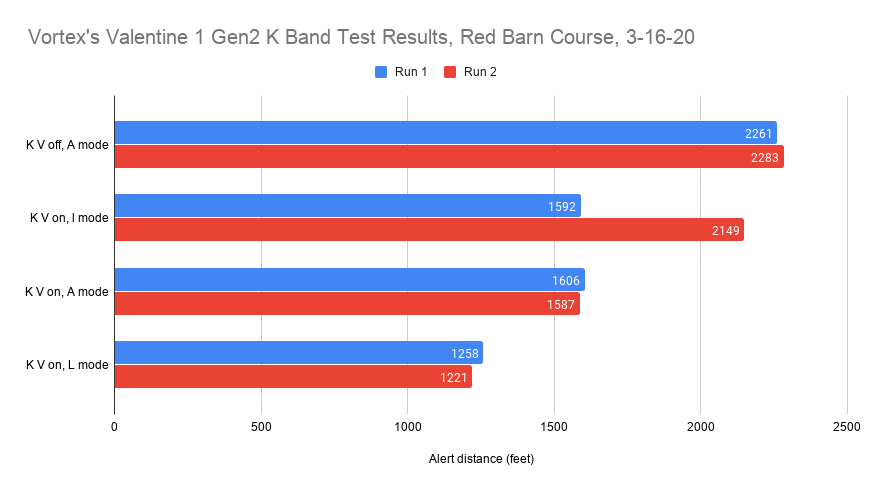 So K Verifier (TMF2 replacement) does reduce range.
One of the runs I had with Logic mode (little l mode), the V1 managed a short blip farther away, it lost the signal, and then it reacquired where it normally went off. If I were to ignore that first blip and look at where it was able to hold onto the signal, those results make a little more sense: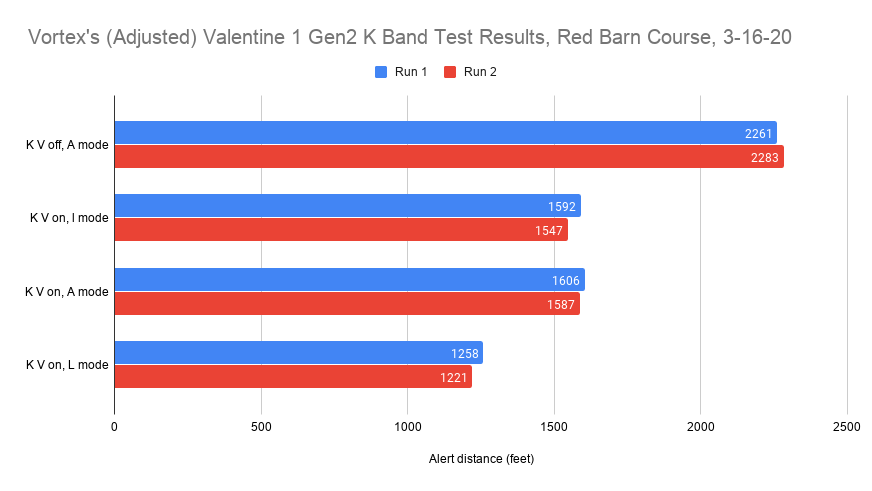 Logic mode (l mode) only mutes weak signals. It doesn't filter out weak signals like Advanced Logic mode (L mode). So seeing Logic and All Bogies return comparable results is what I was expecting.
Valentine 1 Gen2 Performance Conclusion
So this new V1 Gen2 is a beast! It's a serious upgrade from the V1 Gen1. It's the first windshield mount detector that can trade shots with the reigning long distance champ, the Uniden R7.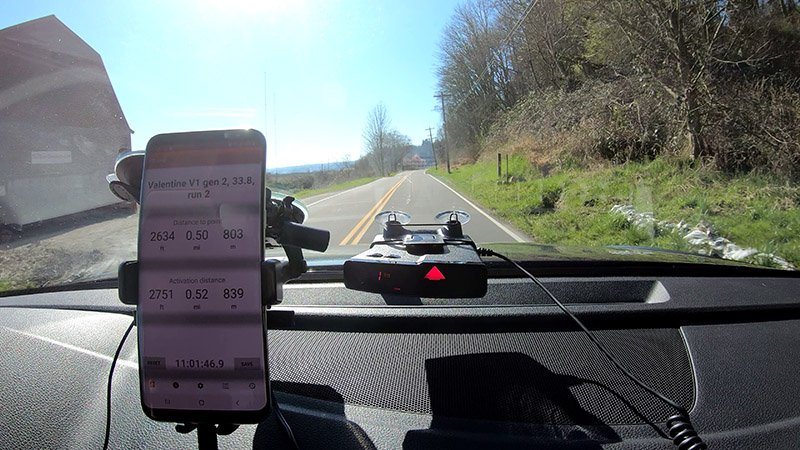 When it comes to Ka detection, the new V1 Gen2 is without a doubt a top notch performer. It's able to consistently outrange other detectors like the Escort Max 360c, Redline EX, the older V1 Gen1, etc.
On K band, the performance is great when running in A and l modes. (I prefer l mode to help mute weak false alerts.) Switching to L mode does drop range a good bit, but if you're in an area with a low risk of legit K band, the additional quietness may be a worthy trade-off.
Either way, the long awaited next gen V1 Gen2 is proving itself to be one of the most sensitive radar detectors on the market. I think it'll be spending a fair amount of time on my windshield. 🙂
Great job Valentine!
You can read my complete Valentine 1 Gen2 review here.
This website contains affiliate links.

Click here to read my affiliate disclosure.