It's time to test out the new Uniden R7! The Uniden R3 has established itself as the best performing windshield mount radar detector on the market. The updated R7 not only adds arrows and several other new features, but its performance should be able to meet or exceed that of even the R3.
To test this out, this weekend @meismyname and I headed back out to the Red Barn course to go test the new R7 against a bunch of other radar detectors against all three Ka frequencies: 33.8, 34.7, & 35.5.
Here's the complete video if you'd like to sit back and watch the test, see the detectors in action, and learn about the results this way.
Windshield Mount Radar Detectors:
Uniden R7 (beta) ($599), fw 1.20 (supplied by Uniden)
Uniden R3 ($399), fw 1.48 (supplied by Uniden)
Uniden DFR9 ($287), fw 1.02 (supplied by Uniden)
Escort Max360c ($649), fw 1.8 (retail or supplied by Escort, I don't remember)
Escort iXc ($449), fw 1.1 (supplied by Escort)
Escort Solo S4 ($249), (retail)
Radenso Pro M ($449), fw US 16 (supplied by Radenso)
Radenso XP ($349) , fw 1.35 (supplied by Radenso)
Valentine One ($449 w/ BT), fw 3.8945 (retail)
Whistler CR97 ($249), fw 2.1A (sent in by @Kennyc56)
Chinese Batman detector ($25), (retail)
Remote Radar Detectors:
Escort Max Ci 360 ($2,399), fw 1.9 (front/rear, supplied by Escort)
Radenso RC M ($1,849), fw 12 (front/rear, supplied by Radenso)
Stinger VIP($2,550), fw 4.4.00 UK (front only, supplied by Stinger)
Net Radar DSP ($1,149), (front/rear, I think supplied by NR)
Testing Setup
The radar detectors were set up for their optimal real world settings with X off, K on, Ka on, Ka filters off, segmented 2/5/8, etc.
This test was focused on windshield mounts, specifically the R7 vs. the toughest competition. I was also curious how the M4+ in the iXc fared, how good Escort's latest cordless detector does, how the less expensive DFR9 and CR97 compare, and I threw the cheapy $25 Chinese Batman detector into the mix last minute too for fun. 🙂
Note: I'm testing with a beta version of the Uniden R7 running beta firmware. Things may change between now and when the detector is publicly launched. Nevertheless, this should give us a good indication of what we can expect with production R7's.
To measure everything, I used V1Driver's GPS logger to give me a distance to the radar gun in realtime and I read back the distances by looking at the GoPro footage. It's not an exact science since the distances change by 60-70 feet every second and the app's GPS accuracy is around 25-50 feet so there is a bit of fudge factor here. Nevertheless, with a bunch of runs (typically 3 per detector minimum) and averaging out the results, we can get a good idea of how they all compare.
Radar Detector Test Course:
The test course is about a half mile long with slight curves and hills in the road. Traffic was pretty minimal. The course has changed since I've used it in previous years. They've cleared some of the trees that used to block a lot of the signal in the middle of the course (marked by the yellow bulldozer) which changed the dynamics of the course. Nevertheless, we got some good data.
33.8 Test Results
We started off with the Bee III running 33.8.
and here's the raw data, ranked by average detection distance.

The R7 beat out all the other windshield mounts, followed by the R3. Impressive. The other detectors were clustered together a few hundred feet behind. The Solo S4 and cheapy Batman detector ranked at the bottom as expected.
To make it a little easier to read, here's all the runs in chart form.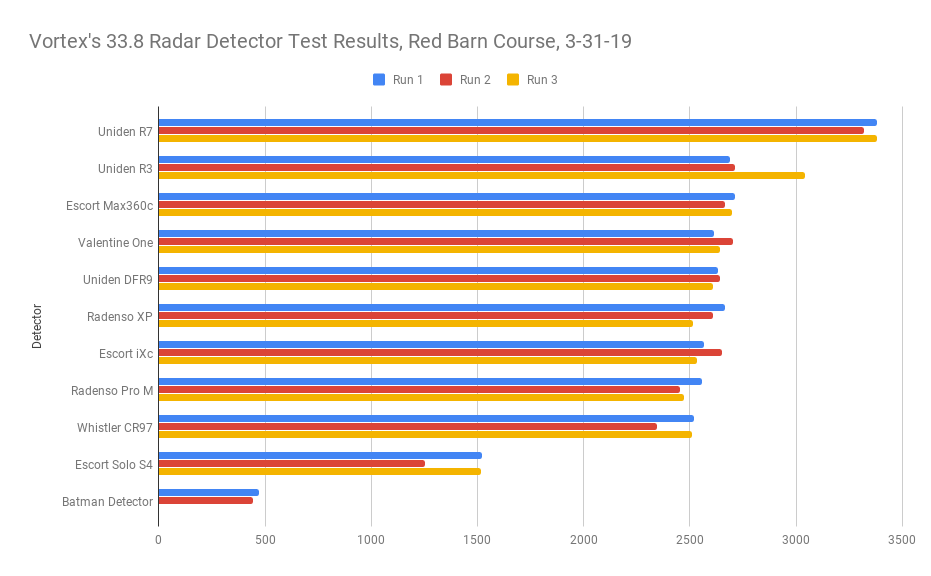 As you can see, things were pretty consistent run-to-run. Here's a look at the averaged results.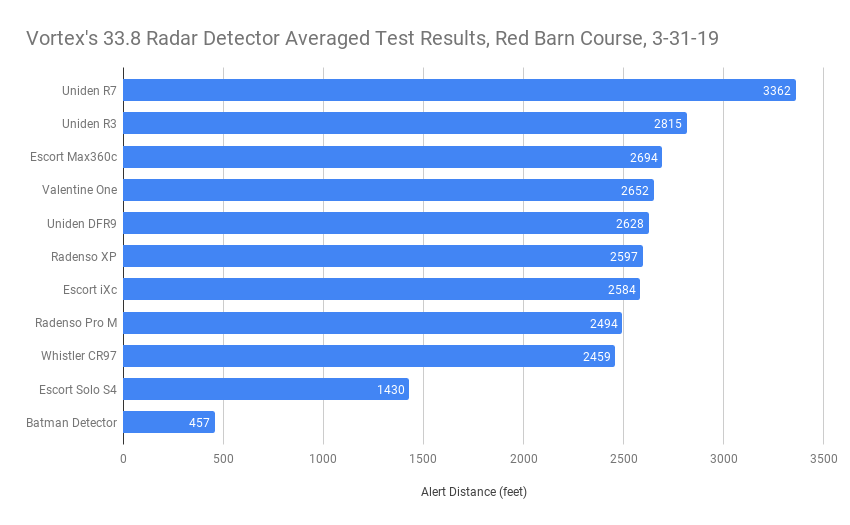 On 33.8, the R7 had a pretty decisive lead above everything else, including the R3! The Chinese Batman detector, on the other hand, was busy getting COwned. It didn't go off until after the radar gun had already locked in my speed…
With the majority of the detectors, even though they do have varying levels of sensitivity, due to the layout of this particular course, most of the detectors all went off right around the same location, around the red barn or shortly thereafter.
33.8 with Remotes
The next time I go out and test, I'd like to focus on custom installed remote radar detectors. This test was focused on windshield mounts. However, curiosity got the best of me and so I did a few bonus runs with all the remotes to preview those results.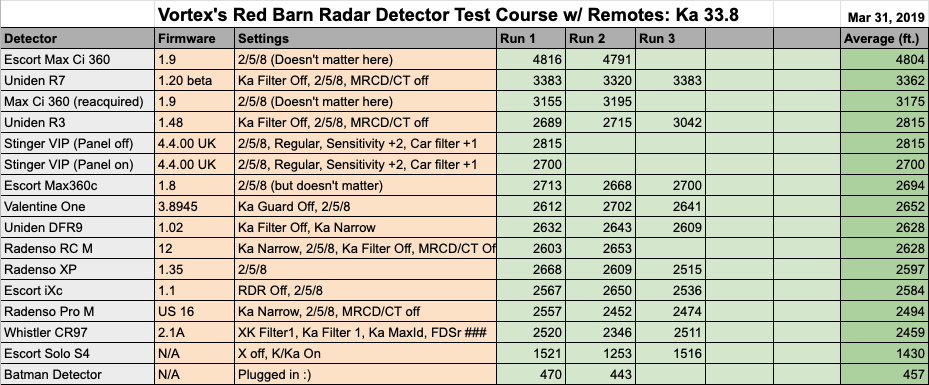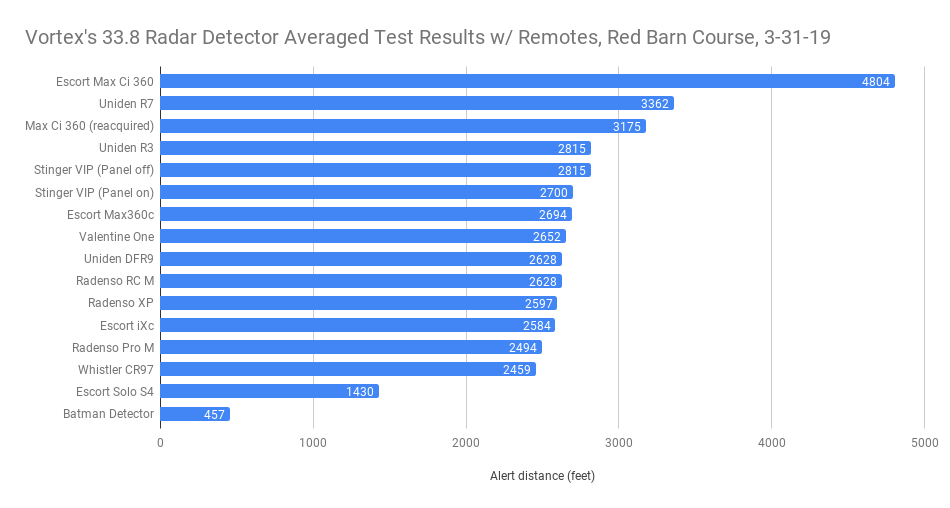 The surprise here was the Escort Max Ci 360. That detector managed to get brief mind blowingly long detections past where I normally started the course. I tried it twice and it alerted both times. I also went back there with the R7, but it went 0 for 2. After that crazy long detection location though, the Max Ci 360 dropped the signal. It didn't reacquire until just after where the R7 went off so I marked both of those locations too for reference.
The Stinger VIP I have tucked behind a removable plastic foglight cover and I was curious to test how much that impacted performance, if any. There was a small hit to performance (I only did one run with and one run without the panel since this was just a quick preview before the full remote test) and while I did see a slight hit to performance, it did well even with the cover in place.
The RC M ran closer to midpack. It wasn't a top range detector in this instance, much to my surprise. Interestingly, I got longer range from behind than from the front. Maybe the rear antenna I have is slightly more sensitive? Maybe it was just a longer latch? I'm not sure.
The Net Radar DSP unfortunately has some wiring issues that I still need to resolve and so I wasn't able to test it. I'd like to get it up and running before I go out and do the full remote test.
Either way, on 33.8, the R7 was extremely impressive against the windshield mounts, and the Max Ci 360 was more impressive yet, turning in the longest runs of the day.
34.7 Test Results
Next up, let's switch over to the Stalker II to run on 34.7. I know there was some concern last time about potential power level dropoffs as the battery level started to drop after hours and hours of testing, so just in case, I picked up a power cable to give it external power the whole time.
Now for 34.7 and 35.5, I wanted to focus on windshield mounts, but I still did a pair of passes with the Max Ci 360 because I was curious to see if it could continue beating everything, plus it's one of the detectors that I'd want to run as a daily detector so I ran it too.
Here's a look at the test results: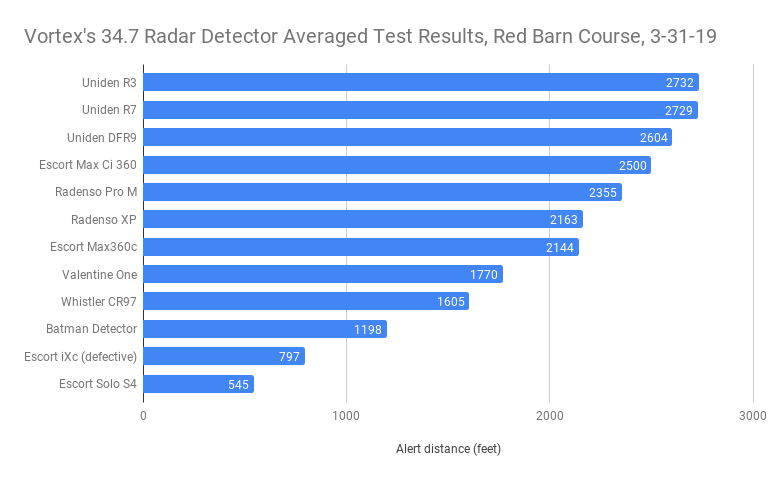 On 34.7, we saw much more separation between detectors, unlike 33.8. For whatever reason, we were able to see more of the differences in radar detector sensitivity in this round of testing.
The Uniden R3 and the R7 led the pack, beating everything else. Even the DFR9 did outstanding, beating the Max Ci 360. The Unidens basically owned on 34.7.
Then going down we've got the Radensos and Max360. The V1 started to lag behind further, followed by the CR97.
The Batman detector gave a surprisingly good show, all things considered. It was the Solo S4, this time, that got COwned with the Stalker picking up my vehicle's speed before the radar detector went off.
The iXc unfortunately did really poorly. I think my detector is defective or something. It had two 1600'ish foot runs in CR97/V1 territory, one 700 foot run, and two runs with literally NO detection. I could drive right up to the radar gun without a peep from the detector. It was just fine on 33.8 and 35.5, but 34.7 had some serious issues so I can't really count its runs on 34.7.
So I guess the main takeaway on 34.7 is that the Unidens are amazing.
35.5 Test Results
Finally towards the end of the day, we switched over to the Decatur Genesis II running 35.5.
On 35.5 we saw a lot of detectors clustered together. This course didn't really allow for much separation here so most of the detectors alerted right around the red barn area +/-.
Depending on conditions, sometimes we'll see a big difference between detectors, sometimes we won't. This is good to know because just because you run a high performance radar detector, sometimes the terrain will limit its detection range so that it alerts at a similar distance to a lower tier detector. In other situations, however, you will see a dramatic difference. There's lots of variables at play here. 🙂
Anyway, let's look at the results: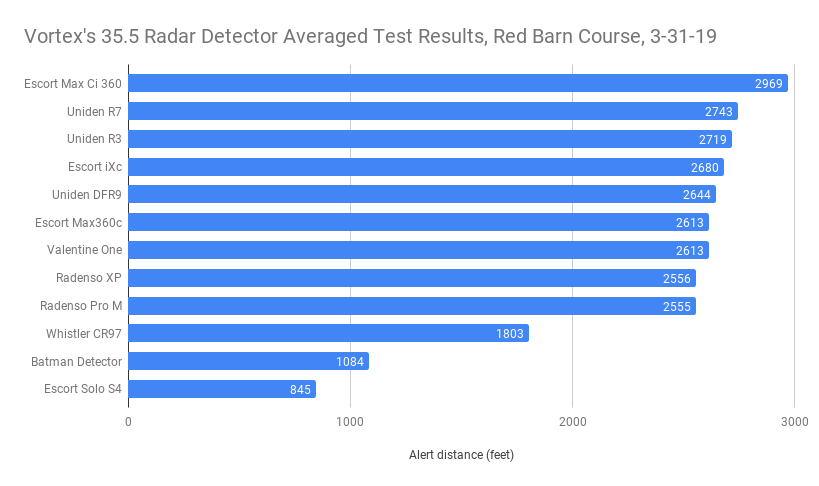 The Max Ci 360 turned in the longest detections yet again, beating out everything else in both of its runs.
Of the windshield mounts, the R7 and R3 again led the pack, typically alerting just before or as I was passing the barn.
The iXc resumed alerting normally again and the DFR9 did better than I expected, especially considering the DFR's are usually strong on 34.7 but weaker on 33.8 and 35.5. The Max360 and V1 were juuust a bit behind.
The Pro M didn't perform quite as well as I'd expect it to, typically alerting after I passed the barn.
The CR97 was where things started to drop off. It wasn't able to hang with the big boys here.
The Batman detector managed two decent runs just behind the CR97, but it had another run at 184 feet where it got badly COwned.
The Solo S4 alerted with just enough time to slam on the brakes and slow down before you'd get a ticket. Not exactly confidence inspiring.
Final Thoughts
So going back over the results, there's a couple takeaway points that I got from this.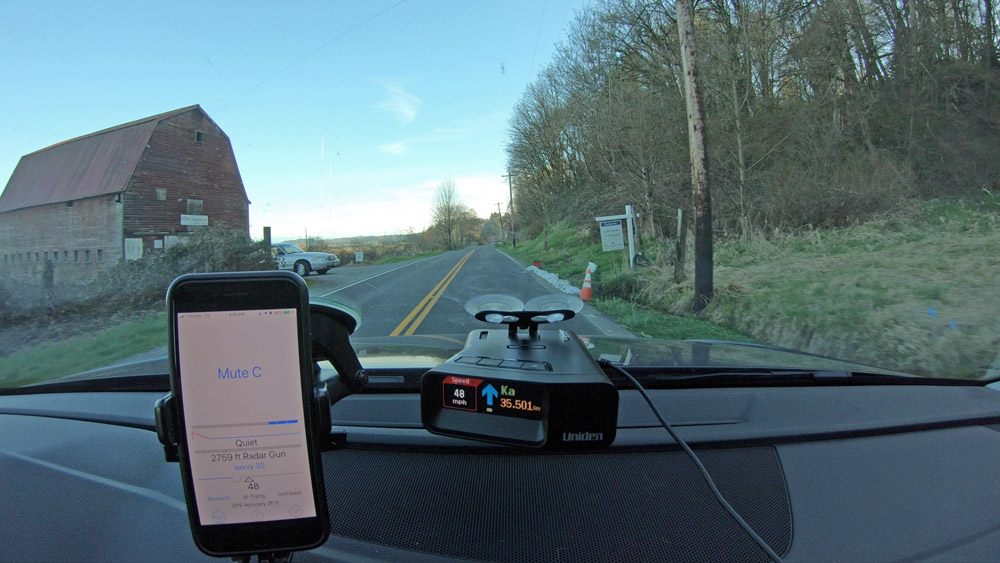 First, the Escort Max Ci 360 is a beast. It doesn't always beat everything, but it's always performing at the top of the pack which is what I saw last year when I tested with a different Max Ci 360 and a different R3.
The Uniden R7 was fantastically impressive. It's clearly the new long range king of windshield mounts which is right in line with what the other beta testers have been reporting. It's either on par with or beating the Uniden R3, which is pretty much what I was expecting. I know the Max Ci 360 has some additional extra features and it was able to beat the R7, but at $600 vs. $2400 plus the cost of installation, it's a pretty big difference in price between the two so we're looking at apples and oranges.
The Uniden DFR9 was one of the surprise stars of the test. I know 33.8 and 35.5 were somewhat terrain limited, but it still consistently performed well across the board. I didn't see the same thing with the CR97 which is priced similarly. For the few extra bucks over the CR97, I think the DFR9 is a better choice than the CR97 not just for the added range, but also the improved BSM filtering you get, the GPS lockouts which are a huge benefit, etc.
The Whistler CR97 was a bit of a disappointment. It didn't do bad, but it didn't do nearly as well as I'd hoped, given the improvements in sensitivity it got over the CR93. It's hard to tell by looking at the numbers, but when you drive with the detector, it alerts noticeably closer to the radar gun than the other detectors. It also falsed way more than everything else, with a BSM false to both a Hyundai and an Audi, as well as a laser false to a Toyota minivan. To be fair, I didn't really dive into the K band filtering settings since this was a Ka band test, but even if we stick to Ka band, it didn't give me the performance I was hoping for. That said, we enjoyed running the CR97 though because it would announce the direction you were driving. Every time we'd turn around at the start or finish of the test course, it would announce "north" or "south." I don't see this as particularly useful in practice, but it was very entertaining so we left that feature on to make the testing more fun.
The Escort iXc, it was a bit unfortunate to see the issues it had on 34.7. Ignoring that though, it did better otherwise. Big picture, I still think it's overpriced at $450, but at least it could still turn in some respectable runs. As for the capabilities of the M4+, I think the results are still inconclusive.
The Escort Max360c was weaker than I was expecting on 34.7. It's hard to tell on 33.8 and 35.5 because of the whole terrain limited thing and I know that the Max's are typically pretty strong on 33.8 so maybe I would see something different on a different course. Either way, I think that's a very well rounded detector, not a long range superstar, so I'm not necessarily looking for it to beat an R7 on any test course. With all the other features it has, I still think it's a good option.
The Escort Solo S4 though, WTF. This thing is a piece of junk. The alert distance and rampup are awful. I get that some people like the convenience of a cordless detector, but the performance and non-existent BSM filtering make for a lousy choice IMHO. Going for a decent corded detector is much better. Speaking of which, we tried testing with the detector plugged in too and the results were identical to running on batteries which is exactly what I expected. It doesn't run at a higher power level when running off of the cig. lighter.
The Radenso Pro M performed a little worse than I was anticipating. I've always thought of it as performing just behind the R3, and of course this is only one copy of the detector, one test, etc., but on this test it didn't impress me on range as much as I'd hoped.
The Radenso XP, I feel like it's been mostly forgotten about ever since the R3 came out, but it performed pretty much in line with what I was expecting.
The Valentine One, I feel like it's starting to show its age. 33.8 it did well, and the same with 35.5, but those runs were pretty terrain limited so it's hard to say definitively. On 34.7, the V1 marks where the range starts to fall off relative to the other detectors.
As for the cheapy Batman detector, that was fun to run as well. It didn't get COwned on every pass, only on some of them, so on that note it did better than I was anticipating. It was entertaining to have it remind us to fasten our safety belts or try to figure out what it was saying in general.
The biggest takeaways that I got though are that the Uniden DFR9 was surprisingly impressive, the Uniden R7 is outstanding like we were hoping it'd be, and the Escort Max Ci 360 is a beast.
I look forward to more testing, moving on to remote mounts! I'd like to get my NR DSP up and running, toss in a K40, and run all the remotes on Ka as well and see how they compare.
After that, moving on to laser.
and as always, this is just one test, one course, and one set of detectors. Make sure you look at lots and lots of tests to get a more complete idea of the big picture.
Thank you for reading!
This website contains affiliate links.

Click here to read my affiliate disclosure.