After Uniden released the Uniden R3, an excellent new detector that took the crown as being the best performing radar detector and blew away everything else on the market, they followed it up by giving the R3 arrows, adding a few more useful features, and the Uniden R7 was born. It's time for a full Uniden R7 review.
Here's everything you need to know about the Uniden R7.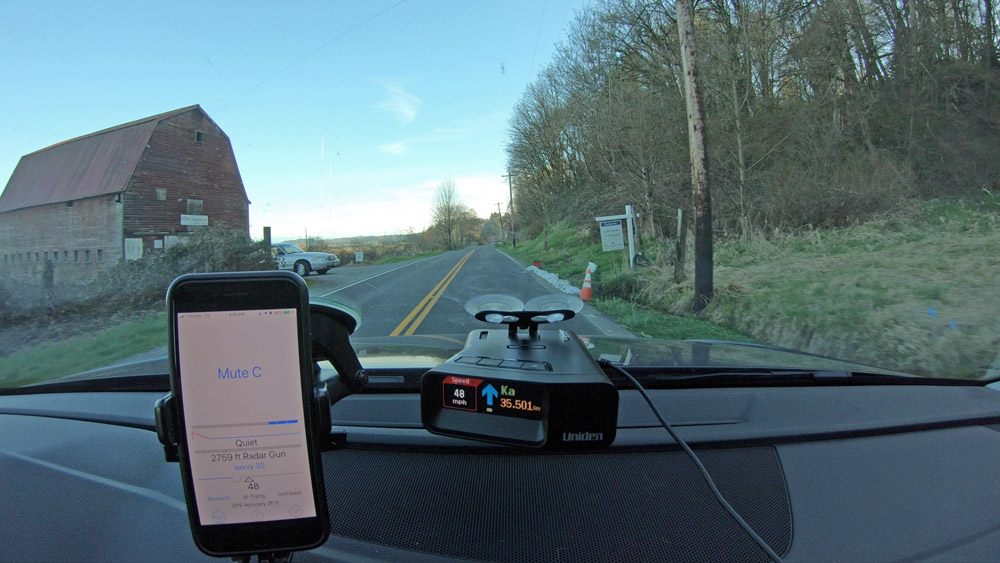 Uniden R7 Review Overview
The Uniden R7 is a feature-packed high end radar detector. Its performance is unmatched which makes it an excellent choice for drivers who demand the highest level of protection against speeding tickets.
Uniden R7 Features & Highlights
Best performing windshield mount radar detector on the market
Directional arrows
Good false alert filtering including Honda / Acura BSM filtering
Multicolor OLED display
Manual GPS lockouts
Low speed muting
Redlight camera / speed camera alerts
Nearly stealth to radar detector detectors
MRCD / MRCT support
Customizable alert tones
Retail price of $599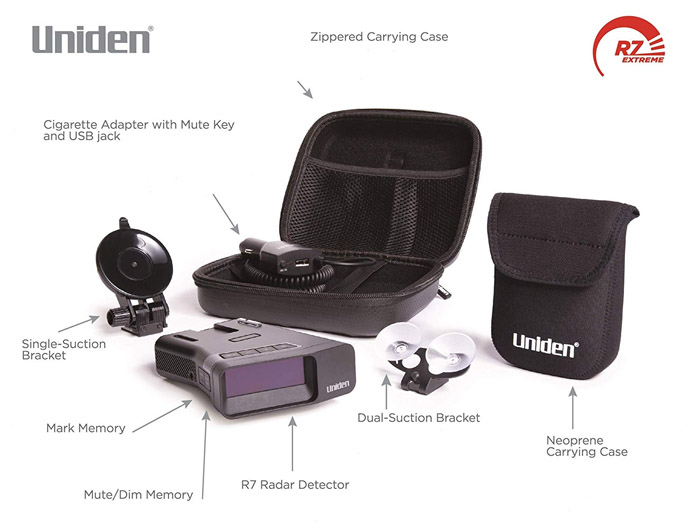 Design
Now to create the R7, Uniden built upon the R3, enlarged the display, added a secondary rear antenna so that it could support arrows, and took some design cues from the Valentine One with the display angled slightly towards the driver.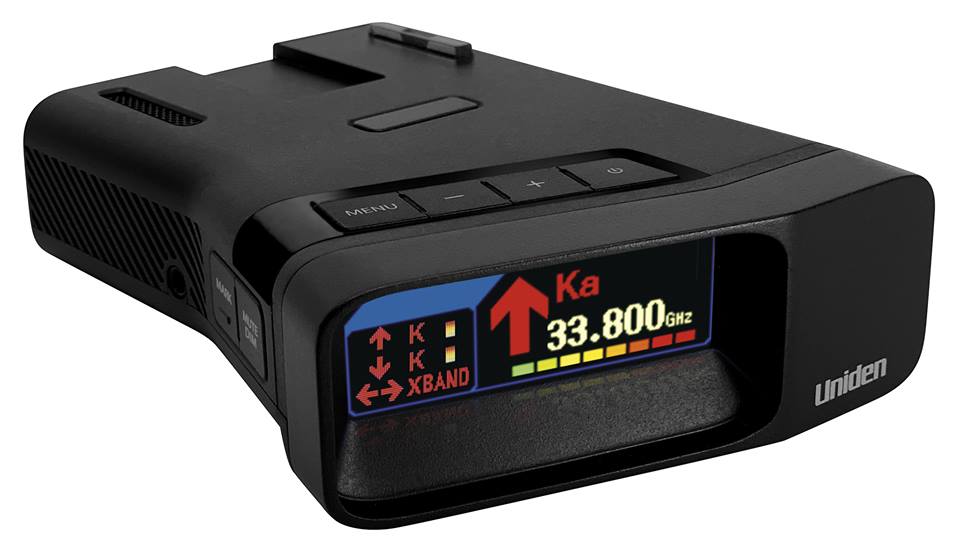 The menu, volume, and power buttons are now on top of the detector. The mute button has been moved from the front to the left side of the detector. I prefer the mute button easily accessible on the front, but eventually you do get used to grabbing the detector and hitting the mute button with your thumb.
The larger multicolor OLED display allows for more useful information to be displayed on screen at once, including the ability to display up to 4 signals simultaneously. This improves your overall situational awareness.
The left side of the detector features a headphone jack if you're using it on a motorcycle and need to plug it in to your helmet. The right side has a USB port for firmware updates as well as the power cable port.
Under the hood it's literally two R3's pointed forwards and backwards so range in both directions is outstanding.
Performance
Long range performance is one of the R7's primary claims to fame. The R3 used to be the best performing radar detector on the market. To create the R7, Uniden built upon the same platform, made some slight improvements to the plastic condenser lens in front of the radar detector's horn which slightly improved its sensitivity, and now the R7 has taken the crown for being the best performing windshield mount radar detector on the market.
See my radar detector testing here to see how the Uniden R7 stacks up against the competition.
This pattern has been seen again and again with the R7 outperforming everything else on the market in other RD enthusiasts' tests too.
This is useful out in the open desert where your only chance of picking up an officer shooting a quick burst of radar may be when he clocks a car several miles up the road ahead of you.
The extreme sensitivity also useful in more challenging terrain like when you see hills, curves, and trees. In this situation, maximum range may be only half or a quarter of a mile. A lesser detector will give you even shorter warning. This can mean the difference between a ticket or not.
It's for this reason that if you're looking for the highest level of performance possible, you should get an R7.
Detecting radar at a distance is the main thing you need a radar detector to do. However, there are also many other important aspects to a radar detector as well so let's look at those next.
BSM Filtering
The false alert filtering is probably one of people's biggest complaints about the R7, especially out of the box. Luckily there are several tools you have at your disposal to help cut down on false alerts and quiet the detector down.
The built-in K filter is effective at filtering out blind spot falses. It won't be able to get them all, but this is true of every detector.
The new K Block feature allows you to filter out false alerts from Hondas and Acuras which are everywhere.

We're also finding that dialing back the K band sensitivity can help cut down on false alerts too. Normally you don't want to do this too much, especially if K band is actively used in your area, but because the detector is so sensitive, you can run the R7 at just 30% K band sensitivity using Advanced Mode, for example, and it will still give you longer range than a V1 or Max360… For even more aggressive filtering, especially in areas where K band isn't used super actively, you can run the detector in City mode which drops it down to just 10% of max sensitivity. Performance drops even more to just below V1 / Max360 levels, but it's still sufficient in easier situations to help provide you with a save.
Another quick thing to mention is a number of people have reported more false alerts with the rear antenna. I haven't seen this myself so I haven't been able to verify it, but quite a few people seem to be reporting false alerts happening from the rear that don't happen from the front so I feel that it's worth sharing. Perhaps Uniden could offer more aggressive filtering for the rear antenna or at least offer us individual control of filtering and sensitivity for the front and rear antennas since generally the biggest threats are up ahead.
The R7 is a sensitive detector which will result in more signals being detected. This is the trade-off for going for a sensitive detector. It's for this reason that using its included filters are very important.
For more information, see my Uniden R7 setup guide.
GPS Lockouts
Another important feature for the R7 are the GPS lockouts. This feature helps you keep the detector quiet along your typical commute. When you come across a stationary false alert from a shopping center or a speed sign, double tap the mute button and it will learn this signal and mute it for you in the future. (Learn how to use manual GPS lockouts here.)
Uniden calls the feature "Mute Memory." When a signal is locked out, the detector will stay quiet, but it will visually alert to the signal so you can still know that there's something around you. The R7 will gray out the display to keep things more chill and it will display "Mute Mem" on screen.
One big improvement over the R3 is that Uniden gave the R7 a lot more memory to store lockouts. Instead of only 500 like the R3 (up from 200 initially), the R7 can store up to 1,750 lockouts. This way you don't have to worry about running out of lockouts after using the feature for a while.
Automatic GPS lockouts are also in the works. No expected release date has been given yet, but once Uniden is able to do so and is ready, the detector will be able to automatically learn false alerts and begin locking them out for you, without you having to teach the detector for every single signal. This will be a big benefit, making the detector even easier and more automated to use.
Low Speed Muting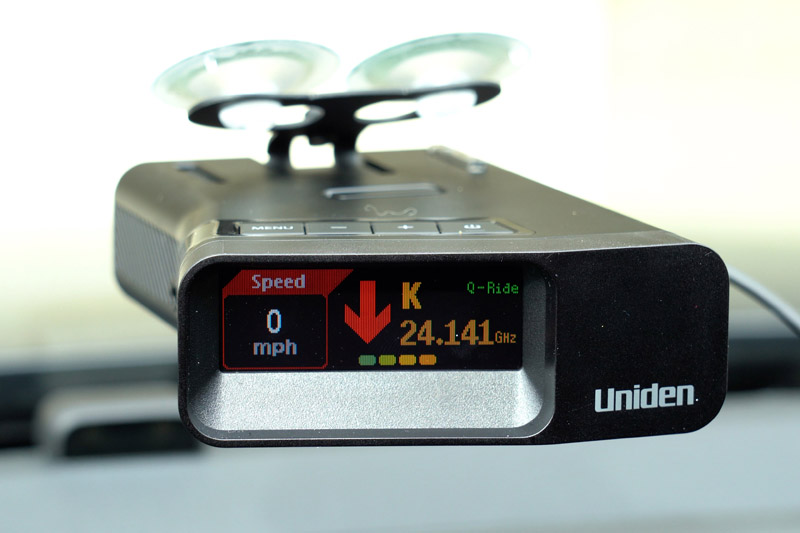 Low speed muting helps keep the detector quiet around town in traffic and at red lights. No one likes their detector screaming at them unnecessarily. With the R7, you can have it stay quiet when you're driving slowly and then wake up once you start to speed up.
Low speed muting is also great for new parts of town where you haven't yet created your GPS lockouts. It's a simple yet fundamental feature and I wouldn't recommend using a detector around town without it.
Uniden calls this feature "Quiet Ride." When the R7 is muting a signal, the alert will flash on screen and you'll see green text in the upper right corner saying "Q-Ride."
Redlight Camera / Speed Camera Alerts
Another GPS-based feature is the ability to alert you to redlight cameras and speed cameras around town. As you approach one, the detector will notify you of the threat ahead while also letting you know how far ahead the RLC is. If it's a speed camera ahead, it will also tell you what the speed limit is and if you are traveling above the limit as you approach.

There's two other important things to mention here.
The first is RLC Quiet Ride. Sometimes you'll be driving down the highway and get an alert for an RLC on a surface street near you. You can set the R7 to mute all RLC's when you're traveling above a pre-set speed, effectively muting RLC alerts nearby while you're traveling on the highway.
You can also individually delete RLC's or speedcams from the detector as well. I find this useful for this one annoying RLC that I get alerted to every time I go down a certain section of I-5 in Seattle, this way it stays quiet even if I'm in traffic on the highway at low speeds.
Uniden periodically releases database updates on their website. When an update is available, you download it to your computer, plug your R7 into your computer, and use Uniden's software to update your detector.
MRCD Support
The Uniden R7 is also one of the few radar detectors capable of detecting the MultaRadar CD and CT. It's a low powered radar gun actively in use in Edmonton, Canada and is now starting to slowly show up elsewhere around the United States and Canada.
If the MultaRadar is in use in your area (here's where the MultaRadar is in use), turn the feature on and the R7 will let you know with there is a threat up ahead. It will give you a customizable unique alert tone, different than a traditional K band alert, letting you know you need to pay attention and take action. (Due to the MRCD's reduced power level, advanced warning is usually a around couple hundred meters at most.)
Most people don't need MultaRadar detection though and so in that case, it's best to leave the feature disabled. Otherwise you will see some false alerts to MRCD. Even if you don't have it in your area, it's great to have the option available so that in case it does show up one day, you can simply turn the feature on and remain protected.
One other quick thing to point out is the R7 is a little better at MRCD detection than the R1 / R3. This is because it can scan a wider range of frequencies which lets it catch any MRCD's transmitting at lower than usual frequency ranges. The R7's K band scanning range is 23.900-24.250 while the R1 / R3 scans 24.050 – 24.250. This generally isn't a big issue for traditional radar, but it can be important for MultaRadar so the R7 will alert to more MRCD sources.
Laser Detection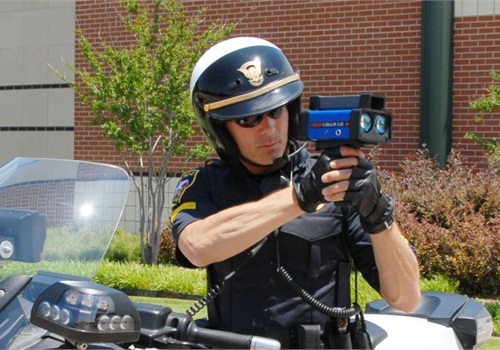 Next up, let's talk about laser detection. Quite frankly, the R7's laser sensitivity isn't very good. It's definitely below average here. It can alert to laser, but due to its poor sensitivity, it's less likely to alert you to police laser guns when you get shot compared to other radar detectors.
That said, IMO that's not a huge deal in practice. Radar detectors are the wrong tool to protect you against laser in the first place. Generally speaking, when it comes to laser, radar detectors are essentially speeding ticket notifiers. There are a few rare exceptions to this rule of thumb, but even detectors which are more sensitive don't truly provide adequate protection against laser. So yes the R7's laser sensitivity is relatively poor, but even if it was better, it wouldn't actually be all that helpful anyway.
If police are using laser in your area, I'd recommend that you run both Waze and a set of laser jammers alongside your R7. This is how you actually protect yourself.
Here are my top picks for laser jammers.
RDD Immunity
In areas where radar detectors are illegal, police officers sometimes use radar detector detectors to catch drivers using radar detectors.
To combat this, some radar detectors have special stealth technology built in to make them undetectable by radar detector detectors.
In my testing with four different R7's and two different models of the Spectre RDD, I found that results may vary. Some R7's can be picked up from hundreds of feet away while others were effectively stealth and wouldn't cause a RDD to alert at all. I also found that the older Spectre 3 did a better job at picking up the R7 than the newer Spectre Elite.
I'm not really sure why there are such variances between copies of detectors, but while the R7 is the stealthiest windshield mount radar detector with arrows, it is not completely stealth and undetectable in all situations.
Firmware Updates
Uniden periodically releases firmware updates for the detector to add new features based on customer feedback as well as to fix bugs that are discovered.
Since the R7 is Uniden's new flagship detector, it is getting most of the attention right now as opposed to detectors that have been out longer and have already had a series of updates. This also means that any helpful brand new features (such as the K Block feature for Honda / Acura BSM's) get added to the R7 first before eventually trickling down to Uniden's lower tier detectors.
Now one downside to Uniden's detectors is that while there's update software available for both Windows and Mac, a surprising amount of people have issues getting the updates to work smoothly. Sometimes it's tough to locate where the updates are on Uniden's website, sometimes people forget to install the drivers first, and sometimes other issues arise.
While Uniden has historically been pretty good about releasing updates, the update process itself can sometimes cause headaches for people. If you have issues updating your detector, please watch my Uniden R7 firmware update tutorial.
R7 Compared to R3
Lots of people want to know how the R7 compares to the R3. What are all the differences? Is it "just an R3 with arrows?" Is it worth the extra $200?
Well, if you're curious, I've done an entire video on the differences between the R3 and the R7.
Here's a quick overview of the differences / improvements of the R7.
Slightly longer range than the R3 thanks to an improved condenser lens
Arrows
Physically larger
Larger display
Ambient light sensor for auto-dimming display instead of relying on the time via GPS
Support for up to 1,750 lockouts instead of 500
Support for automatic GPS lockouts once the feature is ready for release
K Block feature for fewer BSM falses
Mute button moved from front to left side of detector
Power port now on right side of the detector for a cleaner looking hardwire installation
Wider K band scanning range
Narrower Ka band range and only 9 segments instead of 10 (stops at 35.700 instead of 36.000 which doesn't really actually matter)
Strength meter changed from 5 strength levels to 8 levels for more progressive ramp-ups
$200 more expensive
Realistically the biggest difference with the R7 is that it adds arrows and it's $200 more than the R3.
The additional lockouts and ability to eventually do automatic GPS lockouts are pretty big too.
The R7 does have slightly better range, the buttons are in a different spot, and the display is larger, but those aren't necessarily huge differences.
The K Block feature I'm guessing will also make its way over to the R1 and R3 in a future firmware update.
The lower K band scanning range is a helpful hardware change that is helpful for those who encounter the MRCD.
So if you'd like arrows and eventually automatic GPS lockouts, get the Uniden R7.
If you don't and you'd rather spend less money, get the Uniden R3.
R7 Compared to Valentine One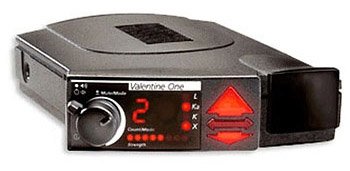 What about the Valentine One? This is the detector that started it all for arrows.
Well, the R7 has much better range, it has a color OLED display with frequency information, plus it's got GPS built in for lockouts, low speed muting, and RLC / speedcam alerts.
The V1 may not be able to do all that, but if you get the optional Bluetooth module and pair it with your phone, you can do most of that and more. Using apps like V1Driver for iOS or YaV1 or JBV1 for Android, you can get your frequency information and a bigger display. You can add low speed muting. You can also get automatic GPS lockouts, plus the lockouts are more sophisticated than anything built in to any radar detector. It's also $150 less than the R7 ($599 vs. $449 with the BT module, assuming you can get a V1… they've been sold out online for months while awaiting parts).
The V1 has a lot of die hard fans, especially due to the third party apps. The R7 offers much better performance, plus having GPS built right into the detector allows you to get the key features you need without having to run any additional apps on your phone.
R7 Compared to Escort Max 360c
One of the most common questions people ask is how the Uniden R7 compares to the Escort Max 360c. This is Escort's flagship radar detector, it also has arrows, and it's priced in the same ballpark at $649.
I've done a YouTube livestream spending a good hour going over alllll the differences if you'd like to go into tons of detail.
I'm guessing most of you don't though. 🙂 So here's a quick overview of the advantages of each detector.
Uniden R7 Advantages:
Longer range
Can filter out Honda / Acura BSM's
MRCD / MRCT detection support
Costs $50 less
Escort Max 360c Advantages:
Automatic GPS lockouts
Bluetooth to pair with your phone
Can change settings more easily using your phone
Can share realtime alerts to / from the cloud with other drivers
Speed limit can be displayed on screen while driving
Easier to update using your computer
Can automatically update itself over WiFi, no computer required
Magnetic mount is more solid and slightly quicker to use
Sturdier build quality
Mute button on top instead of on the side
Realistically both are great high end radar detectors.

The Uniden R7 has better range and can also detect the MultaRadar so it offers better protection than the Escort. If you're a serious driver, the R7 is probably a better choice for you.

On the other hand, if you're a more casual driver looking for a pretty automated detector, go for the Escort Max 360c. Range is still sufficient for most situations, but now you also get automatic GPS lockouts. The Max 360c can connect to the cloud for additional protection as it shares alerts with other drivers. The firmware update process is also easier and more trouble-free. It's for these reasons that it makes for a good everyday detector for people.
Purchase the Escort Max 360c here.
Should You Get the Uniden R7?
So is the Uniden R7 right for you?
If you're looking for the ultimate in protection for both city and highway driving, you want a variety of false alert filtering features, and you want the detector to point directly towards any police officers ahead of you or back behind, the Uniden R7 is a fantastic choice.

This website contains affiliate links.

Click here to read my affiliate disclosure.
Summary
Reviewer
Review Date
Reviewed Item
Author Rating





Product Name
Price
Product Availability