Once you've got your jammers installed on your vehicle and configured the way you want, you'll want to get them tested. Testing will help verify that your jammers are working properly and that there aren't any weaknesses in your setup. Better to find out during testing than from your friendly local police officer! 😉
Note: Don't test with police officers… There's testing groups all over the country comprised of enthusiasts who own police lidar guns and help one another out to make sure that everyone's installs are working properly.
Here's an example set of test results.
JTG (Jam to gun) and JFG (Jam from gun) are perfect results. That means the gun was never able to get a reading. If you see a number, that's how far away the gun was able to get a reading. Those are what we call punchthroughs.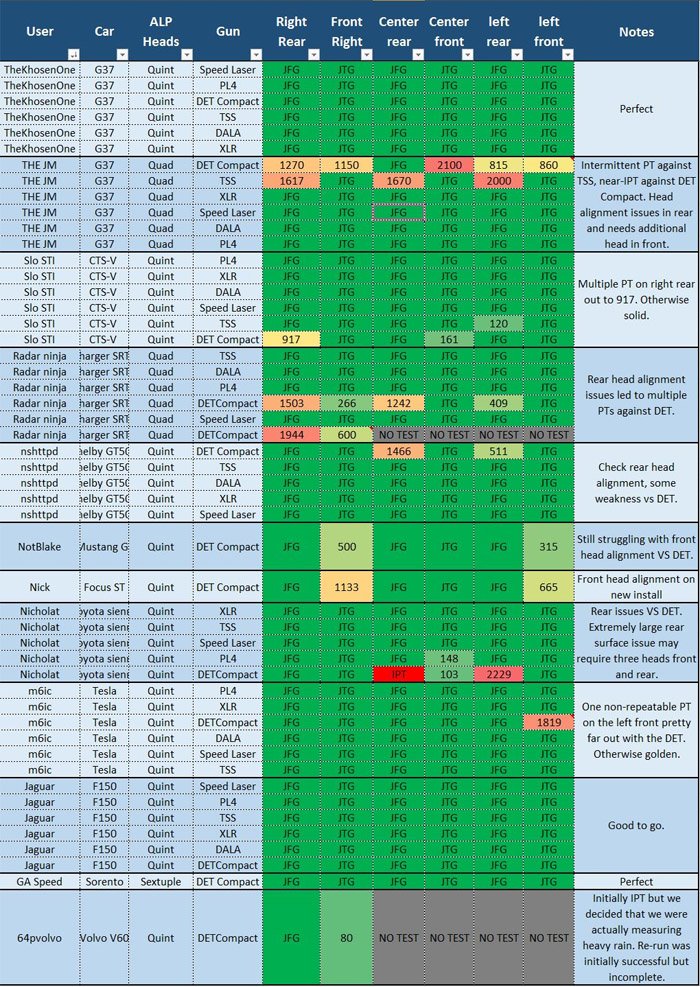 As you can see, everyone there is running ALP's, for good reason, and generally with various combinations of quads (4 heads) and quints (5 heads).
Even still, some cars had punchthroughs against certain guns which revealed the weaknesses in their install due to placement issues, not having enough heads, or misalignment of a head as you'll see in the comments. This is what's so valuable about testing and why I go into so much detail in this guide. Those issues can be resolved by following the recommendations I provide.
Get Tested
To find a testing event in your area, you can check out the different testing events scheduled here.
If you don't see an event scheduled in your area in the near future, you can check out this list of lidar testers all across the country to find someone locally. You can also check out the regional section of RDF and ask if anyone in your area would be willing to help.
If you like, you can also purchase a used lidar gun on eBay and find out for yourself! You can test out your own vehicle and even offer to help out others. That's what other people do and the more testers we have within the community, the better. You can buy any inexpensive gun online and it will do the job for testing purposes, or better yet, if you know what guns are used in your area (check the RDFGS to find out), you can purchase one of those guns specifically and that would be ideal.
Finally, let's wrap up this series by going over using your laser jammers properly when out on the road.
Continue on to Part 9: Using Your Jammers
ALP Setup Guide Sections:
This website contains affiliate links.

Click here to read my affiliate disclosure.