In the last section we covered what areas of our vehicle a police officer will target with their lidar guns: Headlights/taillights, grill, and license plates. Knowing this, we need to make sure that our laser jammers fully protect these target areas.
Front Installs
Lidar jammer heads each cover an oval shaped area of the car with a diameter of about 24 inches. For the most effective performance, you should try to space them out no more than 24″ from one another. Knowing this, here's a look at what two jammers placed on opposite ends of the upper grill would look like in terms of coverage area.
This is a textbook dual head setup. You can see the two heads themselves (the green rectangles in the grill) and the coverage they provide (the green ovals). You can see that they're covering all the main target areas including the headlights, grill, front plate, and even down to the foglights.
Sometimes the grill makes it a piece of cake to install your heads. Sometimes some drilling and cutting may be required. Here's a look at the dual head setup on my Miata. I'm not comfortable hacking up my own car so I had a professional do the work.
Allow me to explain a few key points of why this placement works.
They're far out enough to cover the headlight/foglight area.
They're close in enough to provide sufficient coverage for center mass / front plate shots.
They're up high enough so that as you first start to crest a hill, your heads are able to see over the hill too.
On some cars it might be far more convenient to mount the heads down lower. BMW's with their vertical grill slats are a great example.
One of the nice things about ALP's is that their increased sensitivity means that we can get away with placement options like this that we weren't able to before with earlier generation jammers. This used to be a no go before and while installing higher would be ideal, this install would still perform well in practice.
The normal heads need to be mounted horizontally which is why they need to be mounted in the lower air intake. They won't fit horizontally in the vertical grill slats. However, if you use a Tx head in the center of the vehicle, you can install the normal heads vertically.
Standard heads must always be installed horizontally when not using a Tx head
When using a Tx head, standard heads may (but don't have to be) installed vertically
Tx head should always be in the center of the vehicle
Tx head should be at least 20″ above the ground to minimize reflections off the road ahead of you
Tx head should be at least 8″ away from a normal head to prevent interference
If the car is larger or wider, two heads may not be sufficient to cover the entire area of the vehicle so 3 heads would be required, especially if you have a front plate far from the headlight area. Here are standard configurations for triple head setups.
In this install the two outer heads are spaced farther apart and the central head covers the middle area.
A similar idea works well for larger SUV's and trucks. I've seen people get away with 2 heads on some SUV's and it works fine since the ALP's are quite sensitive, but 3 heads are generally the way to go.
In general you'll want the 3 heads in line with one another, especially if you don't have a front plate. Sometimes it's not convenient to put the center head in line such as when you have a vehicle badge in the center of your grill.
If that's the case, it's okay to drop the center head down a little bit. +/- 6″ up or down is a good rule of thumb. A slightly lower center head can also help make sure you have your front plate covered well too, if applicable.
If you encounter the DragonEye, you can replace the center head with a Tx sensor.
The Tx head has to be mounted at least 20″ above the ground to prevent reflections from the road up ahead. This is only an issue for sports cars that are lower to the ground and in that situation, if you have a wide but low sports car (like the red Corvette up above), you're better off with 3 standard heads, even if you encounter the DragonEye.
If you don't face the DragonEye you're better off with 3 normal heads on a larger vehicle too.
Otherwise, if you face the DragonEye and you have the ability to mount a Tx head at least 20″ off the ground, go with the Tx head for the center head.
(In case you're wondering, the ALP supports 3 heads up front max. There's no way to do 3 normal heads and one Tx head up front for a total of 4 heads or to have multiple Tx heads on one side of the vehicle. Now technically it is possible to do 2 Tx heads up front, but that's more for a possible future option. There's currently no benefit to doing 2 Tx heads per side.)
Rear Installs
2 Standard Heads in the Rear
When it comes to rear installs, placement is pretty similar across different vehicles. Most people install just above the license plate towards the tail lights. It's generally pretty easy to run the wires in through the license plate light area.
With some cars the license plate is way down low, far away from the tail lights. Take a look at the Infiniti G37.
You'll see here that the standard placement location in green just above the rear plate is pretty far away from the tail lights.
I've seen some cars struggle with this location, especially with earlier generations of jammers, and they've sometimes had to go for a higher location like the one shown in orange. They'd attach their jammers to their trunk itself and the heads stuck out the back. It was ugly, but it worked.
With the ALP's, this is another area where the increased sensitivity helps. The lower location in green is more difficult for the jammers, but it can still work nonetheless. Make sure you test, test, test after you get your system installed! We'll cover testing towards the end of this guide once you have your system installed and configured.
1 Standard Rear Head, 1 Tx Rear Head
On smaller vehicles that face the DragonEye where you can't space the two heads really far apart, you could opt to use 1 standard rear head and 1 Tx rear head like this.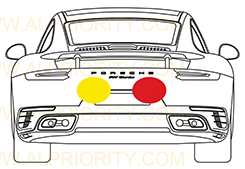 However, personally I would feel more comfortable having 2 standard heads in the rear for maximum sensitivity and laser detection and 1 Tx head in the center to really counter the DragonEye.
3 Rear Heads
For larger vehicles that would benefit from having 3 heads in the rear, the ALP CPU only has ports for two rear heads, but there's a trick to getting 3 heads in the back. You'll use 2 standard heads and 1 Tx head. The two standard heads will plug into a splitter which plugs into the R1 port. The Tx head will plug into the R2 port.
Again the Tx head (red) will be in the center and the standard heads (yellow) will be off to either side.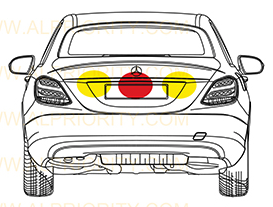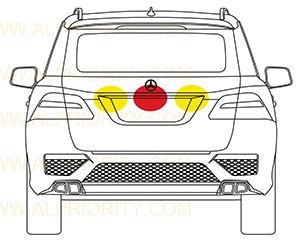 Rear Tx head always plugs into R2 port of ALP CPU
Standard head or heads always plug into R1 port of ALP CPU
Fine Tuning For Your Specific Vehicle
The sample setups that I'm showing you here are basically designed to show you the ideal placement locations in ideal scenarios. When you take a closer look at your car you may find it tough to install heads here due to the shape and design of the grill, a lack of mounting locations on or behind the grill, not wanting to cut the grill, etc.
I would recommend sticking to these textbook locations as much as possible. That said, some vehicles aren't jammer friendly and there's no good way of installing your heads without cutting something up.
Even with mesh grills it can be done. Some people look into alternate replacement grills with horizontal slats or buy a second one off eBay that they're more comfortable cutting into. Some people go into their factory grills. That said, it can be made to look good. Check out this install for example on an Audi S6.
I've also seen some creative installs where people have fabricated custom brackets to help their jammers blend in with their car better.
As you can see, each vehicle is different so we can't say one size fits all, you know?
Getting Specific Recommendations For Your Vehicle
If you need help deciding on the best locations for your vehicle, you can post photos of your car up online on the Laser Jammer Placement Suggestions section of RDF and people will chime in with suggestions. You can also check out photos of other people's installs in the Show Off Your Install section. (Not everyone installs their jammers well though so you can also take a look at people's followup comments to see what they think about the installs.)
Now that we have a good idea of placement locations front and rear, let's take a look at how the heads themselves should be installed to make sure they can properly protect you.
Continue on to Part 4: Proper Head Installation
ALP Setup Guide Sections:
This website contains affiliate links.

Click here to read my affiliate disclosure.