Uniden had released firmware 1.37 for the Uniden R7. (Purchase your R7 here.)
This update includes improvements to the autolockouts, arrows, and MRCD detection, plus it adds some new features and menu options.
Autolockout Improvements
Autolockouts were added in the last firmware (1.35) and they've been improved with this update.
Here are the specific changes according to the changelog:
Auto Mute Memory is improved to cover the entire length of road where a signal is detected
This should better help each lockout more completely mute locked out false alerts. In beta testing though, several of us (myself included) are reporting that some locked out signals may still alert at some point while driving past the signal, but this does improve the GPS lockouts and keep them muted.
The auto muted radar frequency is displayed with the "Auto Mute Memory" message when an Auto Mute Memory is saved
Now when a false alert is being locked out, you'll still be able to see the signal frequency at the same time.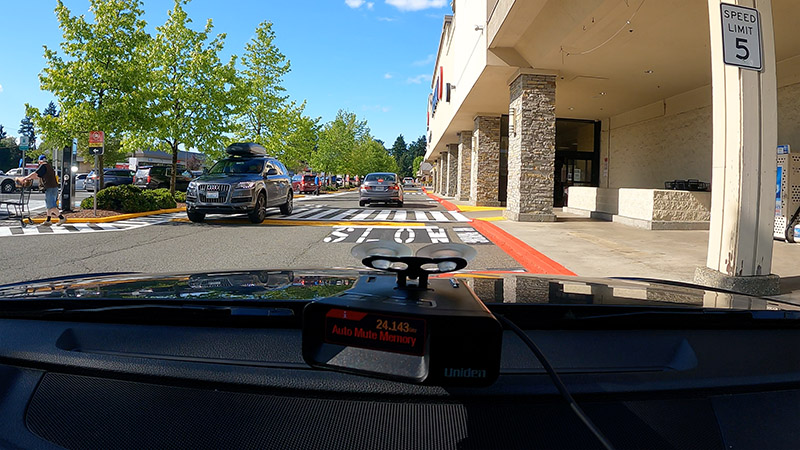 The Auto/Manual Mute Memory Band option (X&K or X,K,Ka) has been split into two options: Auto mute memory band (X&K or X,K,Ka) and Manual mute memory band (X&K or X,K,Ka)
If you'd like to optionally lock out Ka band (and MRCD), we now have independent controls for both Manual and Autolockouts instead of one option for both Auto and Manual lockouts. This way you could choose to be able to manually lock out Ka alerts, for example, in case you're completely sure the Ka alert is a false, but never ever automatically lock out Ka alerts.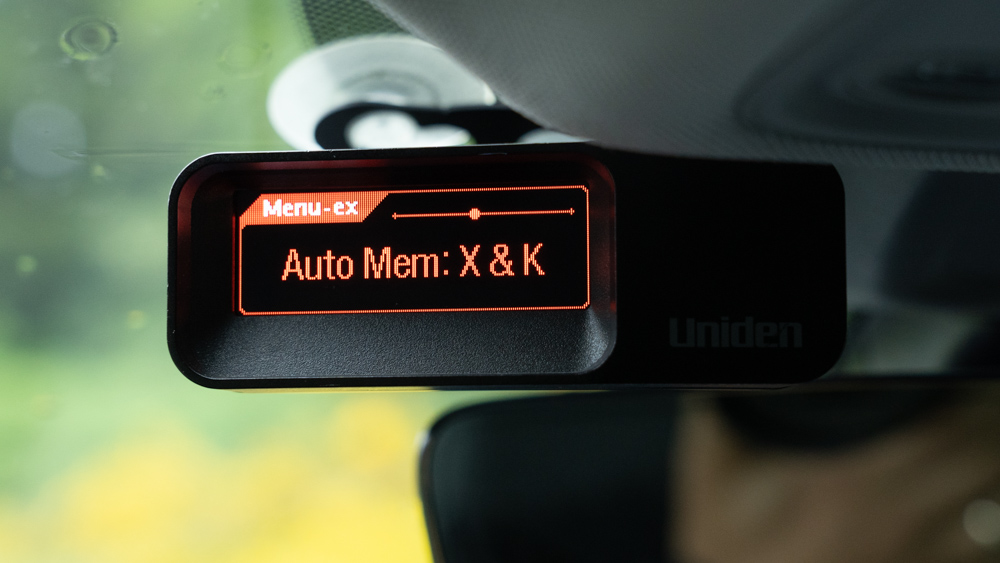 Arrows
Next up, arrow improvements.
Arrow direction accuracy for radar alerts is improved
The arrows now are much better with 1.37!
I've had several encounters passing officers running radar and the arrow transitions while I passed were spot on.
Here's another example passing a pair of speed signs, first one on the right and then a second on the left. The arrows weren't completely perfect, but they did a great job of transitioning as I passed each sign.
I'm also seeing better accuracy with the initial alerts where the arrows for rear alerts actually point backwards, for example.
Against strong front facing signals, the arrows may still point sideways early in my testing, but overall this is a nice improvement with arrow accuracy.
MRCD Improvements
MRCD detection is improved
While I don't know the specifics of what's changed, in testing against MRCD with 1.37, the R7 is looking strong. It's providing more than enough range in Edmonton and those results have been consistent.
Bogey Tones
We now have new options for K Band bogey tones (not just Ka Band).
K Bogey Tone is added
K and Ka Bogey Tone on/off options are added
Like with Ka, we now have the option to give you a unique "new bogey tone" in case the R7 is alerting to one K band signal (say a speed sign that you've locked out) and then your R7 picks up a second new K band signal (say a police officer shooting K band near the speed sign). This way you have a better understanding that there's additional signals now present.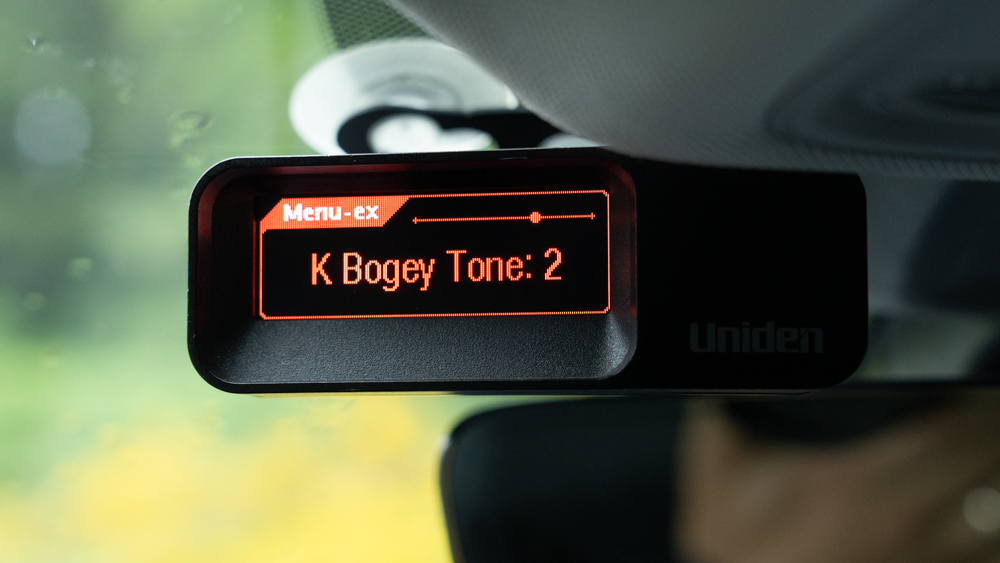 Note: The new K Bogey alert tone doesn't obey low speed muting so if you're in a shopping center parking lot and relying on low speed muting, quiet ride will mute the door openers, but you will sometimes still get the new bogey alert tone going off. For this reason, I won't be using this feature for now, but it can be helpful if you otherwise see a lot of legit K band. Uniden says they plan on tweaking this in a future update.
Additionally, you also now have independent controls in the menu for the new bogey alert tone for both K and Ka.
There's 5 different "new bogey alert tone" options to choose from, plus the ability to turn it off of course.
Signal Presentation for Old Signals
Finally we've got some improvements to how alerts disappear once different signals are gone.
Radar ramp-down alert is faster
Once a radar signal is no longer present, the R7 will now ramp down more quickly. In essence, the latch is now shorter.
Latch time, fw 1.35: 7 sec (K) & 10 sec (Ka)
Latch time, fw 1.37: 6 sec (K) & 7.5 sec (Ka)
Shorter laser latch
When the R7 stops detecting laser, instead of continuing to alert for 12 sec, it now alerts for only 6 seconds. The latch time is now much shorter and more accurate which is great.
POI Pass Chime on/off
Finally, you now have the option to turn on or off the chime alert that lets you know when you pass a speed camera. Not everyone wanted the heads up so now you can disable the alert if you like.
Download Firmware 1.37
As always, you can download the latest firmware from Uniden's website here or here (click the gray "Firmware" button).
Direct download link to fw 1.37.
Important note: As mentioned in the instructions, be sure to check the "Recovery Mode" box at the bottom of the update software. It seems to help avoid some issues when updating. Then do a factory reset after updating. (Factory resets change your settings back to defaults and then you'll need to reconfigure your detector. They don't clear your lockouts.)
Download the Windows update software.
Download the Mac update software.
If you need any help upgrading your detector, you can ask for tech support on the forums here.
Finally if you need an R7, they're sometimes tough to find right now due to the semiconductor shortage, but you can try a few places to order an R7 here.
This website contains affiliate links.

Click here to read my affiliate disclosure.