Uniden has just released firmware 1.33 for the Uniden R7.
This is a pretty big update with a lot of changes to K band, including improved BSM filtering, additional false alert filtering, MRCD improvements, and an improved menu structure. Auto-lockouts are still in development and are not included in this update, but they should be in the next update. Let's run through all the new features and improvements that Uniden has been working on for the past months.
Download Uniden R7 fw 1.33 for Windows
Download Uniden R7 fw 1.33 for Mac
Firmware 1.33 Changelog
Here's the changelog from their website before I go into detail:
Quiet Ride – Added MRCD On/Off – (Default Off)
Priority Alert – Ka/MRCD, MRCD/Ka, Strongest Signal – (Default MRCD/Ka)
VPR Laser Gun Detection – Added Stalker XLR, DragonEye (Full size & Compact)
BSM Filter Enhancement – K Band
MRCD False Reduction
Improved All Threat Display
Added Auto Mute rear K band – (Default -Rear K Mute Off)
Added "Heart Beat" to all standby displays
Normalized volume for each of the alert tones
Added Basic / Expert Menu Modes
K Narrow/ Wide/ Extended – There is another new option "Extended" that detects signals below 24.050 (23.900 – 24.250GHz). This new option is to detect the radar guns operating with signals below 24.050GHz.
Improved BSM Filter
First off, improved BSM filtering! The "K Filter" now does a better job of filtering out blind spot false alerts.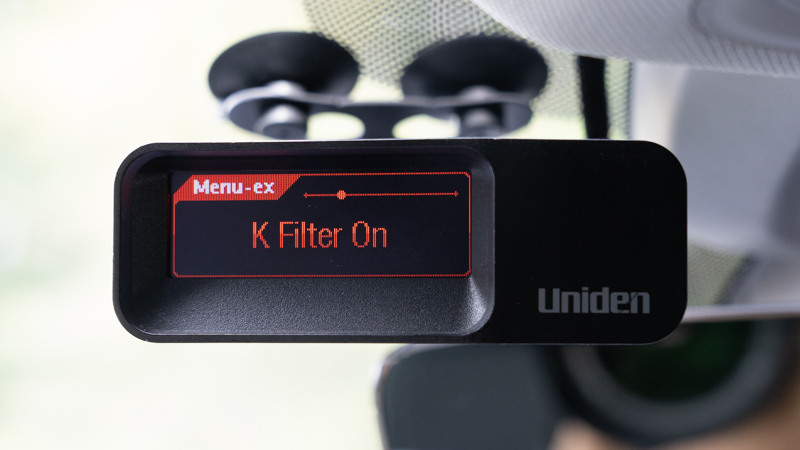 How effective is it? Well beta testers who ran 1.29 for a while and then switched to newer firmware have reported that the new BSM filter is more effective than it was with 1.29 and that the R7 is now quieter.
I've been running a variety of betas for a while so I don't remember exactly how 1.29 performs anymore to say specifically how 1.33 is better. Instead I've been running the V1 Gen2 and Redline 360c more lately and I find that the R7 is still noticeably chattier than the other two. This update doesn't bring it up to par with the competition unfortunately. However, it should be an improvement over 1.29 nonetheless, especially if you've been wanting a quieter R7. 🙂
Basic / Expert Modes
The R7 now has a basic mode and an expert mode.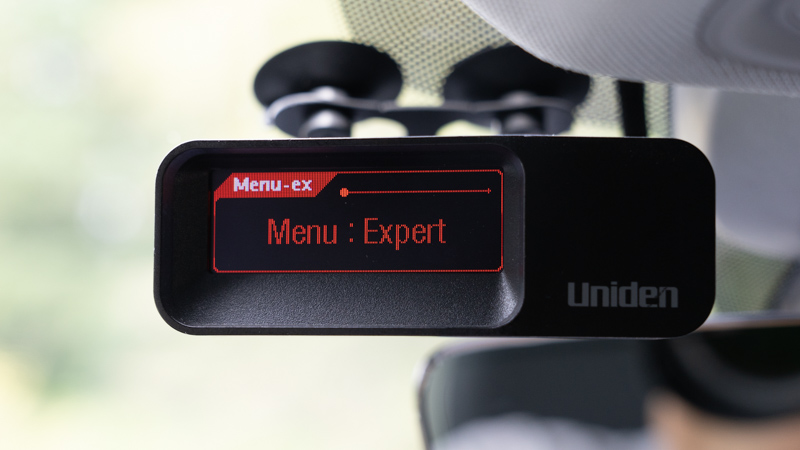 Basic mode simplifies the menu and gives you access to just some of the key features. Expert mode allows you to unlock and customize every option available in the R7 such as additional filtering options, band segmentation, alert color customizations, custom alert tones, setting the time zone, etc.
(This option does not change when resetting the detector to factory default.)
Basic Mode Options
Here are the menu options available in Basic Mode:
Highway / Advanced / City
X / K / Ka percentages (in Advanced)
Speed Camera On/Off
Redlight Camera On/Off
RLC Quiet Ride Speed
Voice On/Off
Ka Frequency Voice On/Off
X Band On/Off
K Band On/Off
Ka Band On/Off
Laser On/Off
MRCD On/Off
Display Mode
Scan Icon On/Off
Display Mode
Alert Display Mode
Speed Unit
Auto Mute On/Off
Auto Mute Volume
Quiet Ride
Quiet Ride Beep Volume
Limit Speed
Factory Reset
Delete All Mute
Delete All User
SW Version
DB Version
Expert Mode Options
Here are all the additional options that show up when switching to Expert Mode:
Rear Balance
GPS On/Off
K POP On/Off
Ka POP On/Off
K Filter On/Off
Ka Filter On/Off
TSF On/Off
K Block On/Off
K Narrow / Wide / Extended
Ka Narrow / Wide / Segmentation
MRCD / Ka / Signal Priority
Mute Memory X/K / Ka/MRCD
All Threat On/Off
Display Color
Arrow Color
Band Color
X Band Tone
K Band Tone
MRCD Tone
Ka Band Tone
Bogey Tone
Laser Tone
Rear K Mute
Dark Mode
Auto Dim
MRCD Quiet Ride On/Off
Time Zone
DST
Battery Warning
Battery Saver
Self Test
Memory Quota
Note: The MRCD options only show up when MRCD is enabled.
Extended K Band Scanning Range
We now have a new K band mode (K Extended) allowing us to scan down below 24.050 GHz when desired (again), down to 23.900. This is useful if you encounter certain guns (like some MRCD photo radar guns) that operate lower in K band.
K Narrow: 24.080 – 24.200
K Wide: 24.050 – 24.250
K Extended: 23.900 – 24.250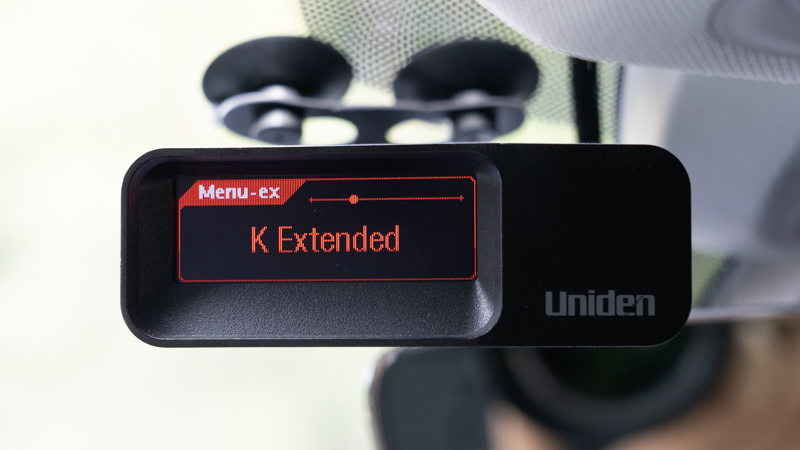 MRCD Improvements
There have been a lot of improvements to MRCD as well.
Alert Priority
We now have more control over alert prioritization. Here's how multiple signals are prioritized with the new modes:
Ka/MRCD Priority:  Ka -> MRCD -> The strongest radar signal (X or K Band)
MRCD/Ka Priority:  MRCD -> Ka -> The strongest radar signal (X or K Band)
Signal Priority:  MRCD -> The strongest radar signal (X, K, Ka Band)
Reduced MRCD Falsing
MRCD falsing has been reduced. I do still see some MRCD falses myself though so they have not been eliminated.
MRCD Quiet Ride
We now have low speed muting available for MRCD, independent of low speed muting for traditional radar. To set this, you can use the new menu option called "Q-Ride MRCD."
MR in All Threat Display
When a lower priority MultaRadar signal is shown in the All Threat display, instead of showing up as a "K" signal, it now displays "MR" in the side window.
All Threat Display Latch Time
Speaking of the All Threat Display, the latch time has been increased for signals that show up on the smaller left window so that the alerts stay on screen a little longer and don't flash on and off so quickly. This helps to stabilize the display.
Mute Rear K Band
When the R7 is set to Expert Mode, there's a new menu option called "Rear K Mute" which automatically mutes all K band signals behind you. This can be helpful to quiet down signals that are usually lower risk. Front and Side K band signals will all alert normally.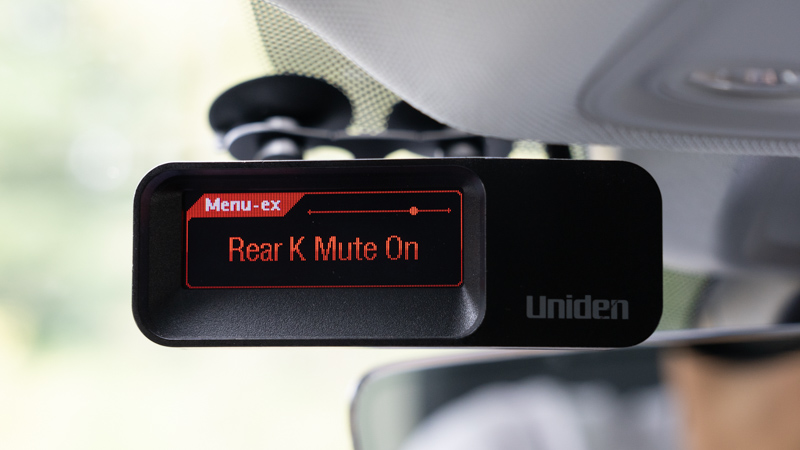 VPR Laser Gun Detection
Laser gun detection has been improved for variable pulse rate guns like the Stalker XLR, Dragon Eye SpeedLidar, and DragonEye Compact. This update helps the R7 recognize those pulse patterns and alert to those guns. It's not a change to the detector's sensitivity to laser.
Heart Beat Icon Change
The blinking "heart beat" icon is now available as a separate menu option called "Scan Icon" that can be turned on or off independent of the scanning bar animation in the "Scan Display" menu option.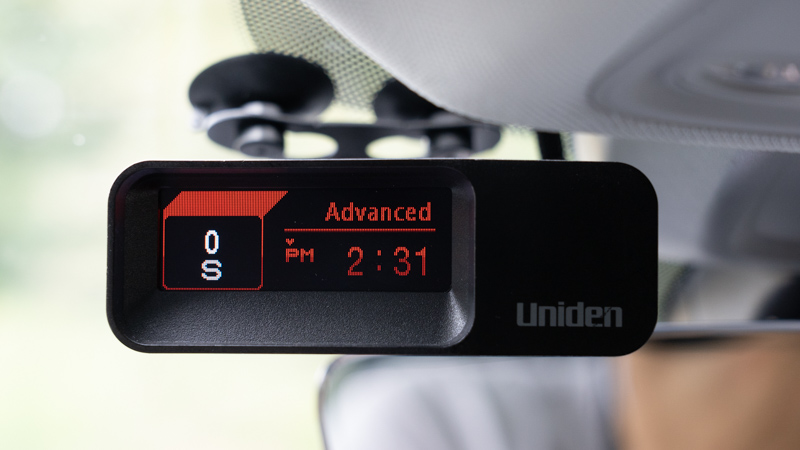 Normalized Volume for Alert Tones
To keep the volume levels similar for the different alert tones, they have all now been normalized.
Quiet Ride One Beep Volume Control
There is a new menu option called "Q-Ride Beep Vol" that lets you set the volume of the initial quiet ride (low speed muting) beeps. You can disable the beeps altogether now (set it to Volume 0) or adjust the initial beep volume to be anything between Volume 1-8.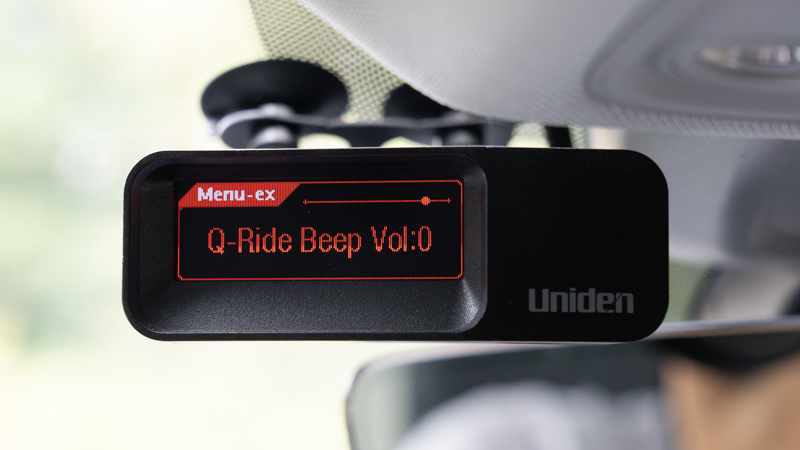 RLC Quiet Ride Display
When a redlight camera alert is being muted by low speed muting, you'll now see the green "Q-Ride" text displayed on screen.
Menu Scrolling Change
Finally, if you long press the Volume – or + buttons on top of the detector, it'll let you cycle through the menu options. This is slower than quickly pressing – or + buttons to get to where you want, but it is a small new option here in this latest firmware.
Where to Download 1.33
You can download firmware 1.33 off Uniden's website here.
Note: The update on their website is just for Windows, but you can use the Mac software included with previous firmware versions to update to 1.33 on Mac. (Uniden, please start including a link for Mac software too with every update you release.) To make things easier, I've gone ahead and packaged up everything you need here:
Download Uniden R7 fw 1.33 for Windows
Download Uniden R7 fw 1.33 for Mac
If you need help updating your R7, you can watch this firmware update tutorial video.
To program your R7, check out my updated R7 settings guide.
Finally, if you don't have an R7 yet, you can purchase your Uniden R7 here.
This website contains affiliate links.

Click here to read my affiliate disclosure.