Blackvue has just announced an impressive new top of the line dashcam, the Blackvue DR900S. What's special about the DR900S is that it now shoots in 4K (over the 1080p of the DR750S). Plus, to keep file sizes reasonably small, Blackvue is also introducing a new codec called H.265 that does an even better job of video compression than H.264 that was used before.
Update, Apr. '18: You can now pre-order the DR900S!
Pre-order the Blackvue DR900S-2CH.
Pre-order the Blackvue DR900S-1CH.
Update 2, Apr '18: Here are my initial impressions of the new DR900S.
Check out this video to see the Blackvue DR900S, learn more about it, and see some sample footage from the camera.
Looking at the 4K sample footage myself on their 4K TV, I was extremely impressed by the level of detail. It is definitely better than the DR650S I used to run the the DR750S that I currently run. It does a much better job of resolving details such as license plates, especially if they're more than a car length or so away.
Blackvue sent me some sample footage from the camera and gave me permission to share it, so long as I make it clear that this footage is not necessarily representative of final, production dashcam footage. It's from a test unit, without any ISP (image signal processor) tuning, compressed with H.264 at 10 Mbit.
So long as we're clear on that, here's a quick 4K sample clip you can take a look at before we take a closer look at the new DR900S.
Blackvue DR900S Features & Overview
4K Front camera
1080p Rear camera
New High Dynamic Range (HDR) capability
Sony STARVIS sensor
H.264 & H.265 codecs available
GPS, WiFi, G-sensor
Cloud integration
Parking mode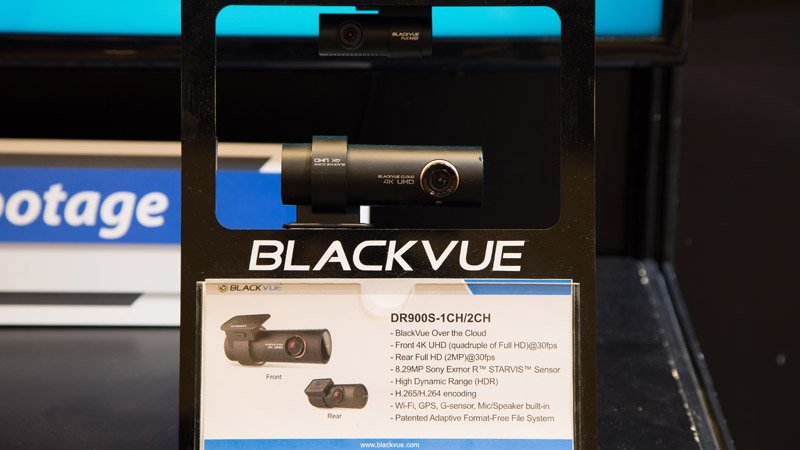 In addition to the 4K resolution and new compression algorithm, the DR900S will also offer a new High Dynamic Range (HDR) feature, something that many other cameras now offer, which allows you to make out more detail in the dark shadows and bright highlights of the image. They didn't have any footage showing the HDR in action and so the focus was the resolution and compression scheme. Either way, the results from the DR900S are looking very impressive so far.
The 4K Blackvue DR900S will not be replacing the 1080p Blackvue DR750S, but will be sold alongside it.
Exact pricing and availability of the Blackvue DR900S hasn't been set yet, but expect it to be available early next year.
Update Jan '18: The DR900S' release date is likely to be pushed back a little bit as their developers are optimizing the firmware. No release date has been confirmed yet.
Update Mar '18: Blackvue has released an update about the DR900S. They weren't happy with the video quality from initial prototypes, especially for night time quality, so they're redeveloping the camera which will be offering improved nighttime and daytime quality. The dashcam is expected to be released in Q2 of 2018.
Update Apr '18: The DR900S will be available soon and you can now pre-order the dashcam!
USA: Click here to pre-order the DR900S-1CH or click here to pre-order the DR900S-2CH.
Canada: Click here to pre-order the DR900S-1CH or click here to pre-order the DR900S-2CH.
I look forward to testing the new DR900S and comparing it to my DR750S. Stay tuned for my Blackvue DR900S review. 😉
Update: Here are my initial impressions testing the DR900S!
In the meantime, here's a few more 4K sample videos you can check out from the test DR900S in development.
This website contains affiliate links.

Click here to read my affiliate disclosure.