Blackvue has just released their new DR750S-2CH dashcam which is a pretty big update over their previous top of the line, the DR650S-2CH. I've been running the 650S for the better part of a year now and have been running the 750S for the past two weeks or so. After spending time comparing the cameras and having a chance to discuss things with Blackvue, I've been very impressed with the improvements Blackvue has made and I'd like to share with you the Top 20 Changes & Improvements between the DR650S-2CH and DR750S-2CH dashcams.
You can purchase the DR750S-2CH here.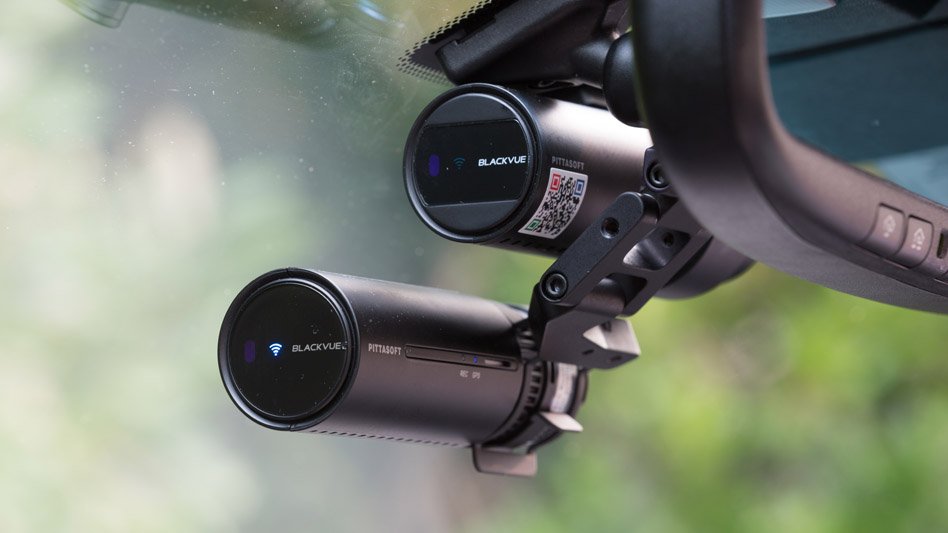 Blackvue DR650S-2CH vs. Blackvue DR750S-2CH
If you look at the cameras themselves, you'll notice they look very similar. They're physically the same size and design. (There is one difference with the mounts which is important for people upgrading from the DR650S and I'll cover that at the very end.) Otherwise, except for the text written on the cameras, they look the same.
As hinted at with the text written on the cameras, ie. "60fps" on the DR750S, the real differences between the cameras are what lies under the hood so let's start taking a look at those.
1. New Sony STARVIS Sensor with Improved Low-light Capabilities
The camera features an all new Sony STARVIS digital sensor and one of its biggest features is improved low-light capabilities which makes the DR750S significantly better at capturing everything around you at night. Check out the difference between the older DR650S and the new DR750S at night, both recording at the exact same time. The differences are (almost literally) like night and day! You'll also note that this applies to not only the front camera, but also the rear as well.
2. Front Camera Records at 60 fps
The front camera of the DR750S records at twice the frame rate, from 30fps to 60fps, which means that a) your video looks smoother and b) the faster shutter speeds make for crisper and sharper videos with less blur and you can more easily make out details, especially on moving objects such as cars driving past you or other vehicles as you're making a turn.
3. Rear Camera Records at 1080p
One of my biggest complaints was that while the front camera of the DR650S had good detail since it recorded at 1080p, the rear camera recorded at 720p and the reduced resolution was noticeable in terms of reduced detail. The new DR750S's rear camera is now capable of recording at 1080p just like the front camera. You'll see this improvement most affecting any small details such as license plates that are a little farther away than directly on your tail.
3A. DR650's Front Camera Records More Detail
Speaking of having enough detail to read license plates, oddly enough the DR650S does a better job at it right now. The DR750's front camera is a little bit softer and is less able of capturing plates. I thought this was just my camera or something, but Blackvue has noticed this too and their developers are currently working on a firmware update to address this.
Here's an example to show you what I mean. Click on the image below to see it in full resolution and take a look at the plate of the SUV I'm driving past on the right.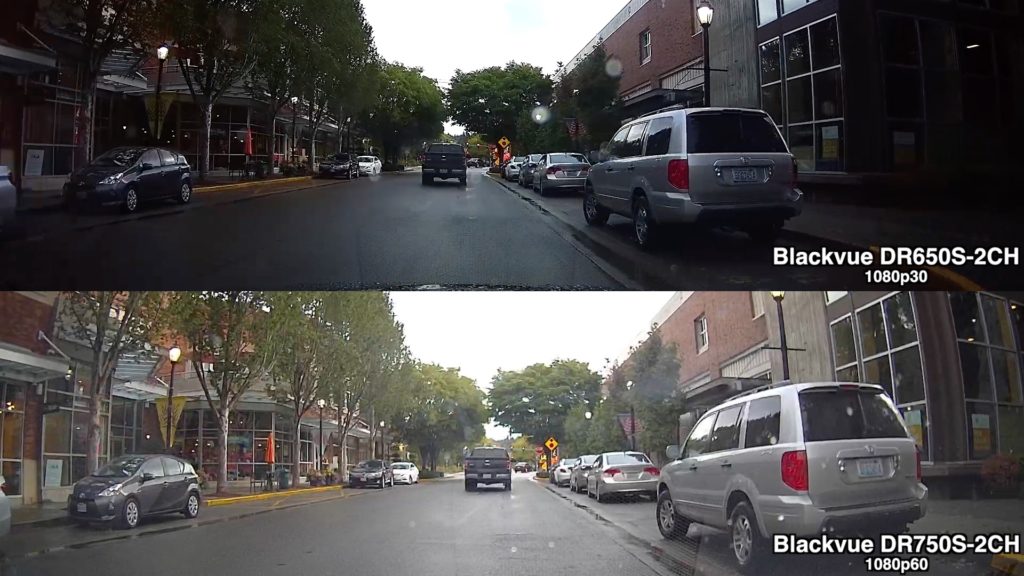 4. Faster Processor
The DR750S has a faster processor which improves almost everything including faster boot times, improved video quality, updates, etc. Let's take a look at some of the specifics.
5. Faster Startup Time
The camera now boots up faster and begins recording quicker. Startup time has dropped by 10 seconds, from 33 sec to 23 sec. This means that if your camera isn't already on and recording while you're parked, the camera will be up and running sooner, recording and protecting you when you're leaving the parking lot. 23 seconds is still a bit longer than average and I would like to see it quicker, but it's still a big improvement in case anything happens right after you hop in the car.
6. Better Video Encoding
Blackvue has improved their video encoding process which the faster processor can now handle and this leads to higher quality and fewer artifacts at comparable bitrates.
7. Higher Bitrates Now Available
Speaking of bitrates, one of the issues with the 650 was that the bitrate was a little below average which resulted in pixelated video and reduced detail. The bitrate has now been increased which means you'll have more detail and better quality videos.
DR750S Bitrate:
Front 1080p: 12 Mbit
Rear 1080p: 10 Mbit
Rear 720p: 8 Mbit
Update, Feb 2018: With firmware 1.003, the DR750S is now capable of recording at a whopping 25 Mbit on the front camera for improved video quality.
DR650S Bitrate:
Front 1080p: 10 Mbit
Rear 720p: 5 Mbit
One interesting note is that the DR750S records at 12 Mbit whether you're recording at 30fps or 60fps.
8. Wider Field of View
The lenses in both the front and rear cameras are slightly wider and now offer a larger field of view, moving from 129 degrees diagonal to 139 degrees diagonal. It's nothing major, but just a little difference to help you see more of what's around you.
9. Improved GPS Performance
The 650 would often lose a GPS lock while I was driving, especially if there were some trees around. The speed would just blank out. The 750 does a much better job at maintaining a good GPS lock while driving.
10. Faster Wi-Fi
Wi-Fi speed has been improved and the camera does feel a little more responsive over wifi. Downloading a 1 minute clip from the front camera takes less than 30 seconds for a 96 meg file. Not bad at all. 🙂
11. Improvements in Hot Temperatures
The DR750S is better in higher temperatures, especially when sitting under the sun in a parked car.
The DR650S is rated to operate between -20-60 °C (-4-140 °F) while the DR750S rated for -20-70 °C (-4-158 °F), or 10 degrees hotter. It shuts off at 80 °C (176 °F). (Fun fact: The DR750S is rated for 10 degrees higher than the Thinkware F800.) Blackvue tested their DR750S and found that it ran fine even beyond these limits, but these are temperature cutoffs are pretty safe.
12. Reduced Power Consumption for Longer Parking Recording Times
The DR750S produces less heat and has a lower power consumption which means you'll get longer parked recording times when running off your car battery or external battery pack like the B-112.
Compared to the DR650S, the DR750S at 60fps is rated for 3% less power consumption with GPS and Wi-Fi off and 12% less power consumption with GPS and Wi-Fi on, according to the specs, so those of you who use GPS and use Wi-Fi for cloud functionality will see the most improvement.
DR650S: 300 mA w/ GPS and Wi-Fi Off, 400 mA w/ GPS and Wi-Fi On
DR750S: 290 mA w/ GPS and Wi-Fi Off, 350 mA w/ GPS and Wi-Fi On
Note: The DR750S uses about 30 mA less when running at 30 fps so you'll see a 13% improvement with GPS/Wi-Fi off and a 20% improvement with GPS/Wi-Fi on.
13. Better File Management to Improve the MicroSD Card Lifespan
Blackvue has created what they call an adaptive format-free file management system. Format-Free systems improve stability but they don't allow as many options when it comes to choosing recording quality or video segment length. With Adaptive Format-Free file systems, you get the best of both words including both improved stability as well as more recording options. Additionally, as the name implies, it does require formatting so often to maintain stability.
The big difference that I notice day to day is that the file structure has been simplified. With the DR650S, there were a whole bunch of extra video files in the folder for things like GPS files and thumbnails. This made it harder to actually locate the video file you want. With the DR750S, all you'll see in there are the actual video files. It's great!
(With the 650 in the folder with the video files you'll find all sorts of extra files like GPS files, thumbnails, and so on which makes it harder to find the actual video files you want. With the 750 it's just the video files, front and rear, which makes things cleaner and easier to work with.
14. Event File Overwrite Protection
The DR750S can now protect up to 50 event files to give you more control. You can protect the first 50 files and have the newer event files get overwritten, or you can have it make sure the latest 50 stay protected and the camera will get rid of the older ones.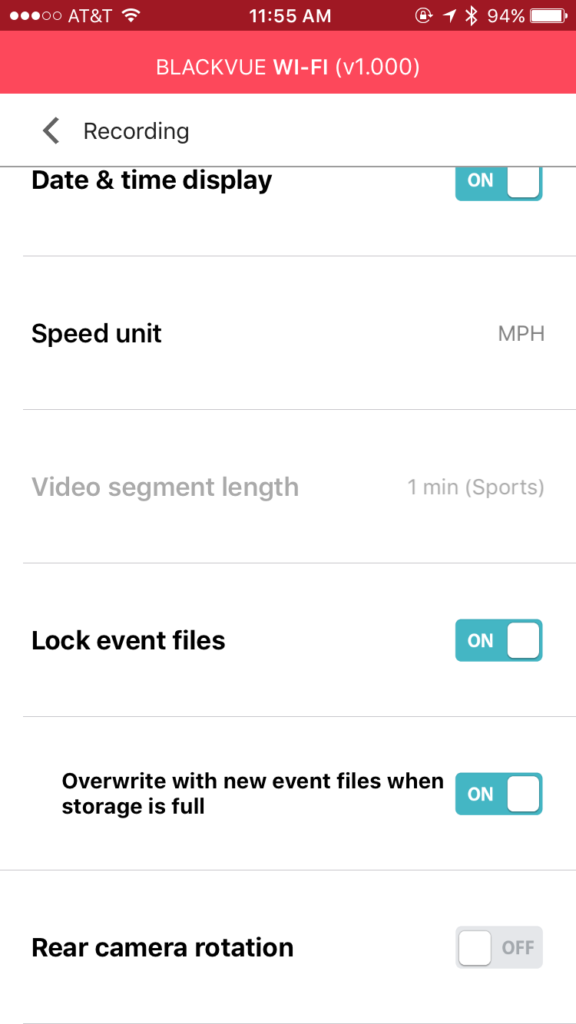 15. Scheduled Reboot
For those of you guys who plan on running your camera 24/7, you can schedule the DR750S to reboot once a day, say at 3 am. Since electronics benefit from periodically being restarted, this will help improve camera stability.
The camera is also smart enough to not reboot if there's something important going on like motion detected or an impact detected. If it skips a reboot, it will simply reboot the next time it's scheduled to. This way you'll get better stability while minimizing the chance of missing something important.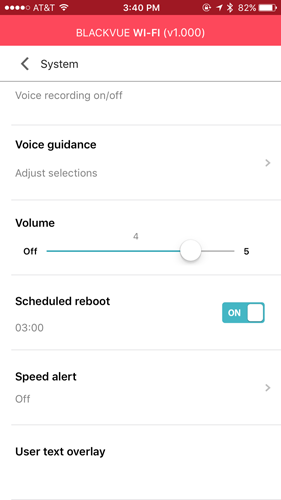 16. Motion Detection Sensitivity Improvements
Personally I never use the motion detection feature, but Blackvue says that the oversensitivity of motion detection in parking mode has been addressed and so the DR750S is less likely to be unnecessarily triggered by false positives like trees blowing in the wind or cars driving by.
17. Dashcam Keeps Settings When Upgrading Firmware
With the DR650S, when you updated your firmware, the camera's settings would reset back to default and you'd have to reprogram all your settings again. With the DR750S, it will keep your settings so everything will continue running normally after you update your dashcam.
18. Unique Default Wi-Fi Password for Improved Security
The default Wi-Fi password for the DR650S was always "blackvue" and many people wouldn't change this. If you left the password at the default setting, this would mean that anyone walking by your car would be able to log into your dashcam and access your private information including downloading your dashcam footage, listen to your in-car conversations, see your saved Wi-FI passwords for home or work, and so on. This could be avoided, of course, if you simply change the password in your camera, but not everyone did this.
To improve security, Blackvue now has a unique Wi-Fi password for every DR750S. It's physically written on the camera itself and lies between the camera and the mount. This means that the unique password will remain hidden to anyone trying to look at your camera. You can certainly change the password yourself, of course, but this unique default password will help to prevent Blackvue users getting hacked by random people walking by their vehicles.
19. Font for On-Screen Text has been Changed
I'm not sure if this one counts as an improvement, but Blackvue has changed the font they use for the on-screen text. Personally I prefer the font from the DR650S and think it looks nicer and cleaner, but it's not the end of the world.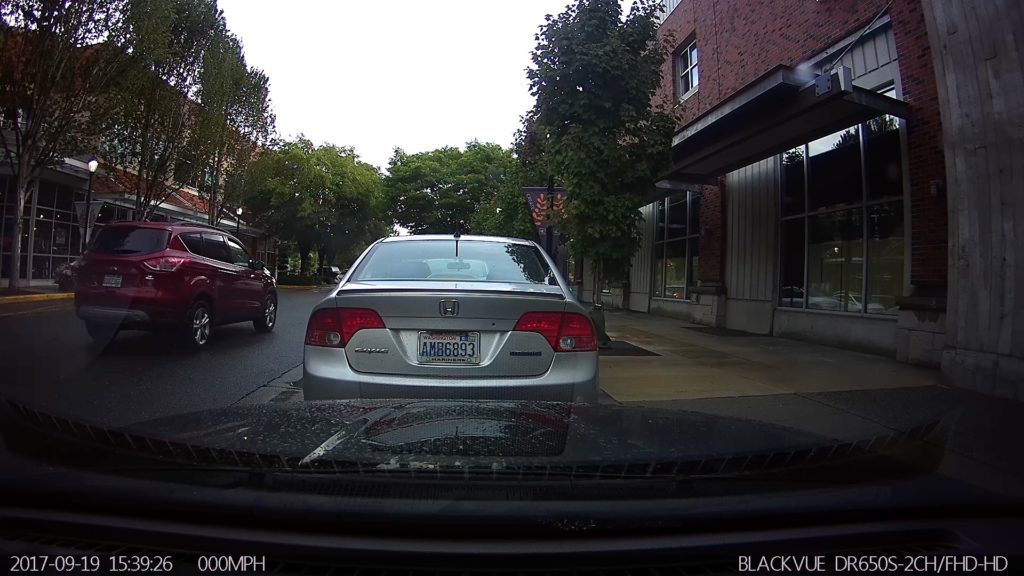 20. Mostly Compatible with DR650S Cables and Mounts
For those of you who are upgrading from the DR650S and already have cables run and mounts installed for your DR650S, it will be pretty straightforward to upgrade to the DR750S.
You can use your existing power cable, rear camera connection cable, and rear camera mount. The only thing that is not compatible is the front camera mount. The circumference of the DR750S's front camera must be a hair larger because it won't slide into the DR650S mount. I tried and it went about halfway in before getting stuck and I had to push it out from the other side to free it. For this reason, you'll need to use your DR750S's front camera windshield mount instead. Everything else is compatible.
Note, for those of you using the Blackvue Blendmount, it is compatible with both the DR650S and DR750S's front camera so you won't need to swap that out.
That's it!
If you're looking for a fully-featured, high quality dashcam that covers both the front and rear, records while you're driving and parked, the DR750S is a fantastic choice and a solid upgrade over the DR650S.

Note: I'd recommend using a large memory card with your camera, at least 64 gigs (the DR750S supports up to 128 gigs), because recording with two cameras at high quality for both driving and parking mode can blast through memory card space and you want to avoid having potentially important video clips overwritten. 🙂
This website contains affiliate links.

Click here to read my affiliate disclosure.
Summary
Reviewer
Review Date
Reviewed Item
Blackvue DR650S-2CH & DR750S-2CH
Author Rating





Product Name
Price
Product Availability