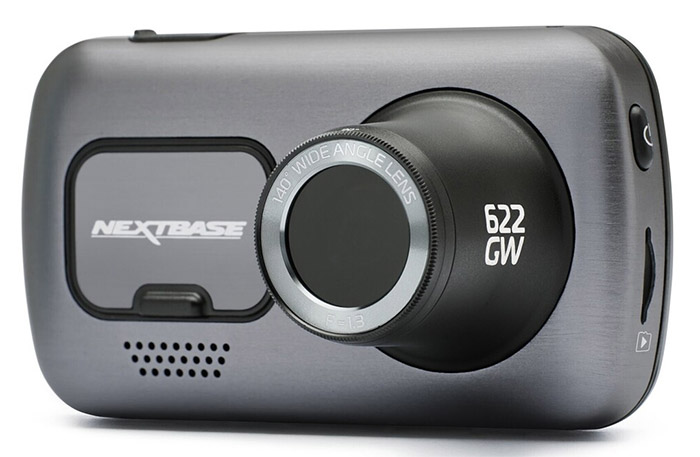 The Nextbase 622GW ($399) is a feature-packed 4K dashcam full of creative features like Emergency SOS to automatically call an ambulance for you in case of an accident, Alexa integration, digital image stabilization, optional modular rear cameras, and more. This gives the 622GW helpful features not available in traditional dashcams, but it also has a number of noteworthy limitations and potential reliability issues that are worth considering too. Let's take a hands-on look at Nextbase's latest flagship dashcam.
Full disclosure: Nextbase sent me a 622GW for free to test and review. I have no restrictions on what I can and can't say and will share my complete thoughts, both good and bad. As always, this is not a paid or sponsored review. If you'd like to purchase one, this article includes affiliate links and so I may receive a percentage when you buy.
Nextbase 622GW Features
Here's a quick overview of the main features of the 622GW.
Pros
4K Recording
Excellent video quality
Great lowlight sensitivity
Excellent emergency SOS capability
Alexa integration
Multiple optional rear cameras
Built-in polarizer
Well designed WiFi app
Integrated GPS
Smooth firmware updates
what3words support
Magnetic quick release mount
Extreme weather mode
Image stabilization
Cons
Non-buffered parking mode
G-sensor can miss parking impacts
Poor choice for hot climates
Built in battery instead of capacitor
Key features won't work without app
Limitations viewing videos on phone
Large file sizes, no H.265 support
Image stabilization only for front cam
Image stabilization at 2K, not 4K
Subpar rear window cam quality
Low audio volume recording
Can't play music from Spotify
Display randomly turns on
Reliability issues when removing memory card
Video Quality
The Nextbase 622GW records at 4K and 30 fps. It is able to record pretty high quality video footage to capture what's going on ahead of you.
Daytime Quality
Starting off, let's look at some daytime video samples:
Overall the 622GW does a great job.
Compared to the competition, I find that in general, the quality of its 50 Mb/s video noticeably exceeds the Blackvue DR900S and DR900X dashcams (25 Mb/s max bitrate), but slightly lags behind some of the best dashcams I've tested like the Viofo A129 Pro (50-60 Mb/s max bitrate).
I also find that the Nextbase does a better job than many other top tier dashcams at freezing motion like cars driving by.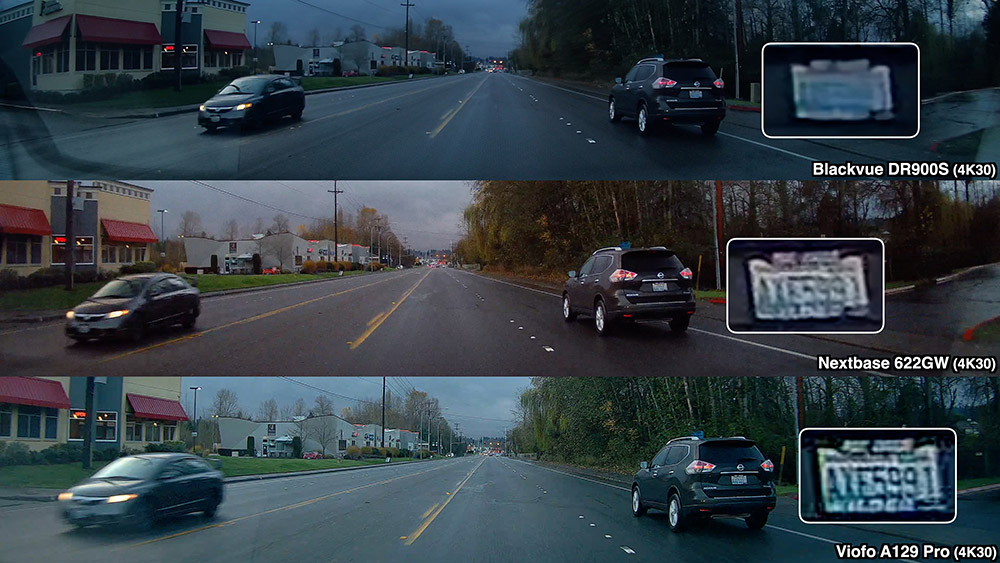 Sometimes the Nextbase does fall a little short freezing motion like the car driving by on the right, but overall I've found it does a great job.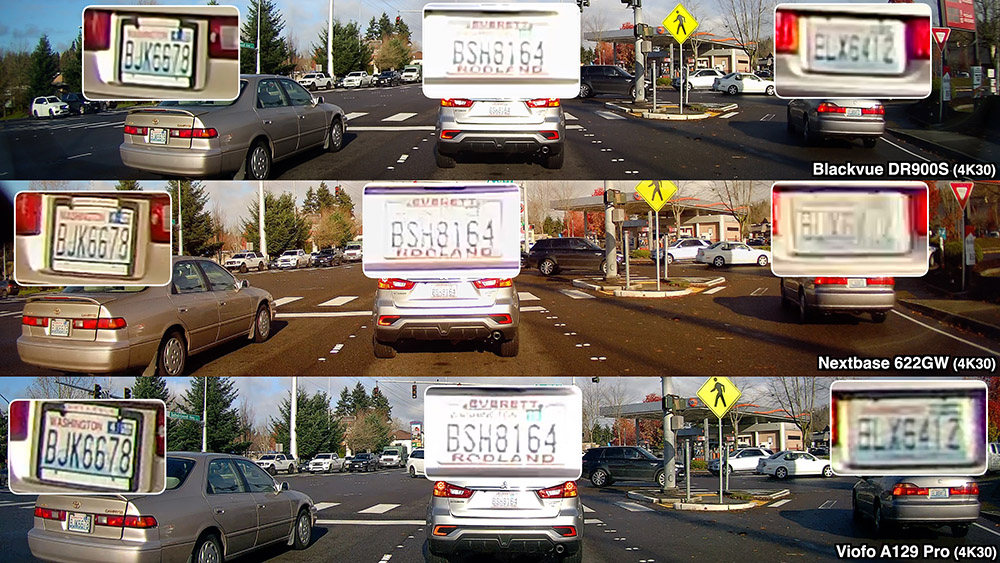 Circular Polarizer
The front of the 622GW has a removable circular polarizer (special darkened glass on the front of the camera's lens). This is a great accessory and I love that it's included with the dashcam. The polarizer's main benefit is to help kill reflections off your dash so you can better record what's going on outside of you. Plus you can knock out reflections on other people's windows which can be helpful to record in case another driver was driving distracted or on their phone.
Here's some quick testing adjusting the polarizer so you can see its effects in both cloudy and sunny conditions. Note the difference with the reflections on my hood and how well you can see the road. I also test by putting sunglasses and a towel on my dash so you can better see the polarizer's effects. In sunny conditions, you can see how the polarizer also helps cut down on the sun's bright reflections off the road.
Night Video Quality
Night time video quality is also pretty great. In fact it's better than I expected, especially considering the fact that the polarizer blocks 75% of the light hitting the sensor. Here's some nighttime footage so you can see how it fares:
I was curious how detrimental the polarizer was to night time recording and surprisingly, the 622GW still did great at night, even with its disadvantage. It still did a better job of freezing action while still maintaining good exposure levels. Great work Nextbase!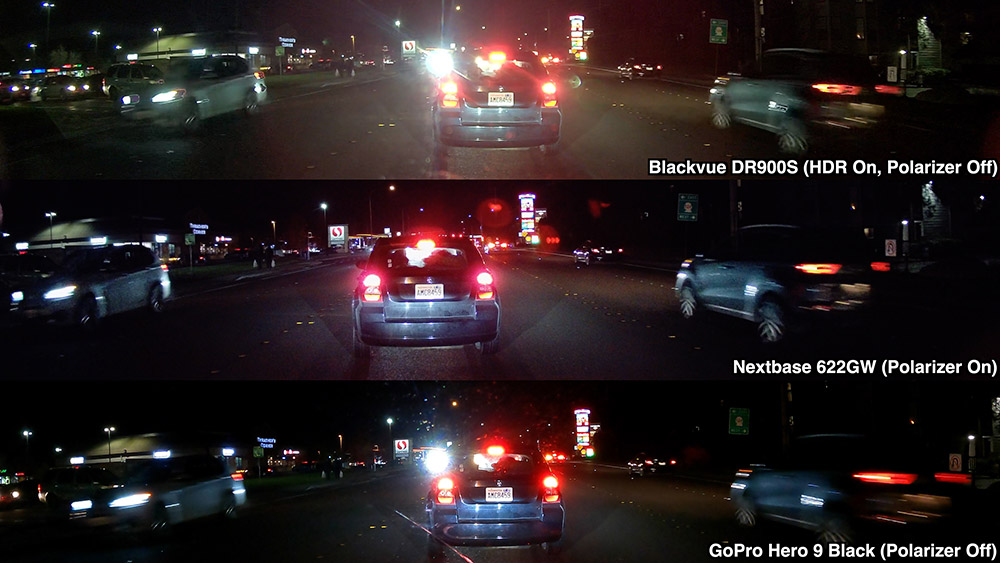 I do notice that the 622GW tends to exhibit more internal reflections than the other dashcams though. You can see it with the point sources like headlights and tail lights causing floating blobs in the image (you can see the three blobs floating to the right of the main car above, for example). I'm guessing this is a result of the 622GW's large 6-element lens and a lack of anti-reflective coatings on the different lens elements. It's not a huge deal in practice, but it is a little annoying and isn't really an issue in the other dashcams with simpler lens designs.
To create a more apples-to-apples comparison, I threw polarizers on my Blackvue and GoPro and in this situation, again the Nextbase impressed me. It nailed the exposure and did the best job of freezing the action.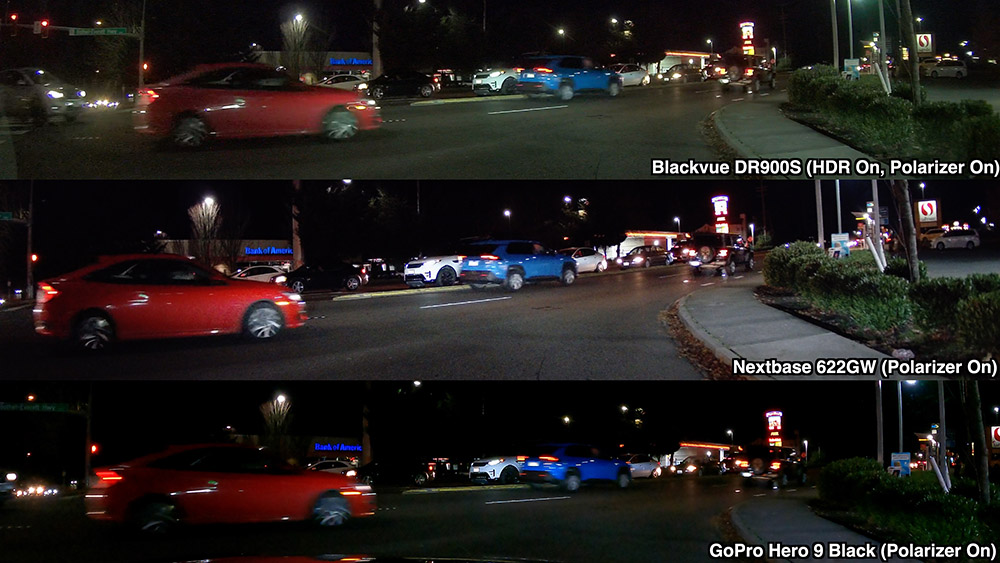 As someone who lives at higher latitudes and has a lot of night during the winter :), this is pretty awesome. I'm used to taking off my polarizers at night, but the 622GW does great even with it on.
Codec & File Sizes
Because recording in 4K captures so much information, most high end 4K dashcams offer the ability to record in H.265 for smaller file sizes while maintaining high video quality. Unfortunately the 622GW only records in H.264. That's fine in general, plus it's easier for computers to play back, but it's something else I've noticed missing from this dashcam as a way to help save space on your memory card. With the 622GW, 1 min of 4K video takes up about 350 – 400 MB.
The 622GW also supports a max of only 128 GB MicroSD cards. Most high end dashcams now support 256 GB or 512 GB.
Here's the 4K record times you can expect with different memory cards:
32 GB: 90 min, or 45 min if adding rear cam
64 GB: 3 hours, or 1.5 hrs if adding rear cam
128 GB: 6 hours, or 3 hrs if adding rear cam
Rear Cameras
If you'd like the 622GW to also record behind you, Nextbase sells 3 different 1080p cameras that plug into the HDMI port on the side of the dashcam.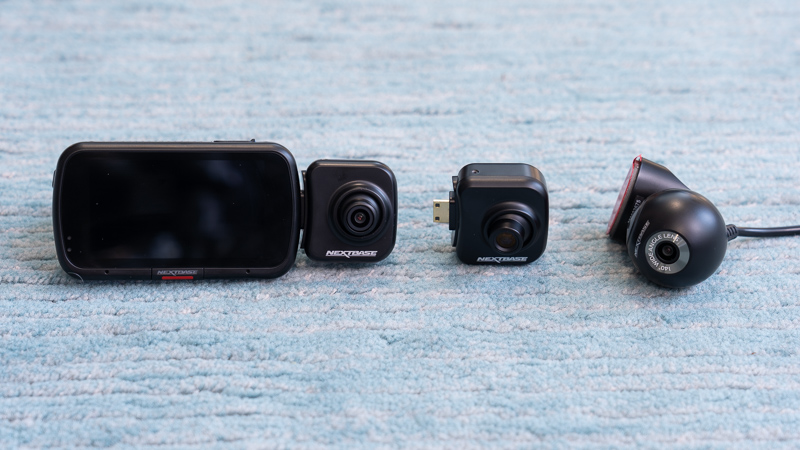 While these record at 1080p instead of 4K like the front camera, they make for a very convenient way to add a second rear camera to your 622GW.
Rear Window Camera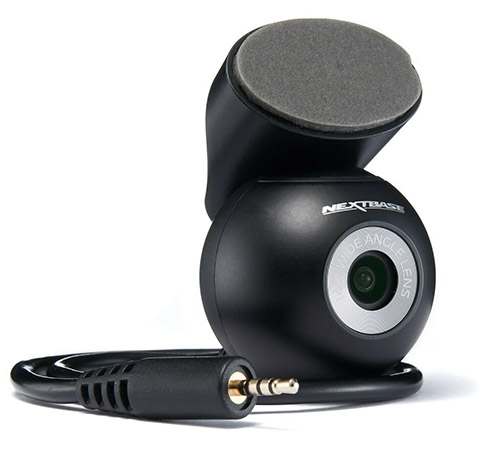 First is rear window camera ($99). This is the traditional option that attaches the second camera to your rear window. Stick the bracket on your rear window and the rear camera magnetically connects. Then you run the cable back up to the dashcam on your windshield.
This is the best way to capture everything that happens back behind you.
Now while the field of view is great, the video footage from the dashcam is surprisingly soft and blurry. You can make out plates when cars stop behind you, but otherwise things look pretty mushy. Overall I feel pretty disappointed with the image quality from this rear window camera.
Something I like though is that if you tap on the rear camera's view on the LCD screen, it'll switch over and show you what's behind you, turning your dashcam into a backup camera.
This is particularly useful for larger vehicles where it's harder to see out the back. It's not quite as convenient as a traditional backup camera that automatically engages when you put your vehicle into reverse, but I like that this feature is available nonetheless, especially for people who don't already have a backup camera in their vehicle.
Rear View Camera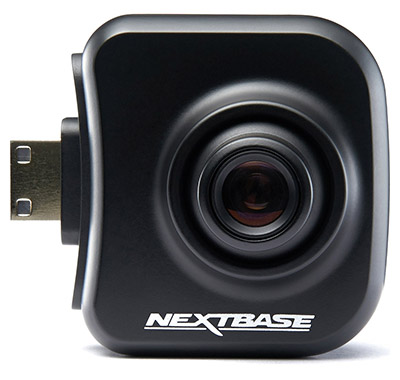 If you don't want to run the wire back to the rear window camera, perhaps because you want an easier to install solution, Nextbase also offers a rear view camera ($99) that attaches directly onto to the front camera and then points back through the rear window.
It uses a telephoto lens to zoom through your cabin, past your passengers (mostly), and out your rear window. You won't be able to see as much back behind you compared to the rear window camera, but you're still able to capture the gist of what's happening behind you. Surprisingly, you can also capture license plates.
This works better in shorter cars rather than longer SUV's, but it works better than I expected. The lens itself can also be slightly moved and angled to ensure it points out your rear window.
Cabin View Camera
Finally, if you'd like to record passengers inside your vehicle, Nextbase also offers the cabin view camera ($89).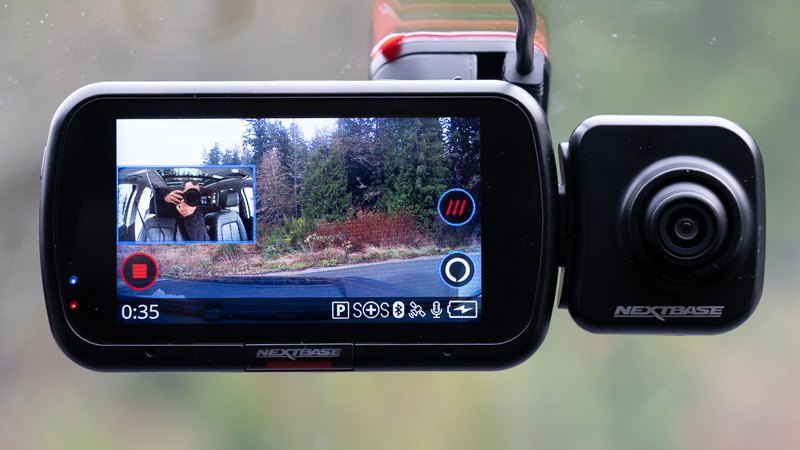 The camera itself looks a lot like the modular rear view camera that attaches to the side, but instead it has a wide angle lens to capture everything inside your vehicle. The video quality here looks a little soft too, but certainly usable.
There are no infrared LED's so this camera works best in the daytime, but the cabin view cam did surprisingly well recording at night just using the light from street lights and oncoming car headlights.
If you're an Uber/Lyft driver who makes interior recording a priority, I think another dashcam with IR LED's for the cabin would be the way to go. For the rest of us, I think this would be alright.
Emergency SOS
Probably one of my favorite features of the Nextbase cameras is the Emergency SOS functionality. In case you get in an accident and you're unable to call for help, your 622GW will automatically call 911 and get an ambulance sent directly to you. It can literally save your life. This is one of the very best features of the dashcam.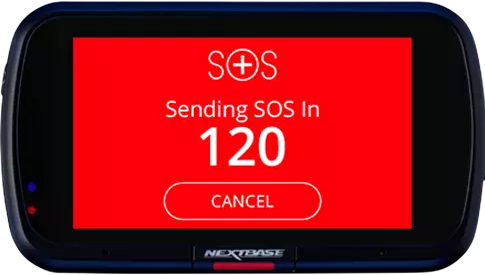 When it calls 911, it will tell them your location, what vehicle you're driving, and even your medical history, blood type, and any allergies (which you program in the app ahead of time).
When the G-sensor and GPS detect an accident, both your dashcam and your phone will alert and ask if you're okay, giving you time to cancel the 911 call just in case. If you're incapacitated and non-responsive, only then will it make the call. It's designed specifically to get help in case of serious accidents.
You will need cell service for this feature to work and for your phone to be actively running the Nextbase app  in the background while driving because the 911 call is made through your phone, but assuming you do, this is the best implementation of crash detection I've seen yet from any dashcam.
I've seen similar functionality available from Blackvue and Thinkware with their cloud features, but those dashcams are only designed to send impact detected notifications to someone running the app on their phone. I have it running on my personal phone, but not my wife's phone, for example, so it wouldn't be useful for me in practice. I could install it on her phone and have it send her impact notifications, for sure, along with my location and a video of the crash, but I'd have to hope she's not busy and she actually checks her phone so that she can call for help. In case of an emergency, I think calling 911 immediately is the best option and I love that the 622GW handles it this way.
what3words
Another cool safety feature is what3words support. I hadn't heard of this before, but the idea is it makes it really easy to tell others exactly where you're located in case you need to call for help.
Instead of trying to identify landmarks and cross streets to tell someone your location, the dashcam can both tell you the latitude/longitude of your location as well as also give you 3 unique words that correspond to exactly where you're located. To do this, what3words breaks up the entire world into a grid of 3 meter x 3 meter (10 ft. x 10 ft.) squares and each square is identified with 3 unique words.
In the photo below, my location is "economies.trucks.design" and if I told you those 3 words, you can immediately identify where I'm located. You can pinpoint my precise location down to the exact parking spot in the parking lot where I'm located. Cool stuff, especially in rural areas without many good landmarks.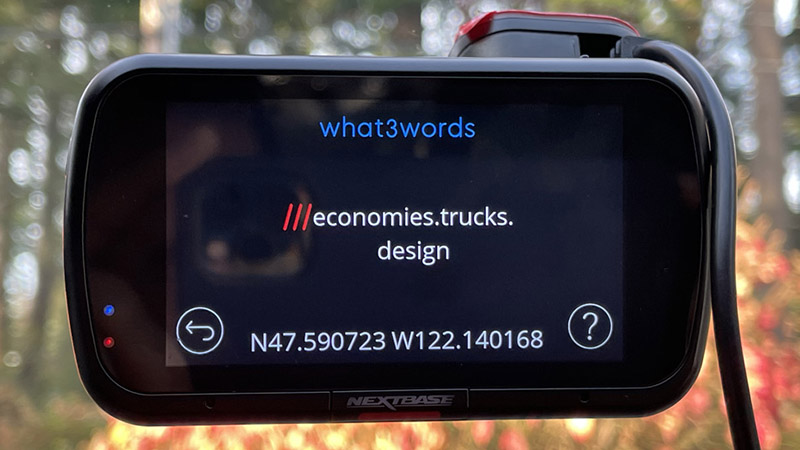 Unlike the Emergency SOS feature, what3words works even if you're not running the Nextbase app on your phone. Plus it also works in areas where you have no cell service, again making it useful in more rural locations.
Alexa
Another cool feature I like is voice control with Alexa integration. You can control the dashcam with your voice to say things like "protect a recording" instead of physically hitting the button on the bottom of the dashcam. Here's the list of available voice commands. and here's a video quick demo of me saving a clip with my voice. You'll also see a little lock icon turn on at the bottom of the screen as it saves this clip. 🙂
Personally I find all the Alexa-specific features to be more useful than just controlling the dashcam itself. For example, I use Alexa to do things like turning off the house lights if I forgot to do it while leaving, to open and close my smart garage door, to add things to my grocery list, to check the weather, etc.
You can also use it to play music, but unlike an Amazon Echo you may have at home, this mobile version only supports Amazon Music, not third party music players like Spotify. There's also limitations on asking for specific songs. Because of this I wind up using Apple CarPlay and Siri on my iPhone for music. Here's a quick demo of several Alexa commands:
All the Alexa stuff plays audio through your car stereo with your phone bluetooth connected to the dashcam. It doesn't play audio standalone through the dashcam itself. This means the audio will definitely sound better, but again it's a feature that requires your phone to function.
Parking Recording
Next let's talk parked recording. This is a feature that I find extremely important. The Nextbase dashcams operate differently than most other dashcams I run and I find parking recording to be a weakness in their lineup.
For parking mode, the 622GW relies on a tiny built-in 370 mAh battery. (By comparison, the Cellink Neo and Blackvue B-124x offer a 6,000 mAh battery.) When you park and the dashcam loses power, the 622GW stops recording and goes to sleep. In case of a hit and run, the G-sensor detects the impact and then the dashcam wakes up (powered off the internal battery) and begins recording. Impressively, Nextbase claims the dashcam can sleep for up to 2.5 weeks and still be able to wake up to capture any impact. (The longest I've tested so far is overnight and the dashcam does wake up and continue recording when detecting and impact.)
This is especially convenient because it means you can get parking mode recording without wiring into your fuse box or purchasing an (expensive) external battery pack. However, it's a small battery, plus it also takes the dashcam over 6 sec to wake up and begin recording so chances are you may miss capturing the impact itself. Take a look here to see how long it takes for the dashcam to wake up after detecting an impact:
Here's a couple test clips of me whacking the windshield to simulate a hit and run. You'll notice my Blackvue DR900S with buffered parking recording is able to record the entire event, including both before and after the impact. The 622GW on the other hand, if it wakes up and begins recording, takes a while to start up and begin capturing.
So the 622GW technically does have impact detection in parking mode, but it's not very useful in my experience. (They also advertise motion detection, but I haven't seen that work.)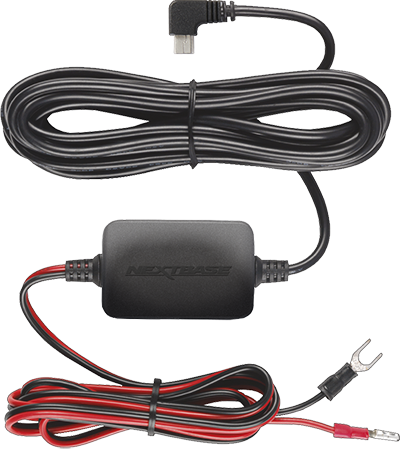 Nextbase sells a hardwire cable if you'd like to wire it into your fuse box, but this doesn't ultimately do anything other than let you record more than just a few events before the battery is depleted. It's a 2-wire cable, not an ignition triggered 3-wire cable, and the dashcam still sleeps just the same and relies on the G-sensor to start recording.
One big issue with the 622GW is that the G-sensor often misses impacts and so the dashcam doesn't record anything at all. You saw this in the previous video, but here's another quick test of me pressing down on my hood a few times. The DR900S and Viofo A129 Pro both capture the event no problem. The 622GW's G-sensor never triggers so unfortunately the dashcam misses everything.
So the hit or miss G-sensor and the lack of buffered parking more are two big downsides for me. Perhaps because the small battery only allows you a few recordings before it goes dead, they're trying to minimize unnecessary recordings by only waking up for very strong impacts.
I like the fact that the built-in battery allows you to get some parking mode functionality natively in the camera, but using a battery instead of a capacitor also means that due to safety concerns with the battery expanding/exploding in high heat, the dashcam is only rated for 140°F. On a hot summer day in the south, a car's cabin temperature can easily get way above that and so for that reason, I do not recommend running this dashcam in hot climates. The 622GW is a cold weather dashcam.
Annoyances & Reliability Concerns
Now besides the limitations running in high heat, there's some other issues I've run into in the week I've been running this dashcam:
Memory Card Removal Issue
When I get home and want to save a clip on my computer, I normally unplug the dashcam and remove the memory card. When I get back in the car next time, I put the card back in, plug the dashcam back in, and continue driving. Great.
With the 622GW, doing this can sometimes lock up the camera. It takes ~40 sec for the dashcam to shut off and stop recording after you cut power or pull the power cable thanks to its built in battery, way longer than most other dashcams. If you pull the memory card before waiting for it to stop recording, this corrupts the card and leads to a critical failure with the dashcam.
Next time you put the card back in and start driving, the dashcam will either lock up on the splash screen and won't start up or, worse still, it will partially boot up and look like it's recording, but it doesn't record anything. For me, it will display a very underexposed image on screen and look like it's recording, even updating the road ahead as you drive, but nothing is getting saved to the card. 🙁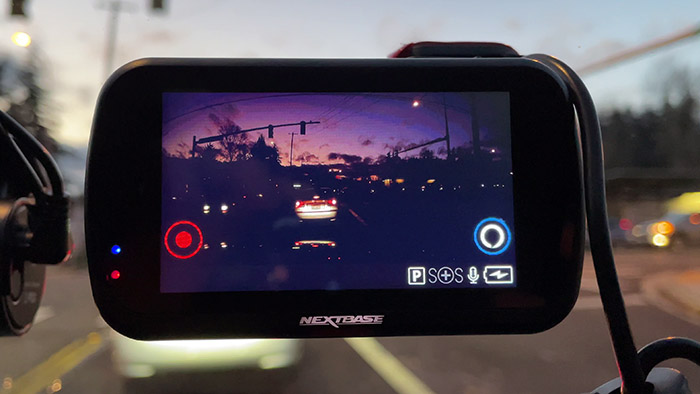 You can pop the card out and the dashcam will boot up normally. You can even verify exposure compensation is set to 0. Put the card back in and the dashcam will sense that and reboot itself, but then it will go back to locking up. To fix this issue, I had to format the card, wiping out all my recorded video in the process. This dashcam needs to handle memory card removal better, especially considering it doesn't turn off with the power removed like other dashcams.
Screen Randomly Turns On
Another annoyance is that even with the screensaver enabled so the screen blacks out shortly after startup, it will randomly turn on while driving. This happens both when my car's start/stop system engages at a redlight and the dashcam starts getting power again as well as just randomly (for no reason I can tell yet) while I'm driving down the road. It's really annoying and distracting to have the dashcam keep lighting up on me, especially at night.
Can't Stop All Sounds
If you'd like a completely silent dashcam, even if you disable all the sounds and audio alerts, I find it will still chime periodically while driving.
App Must Be Running
If you're using the Emergency SOS feature or Alexa integration, the 622GW requires the Nextbase app to be running in the background on your phone or else the feature won't work properly.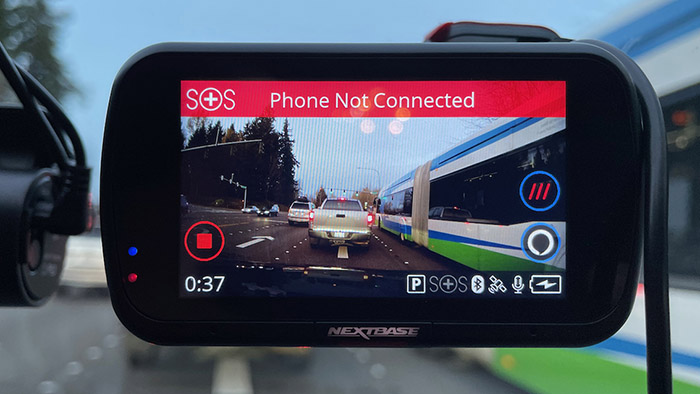 For the most part I've found the app does a good job staying running in the background and automatically reconnecting next time you get in the car, but I find that doesn't happen 100% of the time and it would definitely get annoying to feel like I'd have to constantly be messing with my dashcam to ensure any Alexa/safety features always work when I get in the car, especially since those are some of the main reasons I'd choose a dashcam like this.
Placement Concerns
Depending on your car as well as where you mount your radar detector, it may be tough to find a good spot to mount the dashcam, especially if you want to use one of the optional modular rear cameras.
Nextbase recommends running at the top left of your rear view mirror (away from the driver in right hand drive cars).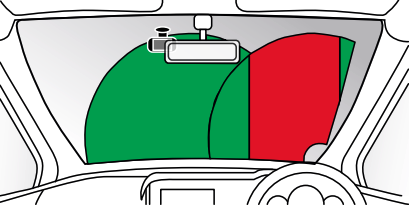 This spot is also good in left hand drive cars too because the dashcam's lens is on the left side and you may have those little black dots on your windshield (frits) near your RVM and they'll impede the dashcam's view if you try mounting it to the right of the RVM.
This also allows the rear facing cam to be able to see into your vehicle, unlike mounting it directly behind the RVM out of sight (where I normally run my dashcams).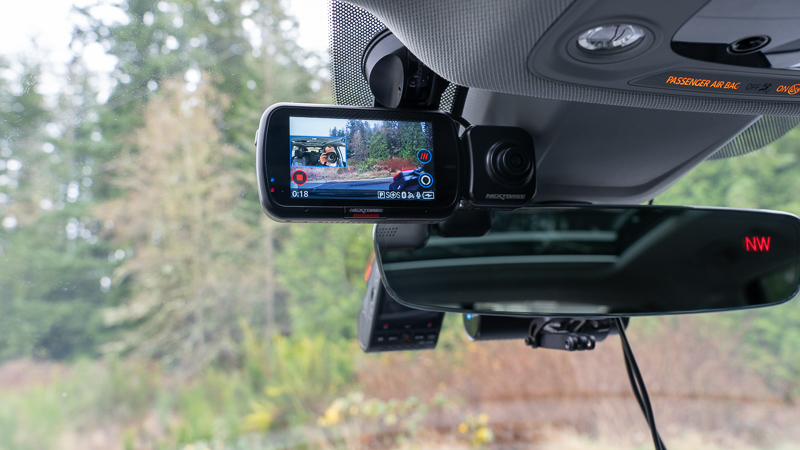 Unfortunately this is also exactly where I like to run my radar detectors. Unless I was using the Blendmount full time for my radar detector, I wouldn't be able to run both my RD and my 622GW in the spots I'd like to run them. This alone is a dealbreaker for me if I wanted to the rear view cam or cabin cam, but depending on your situation, it may be a non-issue.
Image Stabilization
Moving on to some other cool features with the 622GW, it also offers digital (not optical) image stabilization.  This can be helpful if you're doing a lot of off-roading or if you have a bunch of potholes in your area. Here's a quick comparison demo from Nextbase:
Something to note is that if you enable it, the max resolution you can record drops from 4K down to 1440p so you'll get less detail overall, but your video will be more stable.
By default this feature is disabled. Personally I'd only turn it on as needed because I really like recording in 4K for the extra detail, but sometimes having a more stable video, especially on bumpy roads, is the priority.
Extreme Weather Mode
Another feature that can be useful depending on your use case is the extreme weather mode. If you turn this on, the dashcam will do additional image processing to help it see through fog.
Seeing this feature available makes a lot of sense considering Nextbase is based in the UK. 🙂 It seems like it attempts to boost contrast and clarity in foggy conditions.
We have a fair amount of rain and fog here in Seattle, but admittedly nothing yet too extreme in the time I've spent testing so far.
I like the idea of this feature and would find it useful, but I really wish there was a little more automation here.
See, I personally I think dashcams are something that should silently sit in the background recording and you shouldn't need to think about it or mess with it until you need to look at the video. When you're first getting your dashcam set up, sure let's mess with different settings. But eventually, I just want to get in the car and drive and I don't want to have to keep changing settings based on different driving conditions.
So while I like the idea behind this feature, I think it'd need to be something the dashcam could somehow intelligently turn on and off itself as needed to be more useful, not something that we need to manually enable as needed.
Bluetooth & WiFi App
Now the app with the 622GW I think is pretty excellent. It's got to be one of the most well thought out and smooth app experiences I've tested with any dashcam. The app is available for both iOS and Android.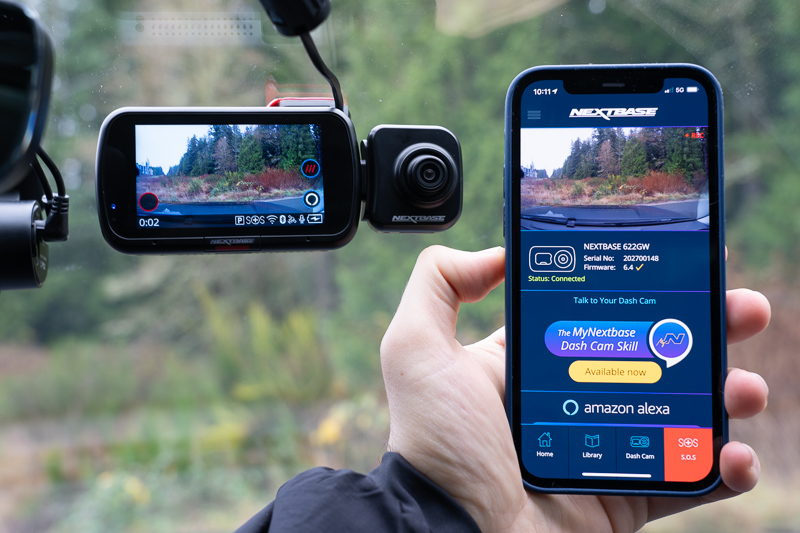 When you launch the app for the first time, it does a great job walking you through initial setup, getting your emergency info saved, connecting to Alexa, configuring the dashcam, etc.
Even updating the firmware is the best I've seen of any dashcam. Blackvue dashcams can do in-app firmware updates too, but not while you're connected to the dashcam. You have to disconnect, download the update, then reconnect to the dashcam to update it. It's janky. With the Nextbase, it can seamlessly handle checking for updates and then updating your dashcam for you without any goofy connecting and disconnecting, exactly as you'd expect.
There are still some quirks though like the dashcam isn't able to stream previously recorded video to your phone unless you enable dual recording. Dual recording will save both high quality and low quality versions of the same video on your memory card while driving. If you want to stream previously recorded footage to your phone, it will stream the low quality one. If you want to save it and share it, it will transfer over the high quality version. I don't like this because it means you now use up your memory card space faster by saving two copies of every video instead of simply streaming the high quality video file itself like other dashcams do.
Something else I noticed is that the app's ratings on both the iOS App Store and the Google Play Store are pretty poor, averaging only around 1.5 out of 5 stars. My experience has been good, but many people report connectivity issues, so something to be aware of.
Conclusion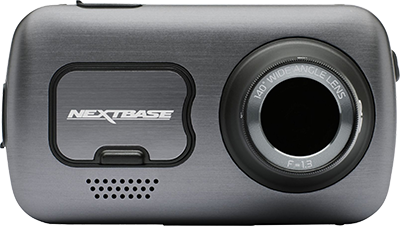 So overall, I think the 622GW has a lot of potential. There's a ton of creativity being put in here with the excellent safety and Alexa integration, plus some additional features like image stabilization, extreme weather recording, and a built-in polarizer all designed to help optimize the dashcam's video quality which is already excellent out of the box.
At the same time, I feel like it's not fully baked yet. Whether it's things like app connectivity issues, memory card corruption when you remove the card, high heat limitations, subpar rear window camera quality, or the lack of buffered parked recording, I feel like it's not quite hitting the mark for a reliable and trustworthy dashcam that nails the fundamentals. I love the extras like Emergency SOS and Alexa stuff and it's genuinely refreshing and fun and exciting to test out dashcams that push the envelope so I applaud Nextbase on what they're doing. However, I don't think its otherwise great extra features makes up for the limitations of its core functionality.
Hopefully Nextbase continues refining this relatively new dashcam so that all the cool bonus features are all extras built on top of a solid and reliable dashcam that inspires confidence that it will capture every event we need, every time we drive. I just don't feel it's quite there yet, at least for me. That said, this is definitely one of the coolest dashcams I've tested in a while. 🙂
That said, if you're looking for a 4K dashcam for driving recording and you're not really concerned with parking recording, if you'd really like the extra safety features or Alexa integration that aren't available elsewhere, you live and drive in cooler climates, you don't regularly pop your memory card in and out of your dashcam, and if any of the modular rear cameras are a good fit for you, I think the 622GW could be a solid pick.
Purchase the 622GW bundled with the rear window camera.
Purchase the rear view camera.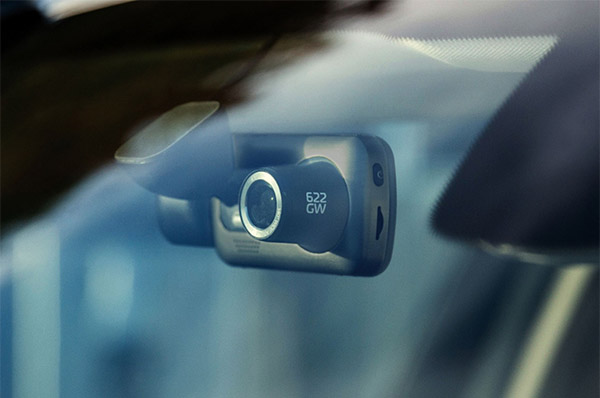 This website contains affiliate links.

Click here to read my affiliate disclosure.
Summary
Reviewer
Review Date
Reviewed Item
Author Rating





Product Name
Price
Product Availability