The Viofo A129 series dash cameras are my favorite bang for the buck dashcams, especially if you're looking for front and rear dash cameras. They offer excellent video quality and lots of helpful features at an affordable price point.
Viofo makes three different versions, the A129 Duo, A129 Plus, & A129 Pro. What are the differences and which one should you buy?
Viofo A129 Overview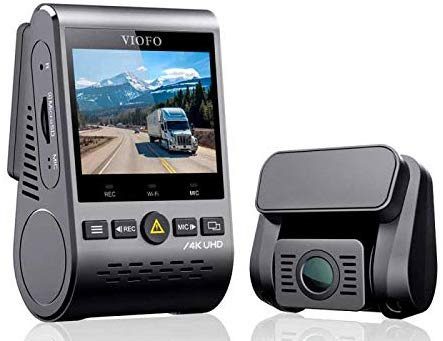 The Viofo A129 series dashcams offer features and video quality that rival dashcams that cost twice as much. Their compact wedge-shaped design is sleek and unobtrusive. They may not have some of the fancy bells and whistles like cloud connectivity capabilities, but for a solid dashcam that works great recording everything while you're driving or while you're parked, this is my go-to recommendation.
The A129's are available in single channel (front only) or dual channel (front and rear) configurations. The A129 is an updated version of the A119 v3 that I'm a big fan of, featuring an updated case design, WiFi for easier file transfers to your phone, and the ability to plug in an optional rear facing camera to record behind you.
Now there's three different versions of the A129 that all share the same core features. The main difference is that the front cameras record at different resolutions, giving you better detail and quality as you step up in price.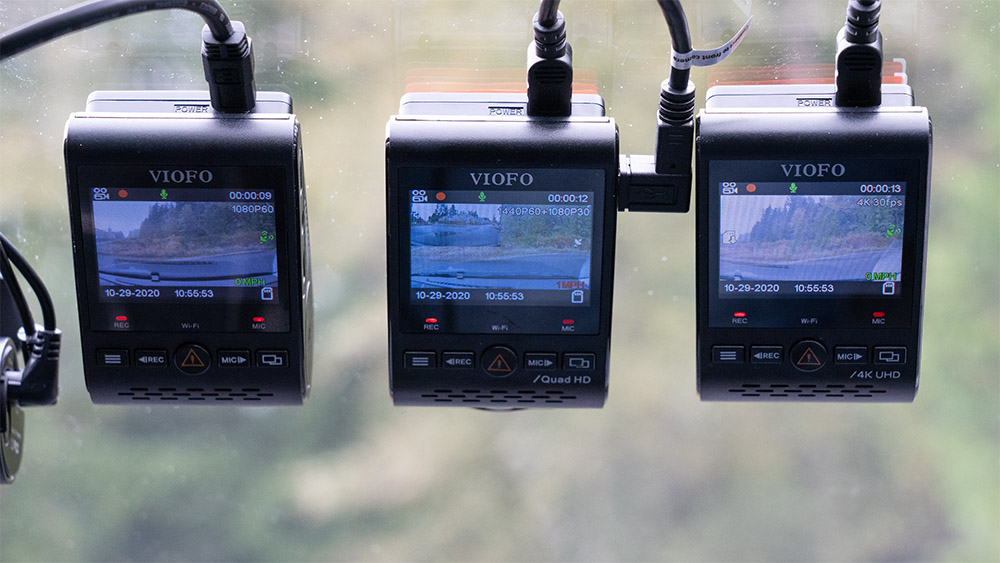 All of the rear dashcams record at 1080p, regardless of which version you choose. It's only the front camera's resolution that varies.
A129 Pros & Cons
Since the dashcams are otherwise so similar, let's quickly at the pros and cons of the A129's before diving into the details.
Pros
Excellent video quality
Great low light sensitivity
Sony Starvis sensors
Buffered parking mode
LCD on rear
High bitrate captures more detail
Compact design
Available rear camera
Includes GPS, BT, & WiFi
Stable mount
Great accessories
WiFi app for iOS and Android
Lens tilts up and down
Great value for the dollar
Cons
No spoken event notifications
No cloud capabilities
Lacks energy saving parking mode
Front/rear cable is thick
WiFi app is flaky
Limited overseas customer support
I've had a GPS mount failure
Doesn't rotate left or right
A129 Buttons & Design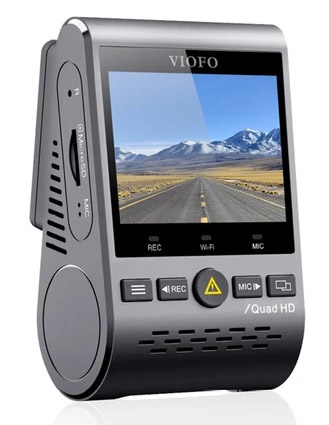 Taking a closer look at the Viofo A129, the front camera is compact and lays basically flat against your windshield.
The LCD on the back lets you change settings, aim the dashcam, and watch recorded footage.
The buttons on the bottom allow you to configure the settings, start and stop recording, disable the microphone, enable WiFi, etc.
The big round button in the middle is your emergency record button. Press that when something important happens and will lock the current video clip to ensure it doesn't get overwritten when the memory card fills up.
The quick release GPS mount lets you log your location and speed as you drive. I like it because it offers a second power port so instead of plugging power into the dashcam directly, you can plug the power cable into the mount instead, making it a snap to quickly mount and unmount the dashcam. I also prefer a doublestick tape mount over a suction cup since it leads to more stable video without a bunch of vibration in your video clips.
Daytime Video Quality
Video quality with the A129's are among some of the best in class. They all do a great job of recording everything around you with a 130-140° viewing angle. There's some slight differences in white balance, but the all otherwise will work great to capture whatever happens.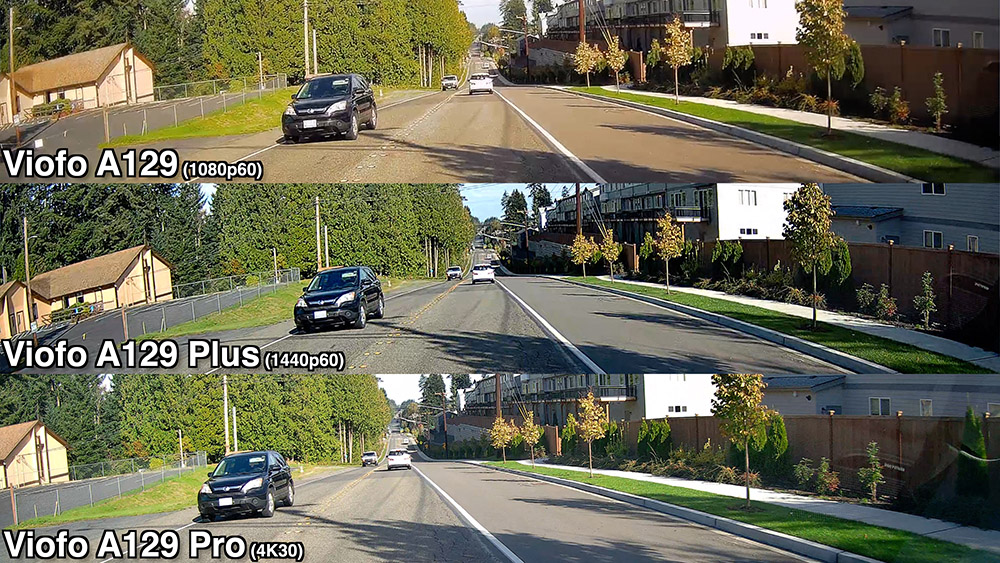 The biggest differences you'll see between models are in the dashcam's abilities to capture important details like faces and license plates. The higher the resolution, the farther away and the better the dashcam will be able to resolve important details.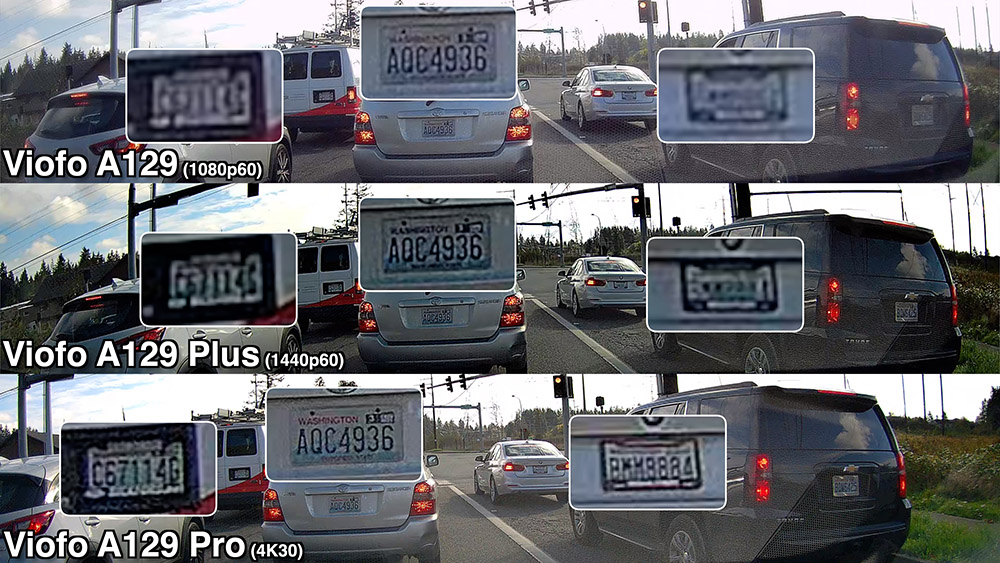 The 1080p A129 does a good job with license plates up close, but it will struggle with details a car length ahead.
Stepping up to the 1440p A129 Plus with 2x the resolution of 1080p and you'll find it'll do a better job of capturing those details a little farther away.
Finally, if you step up to the 4K A129 Pro with 4x the resolution of 1080p, you'll see a very noticeable bump in capturing license plates. In fact, the A129 Pro's video quality solidly outperforms even the top-of-the-line Blackvue DR900X and even sometimes the Thinkware U1000, but at a fraction of the price. See this video for complete comparison testing. The top notch video quality is one of the main reasons I love the A129 Pro.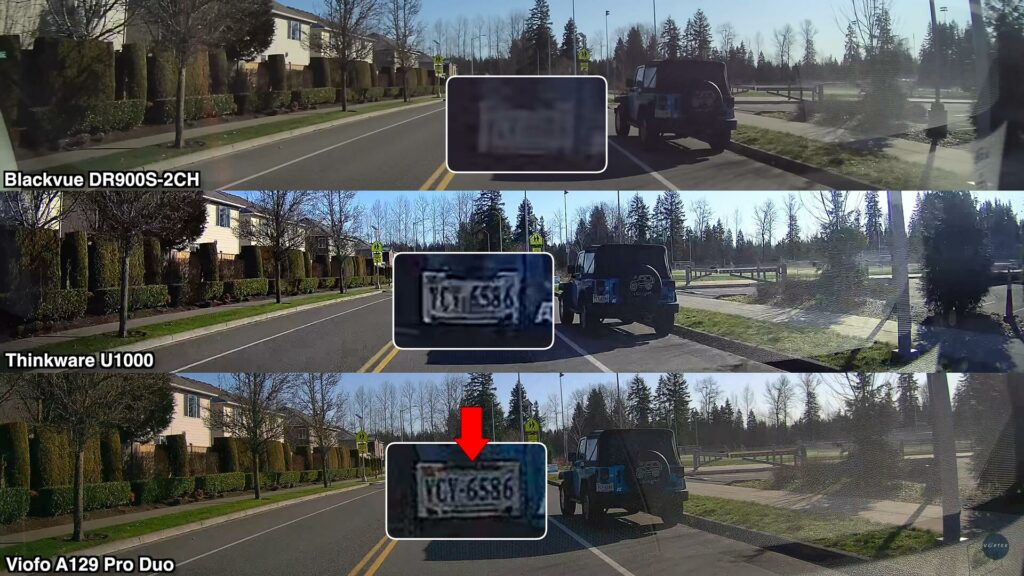 High Bitrate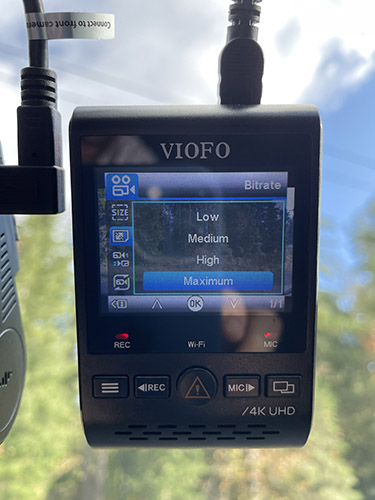 One of the reasons the video quality is so good is that Viofo records at a higher bitrate than many other dashcams. This means it's storing more information per frame of video and so it's throwing away less information. Here's how the maximum bitrates and file sizes (at H.265) compare between several flagship dashcams:
Blackvue DR900X: 25 Mbps (198 MB/min)
Thinkware U1000: 25 Mbps (208 MB/min)
Viofo A129 Pro: 50 Mbps (393 MB/min)
You can always reduce the bitrate (thus reducing quality and file size) if you like, but personally I like picking up the biggest memory card I can and maxing out the video quality to give me the best shot at capturing everything I need.
The A129's support MicroSD cards up to 256 GB. I recommend picking up this 256 GB high endurance memory card that's designed specifically for constant recording in devices like dashcams.
H.265
Now to help keep file sizes small, in addition to H.264, the A129 Plus and Pro (but not the lower res A129) also offer a more advanced codec called H.265 that's designed to cut down on file size while still maintaining video quality.
This will require a newer and more powerful computer to play back, but assuming your computer can handle it, I'd recommend that you activate it. It's a hidden feature so here's instructions on how to activate H.265. (The article is for the A119 v3, but the same process applies to the A129 Plus & A129 Pro.)
Night Time Video Quality
Night time video quality is also really good with the Viofo A129's. They all feature Sony Starvis sensors which are well regarded for their low light sensitivity.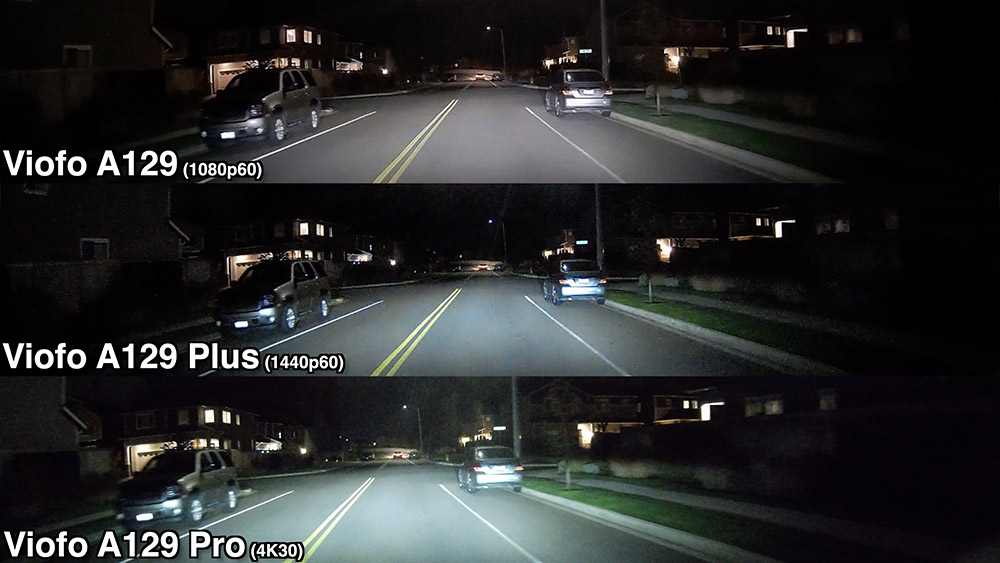 As you can see, they all look pretty similar, brightness-wise. 4K dashcams traditionally compromise low light performance for ultimate detail, but even the A129 Pro is a surprisingly strong performer here.
The main advantage of the lower res A129 and A129 Plus is that they let you record at 60 fps instead of 30 fps, leading to the dashcam doing a better job of freezing motion like cars driving by. Additionally, the A129 and A129 Plus have a slightly larger aperture compared to the A129 Pro (f/1.6 instead of f/1.8) so their lenses let in a little more light.
That said, night time recording is extremely difficult and there is no dashcam that can reliably capture people's faces and reflective license plates at night, but every little bit helps.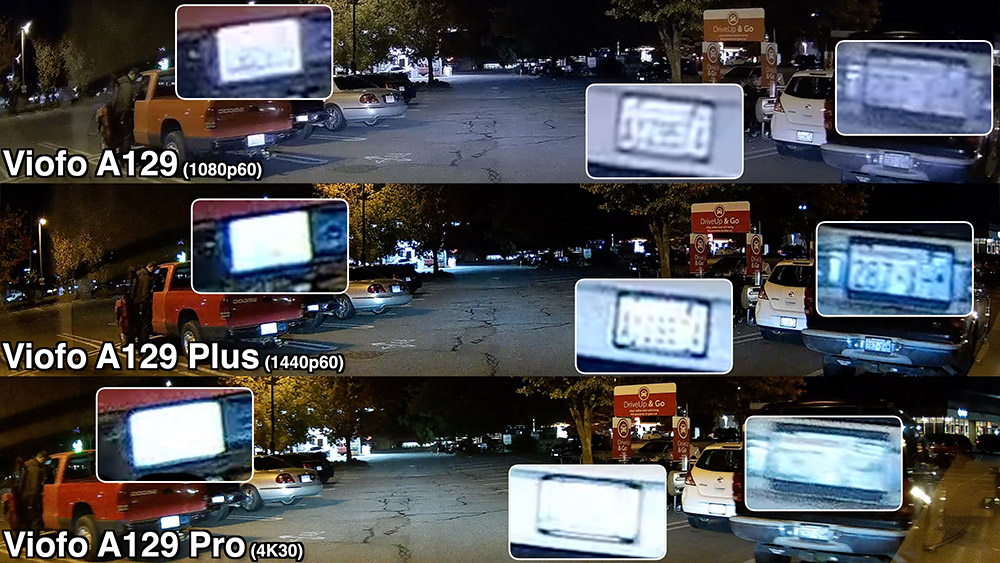 As you can see, no dashcam can nail everything perfectly, even when driving slowly through a parking lot, but the 60 fps cameras do a slightly better job of freezing the movement. Nevertheless, all three dashcams do a great job of capturing a general overview of what's going on around you.
I think the A129 Plus has the best low light capabilities of the three, but overall I'd still give the edge to the A129 Pro because its advantages in the daytime outweigh its handicap at night. If you need the best low light recording possible though, 1440p dashcams still seem to be the sweet spot of quality, sensitivity, and price at the moment.
Parking Mode
When it comes to parking mode, a few years back Viofo started adding some advanced new parking recording features. When you use the Viofo hardwire cable and tap it into your vehicle's battery, your dashcam also has the ability to record when parked.
What's great here is that the dashcams can not only automatically switch between driving mode and parking mode, but they also offer some really useful parking mode features generally only seen on higher end dashcams.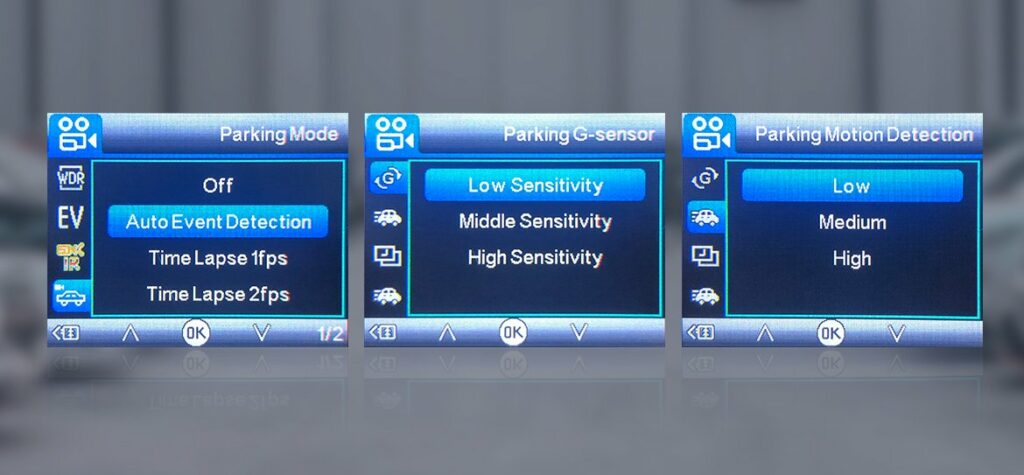 Buffered Parking Mode
My favorite mode by far is buffered parking mode with motion detection and impact detection. Most dashcams offer a "non-buffered" parking mode where the dashcam is typically asleep and not recording while parked. Then when the G-sensor detects an impact, it wakes up and begins recording. While this is okay, it will miss some critical info.
What I like about "buffered" parking mode is that the camera is always recording. In case anything happens, it saves the recording both before and after the event. This way in case of a hit and run, for example, you get the entire recording including the other car driving into and hitting your car, not just driving away.
Here's a quick test of me hitting my car to activate the buffered impact detection. Notice how it starts recording 15 sec before the impact itself so you can see everything.
To activate this feature, hardwire your dashcam and then set it to "Auto Event Detection."
You can also adjust the sensitivity of the dashcam's G-sensor and experiment between Low, Middle, and High sensitivity. Viofo recommends setting it to high sensitivity to ensure you record even soft bumper taps. If you get too many false recordings from loud trucks or motorcycles driving by, you can always lower the sensitivity.
Update Jan 2021: Due to reliability issues, Viofo is removing buffered parking mode from the A129 Plus. It will remain in the A129 and A129 Pro.
Motion Detection
The A129's also support motion detection. With this enabled, the dashcam can record every person or vehicle going by. This is nice to capture any sketchy people or car prowlers in low traffic areas, but it's not so great for high traffic areas because you'll get a ton of unneeded recordings.
Time Lapse
For higher traffic areas, time-lapse recording might be preferable. You can set the dashcam to capture an image every 1, 2, 3, 5, or 10 sec and then put them all together into a timelapse video. There's no audio with timelapses, but this is a great way to record for long periods of time without using up a ton of memory card space.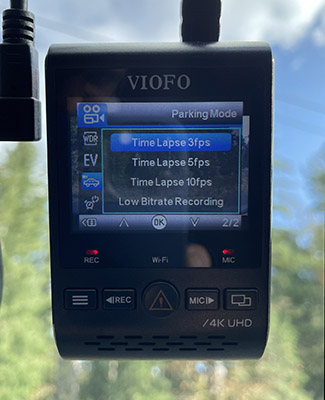 Low Bitrate
Finally, if you'd like the dashcam to record video and audio continuously while parked, again without blowing through your memory card, there's the low bitrate option. This drops the bitrate down to just 4 Mb/s, letting you record everything hour after hour while parked.
No Low Power Recording Mode
One feature that I love with the Thinkware dashcams that's lacking in the Viofo's is the efficient low power parking mode capability. This lets the dashcam effectively sleep while parked and only wake up when it senses an impact. Other dashcams have this non-buffered parking mode, but Thinkware lets the dashcam sip power so instead of giving you maybe 1 day of parked recording, you can get 6-7 days of parked recording. That option is great for extended trips like parking at the airport. It's also helpful when leaving your car parked on the street over the weekend or while working from home during a pandemic. 😉
No Event Notifications
Another feature I miss is spoken event notifications. In case something happens while you're parked (ie. someone hits your car), the dashcam will record that, but it won't tell you next time you get in your car. So unless you happen to see the damage to your car or happen to be looking through your captured video, you'll have no idea that something important happened that you need to look at.
This is an area where Blackvue dashcams really shine. With the Viofo's, there are no audible event notifications so the dashcam won't tell you when something happened while you were gone.
WiFi
The A129's have WiFi built-in as well. WiFi is nice to make it easier to not only change your dashcam's settings using the app, but also watch and download video clips to your phone to save and share with others. However, I've found that WiFi can be a bit flaky.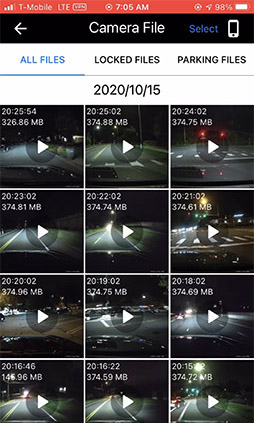 For example, when you launch the app and connect to your dashcam, you're able to load up all the clips saved on the dashcam. However, I find the dashcams often fail at playing back the footage on my phone. This makes it tougher to find the exact clip that you want to save.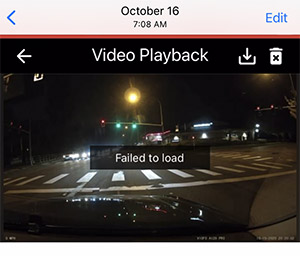 However, once you choose a clip, you can download it right to your phone and play it back no problem. The A129's support both 2.4 GHz and the faster 5 GHz WiFi. Transfer speeds are pretty quick. With a 375 MB clip from the A129 Pro, for example, it takes about 27 sec to transfer the clip to my phone over 5 GHz WiFi.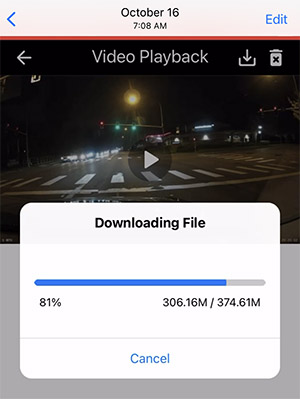 So WiFi can be nice to save and share important video clips on your phone. However, if you need to go through a lot of footage, I find it to be a lot quicker and easier to simply pop the memory card into my computer and review things that way.
Recommended Accessories
There's several useful accessories available that I'd also recommend you check out.
Hardwire Cable
Your A129 ships with a cig. lighter power cable which works fine and is easy to install, but you wind up with an ugly cable hanging down your dash and it can only record while you drive. If you'd like a cleaner install and to add in parking mode recording, pick up Viofo's hardwire cable.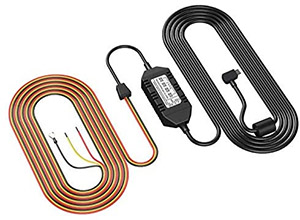 This'll take a little time and energy to install, but it's pretty straightforward. See my video walkthrough here. Once you install it, the cable will be cleanly tucked out of sight and your dashcam can record both while driving and while you're parked. If you like, you can also have a professional install the cable for you locally.
Purchase the hardwire cable here.
Polarizer
Viofo's polarizer will help improve your daytime video clarity. In sunny conditions, your dashcam may struggle to record what's going on outside due to reflections from your dash on your windshield. Adding a polarizer to your dashcam's lens will help the dashcam cut through any reflections and record what you need it to: what's going on outside your vehicle.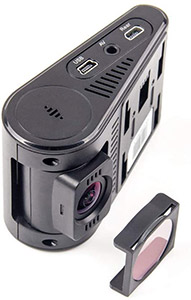 Bluetooth Remote Control
Viofo also sells a wireless bluetooth remote control. You can stick this somewhere convenient and easily within reach (mine is on my dash next to my steering wheel) and when you press it, it will trigger an emergency record event on your dashcam, marking and locking that clip.
This button essentially duplicates the emergency record button on the rear of the dashcam. The reason I like it is it's not always convenient to find and press that button in the moment, especially in larger vehicles (and sometimes I accidentally press the wrong button by mistake). With the remote control, it's much easier to quickly tap the button while staying focused on the road.
Purchase the bluetooth remote control here.
Memory Card
Finally you're going to want a memory card to capture and save all of your dashcam clips. In a dashcam, I've noticed that cheap memory cards tend to have reliability issues and failures. They also cause problems for the dashcams themselves. Fortunately high endurance memory cards made for demanding situations like constantly being written to in a dashcam have come down in price to the point where it's become nearly a no brainer to get one of these.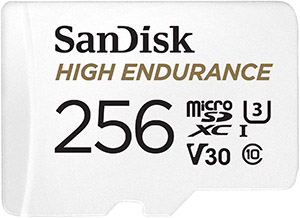 To save all of your dashcam clips, I recommend a 128gb MicroSD card or a 256gb MicroSD card.
Which Dashcam Should You Get?
So boiling it all down, which dashcam should you get?
Best Affordable Dashcam?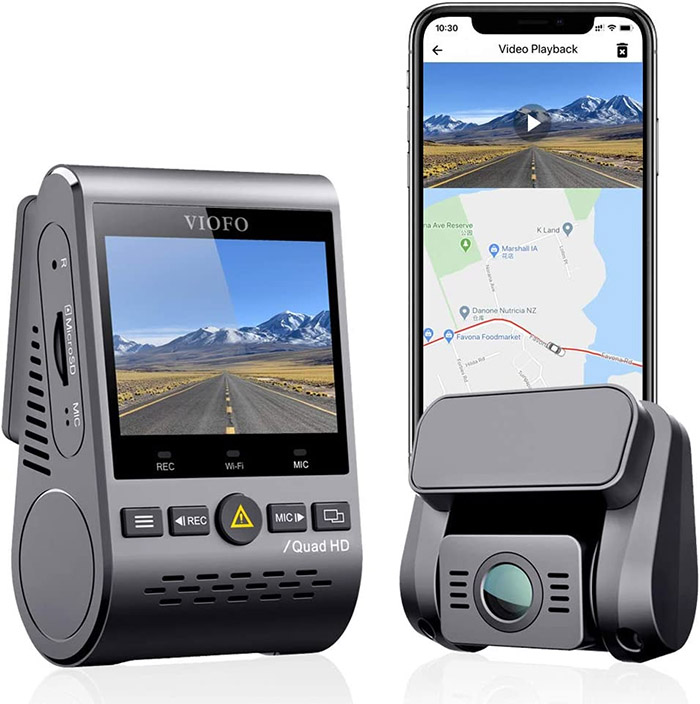 If you're looking for the best bang for the buck, I recommend that you purchase the Viofo A129 Plus Duo.
The A129 Plus is only $10 more than the original A129 and at $179 for the front and rear cameras, it hits the sweet spot of features and performance for the money. Viofo will also be discontinuing the A129 and replacing it with the A129 Plus so it's also a smart idea to get the newer dashcam to get longer term updates and support.
You can purchase the front only A129 Plus or purchase the front and rear A129 Plus Duo. (The rear camera is only $40 extra and I think well worth it to get coverage recording in both directions.)
My Personal Recommendation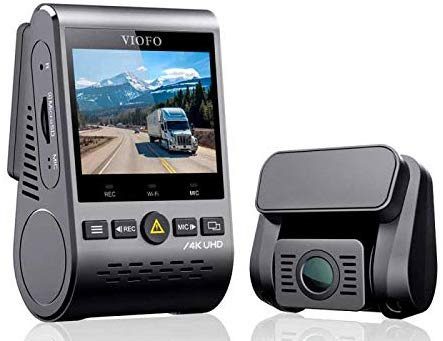 Which one would I choose? I'd get the Viofo A129 Pro Duo ($249), no question.
The jump from 2K to 4K is a huge jump in quality and I think well worth the money over the A129 Plus ($70 more). It's the one I'd pick hands down, especially considering its video quality rivals dashcams that cost $400-$500, not to mention you get buffered parking mode too.
If you want some advanced features like cloud capabilities, spoken event notifications, higher resolution rear camera recording, or even fancier parking mode features, take a look at my best dashcam recommendations, specifically the Blackvue and Thinkware options.
For most people though, I think the Viofo A129 Pro is an outstanding choice and the way to go. I haven't found anything else yet that offers these features and this level of quality for this pricepoint.
You can purchase the front only A129 Pro or purchase the front and rear A129 Pro Duo.
This website contains affiliate links.

Click here to read my affiliate disclosure.
Summary
Reviewer
Review Date
Reviewed Item
Viofo A129 Duo, Viofo A129 Plus, & Viofo A129 Pro
Author Rating





Product Name
Price
Product Availability