Uniden has just released firmware 1.46 for the R1 and the R3.
You can download firmware 1.46 here. 
1.46 brings a bunch of changes and improvements to the detectors that we enthusiasts have been asking for. There's been many revisions to get here. Let's take a look at all the new features we're getting with this latest update.
MRCD / MRCT Detection
The R1 and R3 now have the ability to detect the MultaRadar CD and CT low powered radar guns. These are used in photo radar applications in Alberta, Quebec, New York City, Chicago, and in Maryland near Washington D.C.
In the settings there is now an option to turn MRCD on or off. There are also 12 different alert tones you can choose from so that MRCD alerts have a unique alert, making it easy for you to immediately tell there's an MRCD threat ahead so you can respond quickly.
It works well in testing and gives you sufficient advanced warning to slow down and avoid a ticket. We have seen a few MRCD false alerts just like with other detectors, primarily to certain speed signs or automatic door openers, but fewer falses than some of the other detectors out there.  Because it may false occasionally, I wouldn't recommend enabling MRCD unless it's in use in your area. Additionally, when MRCD detection is enabled, there is a slight reduction in K band sensitivity. Something else we've noticed in testing is that certain MRCD sources the detector doesn't alert to. Our best guess it that they are transmitting below 24.050, the lower cutoff where the R3 is able to sweep (a hardware limitation), and if the MRCD source is transmitting below that range, the R3 won't be able to alert to it.
You also have the ability to lock out MRCD alerts should you need to (when you enable Ka lockouts, another newly added feature, you'll also gain the ability to lock out MRCD). If you have both K band and MRCD alerts closeby, be careful to ensure you lock out the one you intend to. MRCD lockouts are off by default.
Alert priority is now Laser -> MRCD -> Ka -> K -> X.
More GPS Lockouts Available
Uniden has bumped the maximum amount of GPS lockouts on the R3 from 200 to 500. While I don't think I've ever heard of anyone ever running out of lockouts when we only had 200, it's always been a concern so they've raised the limits accordingly.
The manually marked locations have also been changed from a max of 200 to 500 as well.
Ka Lockouts
We now have an option available that allows us to lock out not just X and K band alerts, but Ka band alerts as well.
Locking out Ka band can be risky since Ka alerts are almost always a police officer, but in some places they use Ka band speed signs so if you'd like to be able to lock out sources of Ka band that you are 100% sure are false alerts, you can now enable Ka lockouts in the menu and then double tap the mute button on the R3 to lock out the false Ka alert.
Since Ka lockouts are kind of an advanced feature, you have the option of allowing the detector to only let you lock out X and K band alerts (default) or X, K, and Ka bands.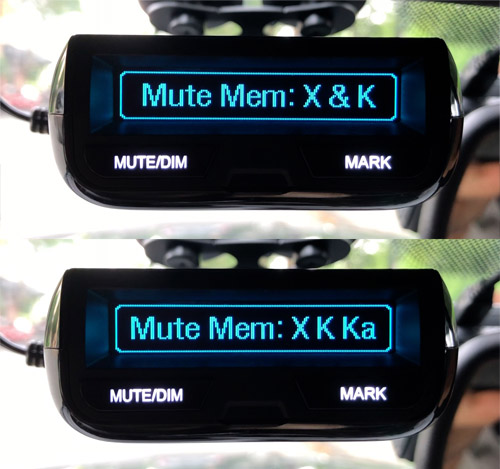 Note: Enabling Ka lockouts also enables MRCD lockouts.
New Ka Bogey Alert Tone
When you're driving and the detector picks up an additional Ka signal, to make it more clear that a new signal is present, the detector can now play a quick "new bogey" tone.
This makes it easy to tell when a new signal is present and that the detector's audio alerts are now responding to a different signal. This can happen when the detector picks up another officer shooting Ka band nearby or if the same officer switches between his front and rear antennas and thus you'll see a new frequency signal.
Since it is normal for the frequency of a detected signal to fluctuate +/- 1-3 MHz or so, the new bogey tone will only alert if it detects a new signal that is at least +/- 5 MHz relative to the original signal to avoid unnecessarily triggering the new bogey alert.
You have 5 new choices for the new Ka bogey alert tone. Here's a demo of the different options.
Mute and Delete both RLC's & Speed Camera alerts
We now have the ability to both mute and delete red light camera alerts and speed camera alerts on the R3.
A short press of the mute button during an alert will mute the alert. Press it again to unmute.
Long press the mute button to delete the RLC / speedcam alert and then short press it again to confirm.
Here's a quick video demo muting, unmuting, and deleting an RLC alert.
RLC / Speed Cam Database updated
Speaking of RLC alerts, the database of redlight cameras and speed cameras has been updated as well.
Note: The GPS database for the DFR7 and DFR9 have been updated as well.
Improved Laser False Alert Filtering
The R1 and R3 will sometimes give false alerts to laser. 1.46 improves the filtering to cut down on laser falsing.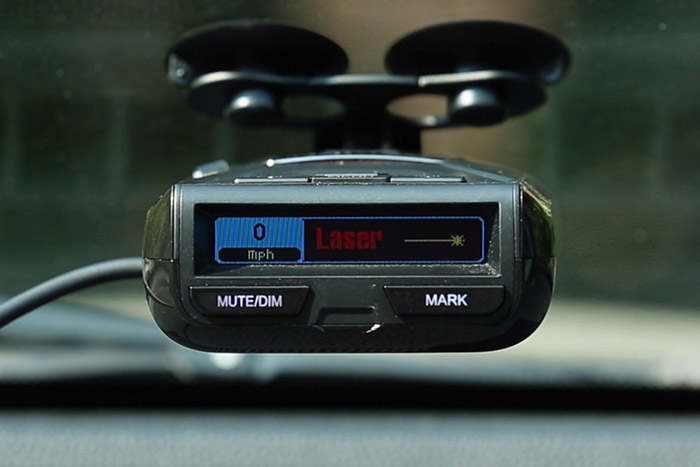 TSF Filters Out More Traffic Sensors
Uniden changed their traffic sensor filter between firmware 1.25 and 1.26. Drivers in certain parts of the country, such as Colorado, found that after Uniden made the change, TSF was no longer able to block out traffic sensors and so as of firmware 1.46, TSF has been reverted back to the same filter we had with firmware 1.25.
Several Solutions to Help Avoid Burn-in
The OLED display on the R series is susceptible to burn-in where parts of the display can be permanently etched into the screen after the display has been showing the same thing for many many hours. You can see an example of it here in this photo of @Jag42's R3.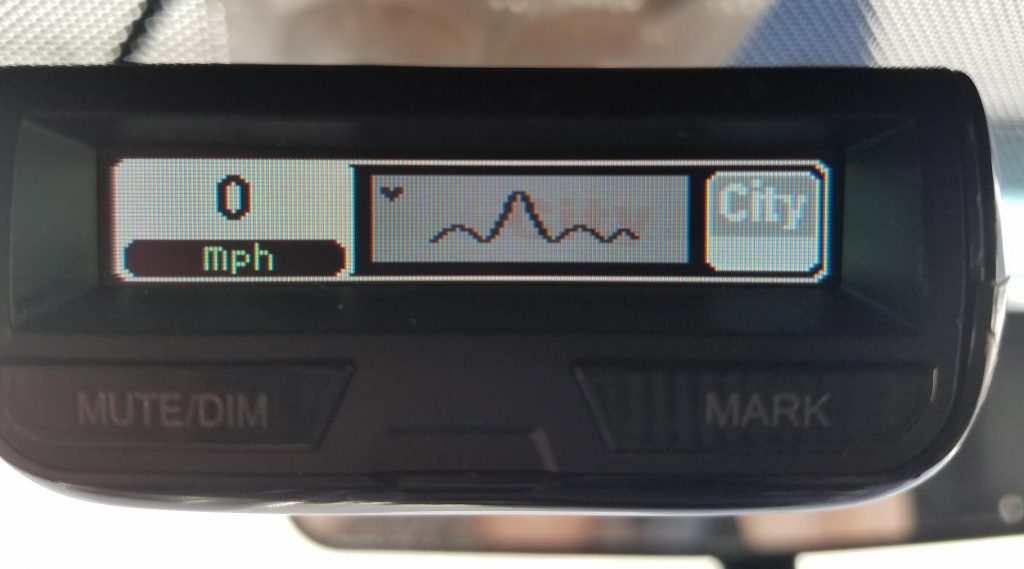 To help with this issue, Uniden has introduced a number of different changes to the display, many of which are designed to help avoid this issue.
Dark Mode Blinking Dot
If you set the detector's display into dark mode, the screen will turn off and there will be a little blinking dot at the bottom of the screen that will move around from left to center to right. This is so that even if the display is turned off while you're not picking up a signal, you can still confirm that the detector is powered on and running normally.
When you receive a signal, the detector will turn on normally and then once the signal goes away, the blinking dot comes back.
Brightness Setting for Dark Mode
You now have the ability to adjust the brightness level in dark mode to adjust how bright the screen gets when you get an alert. Bright? Dim? Dimmer? Up to you.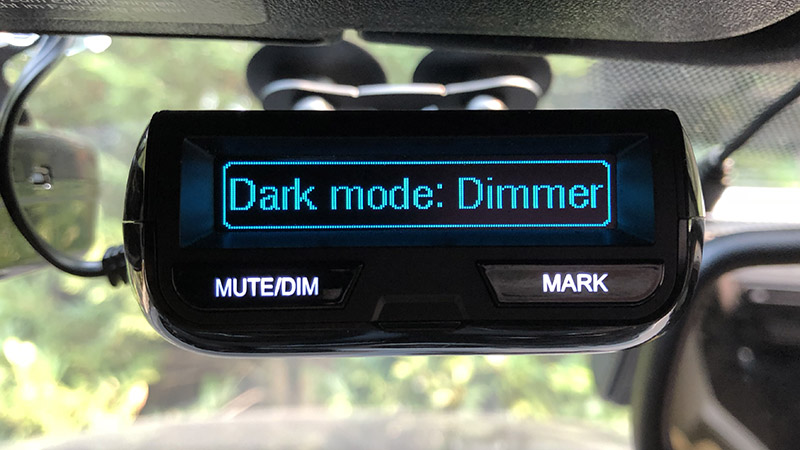 Uniden Boot Logo Color Now Matches Display Color
When you start up your detector, the color of the Uniden logo now matches the display color. It's no longer always blue.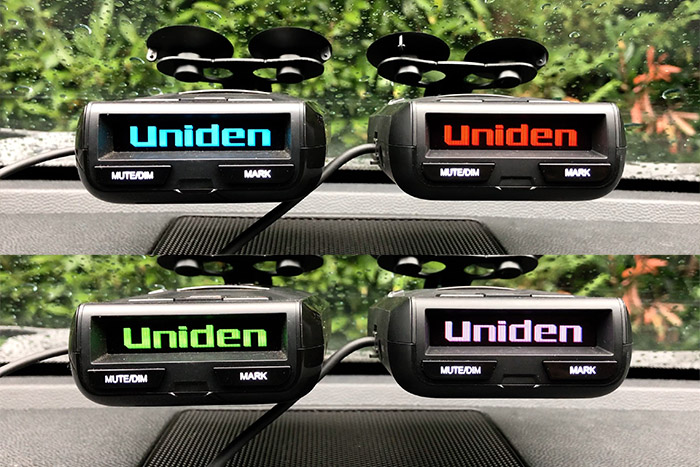 Default Display Color Now Red
To help reduce the chances of burn-in, the default display color is now set to red.
Maximum Display Brightness Slightly Reduced
The maximum display brightness level has been slightly reduced so that the pixels are no longer running at their maximum. The differences is almost imperceptible, but this will also help avoid burn-in.
Voltage Display Location Slightly Shifts Over Time
If you run your detector in voltage display mode, previously that text would always stay fixed in the same location, eventually leading to burn-in. The location of the text will now slightly shift around the display over time so that pixels get a break over time.
AM/PM Design Changed
Finally, another thing Uniden has done to help with burn-in for those of you who've been running the R3 for a while is they've changed the design of the AM/PM designation on screen. By making this look different, new pixels are now being used and the old ones are getting a break.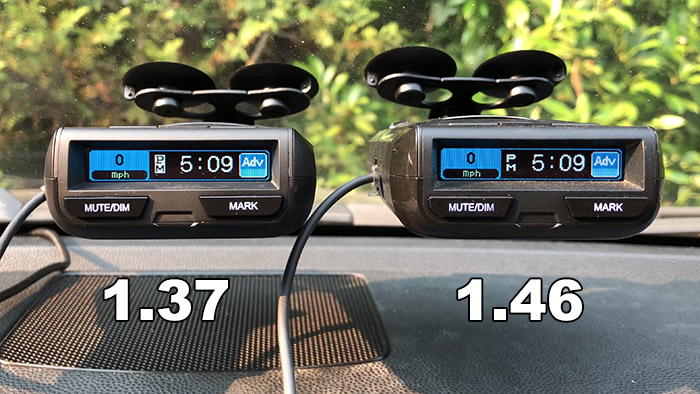 Updating to 1.46
If you'd like to watch a tutorial on how to update, here's the update tutorial for Windows and here's the update tutorial for Mac, but here is the general idea:
To update to firmware 1.46, download the firmware update from Uniden's website. (Click on the gray button labeled "Firmware" and you'll see the download links.)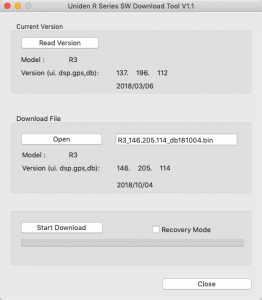 Make sure you install the drivers if it's your first time updating.
Plug your detector into your computer with a MiniUSB cable.
Run the update software, use it to find and open the .bin file which is the firmware file (don't try to open the .bin file directly), and then install the firmware onto your detector.
Once you update, make sure you do a factory reset of your detector. (Some people have found that the detector may not alert properly after an update until you do a factory reset.)
Finally, go in and program your detector. Here's my setup tutorial for the R1 and the R3. (There's some new settings that I'll need to add to that tutorial, but this update post will help explain the new ones.)
If you need to purchase either detector, here's where to go:
Click here to purchase the Uniden R1.
Click here to purchase the Uniden R3.
Questions?
If you have any questions, let me know down in the comment area below or hop onto the 1.46 discussion thread on RDF.
Thank you Uniden for listening to your customers and implementing our requests! Keep it up! 🙂
This website contains affiliate links.

Click here to read my affiliate disclosure.