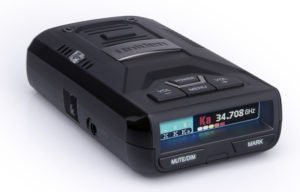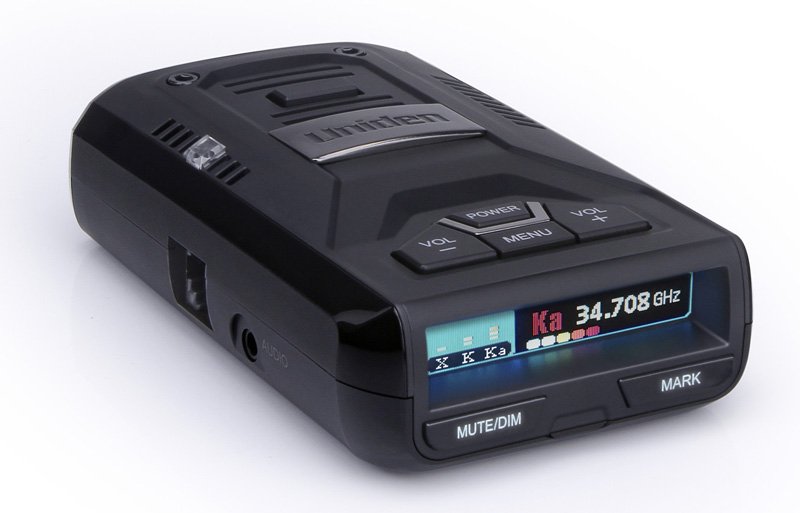 If you have a Uniden R1 or Uniden R3, you can change the settings to give yourself better performance, filter out more false alerts, change the display color to match your vehicle's interior, and basically tweak it to what you prefer.
Now there's no universal "best" settings for everyone of course since what's best depends on where you drive and even your own personal preferences. That's why they gave us options. 🙂
You can download the R1 manual or the R3 manual and read over the details. Rather than just duplicating the manual here (which is a bit dated now), in this article I want to go into a bit more explanation so you can better understand the benefits of the different settings, their pros and cons, and which one you should choose. Then at the very end, I'll share with you the settings that I run. 🙂
Functions of All the Different Buttons:

Power: Turn the detector on or off
Menu: Enter into the settings menu

Long press (R3 only) will change between Highway / City / Advanced modes

Vol -: Reduce the volume

Go backwards through the menu options

Vol +: Increase the volume

Go forwards through the menu options

Mute / Dim:

Mute: Press once during any alert to mute the alert
Lock out a false alert: (R3 only) Press twice during a stationary X or K band false alert to teach the detector that this is a false alert. It will remember this signal and automatically mute it for you in the future. (You can lock out Ka band alerts too if you enable the option in the menu first.)
Delete a RLC or Speed Camera: (R3 only) Long press during a red light camera or speed camera alert and it will prompt you to delete that particular alert from the detector's database and not alert you to it again. Short press once to confirm. Watch a video demo.
Adjust brightness: Press and hold when no alert is present to change the display brightness

Bright
Dim
Dimmer
Dark: Display is disabled and only lights up when an alert is present. When no alert is present, there will be a blinking dot that moves around in the bottom of the screen so you can verify that the detector is on. Watch a video demo.
Off: Display and buttons are completely turned off at all times, giving you a fully blacked out detector at all times. Your audio will play normally still, of course.
Auto (R3): Automatically adjust between a brighter display during the day and a darker display at night.

Mark (R3): Manually mark this location so that your detect alerts you every time you come back by it. Useful to mark locations that you know are regularly used as speed traps, for example.
City (R1): Change between Highway / City / Advanced modes
Video Walkthrough
If you'd like a video walkthrough of the settings and programming the detectors, here they are for both detectors.
Note: Newer firmware versions have added some additional features so be sure to read through this guide if you see any settings in your detector that you don't see covered in these videos.
Settings & Menu Options:
Highway / City / Advanced
This lets you dial back the sensitivity of K band and X band to reduce false alerts around town. Ka band is always unaffected.
Highway: (default) Full sensitivity on Ka, K, and X band.
City: Full sensitivity on Ka band, reduced sensitivity on K and X band.
Advanced: You can individually dial back the sensitivity on X, K, or Ka band anywhere from 100% sensitivity to 30% sensitivity in 10% increments. Helpful if you're getting too much range and want to dial back the performance. (City Mode would be the equivalent of X/K dialed back to ~18% sensitivity which is even lower than what you can select in Advanced mode so City mode is the lowest sensitivity option.)
Note: These are not different settings profiles. Switching to Advanced Mode doesn't unlock any other features other than giving you more granular control of X/K/Ka band sensitivity. For K band sensitivity testing between Highway and City mode, see here.
GPS (R3 only)
Enable the R3's GPS-related features and false alert filters.
Speed Camera (R3 only)
Alert you to speed cameras ahead.
You can mute speed camera alerts by pressing the mute button. You can delete them by double-tapping the mute button (and pressing a third time to confirm).
Redlight Cam (R3 only)
Alert you to redlight cameras ahead.
You can mute RLC alerts by pressing the mute button. You can delete them by double-tapping the mute button (and pressing a third time to confirm).
RLC Q-Ride (R3 only)
High speed muting for redlight cameras. This is useful for muting RLC/speedcam alerts on nearby surface streets when you're driving down the highway.
You can mute individual alerts by pressing the mute button. You can delete them by double-tapping the mute button (and pressing a third time to confirm).
Off (default)
50 – 85 mph (80 – 140 km/h) in 5 mph (10 km/h) increments
Voice
Voice announcements for radar and laser alerts (ie. "Ka band") to make it easier to identify different bands by sound. This is especially useful while you're learning what the beeps for each individual band sound like.
This will also speak the individual menu options when you scroll through.
Ka Freq Voice
Verbally announces the exact frequency of Ka band radar alerts. Useful for identifying the frequency of the Ka band signal without needing to look at the display. The detector will beep normally for a  moment, announce the frequency, and then resume alerting.
X Band
Enable or disable X band.
X band has been mostly phased out around the country. It's still actively in use in OH and southern NJ and a few small areas around the country.
To find out what bands are in use in your area, click here.
K Band
Enable or disable K band.
K band is in use virtually everywhere around the country. The notable exception is virtually all of CA where you can disable K band and cut off the false alerts you'd otherwise have to deal with using the detector's filters.
To find out what bands are in use in your area, click here.
Ka Band
Enable or disable Ka band.
This is a very common police radar band and it's in use nationwide. Definitely best to leave this on.
Laser
Enable or disable alerts when you get shot by laser.
K POP
67 ms K band POP detection.
K band POP is virtually nonexistent in real life and it's best to leave this turned off for reduced false alerts. However, turning it on (and disabling the K Filter altogether) will give you maximum performance on K band since the detector is constantly scanning for brief K band now. This won't be a good idea in most situations due to the increased false alerts, but if you're out in the middle of nowhere and require the absolute maximum detection possible on K band, you can turn this on.
If you'd like to see a demo of K POP detection on the R3, click here.
MRCD
The MultaRadar CD and CT are low powered radar guns that are primarily used overseas. However, we are now seeing them here around Edmonton in Alberta, Quebec, Chicago, NYC, and in Maryland near Washington D.C. If you enable MRCD detection, you will be able to detect these radar sources. Video demo.
Ka POP
67 ms Ka band POP detection.
Ka band POP is also nearly nonexistent in real life so it's generally better to turn this off. Testing has also shown that POP on reduces Ka range.
K Filter
Filter out blind spot false alerts from other nearby vehicles. Definitely run with this on.
Ka Filter
Filter out false alerts on Ka band. Turning this on does affect performance, but only in a very minor way. It slows down reactivity by about 0.1s, so not much at all. Even with it on, the detector is still very fast. It has much less of an impact to performance than Escort's RDR or the V1's Ka Guard does. If you'd like maximum performance, turn this off.
TSF
The traffic sensor filter is designed to filter out K band traffic sensors along the highway in some areas. Enabling it does slow down reactivity on K band and negatively affect range somewhat. However, if you have traffic sensors on your highways and experience regular and repeated K band falses from them, turn TSF on. Additionally, some people also like using this option to further help filter out some blind spot falses as well.
K Block
This filter is designed specifically to help filter out BSM falses from Hondas and Acuras. Enabling this filter will block all K band signals, real or false, between 24.194 – 24.204 GHz. The R1 and R3 falses to these cars constantly so enabling this will help quiet down the detector considerably.
This will also block any legitimate police radar signals transmitting with this frequency range which is the risk. Normally legit K band will be closer to 24.125 or 24.150, but it can transmit as high as 24.250. Now that said, given that the detector will otherwise false a lot without this filter, for most people it is well worth the risk to help quiet down the detector.
K Wide / Narrow
This gives you the option to slightly narrow the range of frequencies that the detectors scans for on K band, cutting out frequencies where you're less likely to see legitimate K band radar, thus helping reduce your number of false alerts.
Police officers are allowed to transmit throughout the entire range that K Wide covers so if K band is actively used in your area, it's best to run with K Wide. If not, you can consider switching to K Narrow.
K Wide: (default) 24.050 – 24.250 GHz
K Narrow: 24.080 – 24.200 GHz
Ka Wide / Narrow / Segmentation
Alert to all the entire Ka band spectrum or only the Ka frequencies where police generally operate on.
Ka Wide: 33.4 GHz – 36.0 GHz
Ka Narrow: (default) 33.8 +/- 100 MHz, 34.7 +/- 120 MHz, 35.5 +/- 100 MHz
Ka Segmentation: 

Ka 1: 33.399 – 33.705
Ka 2: 33.705 – 33.903 (MPH radar guns at 33.8)
Ka 3: 33.903 – 34.191
Ka 4: 34.191 – 34.587 (Stalkers that drift low)
Ka 5: 34.587 – 34.803 (Stalker radar guns at 34.7)
Ka 6: 34.803 – 35.163 (Stalkers that drift high)
Ka 7: 35.163 – 35.379
Ka 8: 35.379 35.613 (Kustom and Decatur radar guns at 35.5)
Ka 9: 35.613 – 35.829
Ka 10: 35.829 – 36.001
Ka Narrow is generally recommended for both ease of use and maximum performance (test here). Originally we were told that the detector is always scanning in Ka Wide and Ka Narrow adjusts only what frequencies the detector alerts to, not what it actually scans for. It turns out it does scan for a narrower range of frequencies which is why we see improved performance.
In general, Ka Narrow is fine for most of the US and Ka Wide is recommended if you encounter out of tune guns such as if you drive in New York.
Note: We've found that the 34.7 sweep actually scans up to 34.850 in Ka Narrow, possibly even higher.
Now if you want complete control over the Ka Segments, as of firmware 1.31, we now have 10 individual segments to choose from, just like other manufacturers offer. In order to access the different segments, you'll need to switch your detector from Ka Wide or Ka Narrow to Ka Segmentation and then the 10 segments will show up in the menu.
Finally, if you're wondering specifically which additional segments are recommended for different States, beyond the traditional 2/5/8, please see this post.
MRCD/KA / Signal Priority
If the detector is detecting multiple signals, you can choose which signal is given audible and visual priority.
MRCD/Ka Priority: (default) Gives you band priority alerts where if you're seeing multiple signals, alert priority will be given to MRCD, Ka, K, & X in that order. This is nice because MRCD is usually close range with minimal alert distance.
Ka/MRCD Priority: Similar to above, but lets you prioritize Ka band alerts over MRCD. Alert priority here is Ka, MRCD, K, X band in that order.
Signal Priority: Gives alert priority to the strongest (usually closest) signal.
So for example if you're getting a strong K band signal and a weak Ka band signal, Signal Priority will alert you to the K band signal while Ka Priority will focus on the Ka band signal. If you have the all threat display option enabled (discussed next), the secondary signal will show up on screen next to the primary signal, but the audio will always be focused on the primary signal.
Mute Mem
By default the detector will only allow you to lock out X and K band sources. This makes sense since there is generally where you'll find your stationary false alerts. However, some people have speed signs in their area that transmit on Ka band or neighbors with satellite dishes that cause Ka falses so if you'd to be able to lock out Ka band sources too, you can tell the detector to let you lock out X, K, and Ka alerts.
X & K: (default) Lock out only X and K band signals.
X, K, Ka: Add the ability to lock out Ka band & MRCD too.
Be careful when using Ka lockouts. It can be pretty risky and most manufacturers don't even allow this option at all because of the fact that Ka alerts are almost always real. If you want to use Ka lockouts, such as you have a Ka band speed sign or satellite dish that falses your R3, make sure you're 100% confident the Ka band alert is being triggered by a stationary false source that you see every time you pass by before you lock the signal out.
All Threat Display
When the detector is picking up more than one signal, it can show the band and signal strength of any additional signals (up to 3 more) on the left side of the screen where the speedometer/voltmeter would normally go. When only one signal is present, that left side of the screen stays as a speedometer/voltmeter.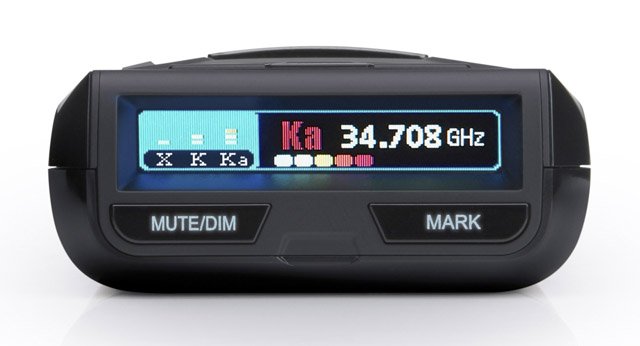 Color
Choose what color display you'd like. The options include:
Red (default)
White
Purple
Blue
Amber
Green
Pink
Gray
This can be helpful to match your vehicle's interior, for example.
Mode / Time (R3 only) / Scan
Change what is showing up on screen when you're not getting an alert.
Mode (default) (R1 & R3) will display the words Highway, City, or Advanced on screen.
Time (R3 only) will display the current time, determined by GPS.
Scan (R1 & R3) will display an animated heartbeat scanner on screen.
Display (R3 Only)
Choose what you want to be displayed on the left side of the screen including:
Speed (default)
Speed and Compass
Compass
Voltage
Altitude
My preference is either speed or speed + compass. I like speed and compass, but sometimes when you're stationary, especially when you first start your car and haven't started moving, the compass just spins around and I find this annoying and unhelpful, but the compass is helpful while driving.
Speed Unit (R3 Only)
Display your speed in MPH or KM/H and distances in feet or meters.
Tones for X / K / MRCD / Ka / Bogey / Laser
Choose between 12 different alert tones for any of the radar bands or for laser. Scroll through the different options to listen to what the alert tones sound like.
The new bogey alert option has 5 different alert tones that you can choose between that will alert you to the presence of an additional Ka signal (bogey) detected when the detector was already alerting to a previously detected signal.
Auto Mute
After 3 seconds, the detector will drop the volume to  a reduced level, set in the next option. This is helpful for quieting the detector down after it gets your attention initially, but it may be too quiet for some. Some people also leave this disabled to make it easier to record the rampup and beeps on their dashcam for sharing later. Auto mute applies to radar alerts, not laser.
Auto Mute Volume
Adjust how loud or quiet the auto mute option reduces the volume level to. Very handy if the quietest option is too quiet, for example.
Auto Mute Volume: 0 – 5 (default 2)
Note: If you have your normal volume and auto mute volume set to the same levels, you won't actually hear the volume go down. If you enable the auto mute and it seems to not be working, double check these settings. 😉
Dark Mode
You have the ability to adjust how bright the display is if you set it into dark mode. The display will be off in dark mode (with a blinking dot moving at the bottom of the screen) until you get an alert. When an alert pops up, how bright do you want the display to be?
Bright
Dim
Dimmer (default)
Auto Dim Setting (R3 Only)
Adjust the settings for the auto dim brightness level.
Note: You must first select "Auto" as the display brightness in order to have this option show up in the menu.
Bright time: Adjust what time the detector switches to the bright display in the morning. Select between 5:30am – 7:30am in 15 min increments.
Bright level: Bright (default), Dim, Dimmer
Dim time: Adjust what time the detector switches to the dim display in the evening. Select between 5pm – 8pm in 15 min increments.
Dim level: Bright, Dim (default), Dimmer, Dark, Off
Backlight
Makes the front two buttons underneath the display glow from behind so you can find them more easily at night. You can turn it off if you want a stealthier look.
Quiet Ride (R3 Only)
Low speed muting. This automatically mutes any and all X band and K band alerts, whether they're real alerts or false alerts, when traveling below the speed you select. This feature is incredibly valuable around town while sitting in traffic or at stop lights to help deal with false alerts.
Off  (default)
5 – 90 mph (10 – 140 km /h) in 5 mph (10 km/h) increments
Q-Ride MRCD (R3 Only)
Individually control if MRCD alerts are also affected by quiet ride's low speed muting. MRCD photo radar is often run on city streets and at close range so you can choose to have quiet ride disabled for MRCD so it alerts you at low speed, even if traditional radar is being muted.
LimitSpeed (R3 Only)
Audibly warn you when you travel over a preset speed. Helpful to remind you when you're traveling above the speed limit, for example.
Off (default)
50 – 100 mph (80 – 160 km/h) in 5 mph (10 km /h) increments
GMT (R3 Only)
Choose your time zone and the time will automatically be set via GPS.
GMT-05:00: Eastern
GMT-06:00: Central
GMT-07:00: Mountain
GMT-08:00: Pacific
DST (R3 Only)
Daylight savings time adjustment. If you've set your time zone but the clock is off by 1 hour, change this setting.
BAT Warning
Audible warning when your battery drops too low (below 11v). Helpful as a reminder if you're running your vehicle with the engine off and the battery level starts dropping pretty low.
BAT Saver (R3 Only)
If your detector is plugged into a power source that doesn't turn off when you turn off your car, turn this on so your detector doesn't drain your car battery.
It turns the detector off when you've been stationary (parked) for 1 hour.
It also turns the detector off if the GPS hasn't connected for an hour (like when you're in a parking deck or garage).
Self Test
Run a self-diagnostic test every time you start your detector. You can turn this off for a faster and quieter bootup process.
Factory Reset?
Reset your detector's settings to factory defaults.
If you're running the R3, this does NOT delete your GPS lockouts or manually marked locations.
Delete All Mute? (R3 Only)
Delete all of your GPS lockouts.
Delete All User? (R3 Only)
Delete all of your manually marked locations that you created by pressing the Mark button.
Ver.
Tells you the firmware and DSP firmware version of the detector.
You can check for the current firmware version here.
DB Ver (R3 Only)
Date (version) of the current redlight camera database.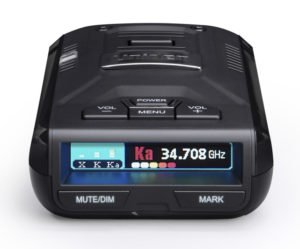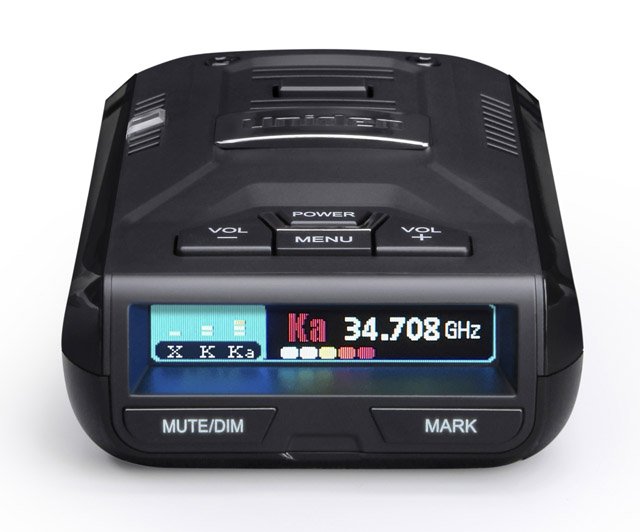 General Recommended R3 Settings
If you're wondering what settings you should run, I'd recommend that you read over this guide and take the time to understand what each option does so you can make an informed decision. If you'd like a quick general recommendation that would work for most everyone nationwide, here's a list of generic recommended settings. These are designed to be safe, give you good performance and filtering, and be applicable all across the country.
Note: I put a (*) in front of every option that I've changed from the factory defaults.
*Advanced: X Band 100%, *K Band 70%, Ka Band 100%
GPS: On
Speed Camera: On
Redlight Camera: On
*RLC Q-Ride: 60mph
Voice: On
Ka Freq Voice: Off
X Band: Off (If you drive in OH or NJ, turn this on.)
K Band: On (If you drive in CA, you can typically turn this off.)
Ka Band: On
Laser: On
K POP: Off
MRCD: Off (unless you drive in Alberta, Quebec, Chicago, NYC, or MD)
Ka POP: Off
K Filter: On
Ka Filter: Off
TSF: On
K Block: On
K Wide
*Ka Wide
MRCD/Ka Priority
Ka Priority
Mute Mem: X & K
*All Threat: On
Color: Red
*Scan: Time Display
Display: Speed
Speed Unit: mph
Tones: default

X Band Tone: 1
K Band Tone: 2
*MRCD Tone: 7
Ka Band Tone: 3
*Bogey Tone: Laser Tone: 5
Laser Tone: 4

Auto Mute: On
Auto Mute Vol: 2
Dark Mode: Dimmer
*Auto Dim Settings: 7am, Bright, 6pm, Dimmer (adjust to what's appropriate for your area)
Backlight: On
*Quiet Ride: 25mph
Q-Ride MRCD: Off
Limit Speed: Off
*GMT – (Choose your specific time zone)
*DST: On
*BAT Warning: On
*BAT Saver: On
*Self Test: Off
Vortex's Personal R3 Settings
Here's the settings that I run myself. These settings are not necessarily what's best for you, but it's what I typically use nowadays around here where it's almost exclusively Ka and Laser. MRCD is not in use here and K band is very rare around here, so unless I'm out on a road trip to somewhere new, I really like the detector extra quiet on K band, especially when someone else is in the car with me, so I filter K band pretty aggressively.
Note: I put a (*) in front of every option that I've changed from the factory defaults.
*City or Advanced Mode with K Band at 70% if I want better K band performance
GPS: On
Speed Camera: On
Redlight Camera: On
*RLC Q-Ride: 50mph
*Voice: Off
*Ka Freq Voice: On
X Band: Off
K Band: On
Ka Band: On
Laser: On
K POP: Off
MRCD: Off
Ka POP: Off
K Filter: On
Ka Filter: Off
*TSF: On
K Block: On
*K Narrow
Ka Narrow
MRCD/Ka Priority
Mute Mem: X & K
*All Threat: On
*Color: Blue
*Scan: Time Display
*Display: Speed + Compass
Speed Unit: mph
*Tones: most default, MRCD 7, Bogey 5
Auto Mute: On
Auto Mute Vol: 2
*Dark Mode: Bright
*Auto Dim Settings: 7:15am, Bright, 6:30pm, Dimmer (This varies throughout the year)
Backlight: On
*Quiet Ride: 35mph
Q-Ride MRCD: Off
Limit Speed: Off
*GMT – 8 Hour
*DST: On
*BAT Warning: On
BAT Saver: Off
*Self Test: Off
Note: This guide is current as of firmware 1.54. As new firmware updates are released, settings may be added or removed and performance may be impacted as well. I'll update this as things change.
If you need to purchase either detector, you can purchase the R1 here and you can purchase the R3 here.
This website contains affiliate links.

Click here to read my affiliate disclosure.