In different parts of the country they use different radar guns and laser guns. For example, in some areas K band is in use while in other areas it's not at all and if you turn K band off in your detector, you can get rid of all the false alerts that you'd otherwise have to rely on filters to deal with. Very cool. Same thing with X band. Additionally, some places in the country use newer and more sophisticated lidar guns with anti-jamming technology. If you're wondering what's in use in your area as well as in other areas that you'll be driving to, here's the best way I've found to see what's in use in what areas.
How to Find Out What's In Use In Your Area
Read the RDFGS to find out what radar bands and laser guns are used in your area.
Read this post to find out which Ka Segments are needed in your area if you're using Ka Band segmentation.
On the Radar Detector Forum, people are keeping track of what radar and laser guns are being used across the entire country and compiling all the information into a user generated database called the Radar Detector Forum Geographical Survey (RDFGS) that we can all access. You can go in and check down what's in use in every state as well as what's in use in different cities and counties. If there's any information missing or out of date, you can go in and fill in the gaps and update the database accordingly. Very useful stuff!
Click on your state and you'll be able to drill down and see what's in use in different cities and counties.
What to Look For
Here's a few tips and tricks on how to use it and what to look for.
Obviously you'll want to take a look at the cities and counties that you'll be driving through. Out here in Washington State, the highway is monitored by the Washington State Patrol and so if you look at the top of the chart, you'll see information about the State Police that's worth checking out in addition to what's covered for the individual cities and counties.
The green box for TSR will tell you whether or not K band traffic sensors are in use on the highway and if you should enable TSR/TMF to filter those sensors out.
The notes on the right hand side are great for finding out fun little tidbits like what lidar guns are in use in that area, what types of police cars are used, what frequencies of Ka (33.8? 34.7? 35.5?) are in use, and so on.
The information presented on the RDFGS is not necessarily 100% accurate. The X band info is a perfect example. X band is almost completely entirely phased out (with a few exceptions such as OH, NJ, and some places in OR) and yet the RDFGS says that X band is in use in 24 states. This isn't true. If anyone clicked on X band at some point, even if it was a mistake and they didn't confirm that the X band alert was indeed coming from a police officer, now we've got some erroneous information.
It's also tough to know when to delete information that someone else had posted. If someone sees that a radar or laser gun is in use and then later the agency upgrades to newer equipment and retires their older equipment, we may not necessarily know that and so the information on the RDFGS may become out of date. Some radar or laser guns may be used very very rarely so it's hard to know whether or not the equipment is gone altogether or just that it hasn't been seen in a while.
Ka Band Segmentation
Additionally, for those of you guys running a detector with band segmentation on Ka band and you'd like to find out exactly which Ka segments you should run in your area, we're keeping track of that as well. Generally segments 2, 5, and 8 (or the equivalent of scanning for 33.8, 34.7, and 35.5) is what you should enable and you can disable the rest. However, in some areas, it's recommended to enable one or two additional segments, and so check out this reference:
States where enabling additional Ka segments is recommended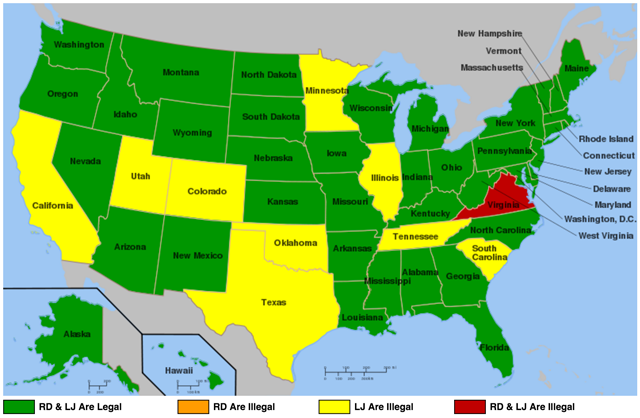 This website contains affiliate links.

Click here to read my affiliate disclosure.