Did you know the Uniden R3 is now available in three different colors? The original black & chrome, matte black, and silver.
Why different colored R3's?
There's lots of companies selling the R3 and each one wants you to buy it from them. For a while everyone had the same R3 which comes in a black case with a little chrome trim on top.
Purchase the classic Uniden R3 here.
Some of the bigger sellers wanted an exclusive version of the R3 that only they carried so that if you want to purchase their unique version, you'd have to buy it through them.
Matte Black Uniden R3
Best Buy sells a Uniden R3 in matte black. It's essentially an R3 in an R1 shell. The two chrome pieces on top with the Uniden logo and around the power button are now black instead of chrome. Additionally, the plastic around top of the normal R3 is a little reflective while the top of the matte black version is, well, matte black.
I run the normal one myself since that's the one that originally came out and since I run the detector up high by my rear view mirror, I've never noticed any chrome or shininess on top, but I do find the matte black look appealing and like it on my R1.
Buy the matte black Uniden R3 here.
Silver Uniden R3
Next, BeachCamera / BuyDig wanted an exclusive version as well. For them, Uniden created a new silver case for the R3.
Personally I'm not a huge fan of silver on detectors since I prefer stealthier detectors that attract less attention and don't reflect onto the windshield in the sun if I mount the detector low on my windshield, but I can see people liking the silver trim around the R3 too.
Buy the silver Uniden R3 here.
Silver Uniden R1
Finally, Uniden also modified the original matte black R1 and created a silver R1 as well.
Buy the silver Uniden R1 here.
Buy the original matte black Uniden R1 here.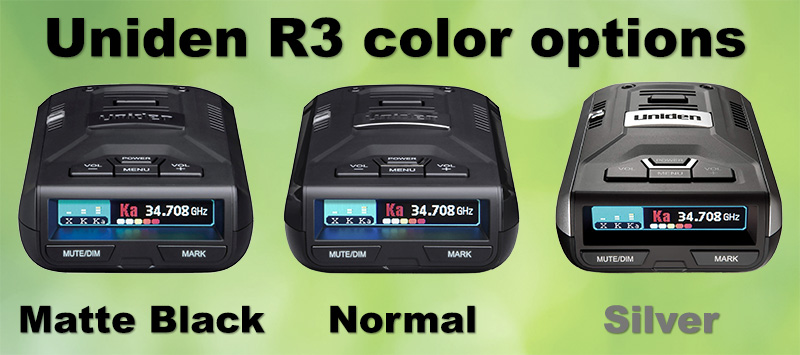 Which one would you pick?
Take a look here to see them in person.
This website contains affiliate links.

Click here to read my affiliate disclosure.