If you live in Canada, which radar detector and laser jammer is best for you? Well my complete radar detector buyer's guide will be applicable for you even though it's geared towards US drivers. Adding to that, there's a few things to go over that Canadian drivers need to focus on specifically so let's take a look at the best radar detector in Canada and the best laser jammer in Canada. (Updated May 2018)
Canadian Radar Detector Legality
Unlike in the US, radar detectors are illegal in most of Canada.
If you drive in BC, AB, or SK, it's legal to have a radar detector to detect police radar. If you drive in the other provinces where radar detectors are illegal, you should be careful because the penalties may be pretty stiff if you get caught. Ontario comes to mind… ($170 fine, three demerit points, and your radar detector gets confiscated.) As far as the different types of radar and lidar guns that are used in each province, you can learn about the specifics by checking out the RDFGS Canada. If radar detectors are legal where you drive, all the usual suspects apply. The main exception is that Valentine only ships the V1 to BC, AB, and SK so if you want a V1 in the other provinces, you'll have to either get Valentine to ship it to a legal area instead or pay some third party person to flip it to you with a markup. You'll get no warranty if you do this (ie. Amazon or eBay) so arranging to get it through Valentine would be the preferred way to go.
Radar Detector Detectors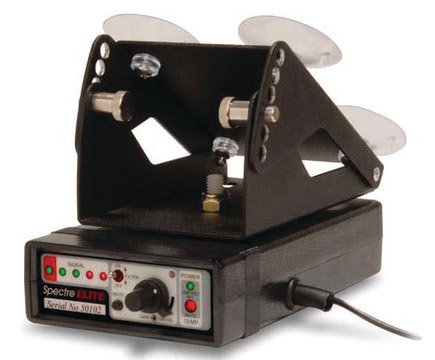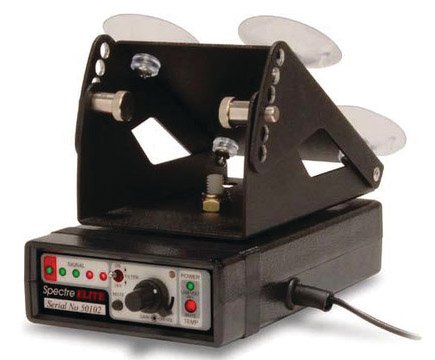 To catch people who use radar detectors, police use a special radar detector detector called the Spectre Elite. The Spectre is designed to alert the officer when it locates a nearby radar detector and then help officer figure out which car has a radar detector inside of it. It can be rotated to point towards different cars and the closer the officer gets and the stronger the signal is, the stronger it will alert. Learn more about radar detector detectors. Now there are a few radar detectors that are immune from detection from radar detector detectors because they have been specifically developed with special stealth technology that helps prevent them from leaking the energy that the Spectre can pick up on.
MultaRadar CD Detection
In Edmonton, Alberta, as well as in Quebec, there's a low powered photo radar system in use called the MultaRadar CD (MRCD) that most radar detectors can't detect. However, if you get a radar detector that is specifically designed for MRCD detection, you'll have no problem picking up this latest threat as well.
Recommended Canadian Radar Detectors
Most radar detectors are detectable by the Spectre. In Canada it's recommended to get an undetectable radar detector, particularly one with MRCD detection capabilities. Here's the best options:
Top 3 Windshield Mount Radar Detectors
The most affordable option for an RDD-immune detector is to go with a windshield mount option. These cost less than a remote mount radar detector and are much easier to install.
Radenso Pro M-edition: Best All-around Canadian Radar Detector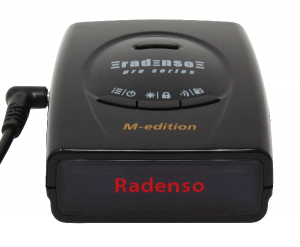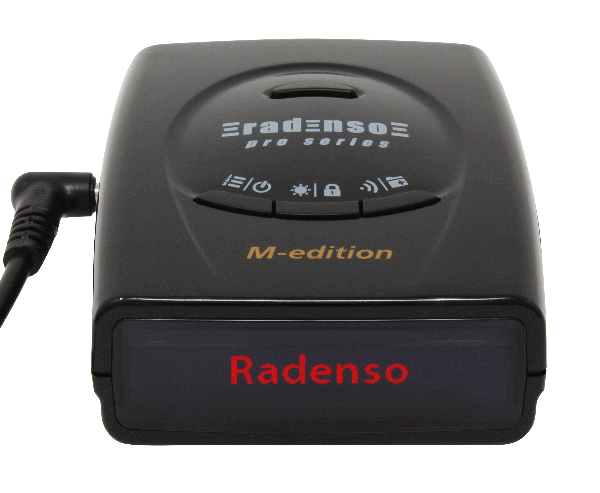 As far as windshield mounts, the best radar detector for Canada is the Radenso Pro M-edition. You get outstanding performance and false alert filtering, GPS lockouts, MRCD detection, great MRCD false alert filtering, RDD immunity… the works. This is the best performing and most capable windshield radar detector to use in Canada.

Buy the Radenso Pro M-edition from Visions.ca
Escort Redline EX: Best Automated Canadian Radar Detector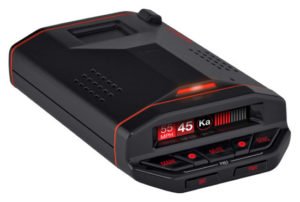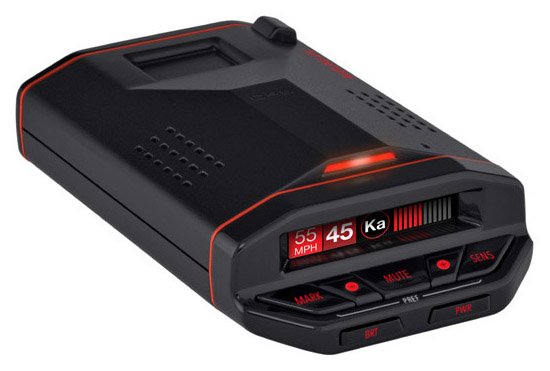 In second place we have the Escort Redline EX. It's like the Radenso Pro M-edition, except with more features and worse performance. Both are RDD immune and have MRCD detection capabilities. The Pro M has longer range, better blind spot filtering, and fewer MRCD false alerts so all the core stuff with the Pro M is better. The Redline EX adds automatic GPS lockouts instead of manual, a multicolor OLED display, an accurate frequency display, and Bluetooth built-in for realtime alerts shared with other drivers through the cloud. The biggest benefit of the Redline EX is really that the GPS lockouts are automatic so as you drive around with it, it'll learn where the false alerts are located for you and get quieter for you over time. With the Pro M you have to teach it manually so it's a little more work up front. The Redline EX is more plug-and-play in this regard so it's popular a set-it-and-forget-it radar detector. Another advantage is that the Redline EX's bluetooth can display on your phone so you can keep your radar detector visually hidden but still see alerts and interact with your hidden detector.

Buy the Escort Redline EX on Amazon.ca Buy the Escort Redline EX from KMPH.ca (Use the coupon code "Vortex Radar" to save $25.) Learn how to program the Escort Redline EX here.
Uniden R3: Best Canadian Radar Detector without MRCD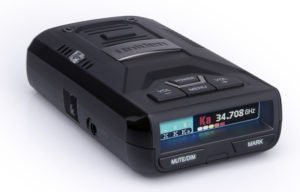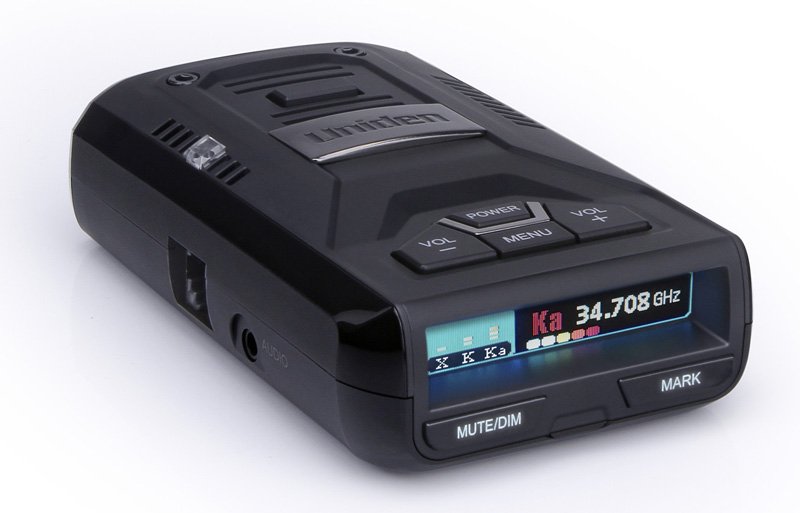 Third is the Uniden R3. Normally this would be the top pick, especially in the US, thanks to the fact that it has class leading performance, excellent BSM filtering, GPS lockouts (manual), and it's RDD immune. The issue is that it doesn't support MRCD detection so those of you in Alberta and Quebec will not want to use this detector. If you drive in other provinces though, the R3 will work well, plus it'll save you some money over the Pro M and Redline EX.

Buy the Uniden R3 from BestRadarDetectors.net Learn how to program the Uniden R3 here.
Windshield-mount RD Accessories
If you go for a windshield mount radar detector, there's two helpful accessories that you can pick up.
Sun Visor Radar Detector Pouch
First is a sun visor pouch for your detector. Because you don't want your detector visible to police officers, you can hide it in your pouch so that no one will see it.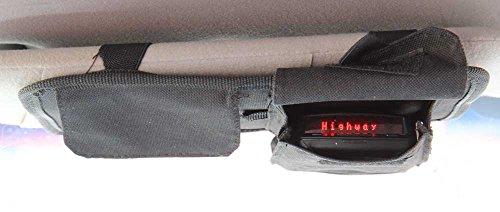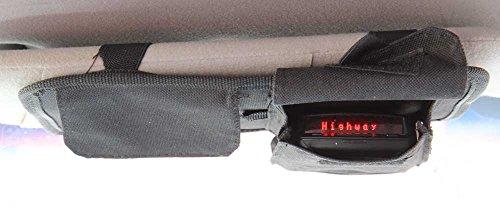 There's a whole bunch of places online that sell these if you google for them. For example, here's one I found on eBay.

Hardwire Cable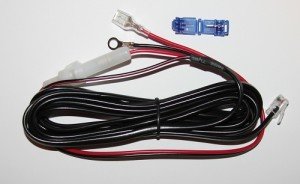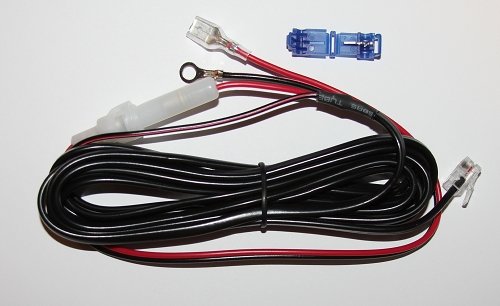 You'll also want to get a hardwire cable, preferably one with a remote mute button so you can mute the detector while it's up in the pouch. Rather than plugging your detector into your cigarette lighter which will obstruct your vision and make it obvious that you're running a RD, you'll want to get a hardwire cable that you plug in to your fuse box. Learn how to hardwire a radar detector.
Hardwire Cable Options
Power-only hardwire cable for Radenso Pro M-edition. Power-only hardwire cable for Redline EX and Uniden R3. Hardwire cable and remote mute button for Redline EX.
Remote Mount Radar Detectors
Here's where we get serious. When it comes to stealthiness, you can put your radar detector in a sun visor pouch or something, but if you really want to have an out of sight install, I'd suggest going for a remote detector. Remote mounts are radar detectors that are custom installed somewhere in the grill of your car or behind your bumper. The idea is you have nothing hanging down off your windshield for a police officer or thief or anyone else to see. You'll then put a little display and controller somewhere in your cabin and there ya go. It's out of sight to police officers plus immune from detection from radar detector detectors so it's the best of both worlds. Here is the best choice for remote mount radar detectors:
Net Radar MRCD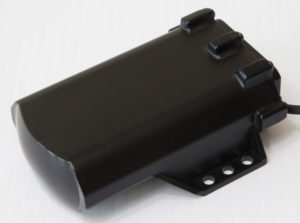 If you're running the AntiLaser Priority, the best laser jammer on the market, you can add in the Net Radar radar detector, a remote mount radar detector specifically designed to integrate with the ALP. It offers reasonable performance, very good BSM filtering, lockouts when paired with a phone, and an optional MRCD antenna if you need MRCD detection. You can actually use up to 3 radar detector antennas with the ALP: 1) Front facing normal Net Radar, 2) Front facing MRCD-specific Net Radar, and 3) Rear facing normal Net Radar for arrows. The Net Radar is mostly undetectable to RDD's, but officers may get some alert when close-by, especially from the rear antenna, so if you want an affordable remote radar detector, the Net Radar is a good choice. If you need MRCD detection, get the MRCD antenna. If you drive in provinces where RD's are banned, run front antennas only and skip the rear antenna.

Purchase the Net Radar MRCD at KMPH.ca
Other Remotes
The Radenso Pro RC M is a great option as well, better than the Net Radar DSP in most every way, but it's not available in Canada at this time. The Escort Max Ci and Max Ci 360 would be okay for Canada as well. They've got great performance and filtering, but there's no international versions with MRCD detection and the laser jammers are only somewhat effective against the DragonEye guns so it's tough to completely recommend them. The Stinger VIP could be an option too since it can also detect the MRCD and it's RDD immune, but it's no longer being sold online, likely due to all the bugs that it's had, so it's not one to take a look at. Best Laser Jammers for Canada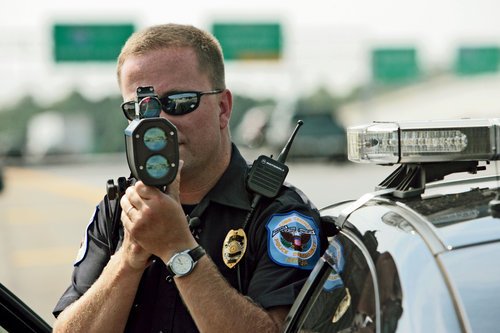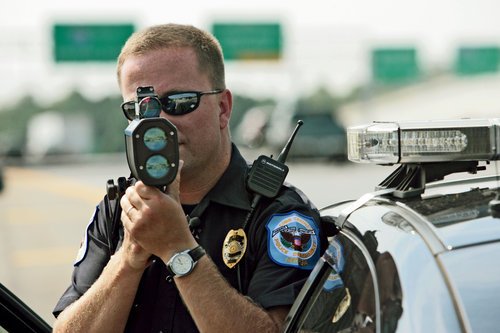 Police also like to issue tickets using lidar guns. Against lidar, a radar detector won't help. You'll need laser jammers to combat laser. (Laser and lidar are used interchangeably.) A jammer will prevent the lidar gun from getting a reading off your car, giving you enough time to slow down, turn off your jammers, and allowing the officer to get a reading on your car. When you do this, the officer won't know they've been jammed and off you go. This is the proper way to use them, no matter if they're legal or not. Like radar detectors, laser jammers are legal in BC, AB, and SK and illegal in all the other provinces. Now there's a variety of different laser jammers on the market. However, there's some very difficult to jam lidar guns in use in Canada with advanced anti-jamming capabilities and it's for that reason that you're going to need the most sophisticated laser jammers in order to effectively jam the anti-jamming lidar guns. For these it comes down to just two laser jammers.
AntiLaser Priority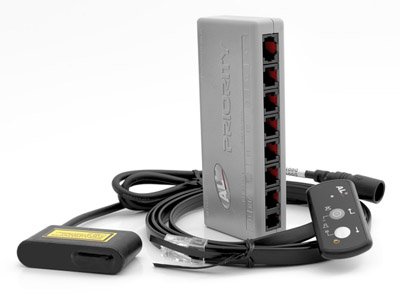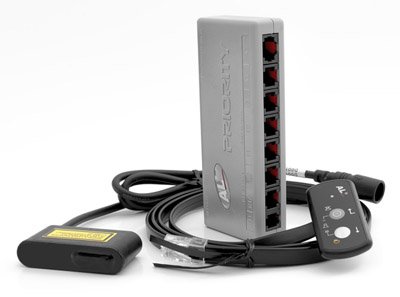 The AntiLaser Priority is the most popular, most effective, and most commonly recommended laser jammer on the market. It is now the standard recommendation of what jammer to get. Yes there's other jammers made by Escort, K40, Blinder, Laser Interceptor, and a few other companies, but with one exception, they are unable to jam the guns that are commonly used in Canada. You're always going to want coverage in the front of your vehicle and in many places you're also going to need protection in the rear. Generally it's recommended to protect both areas. The laser jammer heads are custom installed in your grill and near your license plate area, the main control box is tucked somewhere out of sight in your vehicle, and you have a small control pad that you install in your cabin. Check out my complete AntiLaser Priority setup guide to give you all the information you need to know about what to buy, how to properly install your jammers, how to set up and configure your ALP's, the different accessories you can add on to customize your system, and so on. There's two things I want to mention about that guide specifically for Canada. First, ALP's are region locked meaning that if you live in Canada you need to buy them from a Canadian dealer, not an American dealer. The Canadian dealer is Alex at kmph.ca so he's the man to talk to to get you set up with ALP's. Second, if you live in Edmonton, they these difficult to jam anti-jamming guns from the rear more than from the front. It's for this reason that rather than doing 3 heads in the front and 2 heads in the back like you'll do in most locations (the standard setup), you will want to consider flipping it and instead do 2 heads up front and 3 heads in the rear. Other than that, go through my ALP setup guide and you'll be ready to rock and roll.

Purchase the AntiLaser Priority here. (Use the coupon code "VortexRadar50" to save $50.)
Learning More
Finally, now that you've got a good idea of the equipment that you need, to learn more about the specifics of what you'll encounter all across the different provinces in Canada, I would recommend that you visit the Canada discussion section at RadarDetectorForum.org. That's one of the best resources you'll find to talk to fellow Canadians running radar detectors and laser jammers. Get the setup that suits you best, install it properly, learn how to use it, and you'll drive with an awesome level of protection. Enjoy!
This website contains affiliate links.

Click here to read my affiliate disclosure.