Why should you hardwire a radar detector? Radar detectors need to be plugged in for power and generally ship with a cigarette lighter plug to make it easy to power your detector. However, it looks kinda ugly to have a long cable dangling down your windshield and dash and it can get in the way of using your stereo. It also makes it obvious to others while driving or parked that you have a detector so many people take their RD's down when parking and put it back up every time they get back in their car.
A good alternative is to hardwire your radar detector by creating a permanent power plug for it.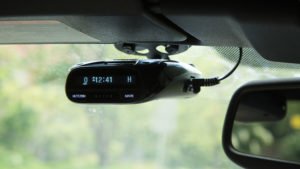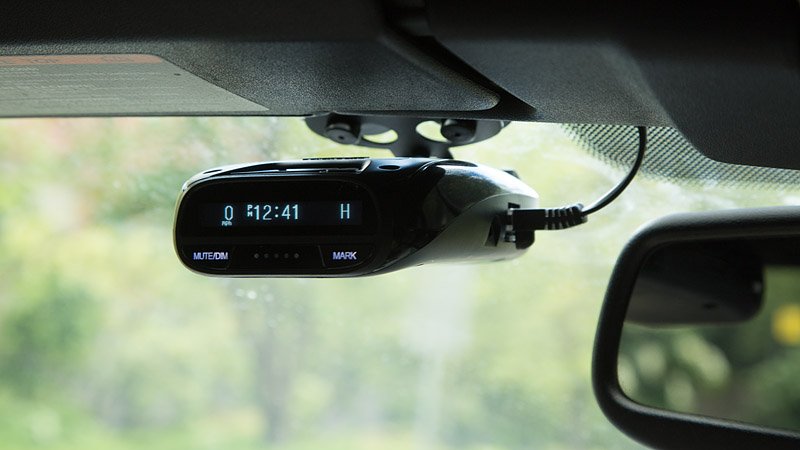 Rather than taking up your cig. lighter outlet, you power your detector from your car's fuse box and run a power cable hidden along the trim of your vehicle to create a much cleaner and professional looking installation. It allows you to mount your detector high up near your headliner for better radar detection, your detector can be more stealthy behind your tint strip without the cable dangling down so it's less visible to police or potential thieves, you can leave it in your car with less chance of someone else seeing it, etc. There's lots of great benefits to doing this and it's the preferred method to power your radar detector.
You can hire a professional to do this for you. Most any car radio installer can do this and it doesn't take a lot of time or money, or you can do it yourself. In this tutorial I'll show you how to do it yourself.
What You'll Need
Hardwire cable
Add-a-circuit fuse tap kit
T-tap (optional)
Hardwire Cable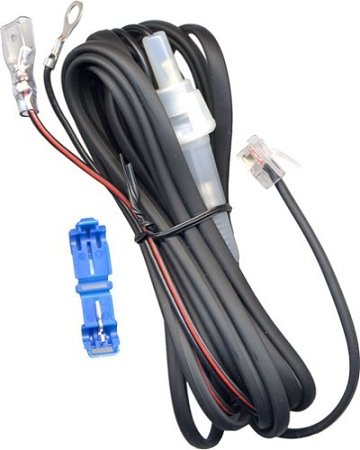 So the power cable that you're going to need is called a hardwire cable or direct wire cable. It's basically a long straight cable that connects to a power source on one end and plugs into your radar detector on the other end.
There's a variety of different types. Your traditional hardwire cable is just a simple power cable. Some fancier ones add in an additional remote mute button and alert LED, some add bluetooth so you can pair your detector to your phone, and so on, but the principles are the same.
There also specialized ones like short cables that plug into your auto-dimming rearview mirror or your OBD-II port to provide you with alternate locations to power your detector from.
If you want to see all the different options, see this article on Radar Detector Hardwire Cable Options. For now to keep things simple, we're going to talk about just your standard simple power cable that runs down to your fuse box.
Add-a-circuit Fuse Tap
Now to actually get power for your radar detector, you're going to want to tap into your fuse box.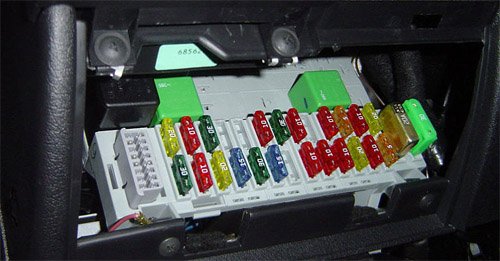 The fuse box is located in different places in different cars, but inside you'll see lots of little fuses for different parts of your car: AC, stereo, power seats, airbags, etc. We're going to add your radar detector so that it's also tapping into the fuse box like all your other electronics. (You can do the same thing with your dashcam, laser jammers, phone charger cables, etc.)
To actually tap into the fuse box, you'll need something called an add-a-circuit.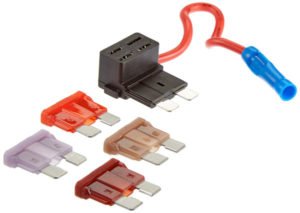 An add-a-circuit lets you add new electronics to your existing fuse box. Now different cars and manufacturers use different size fuses so you'll need to get the one that's the right size for your car. You can either Google it, check your car manual, or just pull a fuse out of your car and compare it to the guide below.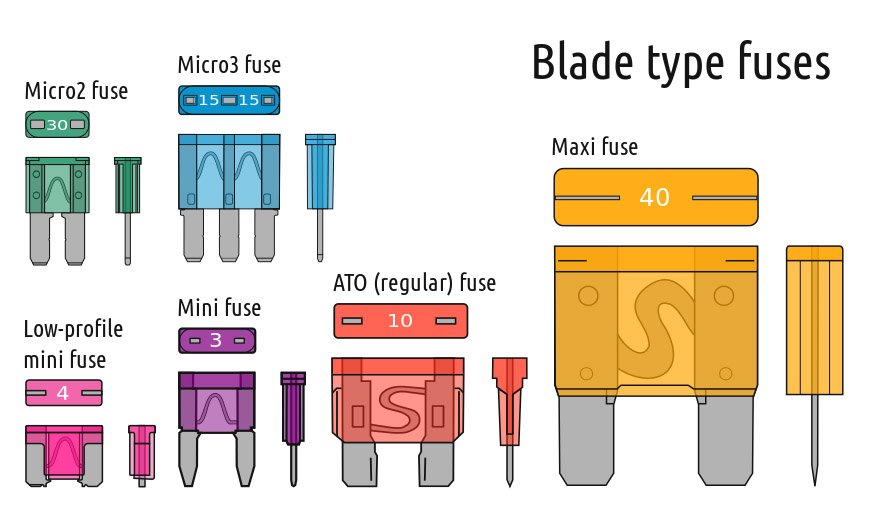 Once you figure out which fuse size you need for your car, you'll want to pick up an add-a-circuit kit for the the size fuse you need. Here's where you can get the kits for the most popular fuse sizes:
Low-profile mini add-a-circuit kit
(A kit usually includes both the add-a-circuit cable plus some extra fuses you'll need for the new devices you're adding.)
Plug In the Add-A-Circuit
To plug in the add-a-circuit, you're going to want to find a fuse in your fuse box that turns on and off with your car's ignition. Generally some circuits are always powered while others are tied to your ignition. You'll want to use something that turns off when you turn off your car so that your radar detector doesn't drain and kill your car battery when you're parked. Then when you start your car up next, your detector turns back on. Now you'll have to poke around because this is different with every car. To find out what each fuse goes to, you can either check your car's manual or the diagram that's often located on the cover to the fuse panel. It'll look something like this: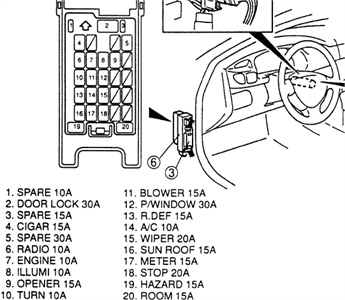 Note: Some cars don't have any fuses that turn on and off with the car and every single fuse always has power no matter what. If this is the case for you, you may need to turn your detector on/off manually every time. Some GPS-based detectors have an option to automatically turn off when they sense that you haven't been moving for a long period of time, aka when you're parked.
Once you've found a fuse slot you want to use, you'll want to pull out the existing fuse. You can use a specialized fuse puller to do this, but if you have a set of thin pliers on hand already, that can often do the job as well.
Once you get the fuse pulled, you're going to want to put that fuse in your add-a-circuit which has slots for two fuses. The bottom one (farther from the red wire) is the one for the original fuse you just pulled. The top one (in line with the red wire) is for the new accessories (radar detector, etc.) you'll be adding.
Now the add-a-circuit kits I linked you to above all include some extra fuses specifically for this second slot. You'll want to add up the maximum power usage used by all your devices and pick a fuse that's a little larger than all of them combined. For example, if you're using a RD that uses 500 mA or 1A total, a 2A fuse is good. If you'll be putting multiple devices on that add-a-circuit, you may want to use a 3A or 5A fuse.
Power is supplied on one side of the fuse slot and is designed to flow across the fuse to the other side. Use your multimeter to figure out which side is powered and then plug in the add-a-circuit so the red wire is on the other side. This way you can ensure the fuse is being used in the circuit.
Here's the add-a-circuit tapped into my car's fuse box.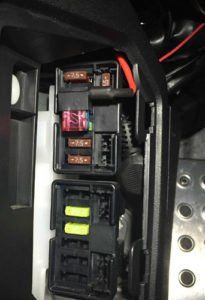 Connecting To The Add-A-Circuit
Once you have your add-a-circuit installed in your fuse box, you'll need to connect your hardwire cable to it. There's two main ways to do this.
The first is to use the blue connector on the end of the add-a-circuit. You can strip the end of the power wire of your hardwire cable if it doesn't come stripped already, insert it into the blue connector, and use a crimper (not pliers!) to crimp down on the blue connector and make a good solid connection. Personally I don't generally use this option because it only works for one device and it's not removable if you want to swap hardware later, but it definitely does the job and is a pretty simple solution.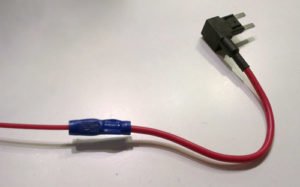 (Image credit: mazdaspeedforums.org)
Your other option is to use a T-tap which bites directly into the red wire itself, making contact with the electrical wire inside it.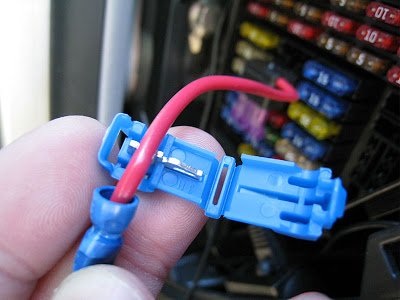 You see the metal part inside the blue T-tap? When you close the T-tap, it bites down on the red add-a-circuit cable, cutting through the red insulation, and making contact with the wire inside. It helps to have a set of pliers to squeeze down on the T-tap so that it cuts through the insulation and clicks closed.
Once it's locked down, you can slide on the matching connector from the hardwire cable (assuming it has one) and you've got a power connection for your radar detector.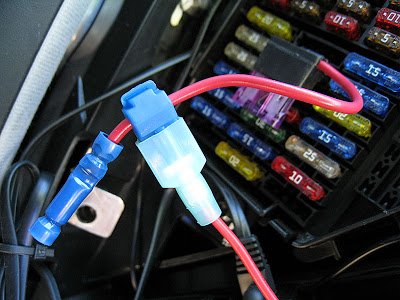 Now the add-a-circuit kits I linked you to earlier all include the T-tap and matching connector. The hardwire cable you chose may or may not come with the connector that slides onto the T-tap. If not, you can either buy them separately or just use the crimping trick I showed earlier onto the end of the blue connector. If you need some T-taps and/or connectors, you can get some here. (I usually like to buy a set of them so I can add multiple devices like dashcams, laser jammers, phone chargers, etc. to the add-a-circuit, plus you usually can't buy just one anyways.)
Connecting Your Ground Wire
Your hardwire cable is made up of two wires: power and ground. Power you get from your add-a-circuit. Ground you'll need to connect to elsewhere. You can either find a ground wire from some of your existing electronics and tap into it, or you can connect your ground wire to a metal part of your car's chassis.
If you have a ground wire you can tap into from something else, and there's often some around the fuse box anyways, that's the easiest way to go.
If not, look for a part of your car's chassis or frame, not just some random piece of metal floating around anywhere, and securely affix your ground wire to the chassis and now you'll have a solid ground for your detector.
Running the Wires
Once you've got the hardwire cable connected to your add-a-circuit and ground, it's a simple matter of plugging everything in and running the wires. You'll generally want to run the wires from your fuse box, up your A-pillar, across your headliner, and into your radar detector. Often times you can simply tuck the wires behind the body panels, but sometimes you may have to remove panels to get the cleanest install. (Note: Make sure your wire doesn't run over top of the airbag in your A-pillar!)
Here's a look at where my hardwire cable is run along my car.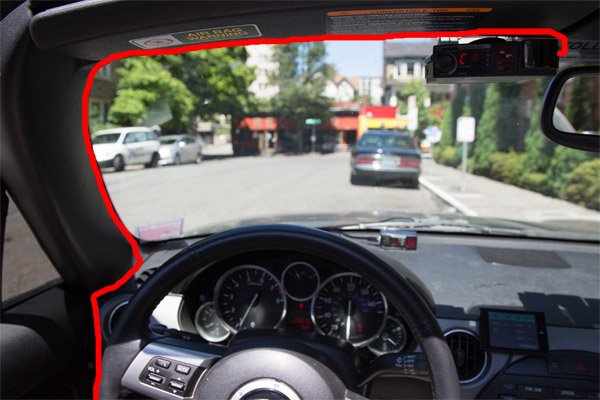 That's it!
Now you've got a professional looking clean install, your cigarette lighter outlet is free for other devices, you can mount your detector in the best possible location for radar detecting performance (up high), and you no longer have to deal with ugly cables hanging down your dash and getting in the way.
Once you get your install completed, feel free to share it with the community in the Show Off Your Install section on RDF.
Enjoy your beautiful new install! 😀
Hardwire a Radar Detector Video Tutorial
Bonus: If you'd like to watch a video walkthrough of the installation process, here's a video tutorial with me hardwiring both a radar detector and a dashcam into a vehicle.
This website contains affiliate links.

Click here to read my affiliate disclosure.