Valentine Research released firmware 4.1029 for the V1 Gen2 earlier this month. This free update brings a number of improvements to the V1 Gen2, particularly a reduction in Ka falses. Let's take a closer look at this November 2022 upgrade.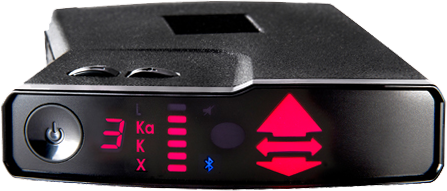 Download the latest update using the V1connection app for Android or iOS.
Firmware 4.1029 Changelog:
Includes all previous UPGRADE improvements plus the following:
Vastly improved rejection of Ka-band false signals caused by carelessly-engineered, Asia-sourced detectors.
New Ka-band alerts will break over a muted alert at the initial (unmuted) volume.
In Advanced Logic Mode, as X- and K-band sources are being passed, the arrow transition from Front to Beside to Behind is more consistent with the behavior in other modes.
Strong Ka signals in the presence of emitting Asia-sourced detectors will no longer produce excess Bogey counts.
Ka Falses: Improved but Still Problematic
One of my biggest complaints about the V1 Gen2 has been its excessive Ka band falses, particularly after Valentine boosted its sensitivity in a previous update. Unfortunately this change came at the expense of added Ka falses.
This latest update helps to reduce the Ka falses while maintaining the V1's level of sensitivity, but as Valentine said, it doesn't fully eliminate the issue. Many of us, myself included, still get Ka falses even with this latest update.
When the V1 falses, it will give a weak Ka blip. It's hard to determine if that's another false alert or an officer farther away. Personally I find myself losing trust in the V1's Ka alerts and having to do some additional mental analysis for Ka alerts the way I'm doing with K band alerts.
While you can eliminate some of the falses using Custom Frequencies, that only works for signals that are outside of legit police frequency ranges. The V1 continues to false around 33.8'ish, 34.7'ish, and 35.5'ish, even with this latest update.
There is a poll going amongst V1 Gen2 owners and unofficially, a little over a third of active users have grown fatigued of unverified Ka signals. I count myself in this group as well and it's the reason that I'm putting the V1 Gen2 back on the shelf for the time being.
For full discussion about this update, and to read about people's experiences, please check out this thread on RDF.
Ka Unmuting
This update also adds a behavior change to sure you get alerted to Ka signals, particularly during the presence of another muted signal.
Previously if you (or an app) muted the V1, say to manually mute a false alert or because an app was locking out a K band door opener, a subsequent Ka signal would be muted too because you or the app previously muted that K band alert.
Now with this update, a new Ka band alert will punch through an earlier mute command to ensure that you know that a new Ka signal is present.
This is an excellent change, IMO, and I'm really glad they made this adjustment.
Voltage Bug
This update also introduces a bug that makes certain apps display incorrectly high V1 voltages. This is a known issue and should be resolved in a future update. Read this thread for more info.
My Thoughts
I'm really glad to see that Valentine is addressing the Ka falses with the V1 Gen2. It's an incredibly sensitive detector, but we need to be able to trust its alerts too.
While every detector falses on K band, Ka band alerts are much more likely to be legitimate so personally I have much less tolerance for Ka falses. Even though this update reduces the Ka falsing with the V1, I find it falses too much for me to the point where I'm losing trust in the detector and so instead I wind up grabbing another detector while putting the V1 back on the shelf.
I hope Valentine is able to fully resolve this issue in a future update and I look forward to putting the V1 Gen2 back into rotation when that happens.
This website contains affiliate links.

Click here to read my affiliate disclosure.