Uniden posted firmware 1.25 for the Uniden R8 this morning on their website. This is the latest firmware that's already been shipping on brand new detectors and now we can all update to it. The new firmware that adds Bluetooth is still not yet released.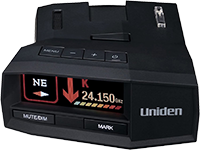 Downloads:
My Thoughts
Uniden hasn't yet posted a changelog for 1.25 so we don't yet know what the changes are. However, I've asked for more detail and will update this article once I learn more.
These R8 firmware releases have been weird. New detectors have been shipping with 1.24 and 1.25. Originally Uniden released 1.23 which was older than what everyone was running and so people who "upgrade" inadvertently wound up downgrading. This firmware didn't support the new user settings feature in the update software so Uniden later released 1.24 which enabled that feature.
After "updating," multiple people started reporting that their RLC / speedcam alerts were broken. I'm hoping that 1.25 fixes this issue so that people start getting their alerts back, but we'll have to see what people report here to see if this is the case or not.
Bluetooth?
The main update we're all waiting for is getting Bluetooth activated. That is not included in this update, but after talking with Uniden, they said they're working on a few last things before they release that feature in a future update.
Updating Notes:
In order to update your R8, you'll want to download the latest version of Uniden's update software. It adds the ability to change settings from the software. Here's a quick video about the new update software.
The update software doesn't yet automatically see, but it should at some point. For now you can manually  download firmware 1.25 from Uniden's website and load the .bin file into the update software using its "Download Files" option.
It looks like 1.25 comes with the latest RLC database now too so you no longer have to download and install that separately. If you already have 1.25 on your R8 and just want the newer RLC database, you can download and install that by itself.
If you need further assistance with the update software, please read or post in this thread.
This website contains affiliate links.

Click here to read my affiliate disclosure.