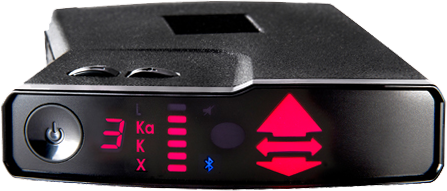 Valentine has released a Mid-October 2021 update for the Valentine 1 Gen2 (purchase the V1 Gen2 here) that updates the detector to firmware 4.1027.
This update brings a number of nice improvements to the V1, but it also introduced an annoying issue too. Here's what you need to know about this latest update.
Firmware 4.1027 Changelog
First up, here's the full changelog, straight from Valentine: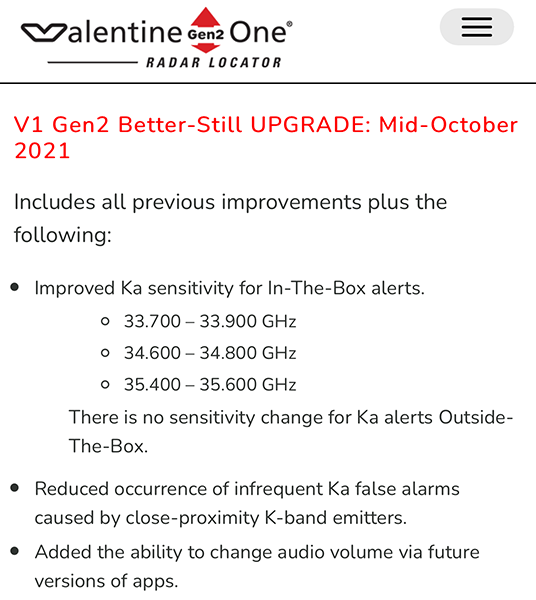 (This is what you'll see on your phone when you go to update your V1.)
Improved Ka Sensitivity
The main improvement with this new firmware is that Valentine has improved the V1's sensitivity to the Ka frequency ranges that officers generally use in the US: 33.8, 34.7, & 35.5.
So far in testing (test 1, test 2), people have been able to confirm that the V1 does indeed perform better now with this latest update. That's especially impressive considering the V1 Gen2 was already an outstanding performer.
Reduced Ka Falses
This update also helps address an issue where some K band transmitters (such as certain vehicles with K band blind spot monitoring systems) could cause the V1 to incorrectly alert to Ka band instead of K band.
Increased Ka Falses
Annoyingly though, after this update, many people are now reporting increased weak Ka falses, much more than before the update. These falses don't seem to be related to being near a K band emitter.
I don't know what's causing them, but this is an issue. Hopefully Valentine can work it out in a future update.
Apps Can Now Adjust V1 Volume
Apps now have the ability to not only remote mute the V1, but they'll be able to remotely control the V1's volume levels too. Apps will have to be updated to support this feature, but it gives them more control over the V1 now.
How to Update Your V1
Finally, if you'd like to update, simply launch the V1connection app for Android or iOS. It'll let you know there's an update. Follow the prompts and after about 10 min, you'll be running the latest firmware.
Here's a tutorial you can check out as well:
Be aware though that there is no ability to downgrade to a previous firmware in case you run into issues with the Ka falses. The app simply updates you to the current (latest) firmware available.
If you'd like to update, you can go ahead and download the update for free through the app.
For full discussion or if you have any issues, you can join the full discussion here.
If you don't yet have a V1 Gen2, you can purchase one here.
This website contains affiliate links.

Click here to read my affiliate disclosure.