Genevo recently released their new Genevo Max radar detector (€ 799). While I generally don't cover European detectors that aren't available in North America, the Max introduces some unique new features that we haven't seen before in other radar detectors so I think it's worth taking a closer look.
The new Max is an evolution of the Genevo One M (modified and sold in the US as the Radenso Pro M) with a new case and design, upgraded mount, plus a new motion sensor allowing you to mute the detector by waving your hand in front of it.
Genevo Max Improvements over the One M
Here's a list of the new features being introduced in the Max, plus some additional follow-up thoughts on some of the key new features and improvements:
New case & design
Larger blue OLED display
Motion sensor on the front so you can mute your detector by waving your hand
Bigger better buttons
RJ11 port for power
Headphone jack
USB-C port for updates
New single suction cup mount with mount similar to Escort's EZ mag mount
Vertical and horizontal mounting positions
Ambient light sensor
Noise sensor to automatically adjust volume
Redesigned laser lens for improved laser sensitivity
Better GPS modules for better reception and faster acquisition
Improved low power radar detection
Motion Sensor
The new motion sensor is a unique new feature I haven't seen in a radar detector before. Some dashcams like the Blackvue DR900S have a motion sensor allowing you to manually mark and save important clips with a wave of your hand, and now we have this ability in the new Genevo Max.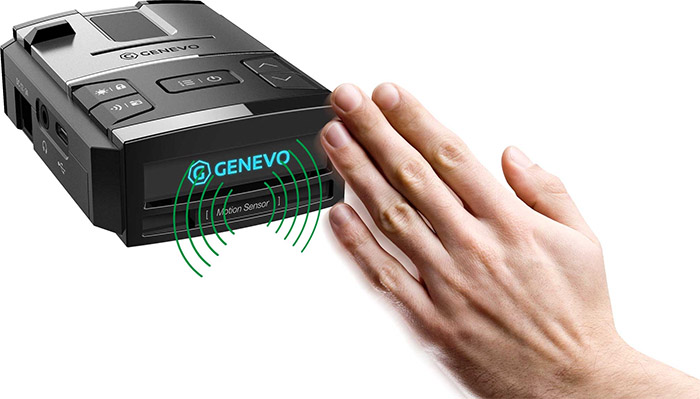 When your detector goes off, if you want to silence the alert, simply wave your hand in front of the detector and it will mute. Pretty slick. This should help reduce any fumbling around to find the right button while your eyes are on the road.
That said, apparently it currently works to mute radar and laser alerts, but not GPS related alerts. (Reference here.) Perhaps that's a bug that needs to be fixed? Either way, while I'm not sure how critically necessary this feature is, it sounds pretty cool.
New Case Design
The case has been redesigned as well. The buttons are now larger and look better. I wasn't a huge fan of the button feel of the Pro M with its small buttons all crammed together so this should make it easier to find and press each button. The detector itself has now slightly grown as well.
Genevo has also made some welcome improvements to the ports on the side of the detector.
The power-only barrel connector power plug has been replaced by an industry-standard RJ-11 port. This means we should now be able to have a power cable that offers a remote mute button as well.

You'll also see a headphone jack is now available on the side for motorcycle riders as well as a USB-C port for updates (but not for powering the detector while driving). The One M / Pro M lacks a headphone jack and uses an older MiniUSB port for updates.
Updated Mount
The new Max features a redesigned suction cup and mount. Instead of the previous dual suction cup mount, it now has a single large suction cup that connects to the detector with a quick release magnetic mount that reminds me of Escort's EZ Mag mount used in detectors like the Redline EX and Max 360c.
(Hopefully the mount is sufficiently different from Escort's implementation to avoid a lawsuit over patent infringement, though I don't know if Escort's patent also applies overseas. Similarly, I also wonder about naming conflicts and confusion with Escort's Passport Max radar detector.)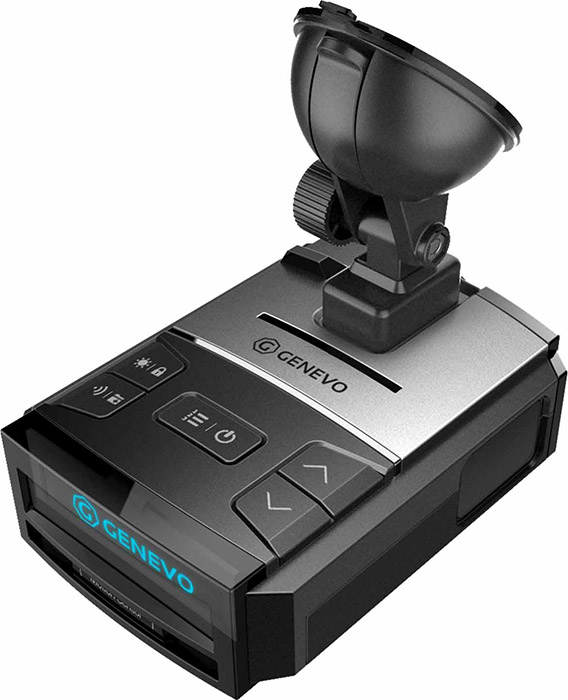 The side of the detector has an additional mounting point as well so you can mount the detector on its side vertically. This is especially helpful for certain Gatso radar guns that have rotated their radar signal 90 degrees in an attempt to make themselves harder to be detected by radar detectors. Now you have a built-in mount to rotate your detector when appropriate which can be especially helpful for European countries where those guns are used. Rotating your detector 90 degrees will give you increased range against Gatso radar guns at the expense of range against traditional radar guns.
That said, the larger suction cup and vertical mount makes the (now slightly larger) detector even more visible, something undesirable when a hidden and stealth detector is important. Nevertheless, it's helpful for the improved performance against select radar guns.
Performance Improvements
Speaking of performance, the Max is based off of the same underlying platform as the One M. That said, Genevo is saying they've made some changes to improve performance and false alert filtering.
In their Instagram post introducing the Max, I asked for a little more clarification regarding the improvements they mentioned and here's what they said: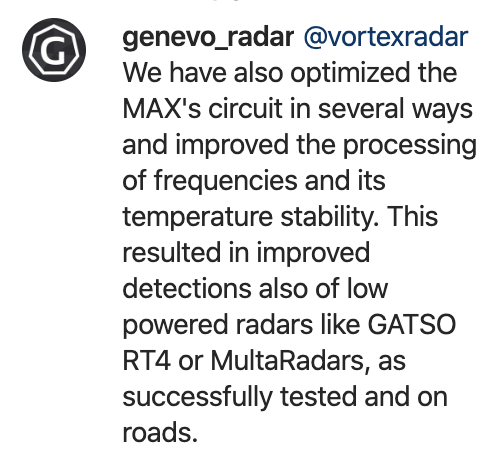 How much better the performance and filtering is I don't know. It's something that would need to be tested.
Availability in the USA & Canada?
So as I mentioned at the beginning of the article, this is a European detector that isn't going to be coming stateside. However, because it's got the new motion sensor and horizontal/vertical mounting options, I think it's pretty cool to take a look at.
Plus, this would effectively be the successor to the Radenso Pro M so why not bring it out here to the US? Well I asked Jon, the President of Radenso about this while he focuses on Theia development, and he brought up an interesting point.
Unlike in Europe, here in the US we have competitors like the Uniden detectors. The Uniden R3 can be had for right under $300. The Uniden R7 can be had for $450-$500'ish. The Radenso Pro M is $450. It's challenging to be competitive when there's cheaper detectors with better performance, especially when Genevo would want the Max to cost more than the Pro M with its new added features and would charge Radenso, and thus us, more for this new detector.
According to Jon, this detector would likely cost $500, $550, or $600 here in the US and he feels no one would buy it for that price. Personally I'm inclined agree with him. Is it worth nearly double the price of the R3 to get a hand-waving motion sensor and a trick mount that isn't necessary for most drivers here in the US? Most people would still be better off getting the R7 with arrows for less money than what it'd cost for the Genevo Max so it doesn't really make much business sense to bring the detector over stateside.
Genevo can set their pricing in Europe where there's less competition, but things are different here in the US and Canada since we have more/different options (one of the many reasons why things are different in North America and Europe).
Jon added that if Genevo can get pricing down to a level where it is market competitive and be responsive with firmware requests, he'd be open to selling it. Again though, it has to be competitive, otherwise what's the point?
So that's an overview of the new Genevo Max now available in Europe. It's an evolution of the One M with a new case and design, improved performance and filtering (I'm not yet sure how much though), new mount, and new motion sensor to mute alerts.
If you pick one up, I'd be curious to hear your thoughts running the detector, especially since it's not one that I will be testing or reviewing since it won't be available here in the US and it's not designed for our roads in the first place.
For full discussion about the Genevo Max as well some initial impressions by people using the detector overseas, see this thread on RDF.
This website contains affiliate links.

Click here to read my affiliate disclosure.