This week at SEMA, Escort has announced their new M1 dashcam. It's a 1080p dashcam that's designed to attach right on to the side of most windshield mount Escort radar detectors, giving you an integrated radar detector / dashcam package. The dashcam retails for $199 and is available now.
Escort M1 Dashcam Basics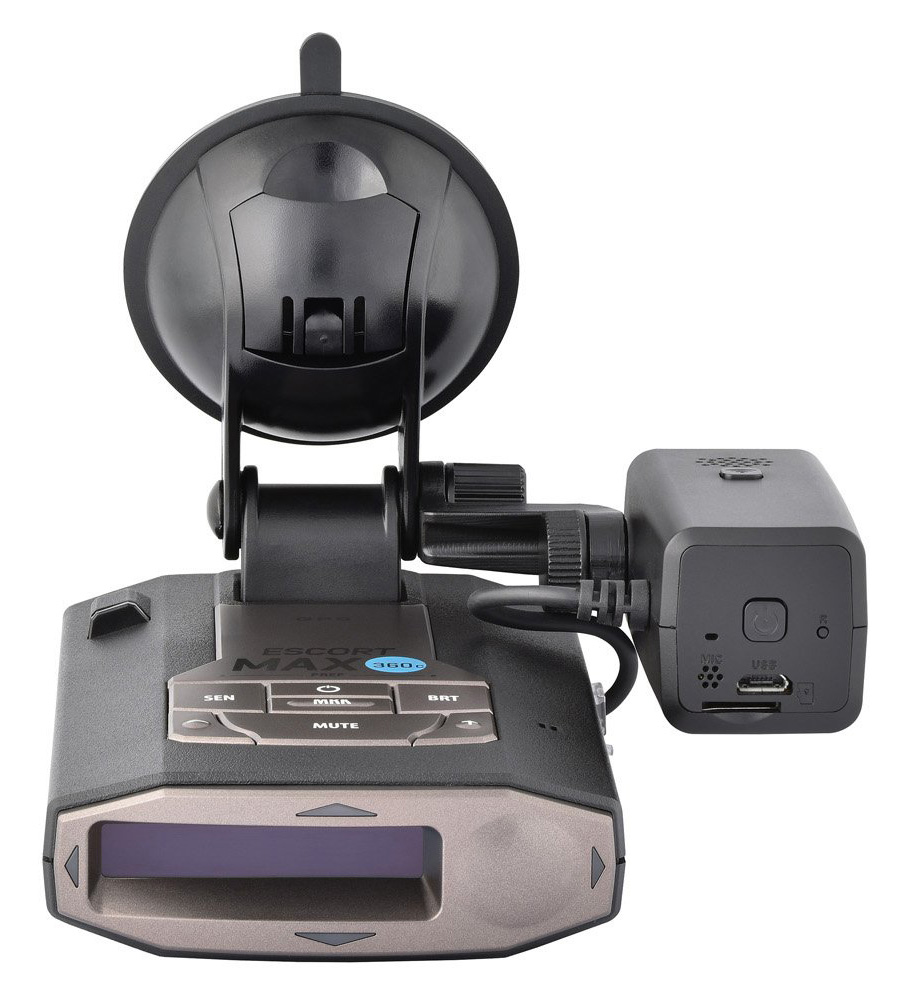 Typically radar detectors and dashcams are independent items. They each have their own mounts and their own power cables. With the M1, it screws on to the side of your Escort radar detector's sticky cup mount and also shares the same power cable. Your existing power cable plugs into the dashcam which then has an additional pass-through cable that plugs into your radar detector. This way you have one mount and one power cable to power both devices, making for a much easier install and more nicely integrated package.
The dashcam itself records at 1080p, Full HD. It's a single channel dashcam (front only) and is designed to record continuously while you're driving (though not while parked).
Video quality is still something to determine. Escort sent me a pair of clips from the dashcam, but the video quality was noticeably subpar. I asked them about this and they weren't sure if the samples were from a production version of the dashcam. Fortunately, the M1 is now available for sale and people have started receiving them. Escort also gave me one at SEMA so we should soon have some real world video quality samples from production copies of the M1.
M1's Mount
The mount itself is pretty unique. It's designed to attach onto the screw thread for Escort's sticky cup mount.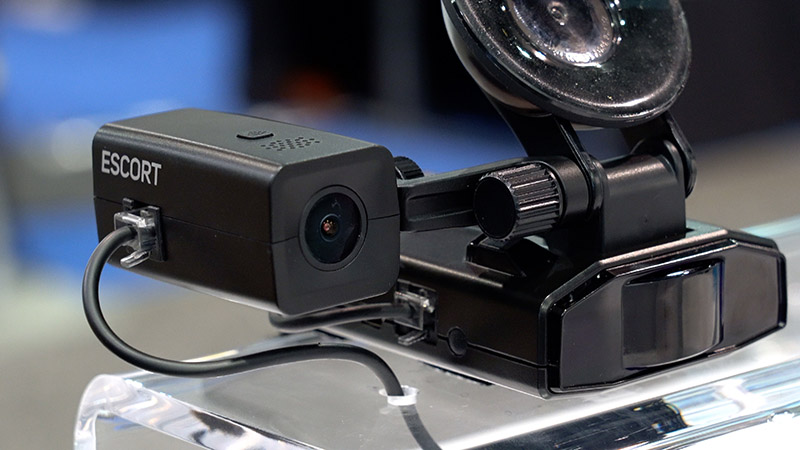 This makes it easy to attach onto most current windshield mount Escort radar detectors. Additionally, you can mount the camera a little higher or lower than the detector, depending on where it fits best in your vehicle. The dashcam itself can also be tilted up or down to ensure it's mounted level.
Hopefully the placement off to the side doesn't create additional bounciness in the video footage. However, the mount can tighten down nicely and the dashcam itself is very light so hopefully this minimizes any vibration in your footage.
WiFi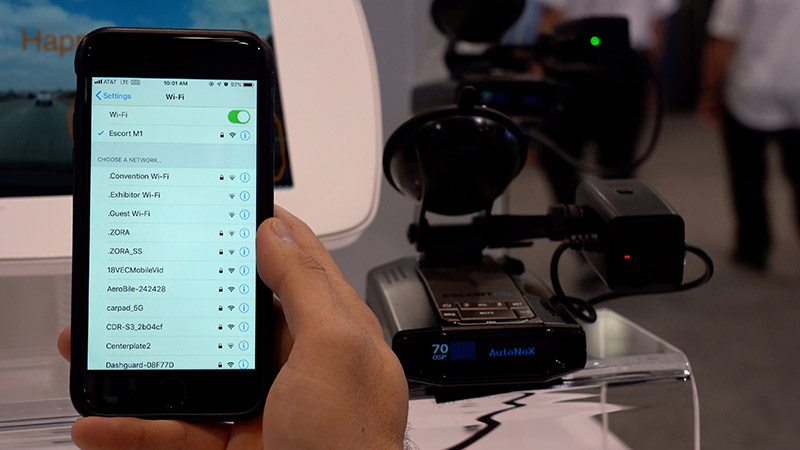 The M1 doesn't have an LCD. If you'd like to change any settings for the dashcam, you'll want to download the M1 app for iOS or Android. Then you connect to the dashcam with your phone over WiFi and you can adjust the different settings in the dashcam.
With the app, you have the ability to view the dashcam's video feed in realtime, handy for aiming the dashcam. Additionally, you can view any previously recorded footage or transfer it to your phone where you can then post it online, share it with others, or copy it to your computer.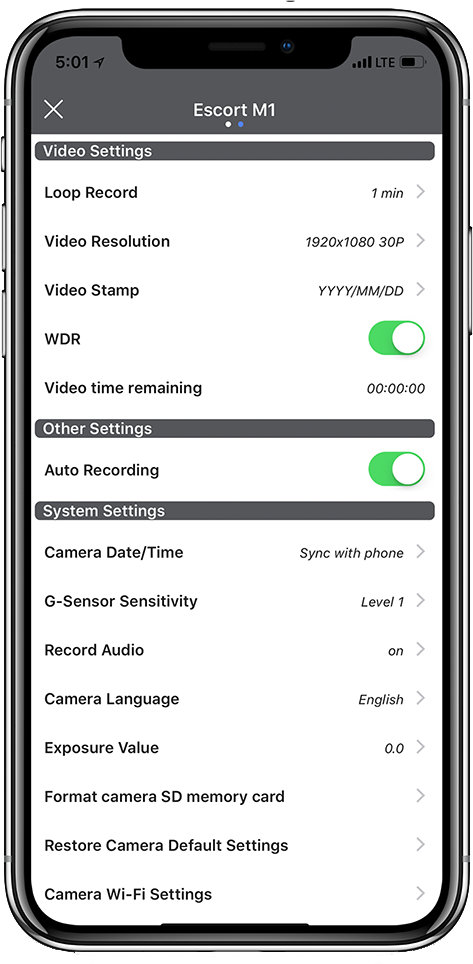 Convenience of the M1
In terms of features or performance of the dashcam itself, there's really nothing particularly special about it. For example, the Viofo A119 records at an even higher resolution (1440p) for better video quality and yet it less than half the price. Granted it adds an LCD and doesn't have WiFi so it's not quite apples to apples, but the same still holds true for other dashcams with WiFi such as the Viofo A129. Heck, for the same price you can grab the Thinkware FA200 which is a dual channel dashcam (records front and rear) that also has WiFi and even is capable of recording while your car is parked.
So the M1 isn't the greatest bang for the buck purely as a dashcam. However, it is a convenient option for those who run an Escort radar detector and would like to add a dashcam without having to attach a second device onto their windshield and don't want to run an additional power cable.
If you drive in rental cars, it would also be nice to have one self-contained kit to take with you, pop onto the windshield, and you're good to go. Plus many cars only have one cig. lighter power plug and with this setup, you'll only need to have one power cable and use one plug.
So the appeal of this dashcam is primarily the integration capabilities with an Escort radar detector and the added convenience that this brings.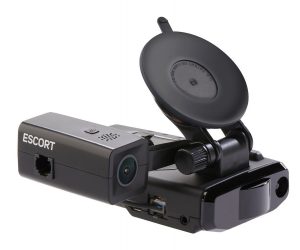 M1 Compatibility
If you want to run an M1, it's compatible with most all Escort radar detectors that use a sticky cup such as the Max 360, Max 360c, Passport Max, Passport Max 2, Redline EX, iX, and iXc.
It's also compatible with Beltronics detectors such as the GT-1, GT-7, and GT-360.
If you run a Solo S4, Passport, X70, or X80, you'll need the optional Escort sticky cup.
If you run a 9500i, 9500ix, or S75G, the power cable for those detectors is on the left side of the detector so the M1's power cable won't reach it. However, you can install the M1 onto the other side of your sticky cup and run the dashcam upside down. So it's not optimal, but you can make it work.
In terms of power cables, it works with a traditional Escort power cable or with the ZR5 wired laser shifters.
It is not compatible with the Escort Live power cables with a Bluetooth chip inside or with the ZW5 wireless laser shifters due to the additional communication pins used in those devices.
Where to Buy the M1
If you want to buy the M1, you can purchase it direct from Escort.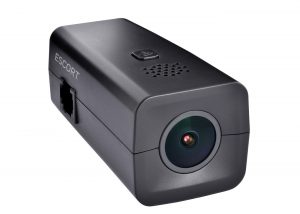 This website contains affiliate links.

Click here to read my affiliate disclosure.