Whistler is going to be introducing two new radar detectors that will be successors to their current top of the line radar detectors, the Whistler CR88 and Whistler CR93.
Whistler's new radar detectors are going to be based off of the based on the current top of the line Whistlers, the CR88 (without GPS) and the CR93 (with GPS), except that they're going to improve sensitivity and thus range on both K band and Ka band.
On K band, sensitivity will jump by 3 dB.
On Ka band, sensitivity will jump by 6 dB.
That's a difference that we should notice in practice. (An increase of 3 dB equates to a doubling of sensitivity.)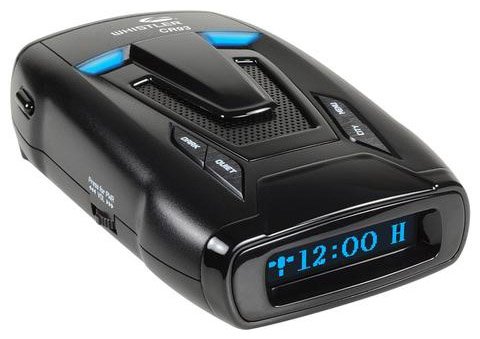 Now this is great because we've tested the previous iterations of Whistler's top end detectors like the CR85 and CR93, and the range was pretty poor, to the point where the detector was sometimes able to get owned by constant on. You'd come around a bend and boom, the radar gun would acquire your speed and the detector would alert at the same time. I like that it's an affordable detector, but I don't think the performance was up to par.
You can read my review with test results of Whistler's current/previous top of the line detectors here.
Whistler increasing the sensitivity of their detectors should help address one of the biggest weaknesses so I'm excited about that.
The MSRP of the GPS version of this detector should be $279, but Mike said he anticipates is being sold online for around $220 or so. The MSRP of the CR93 is also $279, but you can find it on Amazon for $157 right now. Prices always fluctuate of course, but assuming the performance is reasonable, that means we will have a capable GPS-based radar detector (with low speed muting and RLC alerts, but no lockouts) for around $200.
The detectors are expected to be released in about 6 weeks, will look the same as the CR88/CR93, offer the same filtering and features, will have increased performance, and will have a new naming scheme that won't be CRXX. (Update: The names will be the CR95 and CR97.)
I'll get one a copy of the new detector when it's released, we'll test it out, and we'll see how things land then. Let's see what Whistler has in store for us next. 🙂
Update August 2018: The non-GPS CR95 is now available on Amazon. No word yet on availability of the CR97 with GPS.
This website contains affiliate links.

Click here to read my affiliate disclosure.