This weekend I met up with @meismyname to test out some of the newest RD's and firmware updates, specifically including the Uniden R3 fw 1.30, Redline EX, and Radenso RC. I ran them against most all of the other top contenders as well, both windshield mounts and remotes. Let's see how they did.
Here's the radar detectors tested:
Windshield mounts:
Remote mounts:
Every detector was set up for maximum performance with comparable settings including X band off, K/Ka band on, Ka filters like RDR off, and segged 2/5/8. The only exceptions were the Radenso RC and Stinger VIP. The Radenso RC was running Ka Wide instead of Ka Narrow since Euro firmware doesn't sweep 33.8 with Ka Narrow. The Stinger I varied the settings including Regular -2 (how I run mine in practice to quiet down the BSM's) or Regular/QT +2 (which is unusable due to +2 but that is the maximum sensitivity option. I'm not sure if -2/+2 affects Ka band, but I tested that anyways.)
Radar guns:
33.8: MPH Bee III
34.7: Stalker II
Test course:
My red barn test course was about half a mile long with some curves, trees, and slight hills. The curves definitely led to distinct detection zones which separated the detectors. Sometimes a detector was able to consistently alert super far away (>2000 feet), lose the signal, and reacquire around the second detection zone (1200-1500 feet). Some detectors would only be able to alert in that second detection zone. Other detectors would sometimes be able to alert in the first, but other times only in the second. Finally, some detectors were only able to alert closer still (800-1000 feet) in what looks to be a third detection zone.
Here's a look at the course. You can see the curves which kind of segment the course.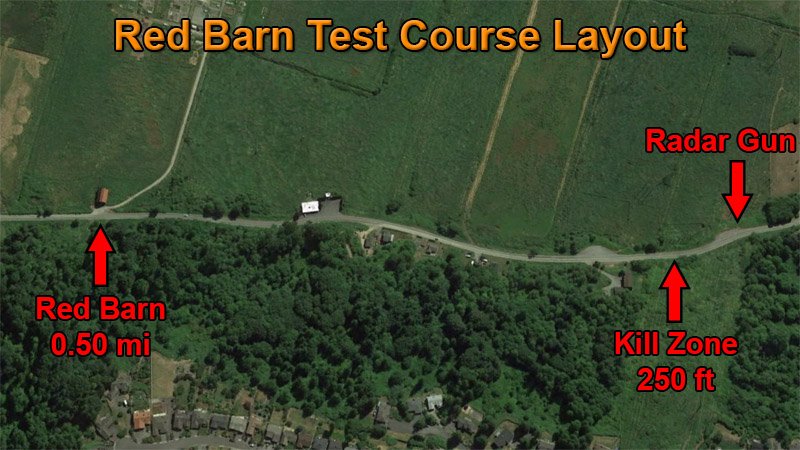 Here's a video so you can see it for yourself. It's a trial run with three different top tier stealth detectors before we start running every detector individually. I've got the R3 (high by RVM), Redline EX (low on WS), and Stinger VIP (out on my grill) against 33.8. The R3 gets a long range detection, the Redline a standard midrange detection, and the Stinger was (surprisingly) below average.
Conveniently, the results running the detectors at the same time are comparable to what I saw running them individually. Let's look at the results.
Test Results, 33.8:
Here's what we saw on 33.8 with every detector run 3 times, sorted by average detection range.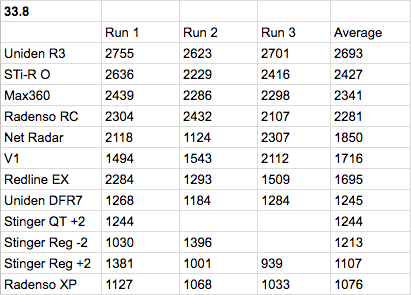 Here's all the test runs in visual form:

and here's the average of every detector's runs: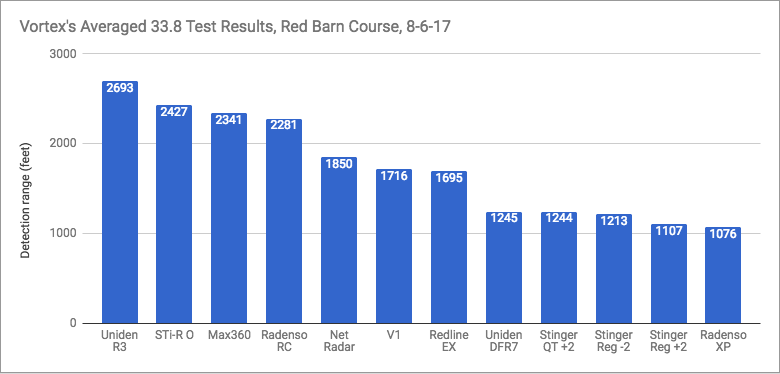 The R3, Radenso RC, STi-R O, and Max360 all managed long range detections on all 3 runs.
The Net Radar, V1, and Redline EX only managed to do that once or twice. I was very surprised by the Redline EX only being able to do that once while the Max360 did it 3 times in a row. What's up with that? I'm expecting more from a Redline. I can see it losing to the R3, but it shouldn't be getting beat by a Max.
The Stinger VIP, DFR7, and Radenso XP didn't manage a long range detection a single time. I can understand the DFR7 being weaker on 33.8 and the XP is a fine detector, but not a long range beast.
The Stinger really surprised me. 3 runs with my normal settings (Regular -2) and not a single long distance alert. Other detectors mounted down low on my grill right next to the Stinger achieved it, but it couldn't. I tried two runs at Regular +2 for maximum sensitivity and still couldn't get it to alert. @meismyname suggested that Stinger was having trouble picking up brief alerts at a distance in Regular Mode so we switched it to Quick Trigger mode and tried again. Again we got a shorter range alert. That was 6 tests passes without a long range alert. I was really surprised by this. It's performed well before in my previous testing, but not this weekend on 33.8.
Test Results, 34.7:
We swapped out the Bee III for a Stalker II in the radar car for 34.7 testing.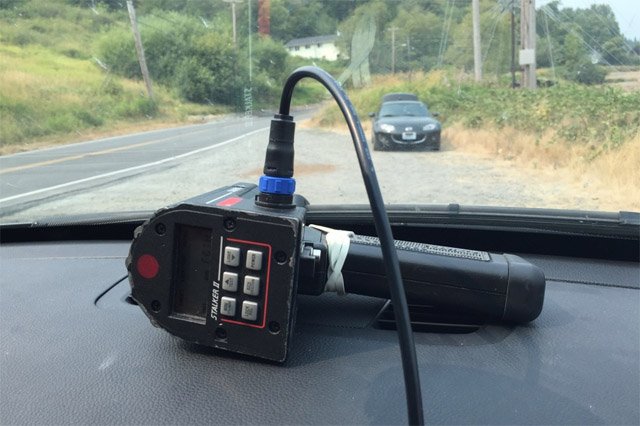 Here's a quick test run with the R3 and Redline EX being run simultaneously to see what the course looks like. Again, luckily running two detectors simultaneously yielded comparable results to running them solo so it wound up being a good illustration of the differences in detectors. One detector maxed out the course, the other not so much.
To save time we ran just 2 passes per detector instead of 3. Here's what we saw, sorted by average detection range.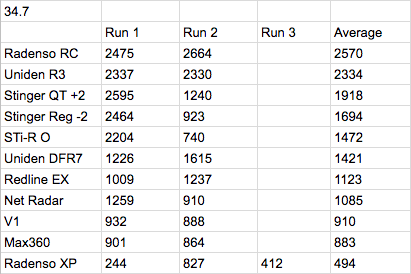 Here's a chart of all the runs:

and here's each detector with all runs averaged together: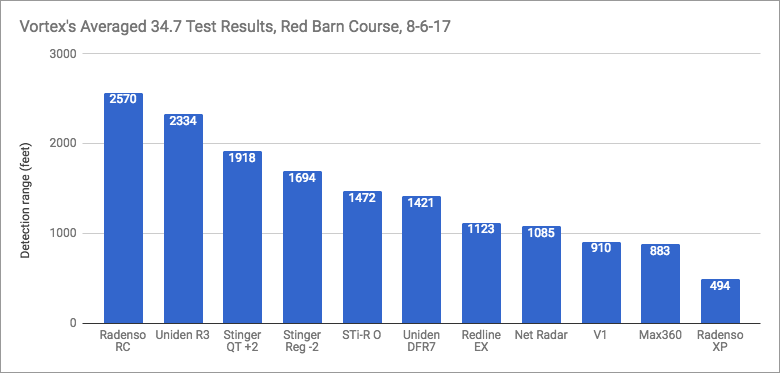 Only two detectors managed long range detections both times: The Uniden R3 and the Radenso RC. Outstanding job by both!
Some detectors managed to do it once including the Stinger VIP and the O. (Good job Stinger! I was getting worried about you…)
The DFR7 didn't manage to do a long range detection, but it definitely showed its strengths on 34.7.
The Redline EX didn't manage any long range detections either, but it managed to outperform the Net Radar, V1, Max360, and Radenso XP.
The Radenso XP performed surprisingly poorly. Its first run, it didn't alert until I got into the kill zone, literally providing zero advanced warning. We were both very surprised by this. We ran it a few more times and it managed better runs, but still turned in below average results. This was my pilot production unit, not my retail unit which my girlfriend is running. This XP has performed well before. I'm not sure why it struggled this weekend.
Thoughts on the New Detectors:
Uniden R3 1.30: With the soon to be released new firmware, the R3 is still able to top every other windshield mount I tested, including the new Redline EX. When I need long range performance, the Uniden is it. Purchase an R3 here.
Redline EX: I was pretty disappointed by the Redline EX. Sure it didn't manage to beat the R3 which I was expecting, but it should NOT get beat by a Max360. The Redline managed to do better on 34.7, but still nothing extraordinary. It got outclassed by a DFR7 which costs half the price. The Redline has some issues currently with Ka falsing from the magnetic mount and Replace FR errors. Escort has stated that we can send our detectors in to fix these issues if we're seeing them. I contacted Escort this morning to see about exchanging my detector altogether. I'm hoping the replacement detector not only fixes those bugs but also gives me better performance, something more in line of what I'd expect from a Redline. Purchase the Redline EX if you're in the USA and use the coupon "escort30" to save $30. Purchase the Redline EX if you're in Canada and use the coupon "VortexRadar" to save $25.
Radenso RC: This is a serious contender to look out for. The HD+ has performed very well in testing before and the RC continues this trend, being the best performing remote mount detector I tested. (I wish I had a Max Ci to test too.) It's running Euro firmware so it was set to Ka Wide so I can sweep for 33.8. When we get American firmware and can run Ka Narrow, it should offer better performance still. Seriously impressive results in terms of range from the new Radenso. (Radenso RC not yet available.)
This website contains affiliate links.

Click here to read my affiliate disclosure.