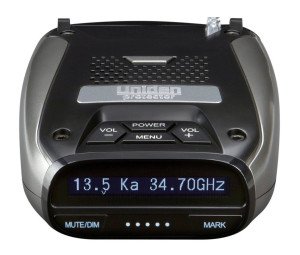 If you're looking for an inexpensive radar detector, most of them basically suck to be honest, but the big standout exception to the rule is the Uniden LRD950. It offers long range and really good false alert filtering on par with (or even better than) many higher end and higher priced detectors, except you can find it online for less than $200 which is kinda crazy. This means it's the best inexpensive and affordable radar detector on the market.
Buy an LRD950 from BRD.
Buy an LRD950 from Amazon.
Best Radar Detector of 2016 under $200
This detector is being discontinued soon and its replacement (Uniden DFR7) will be coming out in April. It will offer the same level of performance, but will cost $300. It looks like Uniden is wanting its pricepoint to sit more in line with other competitive detectors. It would be a very compelling package even at $300, but in the meantime at $160-180 it's a no brainer. This is the best deal you'll find on the market which is why I'm recommending it so much, especially now while there's still some in stock. (It's GPS-less brother the LRD850 is also being replaced and is essentially sold out and unavailable online now. I'm actually seeing the prices go up to over $200-300 for the last remaining models.)
Buy an LRD950 from BRD.
Buy an LRD950 from Amazon.
Update: The LRD950 is gone and now the DFR7 is the one to get.
If you'd like more information about the LRD950 and how it compares to the competition, here's an overview of some of the best affordable radar detectors.
and you can find my review of the LRD950 itself here:
Finally, once you purchase it, here's information on how to set up your Uniden LRD950.
So yeah, if you're in the market for an inexpensive and affordable radar detector that's also quite good, pick one of these up while supplies last.
Buy an LRD950 from BRD.
Buy an LRD950 from Amazon.
This website contains affiliate links.

Click here to read my affiliate disclosure.