Here's a flowchart I put together to help make the decision of which radar detector you should buy. It's designed to make things as simple and easy for you as possible. 🙂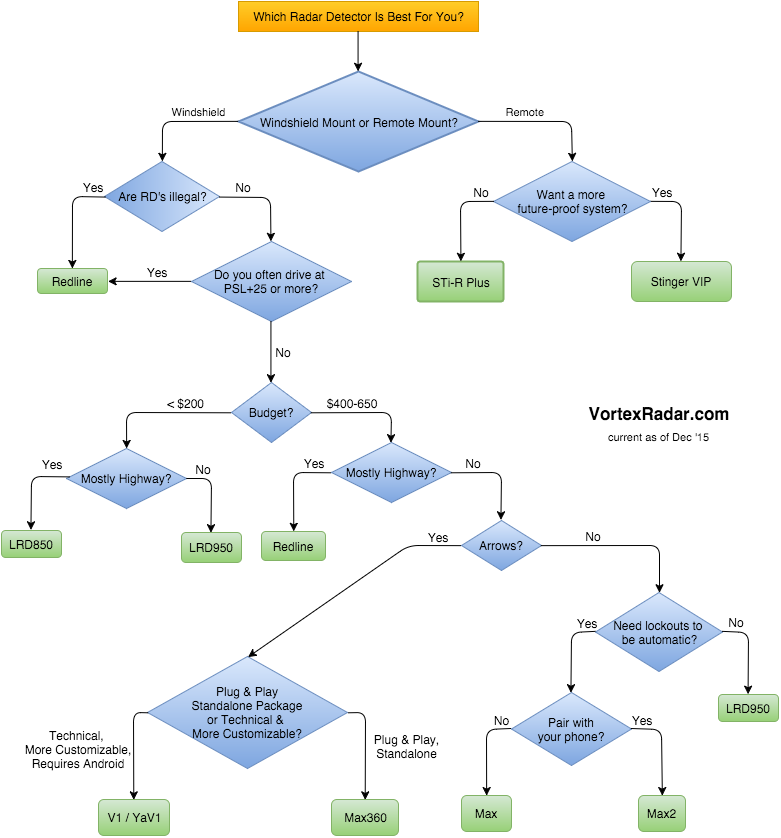 Next, here's a little explanation for each decision in case you're not sure which one you should choose, along with the latest pricing information for every detector.
Choices Explained
Windshield or remote mount: Windshield detectors are less expensive, more portable, easier to install, and you have more options. Remote mount units are more capable, offer a cleaner install in your cabin with nothing hanging on your windshield, but they're more expensive and require professional installation.
Future-proof system: The STi-R Plus and Stinger VIP are both high end systems with top notch range, GPS lockouts, RLC alerts, immunity from RDD's, and so on. The technology under the hood of the Stinger is much more powerful and it's more easily updated in software to help filter out blind spot falses, improve its performance, and update the unit over time. You can also add an optional rear antenna to the Stinger to get directional information.
Are RD's illegal?: Radar detectors are illegal in VA, Washington D.C., and throughout most of Canada. The Redline is immune to detection from radar detector detectors so it's a better choice for those areas. If you don't want anything visible and hanging on your windshield at all, the STi-R Plus and Stinger VIP are physically hidden and also RDD immune.
Do you often drive at least 25mph over the speed limit?: First off, please drive safely. If you're in a situation where you really depend on your radar detector on the highway, radar detection performance should be the top priority and so the Redline is a good choice.
Budget: For detectors under the $200 pricepoint, there's no better value than the two higher end Unidens. Higher end detectors will give you more range, more features, and better customer service. The Unidens are also being discontinued shortly so this should be considered as well. Otherwise you can get most of what many other detectors offer for a fraction of the price.
City/Highway driving: Some detectors like the Redline offer insanely good performance, but not so much in terms of filtering out false alerts in town. Other detectors may not have quite the range of the Redline, but they're more usable as an all-around package.
Arrows: Arrows are very helpful for locating the threat so you know where to look when the detector goes off (ahead? behind?) as well as when you pass the source. You can often figure things out from the rampup of the audio alerts, but arrows make things much easier.
Automatic lockouts: Lockouts are super handy. The radar detector can learn where your stationary false alerts are from speed signs, shopping centers, and drugstores. The detector can either learn and lock out those signals automatically so your detector gets quiet over time as you make the same drive over and over, or you can manually tell it to lock out the signal when you pass it for the first time.
Pair with your phone: The Max and Max2 are the same detector except the Max2 has Bluetooth built in. If you want to pair your detector with your phone to have an external display, get alerts to and from the cloud, or configure the detector more easily, the phone is helpful. If you don't need this, you can get the original Max.
Redline vs. Magnum: Anywhere you see the Redline, you can also substitute a Magnum. They're the same detectors with a different look and sounds, and you can often pick up a Magnum a bit cheaper than the Redline.
Current Radar Detector Pricing
Pricing can fluctuate for some of these detectors, so here's the current pricing you'll find for each radar detector, and where I recommend to buy them:
Stinger VIP: Use my coupon code "VortexRadar" to save 10%.
V1 / YaV1: V1 is $400. V1C Bluetooth module is $50. Android phone either you already have or you can buy an inexpensive prepaid phone.
Please let me know how this helps and if you have any questions or suggestions for improvements. This guide will be updated periodically as new detectors come out, are discontinued, or are updated.
You can always learn more in depth information by reading my Complete Radar Detector Buyer's Guide.
This website contains affiliate links.

Click here to read my affiliate disclosure.