The Uniden R4 and Radenso DS1 are both excellent high performance radar detectors, two of the best non-arrow detectors you can buy. Both are evolutions of the wildly popular Uniden R3, building upon the same platform and adding longer range, better false alert filtering, and more useful features. Uniden and Radenso have both done different twists with their detectors and each has pros and cons. Which one is better? Let's compare them both.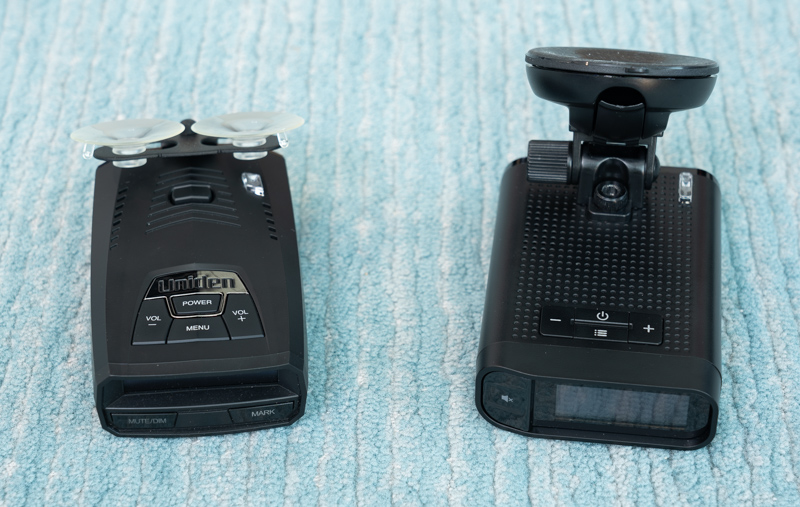 Uniden R4
The Uniden R4 is a higher performance Uniden R3 with additional false alert filtering features like automatic GPS lockouts (instead of just manual) and speed-based sensitivity adjustments, improved photo radar detection, and more. Learn more in my full Uniden R4 review.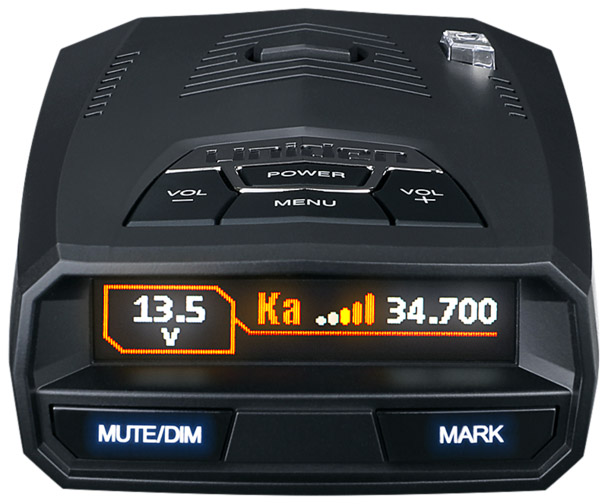 How does the R4 compare to the DS1?
R4 Key Advantages
Longer range thanks to the dual LNA design
Fewer false alerts thanks to an effective K Block Weak option
More compact mount fits better above RVM in some cars
Discrete signal strength meter increments make it easier to see signal strength at a glance
Can quickly adjust display brightness manually using the front mute button
Currently $50 cheaper on Amazon in US (pricing varies, R4's MRSP is $50 higher)
R4 Additional Advantages
Can quickly change sensitivity modes using the top menu button
Better granular control of manual vs. autolockout functionality where you can choose just X/K or also Ka/MRCD (both detectors can do this for manual lockouts, R4 gives you control for auto)
More familiar interface if you've owned a previous Uniden
Display is easier to read on a motorcycle
Quiet ride beep volume adjustments
Laser gun ID tells you which gun you're being shot with
Independent control of K Blocks
Traditional power cable that's compatible with existing hardwires
Runs at 12v so you can use a MirrorTap for power
I prefer Uniden's audio tones, but this is just personal preference
Lets you rapidly scroll through menu options
Mute and Mark buttons can glow at night
Mount fully disconnects from detector when unmounted, so more streamlined
Update software can automatically check for and download latest firmware / RLC DB for you
Compatible with optional wired control pad (not yet available)
Compatible with Uniden's future laser jammers (not yet available)
Radenso DS1
The Radenso DS1 takes the Uniden R3 and adds an all new case design with a bigger display and mute button, a new magnetic quick release mount, automatic GPS lockouts, better photo radar detection, USB C, bluetooth, and more. Learn more in my full Radenso DS1 review.
Update, August 2022: Radenso has fixed the K Block Weak issue with firmware 1.13. They have also raised the price of the DS1 to $469.
DS1 Key Advantages
Larger display
Bigger mute button, easier to press
Bluetooth already active
Can update the DS1 in the car using the Radenso Nexus Android app (download)
Multiple firmware updates with improvements already released
More customizable quick release magnetic mount
Third party custom designed mounting options available (case CAD files, mount 1, mount 2, mount 3, mount 4, mount 5)
Compatible with newer cars that only have a USB C port, no cig. lighter power outlet
DS1 Additional Advantages
Additional K Notches including 24.124 to block Mazda CX-5's
Better magnesium alloy horn (though I'm not sure of its practical advantages over the R4)
Adjustable frequency ranges for GPS lockouts
Menu broken into submenus for easier navigation, though some options are in unintuitive locations
USB C instead of MicroUSB, so more future-proof
Now compatible with Highway Radar (though still in beta) (R4 will support it too)
Basic presets for international drivers
Optional extended 2 year warranty
Better customer service overall
Ticket-free guarantee
Purchase the Radenso DS1 here.
Which one to pick?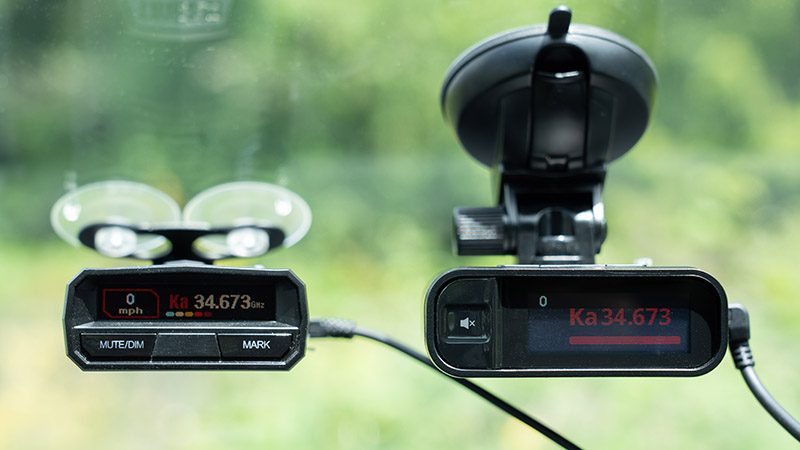 I like the DS1 at $399 as the "best radar detector under $400." The Uniden R4 at $449 doesn't make as much sense, IMHO, since you can get an R7 for the same ballpark price and I find the benefits of the R7's arrows outweigh the benefits that the R4 adds. (See my R4 vs R7 comparison.)
Now that the R4 has dropped by $100 on Amazon, it's selling for $350, or $50 less than the DS1, though its MSRP is still $449. I don't know if this price drop is permanent or what. The R4 would be my preference because even if you ignore the price, you get longer range, better BSM alert filtering thanks to the effective K Block weak option, the more compact mount means it better fits in my car, you get more convenient shortcuts with the detector buttons, and I prefer Uniden's display design and audio tones. Some differences are performance/filtering related while others are simply user preference.
If Radenso makes their K Block Weak option more effective (and they tweak their K Block Weak option so it fully mutes BSM's like the R4 instead of annoyingly bouncing back and forth between mute/alert/mute/alert as the signal strength changes), I think it'll be a much stronger contender considering it already offers Bluetooth support so you can add apps and do updates right in the car, Radenso has better customer service and support, and their mount and power plug offers more creative mounting options and future-proofing. The fact that Radenso has released several software updates and improvements already while Uniden has released zero, plus Radenso has already released an Android app while Uniden has delivered nothing, this gives me more confidence in Radenso in the long term, but today I'd pick the R4 for the longer range, overall quieter experience, and I prefer its display and audio tones.
Purchase the Radenso DS1 here.
This website contains affiliate links.

Click here to read my affiliate disclosure.