Valentine Research just released firmware 4.1021 for the Valentine 1 Gen2, bringing several important improvements to the V1.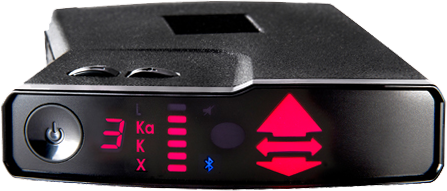 Warning: Be careful with this latest update. BSM falsing has gotten quite a bit worse with 4.1021 so I'd recommend holding off on this update for the time being.
Update Dec. 16: Firmware 4.1023 has been released with fixes the BSM filtering issues and brings some additional improvements.
Firmware 4.1021 Changelog:
Here's the full list of improvements, along with my notes (below) about the changes.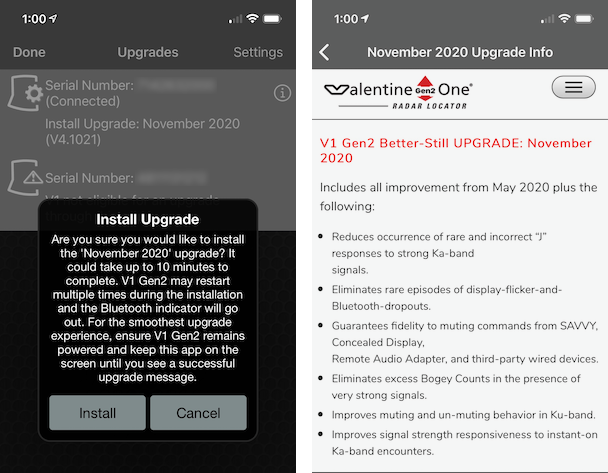 Reduces occurrence of rare and incorrect "J" responses to strong Ka-band signals

Avoids incorrectly reporting legitimate Ka band signals as "junk" false alerts.

Eliminates rare episodes of display-flicker-and-Bluetooth-dropouts

Improved reliability, but I haven't seen this issue much previously

Guarantees fidelity to muting commands from SAVVY, Concealed Display, Remote Audio Adapter, and third-party wired devices

Before, sometimes the concealed display's mute button didn't work properly

Eliminates excess Bogey Counts in the presence of very strong signals.

The V1 used to ramp up to 9 (false) signals when only 1-2 strong Ka signals were present, especially at close range.

Improves muting and un-muting behavior in Ku-band.

Not important for North America, but helpful overseas

Improves signal strength responsiveness to instant-on Ka-band encounters.

Fix for the detector not ramping up quickly and aggressively when getting blasted by close range Ka band.
Doing a little quick bench testing, the V1 now immediately alerts full tilt against close range and strong I/O. (It also overdrives to 2 signals, but that's normal with radar guns super close to the detector.)
These are some very helpful improvements. However, many people are now reporting increased BSM falses with this latest update, so keep an eye out for that if you do update.
To discuss the update and report your experiences, good or bad, head over to this thread.
How to Update to 4.1021
You can install the update using the V1connection app for Android or iOS.
Here's my video tutorial walking you through how to update:
You can purchase your V1 Gen2 here.
This website contains affiliate links.

Click here to read my affiliate disclosure.