Escort has recently released the new Max 3 ($399) radar detector. It offers longer range and better false alert filtering than previous generations of Max-series detectors which is surprising because it's not based on the same digital platform. There are a few issues I've discovered at launch that should be addressed in an upcoming update, but the Max 3 otherwise looks like a pretty great choice for an easy to use, long range, mid-priced radar detector.
Full disclosure: This is not a paid or sponsored review. (I've never done those and never will.) I purchased two Max 3's at full retail for testing. This article uses affiliate links. These are my thoughts and opinions, both good and bad, sharing what I've discovered so far.
Here is my Escort Max 3 review video if you'd like to watch, followed by the written review. 🙂
Max 3 Overview
The Escort Max 3 is the successor to the Max 2 featuring longer range, better false alert filtering, a modern design, an improved magnetic mount, MultaRadar detection, better control of optional laser jammers, and basically an overall better experience.
This is a detector designed for people who don't need a detector with arrows, but still want great performance, good false alert filtering, and something easy use.
Pros
Great long range detection
Good false alert filtering
Automatic GPS lockouts
Bluetooth
Realtime shared cloud alerts
Redlight / speed camera alerts
MultaRadar detection
Multicolor OLED display
Speed limit displayed on screen
Laser jammer integration
AutoJTK support
Great mount
Speeding ticket guarantee
Cons
Unusable performance in Auto mode
Falses to Mazda CX-5's
Ramp-up needs adjustment
Older, but improved analog platform
No arrows
No WiFi
Detectable by RDD's
Ka falses
Incorrect claims on packaging
Not yet updatable on Mac

New M4++ Platform
Oddly, unlike all previous Max-series detectors, the Max 3 isn't based on the same underlying digital platform. Instead of being built on the newer "M5" platform used in the Max and Max 2, this is an evolution of the older analog "M4" platform traditionally used in Escort's more budget-minded alternatives (9500ix, X80, iX, etc.) That said, this performs better than older M4's do.

Escort has gradually been building on their M4's like the Escort iX. They've released the Escort iXc which uses the "M4+" platform for improved performance and false alert filtering. For the Max 3, they then further improved the performance and filtering with the "M4++" platform used here. Cool, but why does that matter? Let's take a look at what that translates to on the road. 🙂
Long Range Detection
In terms of long range detection, the Max 3 is a surprisingly strong performer. I tested it while I was retesting the Redline 360c with updated firmware and tossed it into the mix just to see how it stacks up to the Max 360c. Much to my surprise, it did way better than I expected.
While the longest range detectors like the Escort Redline 360c ($749), Valentine 1 Gen2 ($499), and Uniden R7 ($499) will give you better range, the Max 3 ($399) consistently outperforms the Max 360c ($649).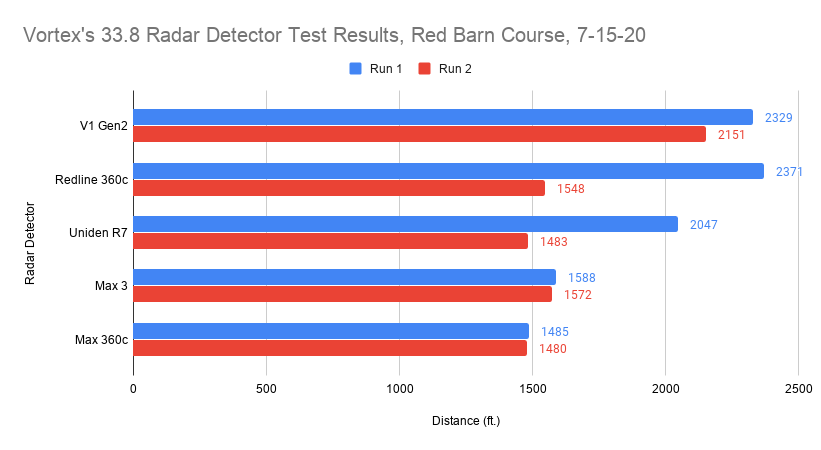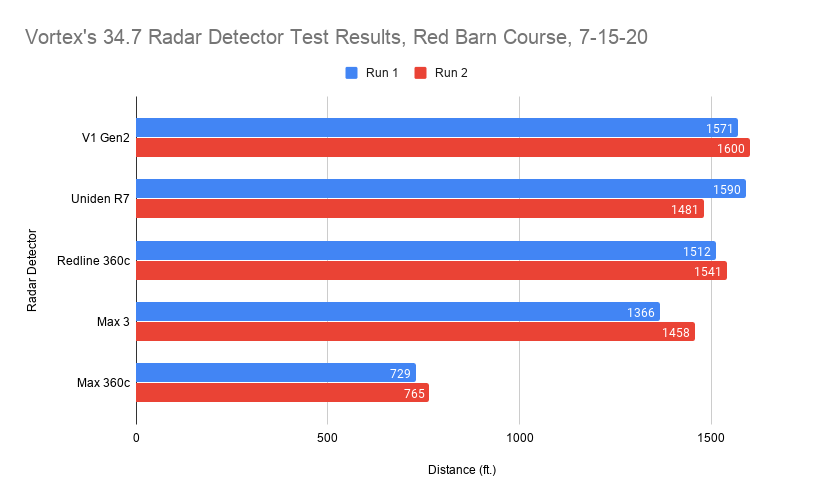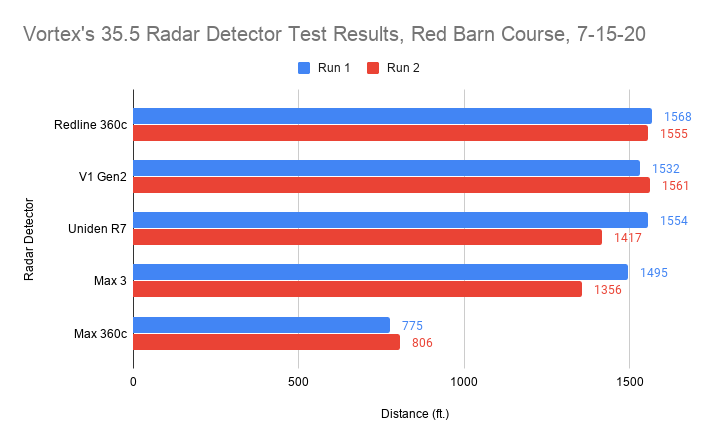 This is just one test and we need to do a lot more testing to fully see how it compares, but it's pretty clear already that the Max 3 is performing better than expected, even able to outperform the more expensive and feature-rich Max 360c on Ka band. That was a huge surprise…
It also did great on K band, but unfortunately there's a big problem when switching the detector from Highway mode (full sensitivity at all times) to Auto Mode (greater sensitivity on X and K band at higher speeds, reduced sensitivity at lower speeds.) Unfortunately when you switch it into Auto Mode, it cuts down sensitivity so much that, in my test, it didn't alert until the radar gun was able to lock in my speed. Both times it managed to get owned by constant on.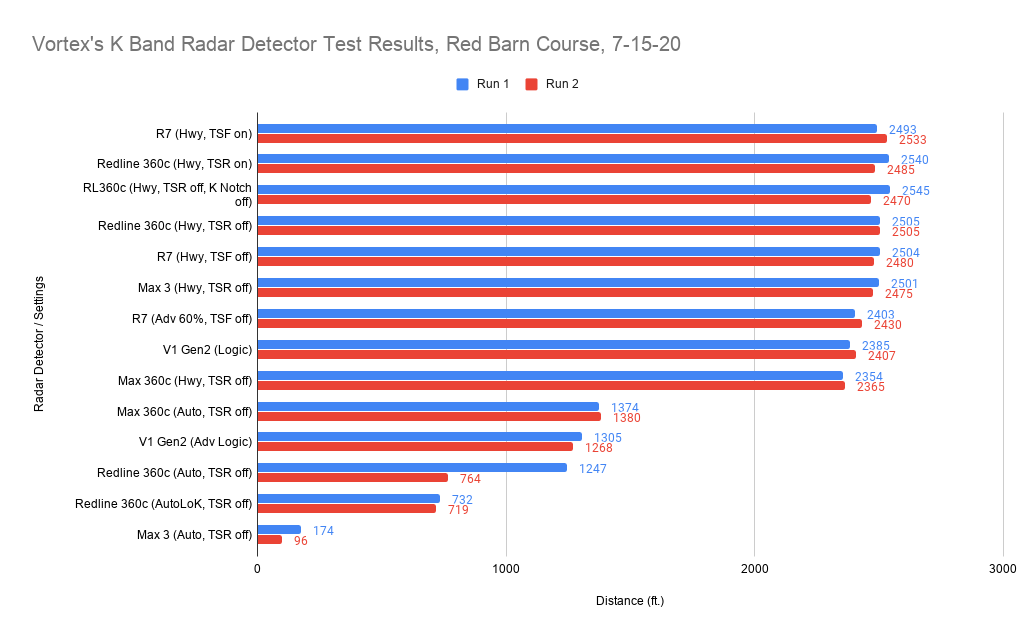 If you'd like to see it for yourself, take a look at the test runs. You'll see it do fantastic and give plenty of advanced warning in Highway mode, but then become basically useless in Auto mode.
Luckily though, this should be fixed in an upcoming firmware update (fw 1.2) due in a few weeks. For the time being if you're running firmware 1.1, I'd recommend sticking to Highway mode to get the protection you need. If you do, its performance will be excellent.
Update: Firmware 1.2 is now available and it helps resolve this issue.
False Alert Filtering
Next let's look at false alert filtering. Great sensitivity is awesome, but not if it means your detector falses constantly. Luckily the Max 3 is pretty quiet. In fact I'd say it's the quietest detector under $400.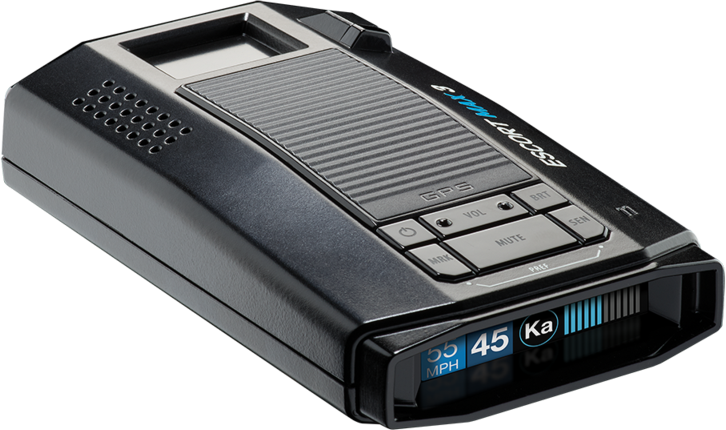 BSM Filtering
The Max 3 does a pretty good job overall at filtering out false alerts from BSM's (blind spot monitoring systems) nearby. The biggest culprit of BSM falses by far are Mazda CX-5's (at 24.124 GHz). The Max 3 will filter them out when they're nearby, but you'll get false alerts fairly regularly when they're farther away ahead of you or driving past you the other direction and so the signal is weaker. I also see some occasional falses to Hondas/Acuras and some GM vehicles.
One huge improvement that I like about the Max 3 compared to the iX and iXc is that you typically get weak K band alerts when it falses. No more full tilt K band falses that make you slam on the brakes for no reason. The signal presentation is WAY better than other M4-based detectors.
K Notch
To further cut down on BSM falses from Hondas/Acuras (one of the most annoying sources of false alerts), the Max 3 adds a new feature called K Notch. This filters out any weak K band alerts between 24.190 – 24.210, effectively filtering out the weak Honda BSM's you'll get around 24.198'ish. You'll still see occasional Honda BSM falses around 24.168, but this will help eliminate the majority of them.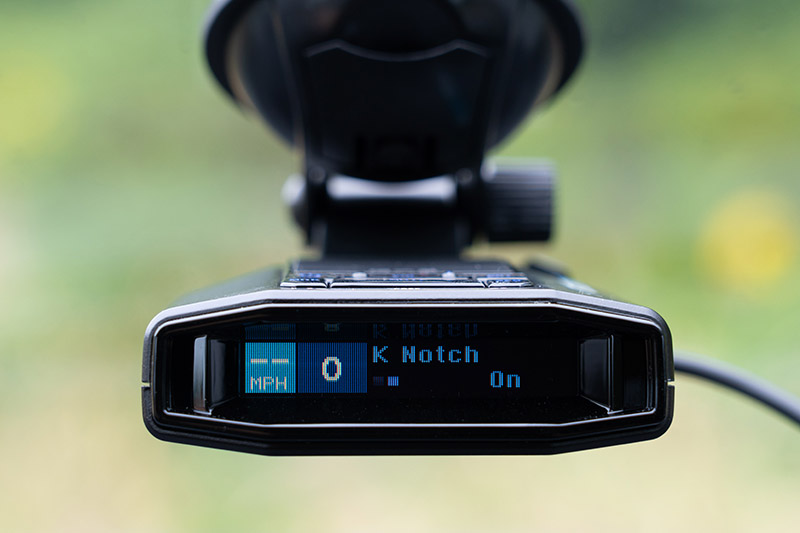 This K Notch feature is also coming soon to the Max 360 and Max 360c. I haven't daily'ed those detectors in a while so I'm not super clear on how the Max 3 compares to other Max's in terms of BSM filtering, especially considering the other Max's don't yet have the K Notch, but once I have a chance to test and compare them more directly, I'll update this review.
Ka Falses
I've tested two Max 3's. The first one I had falsed to Ka a lot. It would false to random frequencies while driving like 34.4 or 35.2. When I pulled into my garage, half the time it would false to 33.8. I have no idea why it did that, but I wasn't a fan of the false alerts I'd get or would be dropped to the cloud via Escort Live.
Luckily my second Max 3 has been way better. With that one, I no longer get Ka falses as often as before, but I have gotten a 33.8 false pulling into my garage again.
I've also noticed that when you take the detector off the mount, often times it will also trigger Ka falses as well. This doesn't happen every time, but it's pretty repeatable. We saw a similar issue with the Redline EX when it was first released and the fix involved sending the detector back so they could add some magnetic shielding inside the detector. I wonder if they'll need to do something similar here? Luckily this isn't something that'll lead to a ticket, but it's a little annoying nonetheless.
GPS Lockouts
Speaking of false alerts, since the Max 3 is an Escort product, it offers automatic GPS lockouts. As you drive around, it'll learn stationary false alerts from speed signs on the side of the road and from automatic door openers in shopping centers. After a couple passes it'll learn them and say "Stored" on screen. Moving forward, it will mute those alerts and keep them grayed out on screen so they no longer grab your attention every time you pass by again.
Other detectors have a similar feature that requires you to do this learning process manually. With the Max 3, it can do this learning process automatically so the more you drive with it, the quieter it becomes. It's great for people who want a plug-and-play experience.
Overall, like other Escort detectors, it seems to work well. That said, I have had it accidentally lock out a Honda BSM false when I was near a shopping center, but that is a risk with Escort's implementation of autolockouts.
Auto Mode
Speaking of shopping centers, auto mode does a great job of filtering out door openers in parking lots without relying on autolockouts. It also helps filter out some weak BSM falses at low speeds too. It works great with other Escort detectors, but as I mentioned earlier, it cuts down on range too much. In fact in some situations it may even prevent you from being alerted to legitimate police radar such as in the second auto mode run here:
As I mentioned earlier though, according to Escort, the fix should be available in the next update.

So if you're running firmware 1.1, stick to Highway mode. Once we get firmware 1.2 or newer, Auto mode should be safe to use once again in areas where K band is regularly used.
Escort Live
Thanks to the Bluetooth chip built in to the Max 3, you can connect it to your phone and run the Escort Live app (for Android or iOS). With the app, you can more easily change your Max 3's settings, log your alerts, display the current speed limit on your detector's display, and can share alerts in realtime with other drivers.
The cloud alerts offer an extra layer of protection. It's similar to Waze, except it's more automatic and hands-free with your detector reporting your alerts to the cloud automatically. Plus your Max 3 becomes the display for all your alerts which works great even if your phone is tucked away.
I have seen a few times where the distance stops counting down while driving as if the detector lost connection with the phone. I've also seen it stop counting down to redlight cameras as I approach an intersection, only to have the detector's display temporarily black out and then keep going again. I have been able to still get normal radar detector alerts when this happens so it's not a lockup, but I have nevertheless seen times when the countdown process doesn't work properly as you approach a marked location.
MultaRadar Detection
Escort has added MRCD and MRCT detection to the Max 3. The MultaRadar is a low powered photo radar system now showing up in North America and unlike the Max 2, the Max 3 is able to detect them.
MRCD is used in Alberta, Quebec, NYC, Maryland, & Washington D.C.
MRCT is used in Chicago & NYC.
I haven't had a chance to test this and compare it to other detectors since we don't have them here around Seattle. However, I have tried turning it on and like every other radar detector, I do get some MultaRadar false alerts. It displays "Mt" on screen and sounds like a Ka band alert. If you need MultaRadar detection, turn it on. Otherwise, leave it turned off.
Laser Jammer Integration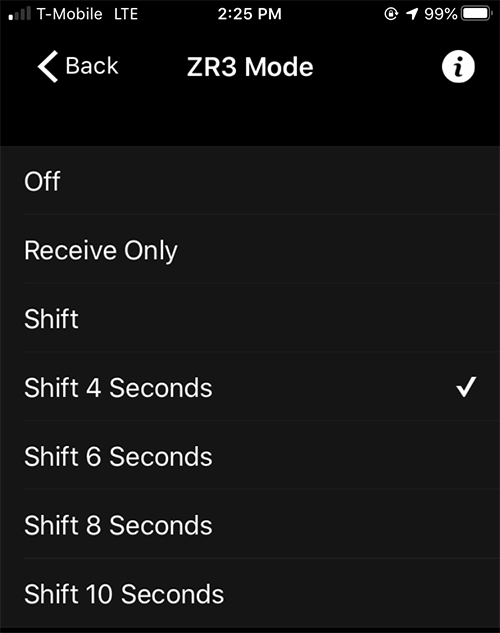 If you'd like to add laser protection as well, Escort sells the wired ZR5 and wireless ZW5 laser jammers. They plug into the Max 3's power port and give you one central controller for both radar detection and laser jamming.
What's new about the Max 3, however, is that Escort has finally added AutoJTK support. With this new feature, you can set a timer for the jammers/shifters to automatically disarm after firing for X seconds. This way you get enough time to both slow down and also avoid raising any unnecessary suspicion.
To use this feature, plug in your laser jammer and then go into the Escort Live app under "ZR3 Mode" and set the shut-off timer to what you want. I recommend 4 sec.
Conclusion
I think the best way to summarize the Max 3 simply is that it's the best radar detector under $400.
It offers great performance, good false alert filtering, redlight camera and speed camera alerts, automatic GPS lockouts, realtime alerts shared with other drivers through the cloud, and laser jammer integration. In a nutshell, it offers a high level of protection with lots of helpful features.
The Max 3 is not perfect and there's some issues that I wish were addressed out of the gate, but there are workarounds available now and updates coming to fix the issues in the coming weeks. Assuming those updates successfully resolve the issues, I'll then be more fully confident in and comfortable with this detector. Nevertheless, you can just run it in Highway mode and you're already gonna get a well-performing detector today.
If you'd like a high performance and easy to use detector under $400, pick up the Max 3.

This website contains affiliate links.

Click here to read my affiliate disclosure.