Uniden has just released firmware 1.29 (download for Windows, download for Mac) for the Uniden R7 radar detector (purchase here). This update brings a long list of changes that Uniden has been working on the past months including many features specifically requested by enthusiasts.
This firmware update improves MRCD detection range, allows you to dial back the sensitivity of the rear antenna, makes GPS lockouts safer, and includes a bunch of small changes and bug fixes.
Here are all the changes from 1.24 to 1.29, along with my notes about the changes.
Note: If you've never updated R7, you'll need to download Uniden's update software and driver from Uniden's website. (Install the driver first, then the update software.) Uniden's website doesn't list 1.29 available for the Mac, even though you can update just fine. To save you time, here's direct links to download 1.29 for Mac or download 1.29 for Windows.
R7 Firmware 1.29 Changes
Improved MRCD detection range and false alert filtering

Alert distances against the MRCD are now much better than before and finally usable in practice
MRCD falses still happen so leave the setting disabled unless MRCD is in use in your area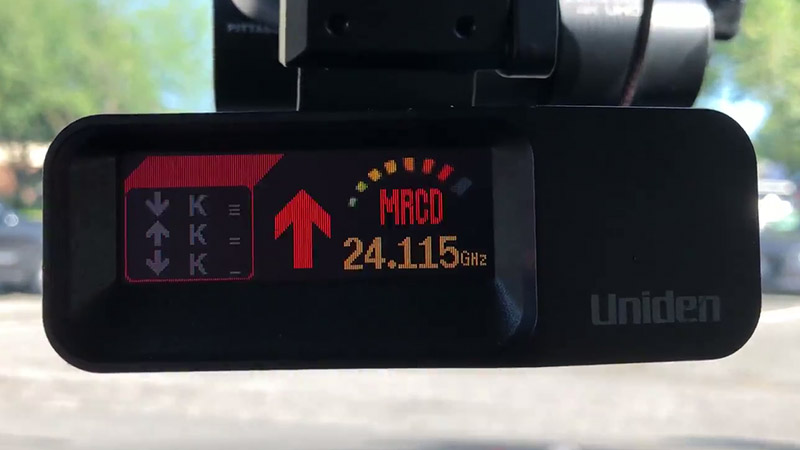 Rear Antenna Sensitivity Attenuation

This helps better balance front and rear sensitivity to avoid excessively long rear alerts.
The new rear antenna sensitivity attenuation option reduces the rear antenna's sensitivity as a percentage of the detector's (front antenna) programmed sensitivity level, not as a percentage of the detector's max sensitivity.
For example, if you set the rear antenna to 50% and have the detector set to Advanced Mode with K band set to 70%, the rear antenna's sensitivity for K band will be 50% of 70% = 35% of max sensitivity.
In my quick testing, arrows still flip properly when passing a source, even with the rear antenna sensitivity dialed back.
Improved K Filter for fewer BSM falses

Narrowed the frequency range of Mute Memory to make GPS lockouts less risky

X Band: 25MHz -> 10MHz

K Band: 30MHz -> 10MHz

Ka Band : 100MHz -> 20MHz

If the main alert is locked out, the new second alert becomes the main alert so you can hear, see, and lock out the second alert  as well

This ensures new signals (ie. a cop near a speed sign) are given priority so you see and hear them
This also makes it easier to lock out additional false alerts in a lockout zone

MRCD alert always has priority over other radar alerts (X, K, Ka) even when Ka priority is on

MRCD alerts won't be muted by Quiet

Ride

Now they'll always audibly alert even at low speeds

Signal strength meter for locked out signals now show up in gray when using the arc-shaped Alert Display #2 mode
Amber color adjusted to make it look more amber and less red

Arrow Color and Band Colors now also apply to secondary new signals in the All Threat Display

Adjusted latch time for the secondary signals in the All Threat mode

Added two more steps to Auto Mute volume level setting (0 – 7 levels)

If Auto mute volume level set in the Menu is higher than the current volume level, it now alerts at the current volume level

The voice announcement for radar or laser alert will no longer go off for the same signal detected again within 30 seconds

Alternates Overspeed alert (POI limit speed alarm) and Radar alert when Overspeed alert and radar alert are detected at the same time
Overspeed alert for 1.5 seconds
Display brightness can now be adjusted more quickly

Press and hold "Mute/Dim" key for 0.5 seconds (instead of 1 second) in standby mode to enter DIM mode

After manually changing display brightness, detector now returns to standby in just 1 sec instead of 3 sec
Displays "MUTE" on screen in green text when a signal has been muted
Added blinking Heartbeat icon on the standby display like R1/R3 when set to Scan display
Autolockouts have not been added to this firmware update. I'm not sure when they will be added. My guess is it may be due to the pending lawsuit between Escort and Uniden over autolockouts.
Update: Download firmware 1.29 here.
Tutorial: How to update your Uniden R7.
Purchase: Buy a Uniden R7 here.
This website contains affiliate links.

Click here to read my affiliate disclosure.