AntiLaser Priority is releasing an updated version of their CPU, version HW4.
This is a relatively minor update that adds some additional memory in the CPU to support new radar BSM filtering options for Net Radar DSP users.
Important Changes with HW4 CPU
Here's a quick overview of all the key updates and changes with the new revision 4.0 CPU:
Additional memory built in.
Assisted Radar Filter (ARF) available for Net Radar DSP to help filter out radar-based BSM's emitted from your own vehicle.
ARF can also be used to filter out weak BSM's from other cars, like a slightly more sophisticated version of K band segmentation.
ARF requires NR DSP (not original Net Radar), GPS, & BT.
GPS is required with the new CPU's, even without NR DSP or Tx sensors.
Now that the GPS antenna ($60) is required, the starting price of ALP duals rises to $839.
HW4 CPU's are black.
Upgrade path available soon for existing owners.
Assisted Radar Filter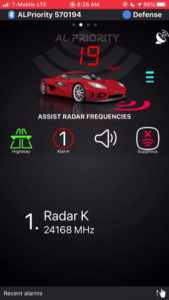 The big new feature is the new assisted radar filter (ARF) for Net Radar DSP owners. This is like a slightly more sophisticated version of K band segmentation, designed to help filter out BSM's.
The ARF is designed to be an in-car filter in case your own vehicle's BSM's causes your NR DSP to false, but it can also be used to filter out pesky BSM's from other cars around like Hondas, Acuras, GM's, Mazdas, etc.
When you come across a BSM false, you can mark it in the app and it will remember both the frequency and signal strength of the signal. Usually BSM's are weak so it will create a small K band segment (+/- 5 MHz or less) and filter out any similar frequency signals of similar signal strength. Any signals on a different frequency and/or at a very different signal strength will cause the radar detector to alert. By also taking into account signal strength, it is less risky than blocking all signals within a frequency range altogether.
The ARF requires a HW4 CPU, Net Radar DSP, GPS antenna, and Bluetooth module.
As BRD explains, here's how to use the new feature:
Hold the MUTE button in your ALP Connect app (both Android and iOS) during a radar alert. This saves the frequency and strength of that radar signal into the ARF memory of the ALP CPU.
Once saved, the ALP will only alert to these frequencies again if the signal strength is stronger than the saved value.
Bluetooth is required to learn these signals initially, but the data is stored in the CPU so you do not need BT connected permanently to benefit from the memorized signals after they are set up. The filter will also work with the normal control pad and HiFi module.
Up to 16 radar sources may be stored in the ARF.
Once the ARF memory is full, the next radar frequency to be saved will overwrite the oldest saved entry, and so on.
ARF memory in the CPU can be erased with the reset to default settings option.
Once you have everything dialed in, the detector should be much quieter than before, especially if your own car's BSM's trigger your radar detector.
Additional Important Notes
Besides the new assisted radar feature, there's a few other key points to note.
First off, new HW4 CPU's can be easily identified because instead of being white/gray, the CPU's case is now black.
The GPS antenna is also now mandatory for use with the new HW4 CPU's. Before you didn't need it if you were using all regular sensors and no Tx sensors. Now you will always need to run a GPS antenna regardless of your ALP configuration. Because of this, the starting price of the ALP is now $839.
All new ALP's will ship with the new HW4 CPU. Current ALP owners can upgrade here. If you send back your current CPU, you'll get $100 off the upgrade cost. (If you're only using the ALP for laser, there's no need to upgrade.)
You can purchase a new ALP here.
Finally, if you're getting an ALP and not sure how many heads you need or how to install it, be sure to read my complete ALP setup guide to learn all about how to configure and use your ALP.
This website contains affiliate links.

Click here to read my affiliate disclosure.