Best Buy sells two different versions of the Uniden R1 radar detector. You've got the normal Uniden R1 (which they call the R1 DSP) that you can buy anywhere, as well as the much less expensive Uniden R1 BBY. The regular R1 is $299 and the R1 BBY is only $179.
At $179, the Uniden R1 BBY will blow away every other radar detector at this price point.
Update Jan 2019: When I was at Uniden's meeting area at CES to take a closer look at the upcoming Uniden R7, I happened to meet the guy in charge of the Best Buy deals for the Uniden products and we got to talking about the R1 BBY. I asked about what's up with this detector and why it's such an insanely good deal (it blows away anything else in that price range). In short, it was intended to be a special deal just for the holidays. They didn't sell all their inventory so the deal is (sometimes) still available until their inventory runs out. I don't remember if once they sell out they're going to pull the R1 BBY as a product altogether or if they're going to go back up to $279 or so permanently, but either way, the $179/$189 price point is not going to be a permanent thing. Just a heads up.
So what are the differences between the R1 DSP And R1 BBY and which one should you get?
Uniden R1 DSP
So first off, the Uniden R1 DSP is the standard Uniden R1 you can buy anywhere. Along with its big brother, the more feature-packed and well-rounded Uniden R3 ($399), the R1 is the longest range windshield mount radar detector you can find on the market.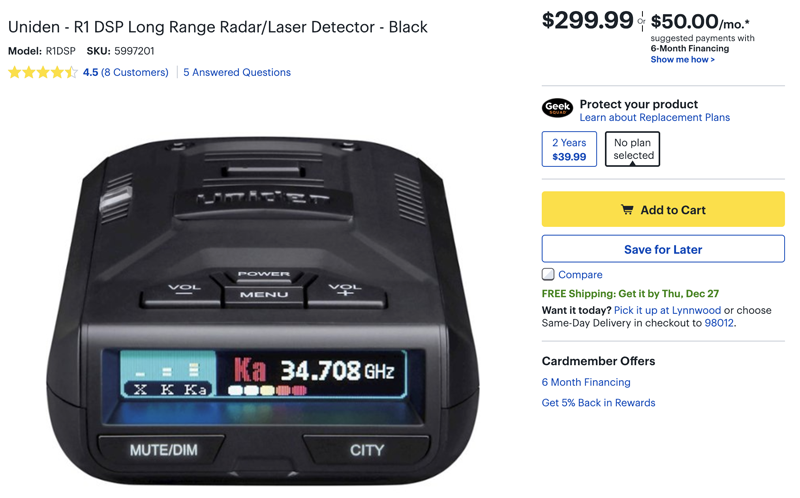 The DSP in the name means digital signal processing. Unlike the DFR6/7/8/9 series detectors which are completely analog, the R series detectors are digital which allows for faster scanning, more advanced processing, longer range, and better BSM filtering.
The standard R1 that you can find online for $299 comes with several different accessories.
Uniden R1 DSP Accessories
Smart cig. lighter power cable with remote mute button, alert LED, and USB port to charge your cell phone
Small dual suction cup windshield mount
Larger single cup windshield mount
Padded carrying case
It's these additional accessories that separate the normal R1 from the R1 BBY.
Uniden R1 BBY
Because you can buy the R1 online from so many places, Best Buy wanted an "exclusive" version that only they sell. This way if you wanted to buy this "custom" version, you'd have to buy it from them.
The appealing thing about the Best Buy exclusive version of the R1, understandably called the R1 BBY, is that it is significantly cheaper than the standard R1.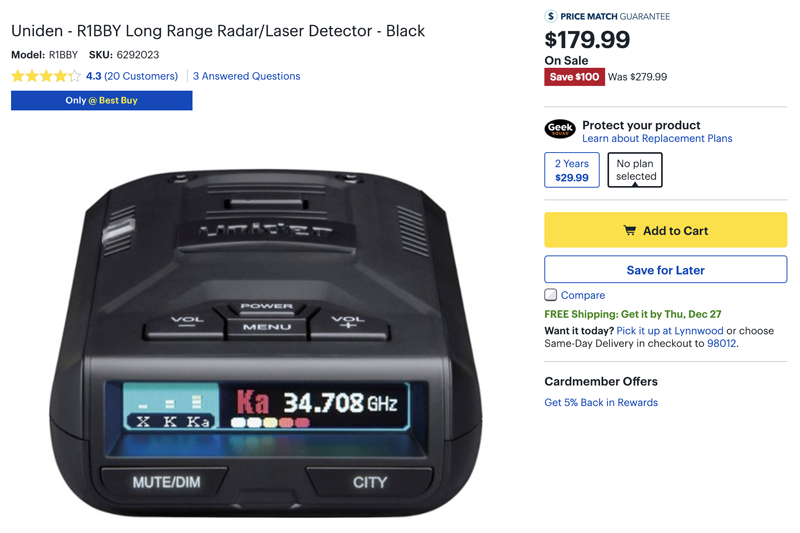 What did Best Buy change? Well, all they did was they removed and simplified the accessories.
The radar detector itself is exactly the same between the R1 DSP And R1 BBY. Literally the exact same detector, same features, performance, filtering, color, everything.
The only change is in the accessories and the price. They've gotten rid of the padded carrying case and large single suction cup mount. All the R1 BBY comes with is:
Uniden R1 BBY Accessories
Smaller dual suction cup mount
Basic power-only cig. lighter power cable
For most people, the Uniden R1 BBY is clearly the way to go.
If you want the extra accessories, you can buy them separately and still wind up paying less than if you went for the standard R1. 😉
Uniden R1 BBY Accessories comments
Windshield Mount
I prefer the more compact dual suction cup mount myself and the larger one sits in my closet. The larger suction cup also can't articulate enough to keep your detector level and straight if you have a very steeply angled windshield so the R1 BBY's included smaller dual suction cup mount is actually more popular.
Blendmount
Speaking of mounts, I generally run my detector on a Blendmount so that it hangs under my RVM for a cleaner looking install. Plus I no longer have to worry about suction cups eventually failing and my expensive radar detector falling off my windshield.
The Blendmount itself is fairly pricey ($99), but you can use this Blendmount discount coupon to save some cash and still wind up paying a lot less than if you got the normal R1 directly.
Carrying Case
The carrying case isn't really necessary if you always keep your detector mounted in your car.
Cig. Lighter Power Cable
The smart power cord of the standard R1 comes with a remote mute button which can make it much easier to mute your detector. Given that the R1 lacks the GPS chip of the R3, it has no way of filtering out false alerts around town from speed signs or from shopping centers and drugstores with automatic door openers. Because of this, you'll be hitting the mute button on the front of the detector a lot. If your detector is mounted somewhere kind of inconvenient and out of reach, it may be easier to hit the mute button on your power cable.
If you'd like the smart power cable, you can always buy the smart power cord ($25) separately.
Hardwire Power Cable
Me personally, I have my radar detector hardwired into my fuse box. This way I have a cleaner looking install with no ugly power cord hanging down my dash, plus it leaves my cig. lighter free for powering other devices.
There's two versions of the hardwire cable. You can get a standard power-only hardwire cable ($10) or a smart hardwire cable with remote mute button ($30).
If you'd like to learn how to install a hardwire cable, I have a radar detector hardwiring tutorial here.
Should you get the R1 DSP or R1 BBY?
For most people, I think you're really better off saving the cash and getting the Uniden R1 BBY. It's the same exact detector as the regular R1 and it comes with everything most people need to use the detector.
If you want any of the extra accessories, put the cash you save towards the additional accessories and you'll still wind up ahead.
Purchase the Uniden R1 BBY here.
Recommended Optional Uniden R1 Accessories
This website contains affiliate links.

Click here to read my affiliate disclosure.