Uniden has just released firmware 1.37 for the Uniden R1 and the Uniden R3. It brings 5 new improvements to the radar detectors:
Larger font size for the frequency display
Ka frequency voice alerts
Auto dimming display functionality added (R3 only)
Ability to mute overspeed alerts such as speed cameras (R3 only)
GPS lockout improvements (R3 only)
The update software has been improved as well to streamline the update process.
Larger Font Size
The font size for the frequency display is now larger which makes it easier to read the frequency at a glance while driving.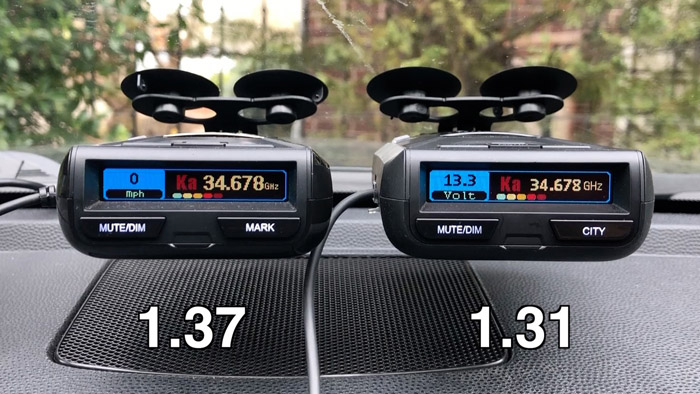 Ka Frequency Voice Alerts
If you don't want to look at the detector, but you'd still like to know the exact frequency of the Ka band signal, your detector can now call out the exact frequency of the Ka band radar gun.
The detector will alert normally for a quick second to get your attention and let you hear the urgency of the rampup. Then  it will announce the frequency and resume alerting normally.
(Note: The above clip is from 1.36 which was only released on RDF. 1.37 makes two improvements. 1) It better balances the volume level of the beeps and voice alerts so they match. 2) The beeps resume immediately after the voice announcement finishes to let you continue listening to the rampup and urgency of the signal.)
This Ka Frequency voice option is independent of the normal voice option so you have the option to have it say either "Ka band" (Voice on) or "Thirty four seven one six" (Ka Frequency voice on) or both. Up to you.
Auto Dim (R3 only)
Auto dimming functionality is now available to automatically make the display be brighter during the day and darker at night. Once you enable this, you won't need to manually go in and press the dim button on the detector to change the display brightness.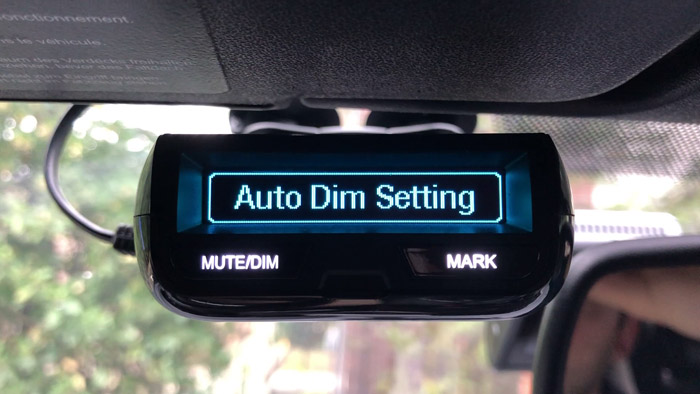 Here's how it works:
The R3 has no ambient light sensor so it can't tell how dark or bright it is around you. However, using the GPS chip, it can tell what time it is and you can tell it what time to go dark and what time to go bright.
Press the dim button on the face of the detector until you see "Auto." This will activate the "Auto Dim Setting" option (pictured above) in the menu.
Then you'll be able to go into the settings and tell it what time to go bright, what time to go dark, and how bright or dark to go each time it changes.
Fun fact: A bug was discovered with the auto dim feature. Within just two days, the problem was solved and a new firmware update (1.37) was issued which resolved the issue. Two days! That's got to be some kind of record… I love when companies listen to their customers and respond quickly to improve their products. This is how it's done.
Mute Overspeed Alerts (R3 only)
Normally when you get an alert, if you want to quiet the detector down, you just press the mute button. However, for certain GPS-based warnings such as when there's a speed camera ahead and you're traveling too quickly, the mute button wouldn't allow you to mute those alerts. Now with 1.37, pressing the mute button also works on the different GPS-based alerts.
Red light camera muting isn't included in this update, but it is coming in a future update. Deleting unwanted RLC alerts is already possible.
GPS Lockout Improvements (R3 only)
GPS lockouts have been improved to help in areas like shopping centers where you'll encounter many different K band signals. Before the R3 would only allow you to store a maximum of 5 mute memory points within the same radius, but that wasn't always enough. Now you are able to store up to 8 mute memory points within the same radius, allowing you to fully lock out false alerts in areas full of lots of stationary K band false alerts.
Additionally, there's now a bug fix with Ka lockouts. We used to be able to do Ka lockouts, but not anymore. Some Ka signals may still be locked out so with 1.37, any previous Ka lockouts are now cleared out so that Ka will never be locked out.
Updating the Firmware
To update your detector, download the update software here.
The update software has been improved. Now there's just one file to load for both detectors which includes the latest updates to the firmware, voice pack, and GPS database if you have the R3.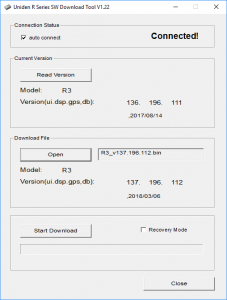 Install the latest software, including the drivers if it's your first time updating
Plug your detector in using a MiniUSB cable
Launch the software
It should automatically connect to your detector and load in the current firmware version. If not, check the "auto connect" box and click on "Read Version."
Click the "Open" button and select the appropriate .bin file for your detector (R1 or R3)
Click "Start Download." It'll take a few minutes to update.
Do a factory reset of your detector in the detector's menu options when the update finishes. It will reset all your settings to factory default, but it won't delete your lockouts if you have the R3. (We've noticed some potential quirks in beta testing that were resolved with a factory reset.)
Finally go in and program your detector's settings again.
Here's a video of the update process:
Additional Info
For more information about the firmware update, visit the 1.37 discussion thread on RDF.
Finally, if you need to purchase either of the detectors,
Click here to purchase the Uniden R1.
Click here to purchase the Uniden R3.
Thank you Uniden for continuing to update these detectors!
This website contains affiliate links.

Click here to read my affiliate disclosure.