Are you wondering what the best radar detector is of 2017? Let's take a look at what the very best windshield mounted radar detectors available today are. There's a lot of great detectors available, but which one will ultimately do the best job of helping you avoid a speeding ticket? Let's look at my Top 3 Radar Detectors which would be the top picks for the majority of drivers, as well as several honorable mentions that are worth looking at too and, depending on your specific needs and where you drive, may actually be a better choice.

What Makes for the Best Radar Detector of 2017?
What would make a radar detector the best? Well, it needs to help you avoid speeding tickets which means it must excel in two key areas:
Range: Long range performance to give you plenty of advanced warning against even tougher encounters
Filtering: Excellent false alert filtering capabilities so you actually pay attention when the detector goes off. (Common sources of false alerts include nearby vehicles with radar-based blind spot monitoring systems, speed signs on the side of the road, and automatic door openers used by grocery stores and drugstores.)
Besides this, some other important aspects to consider are:
Ease of Use: Is it easy to use, especially when you're new to radar detectors? Some offer lots of control and customization, but they may require some more complicated setup and advanced programming.
Phone Required: Can the detector do everything all by itself or do you have to pair it with a phone to add some important functionality (such as GPS-related features if the detector doesn't have a GPS chip)
Arrows: Do you need arrows to help you locate the source of the threat? They definitely help, but if your detector beeps, you can slow down and listen to the beeps getting faster or slower to determine if the officer is nearby.
No matter which detector you choose, it's important to understand what it can and can't do. Check out my Radar Detector Frequently Asked Questions to learn about things like if a radar detector will make you immune from getting speeding tickets, why it doesn't always alert to nearby police cars, the laws regarding radar detectors, and so on.
---
#1: Uniden R3 ($399)
This is my detector of choice and it's what I keep mounted on my own windshield to help keep me protected.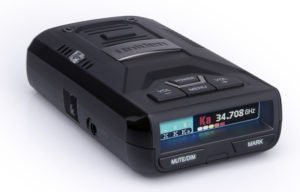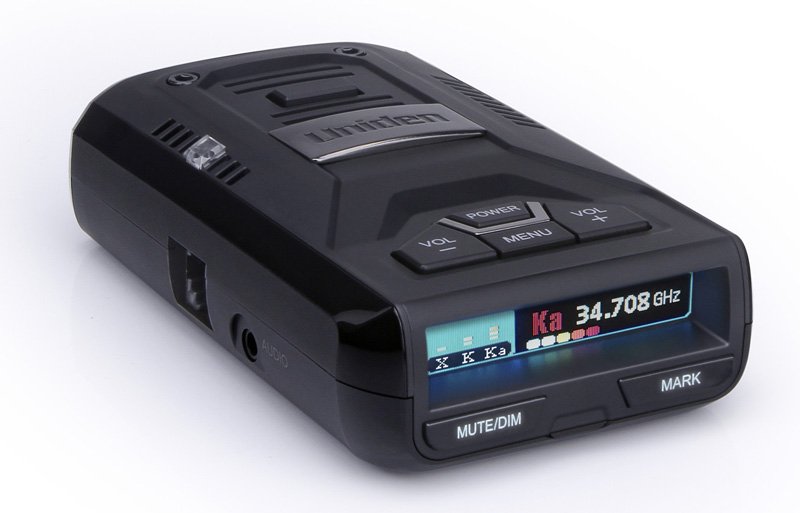 The Uniden R3 offers the best performance available at any price, it's excellent at filtering out nearby vehicles with radar-based safety systems, and it offers a GPS chip to help keep the detector quiet around town. It also adds redlight camera alerts, some advanced configuration options, a color OLED display, and undetectability from radar detector detectors. If you're looking for a radar detector that offers the highest level of protection even in the most challenging of situations while also giving you excellent false alert filtering capabilities, get the Uniden R3.

Once you buy your Uniden R3, here's your guide to set it up.
---
#2: Escort Max360 ($649)
The Max360 is fully loaded with all the bells and whistles such as arrows and autolockouts and for those who value convenience, ease of use, and want a plug and play detector, the Max360 is the best choice.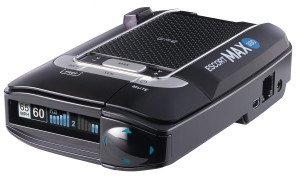 While it doesn't offer quite the range of the Uniden R3 and it costs more than the R3, it makes up for it by adding more features, convenience, and being more friendly to people new to radar detectors.
The second rear-facing antenna gives the detector arrows which makes it much easier to find the source of the threat and recognize if it has passed you. It can automatically recognize stationary false alerts around town including speed signs and automatic door openers and rather than requiring you to teach it what's a false alert and what's real, it can figure all that out for you so it's better suited to people who aren't radar detector enthusiasts. When paired with your phone using the included bluetooth chip, it can go to the cloud to look up the current speed limit of the road you're on and display it on screen as well as share your radar and laser alerts with other drivers so
The R3 is better suited to offering the highest level of performance for people who demand the best, but the Max360 is a better plug-and-play general consumer detector. If you're simply wanting something a detector that can do it all for you out of the box without asking you to become a radar detector expert to get the most out of it, get the Max360.

Once you buy, here's your tutorial to set it up.
---
#3: Valentine One ($449)
If you're the techy type, you don't mind some advanced programming, you'd like to save a little cash over the Max360, and you always have your phone on you, the Valentine One is an excellent pick.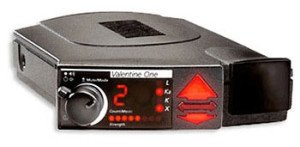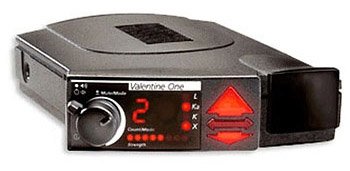 Like the Max360 it doesn't offer the all-out performance of the Uniden R3, but the price is closer to the R3 than the Max360. The V1 offers arrows like the 360, very good BSM filtering, and some helpful features like more configurable volume adjustments and top of the line laser sensitivity (though it falses a ton so it's not all that useful). There's no GPS chip built in so you have to buy an external Bluetooth module, pair it to your phone, and run YaV1 (Android) or V1Driver (iOS) to add the helpful GPS-related functionality that the Max360 can do on its own including low speed muting and automatic GPS lockouts.
I like the V1 for road trips thanks to its arrows, but I don't find myself grabbing it much nowadays. Around town the display's lights and arrows blink like crazy and there's no way to chill out the display to false alerts without turning it off altogether. Since all the lights are red, it's also tough to differentiate K vs. Ka band alerts at a glance, particularly at night. Seeing the frequency of the signal requires your phone. Programming is definitely more complicated
In general I feel the 360's convenience and integration make it a better choice for the everyday driver than the V1, but the V1 is definitely a great choice for the enthusiast.

Note: I recommend buying a V1 new. You can certainly buy a used one, but the V1 has continually evolved over the years and it can be hard to know if you're looking at a new one that has modern filtering that you need plus support for cell phone integration. If you're looking at a used V1, be sure to watch this video first.
Once you buy your V1, along with the V1C (not V1C LE) bluetooth module if you're running Android and the V1C LE if you're running iOS, here are your setup tutorials for both Android and iOS.
---
Honorable Mentions:
Other than those Top 3 detectors, there's many other absolutely fantastic choices. They're certainly not bad by any means, but for most people the Top 3 are generally the ones to go for. However, your specific needs such as where you drive, your budget, or the features you don't really need may mean that another detector would actually be better suited to you. Let's take a look at the other excellent options and which in which cases they'd be a better choice than the other Top 3 detectors.
---
Uniden R1: Long range performance without GPS, great for California ($299)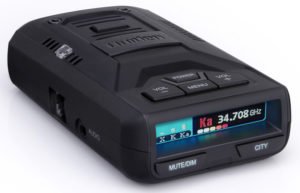 If you'd like the full on high end performance of the Uniden R3, but you drive mostly in rural areas or on the highway, you live in California, and/or you'd like to save $100, take a look at the Uniden R1. It's a GPS-less version of the R3.
Without the GPS, you won't get low speed muting or GPS lockouts. However, if you're always driving in places where you don't regularly encounter the same stationary false alerts (speed signs and automatic door openers in drugstores and shopping malls), you won't really need the GPS. If you have redlight cameras, you won't get alerted to those either, but you can always run Waze on your phone (a good idea anyway) and get alerted to those for free.
Additionally, if you live in California, it's almost exclusively Ka band there so rather than getting a detector with lots of K band filtering capabilities, you could save some cash and get a GPS-less detector that focuses on high end performance. In that case, the R1 is a fantastic choice.

---
Uniden DFR7: All-around good city/highway detector for <$300 ($279)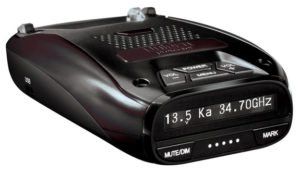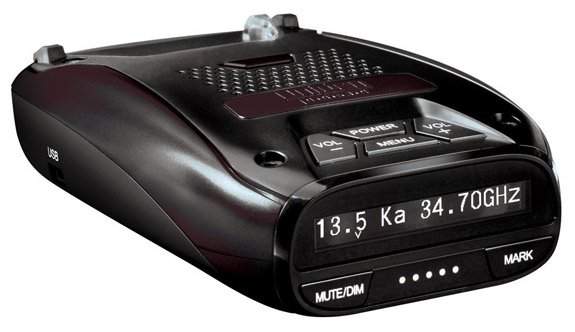 If you don't wanna drop the cash on the Uniden R3, take a look at the DFR7. It doesn't have the range of the R3, the color display, or some of the advanced options like a 3 digit frequency display, but if you're looking for a detector with GPS for less than $300, the DFR7 is the one to get.

---
Uniden DFR6: Best entry level detector <$200 ($179)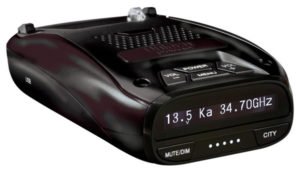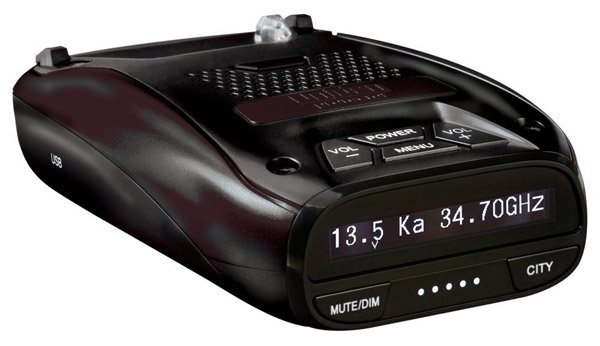 If you're looking for the most inexpensive detector that's still a good detector (offers good range and filtering), the Uniden DFR6 is the one to get. It's a DFR7 without GPS so it's a more basic and entry level detector. If you spend a lot of time driving in urban areas, opting for the DFR7 is definitely worth it. Otherwise if your priority is saving some cash, grab a DFR6.

---
Radenso XP: Great urban detector ($399)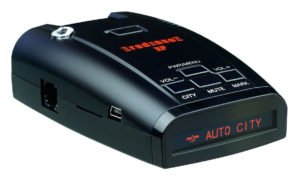 I really like the Radenso XP as an urban detector. It offers good range and excellent false alert filtering. Honestly I think the Uniden R3 has it beat since it is the same price, offers way better range, and working lockouts. The XP does have some advanced features such as band priority alerts, X/K muting with visual alerts instead, and band segmentation, but in my opinion the R3, at the same price, is the better pick.

---
Escort Redline / Beltronics Magnum: Long range performance, but discontinued ($499-549)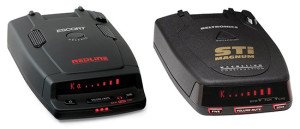 The Escort Redline, and its virtual twin the Beltronics Magnum, used to be the long distance kings until the new Unidens showed up. The Unidens can do everything the Redline / Magnum can do, but better, and for a fraction of the price. The reason I'm including them here is yes they still offer outstanding performance, offering better range than everything else in this list (other than the Uniden R1/R3), so yes they can still hold their own, but their filtering capability is pretty poor and Escort / Beltronics have since discontinued them so I would no longer recommend picking one up. If you already have one though and live in an area where performance is your top priority and you don't have a lot of false alerts to deal with, such as rural areas, the Redline or Magnum are still a solid pick.

---
Escort iX: Autolockouts without arrows ($499)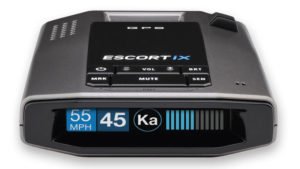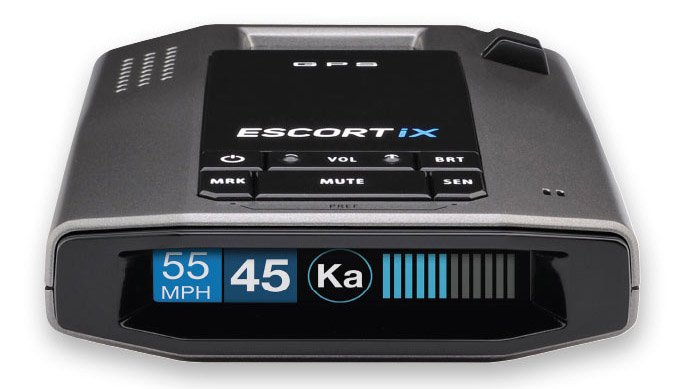 If you like the convenience and ease of use of the Escort Max360, but you don't need the arrows and you'd like to save some money, the Escort iX would fit the bill. It doesn't offer the performance or filtering capabilities of the Max360, but it also doesn't have the price tag of the 360.
Speaking of price though, the Uniden R3 offers better performance and filtering than the iX… and it costs less. The iX offers automatic lockouts instead of manual as well as Bluetooth integration for realtime cloud alerts. The cloud alerts you can get for free with Waze with any detector you're running, but the autolockouts are really nice for people starting out with radar detectors and even if you're experienced, it certainly simplifies things.
In my opinion the better performance, superior filtering, and lower price of the Uniden R3 make it the detector to choose, but if autolockouts are a top priority for you, you can get an Escort iX.

---
Radenso Pro M-edition: MRCD Detection for Canadian Drivers (CAD$825)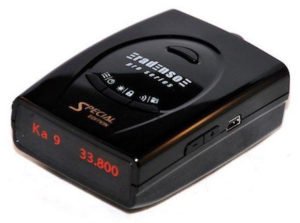 Finally, for those of you who live up in Canada, specifically in Edmonton, Alberta or over in Ontario, they use photo radar setups up there with a new type of low powered radar gun called the MRCD that is very difficult to detect and so you'll need a detector that is specifically designed with MRCD detection. There are a few options available, but your best choice is the new Radenso Pro M-edition, or the Pro M for short.
The Pro M offers long range like the Redline against normal radar alerts, good false alert filtering, low speed muting, manual GPS lockouts, and redlight camera alerts. It is also RDD immune (like the Redline and new Unidens) so it won't be picked up by police running radar detector detectors. If you're driving in Edmonton or Ontario especially, the Pro M is your best windshield mount radar detector.
Save $25 with the coupon code "VortexRadar"

This website contains affiliate links.

Click here to read my affiliate disclosure.