The Uniden R8 (purchase here) improves upon the performance of the already strong Uniden R7 by adding a new dual LNA design as well as an upgraded condenser lens in front of the horn. I've been really curious to see how much better the R8 performs and so I headed back to my usual red barn test course to test the R8 against all the top contenders on both K band and Ka band.
You can read my full Uniden R8 review here.
This Was More Time Consuming Than I Expected
So it actually took me 4 attempts (!!) to get a solid set of test results that I'm comfortable sharing.
I secretly ran the first R8 I received on both this test and this test, but the R8 performed worse than expected, closer to the R7 or sometimes R3, lagging noticeably compared to the R4. The R8 should be on par with the R4. Uh oh… It turns out this was a hand-soldered preproduction unit that was useful for looking at the design and features of the detector, but didn't perform on par with a retail unit.
For the third test we went back to the red barn, but traffic and construction were a significant factor and heavily affected the results. While it's true that we can't control all the variables in testing, this was way too much. Results were very inconsistent and honestly all over the place. After several hours of testing, we opted to discard all the results and try another day. (The video above is one of the test passes from this day of testing.)
Finally another trip to the red barn course, I finally got results that I'm satisfied with (mostly, lol). Rarely does this stuff go to plan, but on that day I really wanted to get as much done as possible, so I heavily cut down the number of detectors tested so that I could test on all 3 Ka frequencies as well as on K band.
As always, this is just one test. Please don't take these results alone as gospel. We need to see lots of tests with lots of detectors against lots of guns in lots of different terrains to get an accurate sense of the big picture. These test results are simply one part of the overall puzzle.
Detectors Tested
Every detector tested was there for a very specific purpose.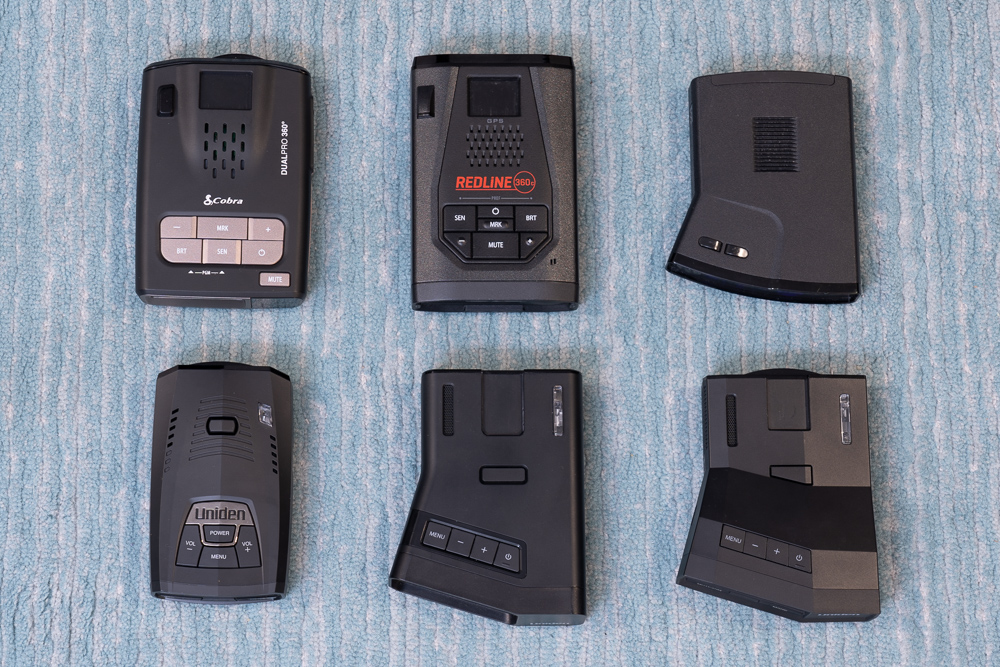 33.8 Results
Starting off with 33.8, the newer Uniden platform detectors (R4 & R8) were off to a great start. They managed to overall outperform the other detectors.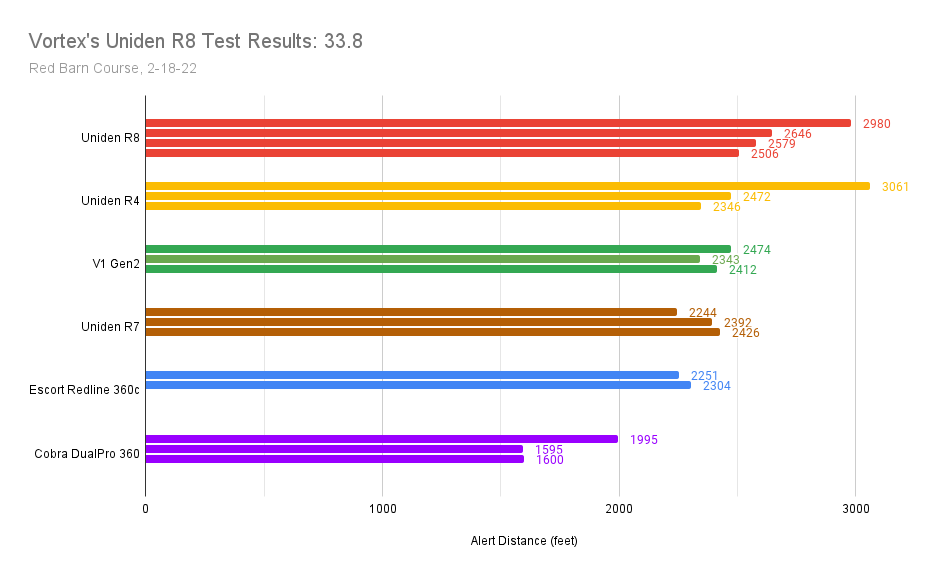 Since traffic/construction had been such an issue in previous tests, I made a point to keep swapping detectors after each pass to get a variety of data in quickly, just in case traffic started messing up the results later down the line. I wanted to doublecheck my work with the R8 so I gave it an extra 4th run at the very end because I was worried about traffic and it still managed to outperform every other brand of detectors.)
I forgot to do a 3rd run with the RL360c so it only got 2. Sorry about that, my bad.
34.7 Results
Moving on to 34.7, the R8 lagged a bit behind the V1 Gen2 and was a smidge behind the R4, but overall it beat the R7, RL360c, and DP360. Strong showing by the R8 among tough competition.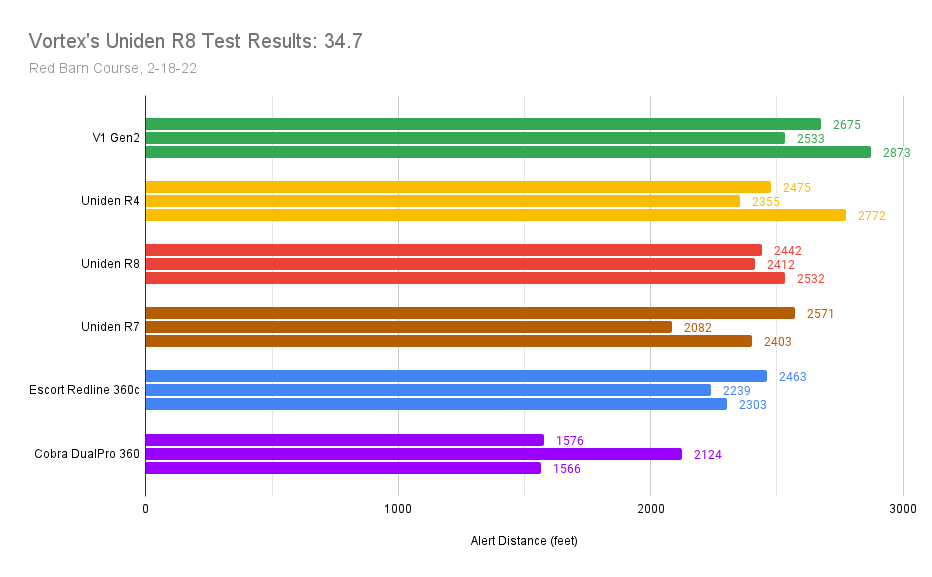 35.5 Results
Then with 35.5, the R8 once again trailed a bit behind some detectors like the RL360c, V1 Gen2, and R4, but it outperformed the R7 and naturally the DP360. It was the R7 that surprised me by falling behind more than the very top tier detectors.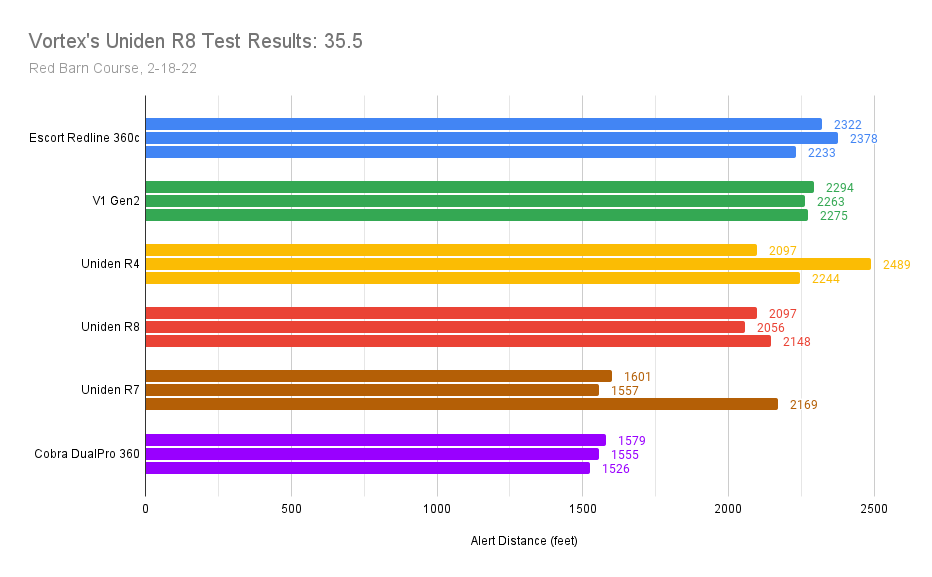 K Band (R8 only)
With K band there were a lot of different settings combinations to test with each detector so I dropped things down to just 2 passes per detector / settings combos.
Starting off, let's look at just the R8's runs and then explain things a bit.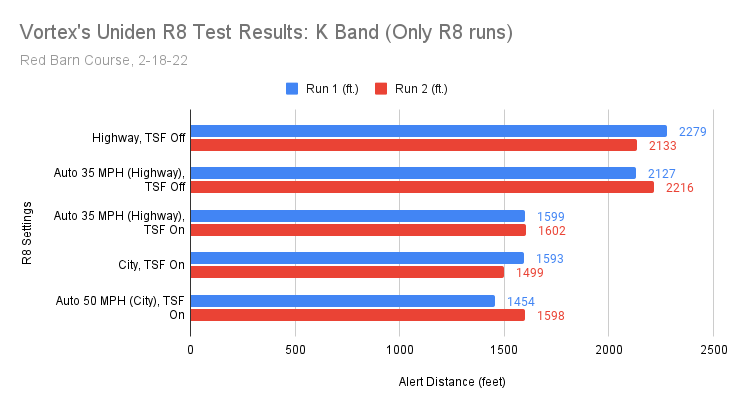 With the R8 on K band, I wanted to see how its new Auto Mode affects performance, and if TSF impacts performance.
With Auto Mode, you set a speed threshold, ie. 35 MPH or 50 MPH. If you drive faster than this speed, the detector runs at full sensitivity (Highway mode). If you drive slower than this speed, the detector runs at minimum sensitivity (City mode).
I did every run on K band with cruise control locked at 45 MPH. Based on my test results, the R8 behaves as expected. If Auto Mode is set to 35 MPH, the R8 performs like it's in Highway mode. If Auto Mode is set to 50 MPH, the R8 performs like it's in City mode.
I also did a series of passes varying only TSF (Auto 35 runs) and it looks like with the R8, TSF does impact performance as well. (In this test it performed similar to the City mode runs, but I suspect that's simply due to the R8 being terrain limited. I think we'll see more separation in other situations, but further testing is required for this.)
K Band (All)
Next up, let's look at all the K band test passes and then I'll share some key points and comparisons I noticed.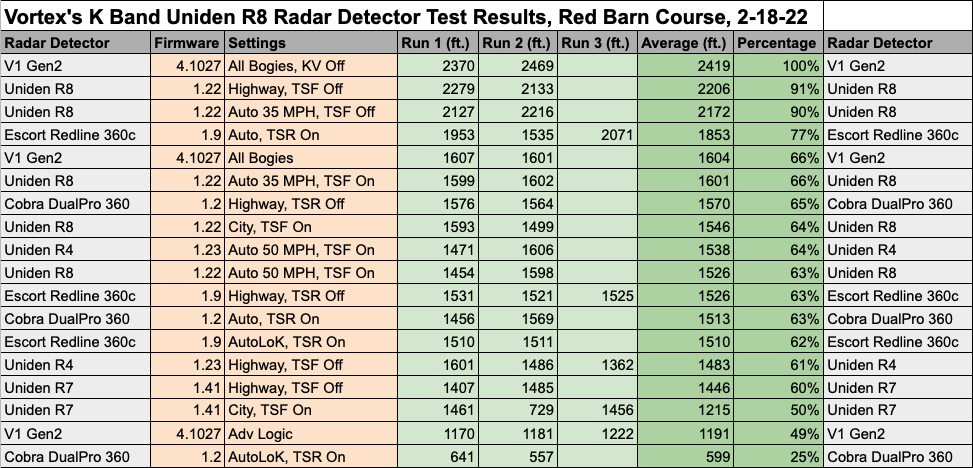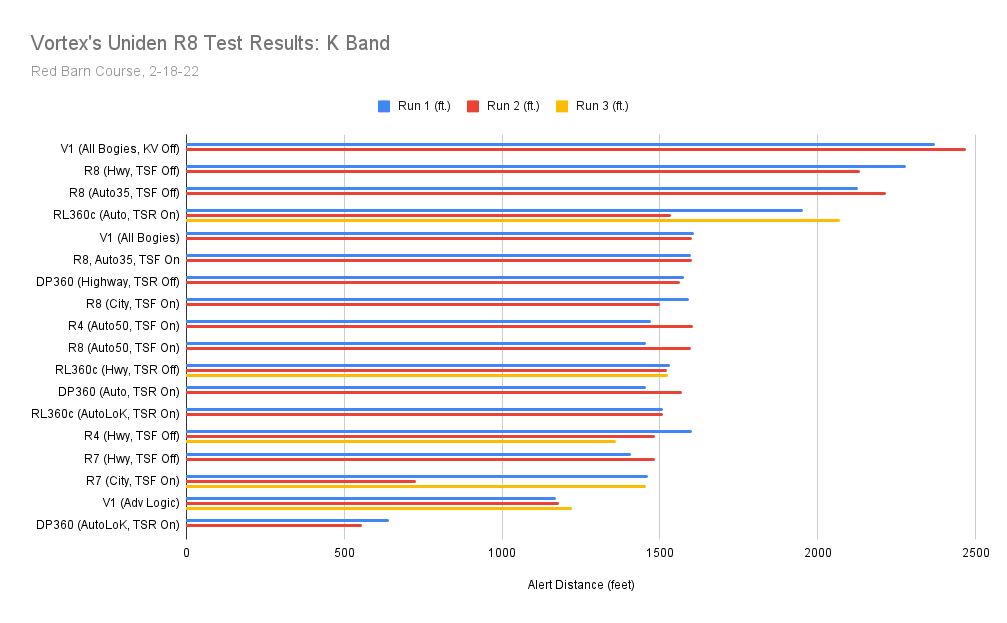 You'll notice that for some detectors I did 3 passes instead of 2. I did this in case anything suspicious happened such as traffic potentially messing up the results and I wanted to go in and doublecheck my work.
There's a lot of data here, I know, lol. Here's one more quick chart, with the detectors all grouped together to make it easier to compare detectors.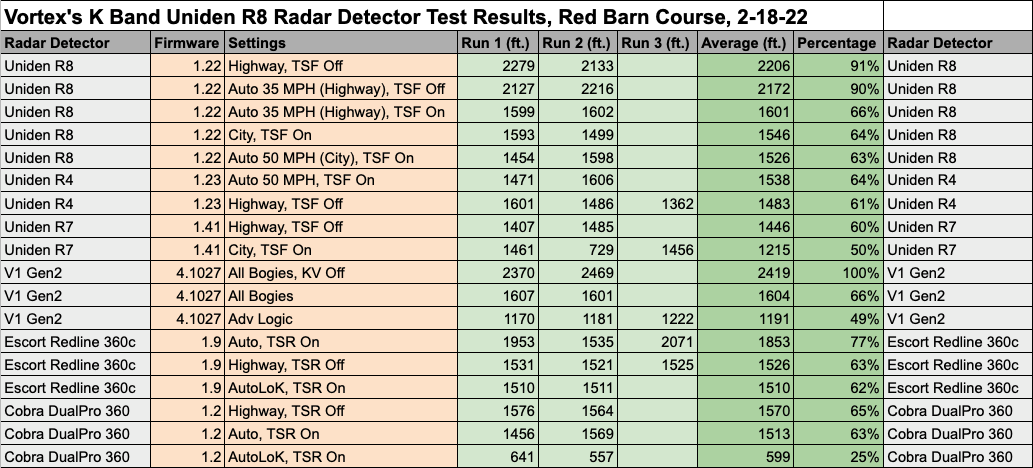 Uniden R4: The R8 outperformed the R4 in Highway / TSF off, surprisingly. I would have expected them to perform the same. I even gave the R4 a third pass and it never managed a longer distance alert.
Uniden R7: The R8 beat out the R7 as well. The R7 had one freak short detection in City Mode. I'm not sure why that happened so I reran it and it did fine the third time. Weird.
V1 Gen2: In All Bogies mode, the V1 lagged behind the R8. In Advanced Logic mode, performance noticeably dropped. For fun I tried disabling K Verifier (which disables the K band filtering) and the detector falsed like crazy. It falsed on every single test pass and even in my turn around spot while waiting for cars to pass, lol. Performance was great for sure, but it's not a usable mode in practice. (I actually had to throw away the first pass and rerun it with JBV1 so I could track the signal frequencies to discern which alert was coming from the radar gun. The rerun for pass 1 had 1 false alert. Run 2 had also had 1 false before the real alert and then the bogey counter climbed up to 5 bogies as I got closer. So lots of falses with KV off…)
Redline 360c: R8 beat out the Redline. Unexpectedly the Redline gave me longer range in Auto mode than in Highway mode. I don't understand why since Auto mode always has somewhat reduced sensitivity, even when driving at full highway speeds. AutoLoK mode did well here. I was expecting more of a range reduction.
DualPro 360: R8 beat out the DP360, but no surprise there. What did surprise me is how much range dropped in AutoLoK mode. This does reduce range, but in this situation it only provided a few sec of advanced warning. When it did go off, it was screaming full tilt so you'd probably slam on the brakes if it went off and you'd avoid a ticket, but it was a close call.
Conclusion
So overall I think the Uniden R8 did great. It didn't sweep the test, but it consistently turned in very strong numbers. It did great on Ka band as well as on K band, including with the filters enabled which was especially impressive.
Notably the R8 also beat out the R7 on 33.8, 34.7, 35.5, and K band. Given that the R7 is already a top notch detector, it looks like the R8 does indeed offer even longer range as advertised.
If you'd like a Uniden R8, you can now pre-order the R8 here.
This website contains affiliate links.

Click here to read my affiliate disclosure.