Radenso has released firmware 1.07 for the DS1 and this update brings a bunch of new changes. You can also now download the Android app to connect to your DS1. Here's a look at all the new features and improvements.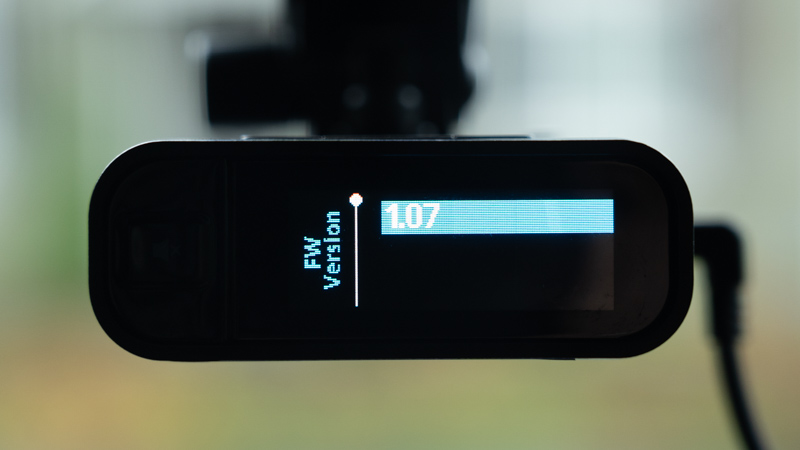 K Notch
The K Notch option has been expanded with an additional K Notch and more control over how the filter works. Before we had one 24.199 +/- 5 MHz block for Honda/Acura BSM's.
K Notch 2: Now K Notch adds a second Mazda CX-5 filter for 24.121 – 24.124. (Note, you can't independently configure the two different K Notch freq. ranges. It's just all part of the "K Notch.")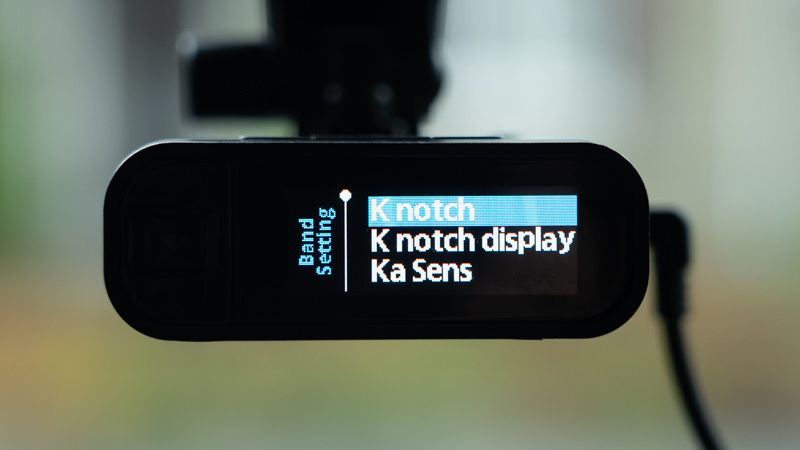 K Notch Muting Controls: Under Band Settings, there's now a "K Notch" section that lets you block all signals, block weak signals, or disable the K notch so you can control how it works.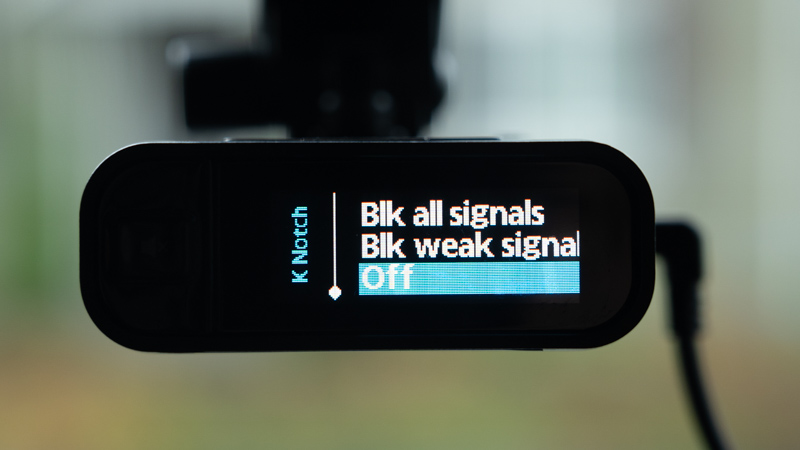 K Notch Display Controls: There is also a "K Notch Display" option that lets you choose whether or not signals visually display on screen while they're being muted. (With this enabled, muted signals will be grayed out on screen and say "K-NOTCH" in green text.)
Note: The settings only take effect when you run the detector in "Custom" mode. In "Auto" mode, the detector will completely block any and all signals between 24.121 – 24.124 and 24.194 – 24.204.
Gatso detection
The DS1 now adds support for Gatso photo radar systems. As far as I know, in the US they are used so far in Maryland, Iowa, Ohio, and southern California.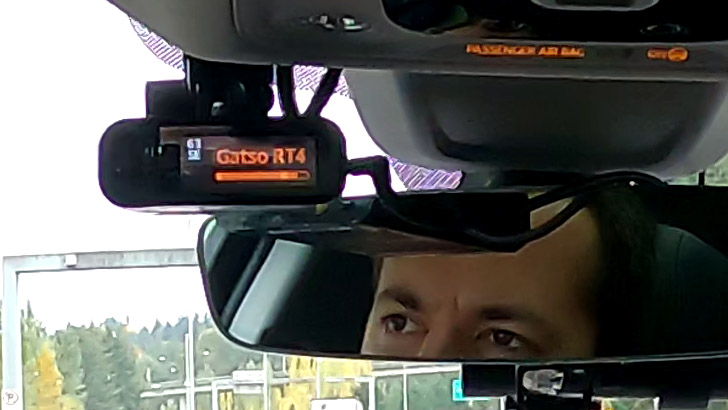 Under "Band On/Off," there's a new option at the bottom called "K Gatso" where you can enable this.
In testing I do find that the DS1 occasionally falses to Gatso so it may be best to leave this off unless you need it.
Bluetooth
Bluetooth is now enabled in the DS1 so that once Radenso's app is released, you'll be able to use it with 1.07.
At the bottom of "User Settings," you'll see two new options, one to enable/disable BT and a second to pair your detector with your phone.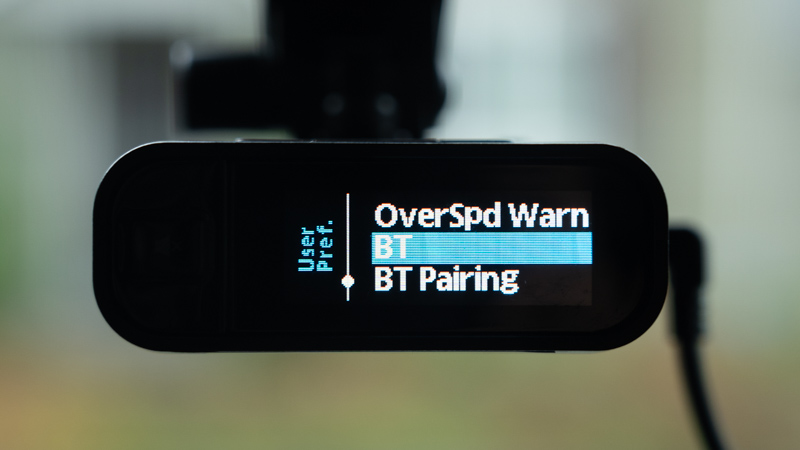 With Bluetooth enabled, you'll be able to download the new Android app for your DS1.
The new app has a simplistic alert display, lets you change detector settings, and lets you update your detector's firmware and GPS database right from your phone.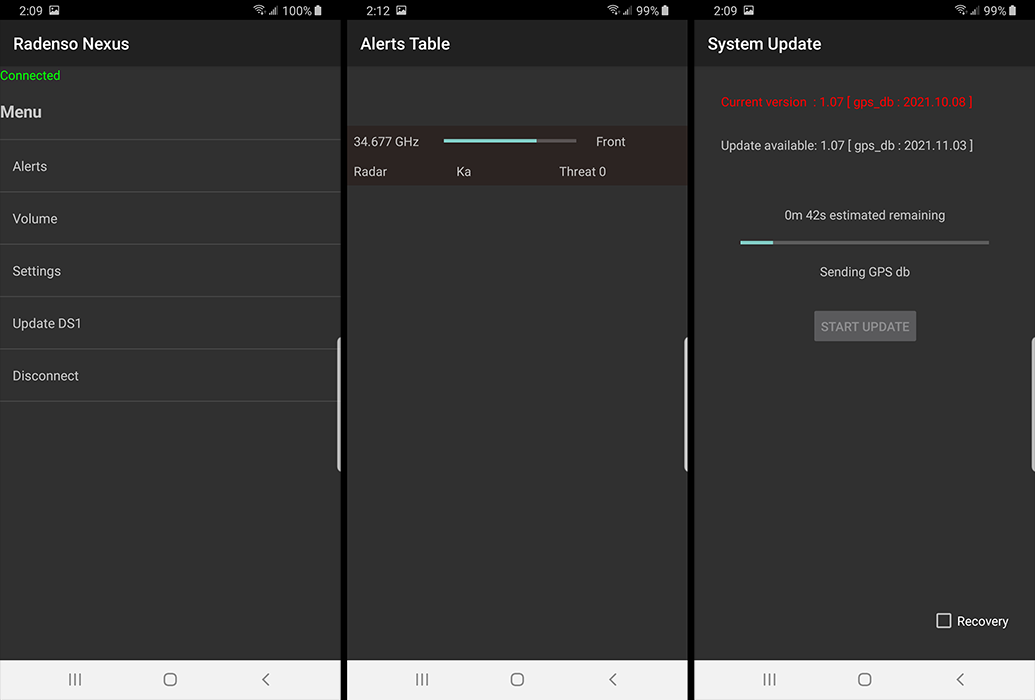 An iOS app is planned too, but no ETA. The Android app is available now.
Additional new features
GPS Lockout Controls by Band: We now have the option to either lock out just X/K bands or all radar bands including Ka. Go to Menu, GPS, Lockout bands, and you'll see "K&X bands" and "All radar bands."
Ka Freq. Voice Announcements: We also have independent control over Ka frequency announcements, separate from the other voice announcements. You can adjust the new option by going to "Menu" -> "User Pref." -> "Ka Freq Voice."
MRCD Low Speed Muting: MRCD now has its own separate low speed muting option. Now there are two low speed muting settings, one for X/K and another for MRCD.
Customize New Bogey Alert Tone: We can now customize the new bogey alert tone. Under "Menu" -> "Tone" there's a new option for "Bogey."
Radar Band vs. Signal Strength Priority: We now have more control over alert priority when the detector picks up multiple signals. Instead of just strength priority, we now also have a band priority option (in case you always want Ka alerts to override K band alerts, for example). Under "Menu" -> "Band Settings" -> "Alert Priority", you'll find options for prioritizing based on the radar "Band" or the "Signal" strength.
Power Off Tone: A power off sound has been added when you turn off the detector.
Settings Changes
Some existing settings have also had minor changes.
There's a new icon for manually marked locations.
If you have any voice options enabled, the detector will now first alert with beeps before announcing the radar band and/or frequency, this way you can immediately know the signal strength/urgency.
Low speed muting can now be set up to 65 MPH instead of just 45 MPH.
The blinking dot on the "smart dark" and "dark" brightness levels now use the dimmest setting.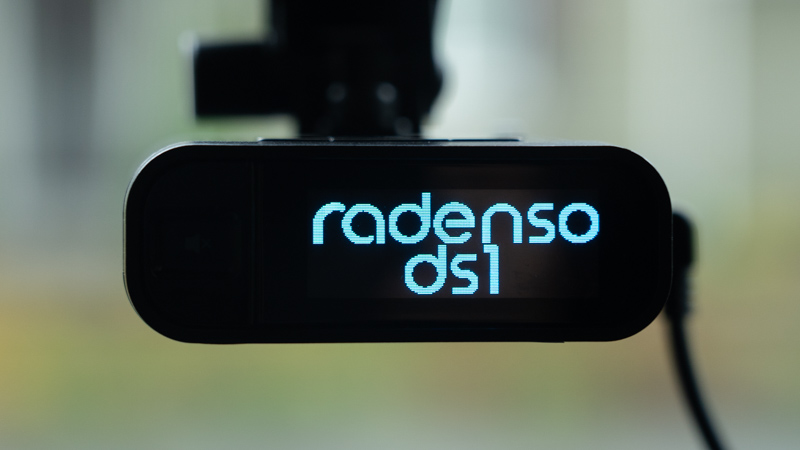 Bug Fixes
The auto mute volume now stays where you set it, even after a power cycle.
When you scroll through the display color options in the menu, the display now changes as you scroll to show what the color would look like.
"Home auto lockout radius" in the GPS menu now starts with a capital "H."
Disabling "Voice" in the menu now disables the voice announcements when scrolling through the menu options.
How to Update
To update your Radenso DS1, you can download the update software from Radenso's website. It's the same thing as Uniden's previous update software.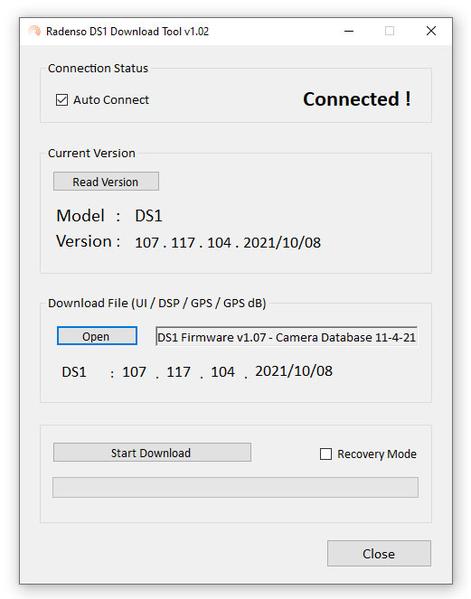 Personally I think this is a great new update. I love the additional filtering and control that it adds.
You can find update instructions on Radenso's website.
If you need further help updating, contact Radenso support or ask on the 1.07 update thread on RDF.
If you still need a DS1, you can purchase a Radenso DS1 here.
This website contains affiliate links.

Click here to read my affiliate disclosure.