So after posting my initial test results with the Radenso DS1 where it did great, people had a bunch of questions and I did too. Was its performance a fluke? Does it perform well on all bands? What if it only did well on that last course? Did traffic give the DS1 an unfair win? Are the results repeatable?
Either way, I really wanted to get some more test results in, especially before launch so that we can all have a better understanding of how it performs. For that reason I headed back to the red barn course and spent the day running the DS1 against some of the competition, a reduced number of detectors this time so I could 33.8, 34.7, & 35.5. Traffic was light, weather was sunny, and temps were 69-75F throughout the day.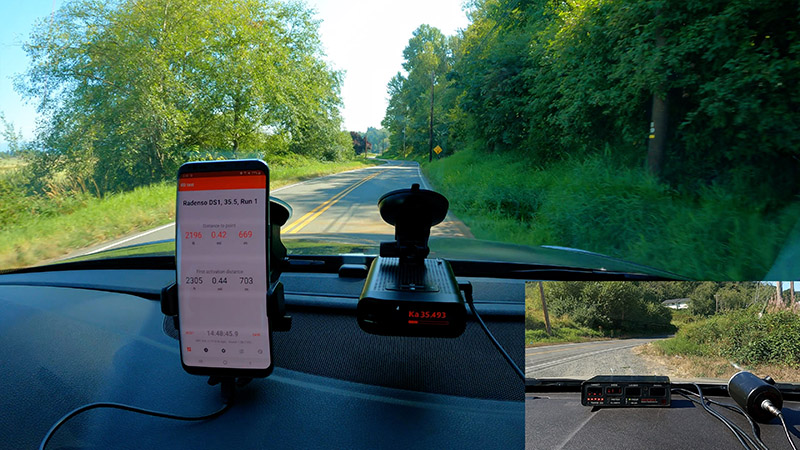 The full discussion is available here on RDF.
Test Overview
Here's the lineup: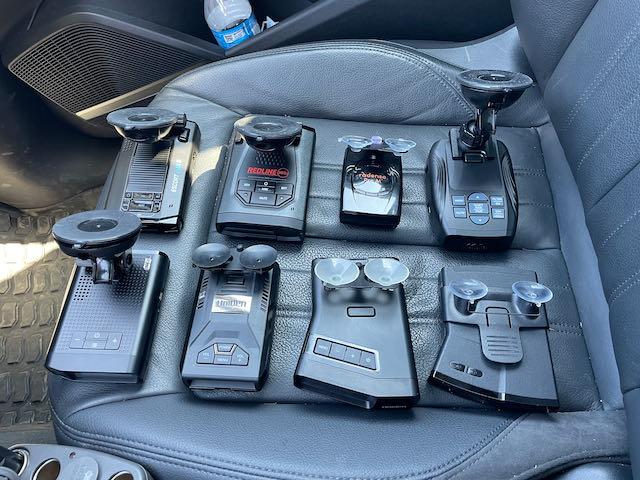 The radar gun was set up in a pretty challenging way, tucked behind some thick foliage.
and here's a look at the test course: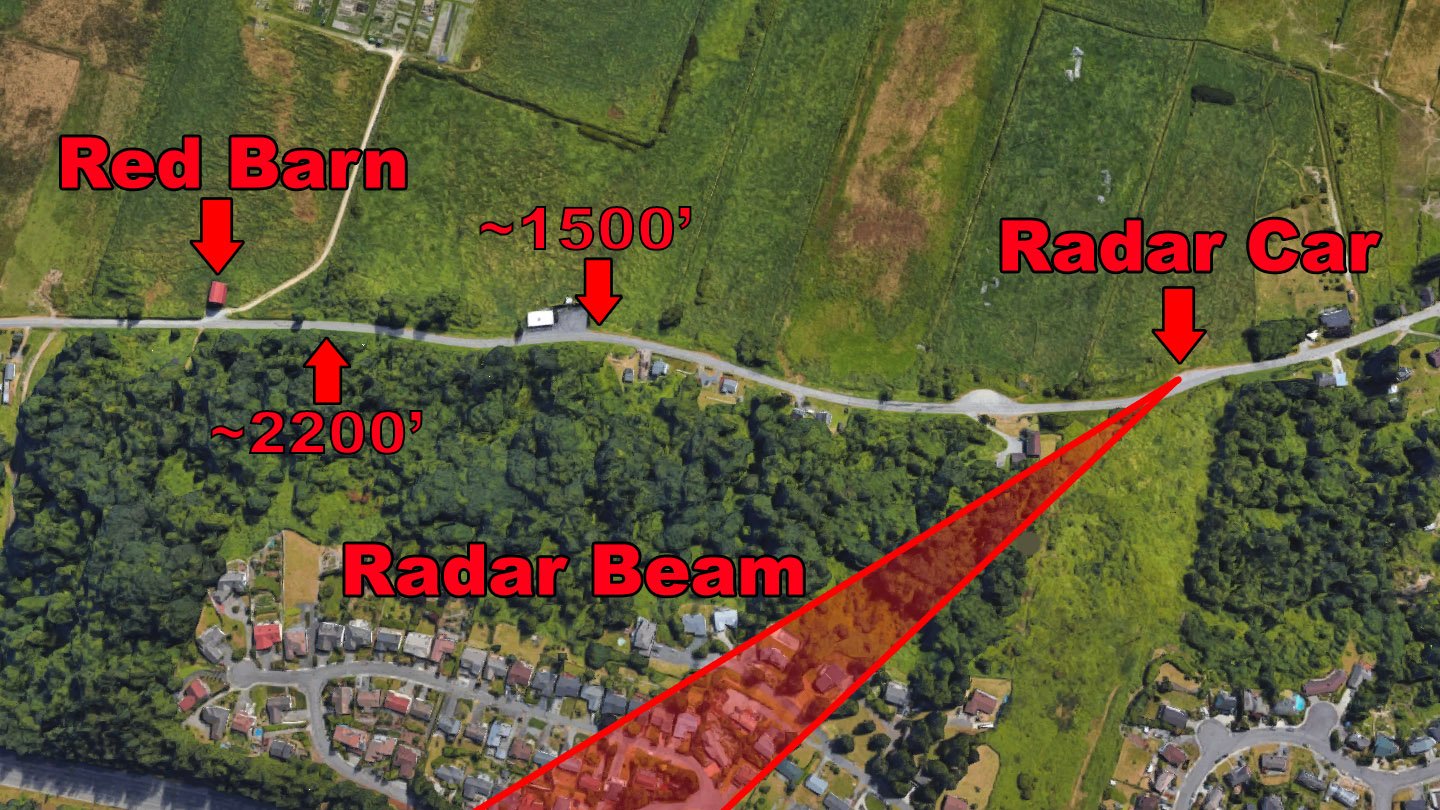 Cruise control was locked at 40mph for all the runs, only slowing down to turn around behind the radar car.
33.8
With that said, let's get into the results. First up, here's 33.8: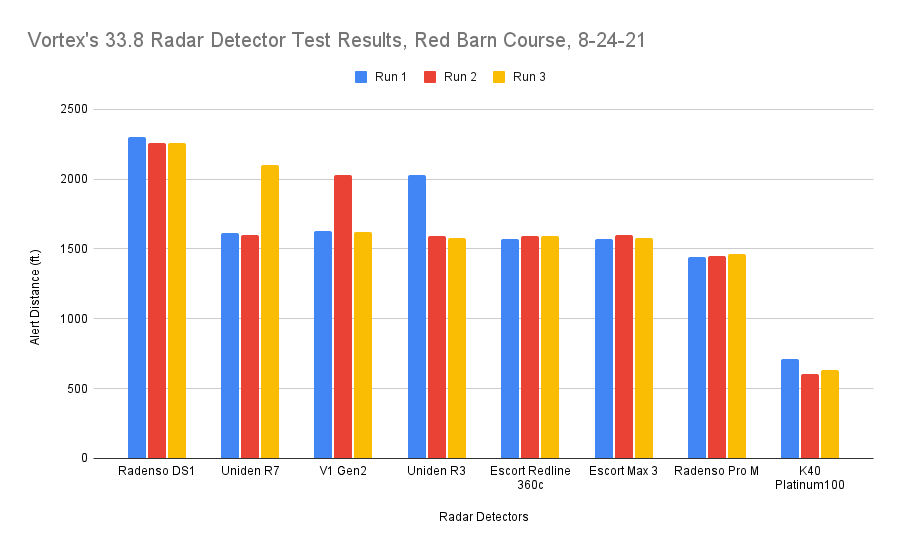 It was tough this time and detectors struggled to alert shortly after the red barn. A few detectors managed to do it once, but only the DS1 managed to do it every time. In fact every run with the DS1 was longer than the very best runs with any other detector. Wow…
Traffic was light but present throughout the day. I do think that it had some influence with occasionally preventing detectors from getting longer range detections, but that's the same as every other time I've tested here. Either way, zooming out and looking at the big picture across lots of runs, I think the trend with the DS1 will continue to be clear. 🙂
34.7
Here's 34.7: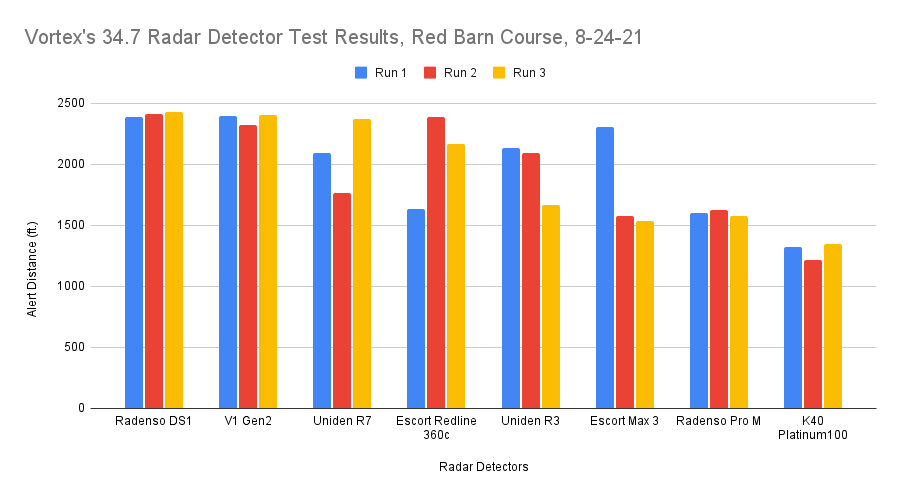 DS1 and V1 Gen2 ran basically neck and neck here, able to give long range detections every time. This one was a little closer overall, but the DS1 still managed the win with its consistently strong detections.
35.5
Finally, here's 35.5: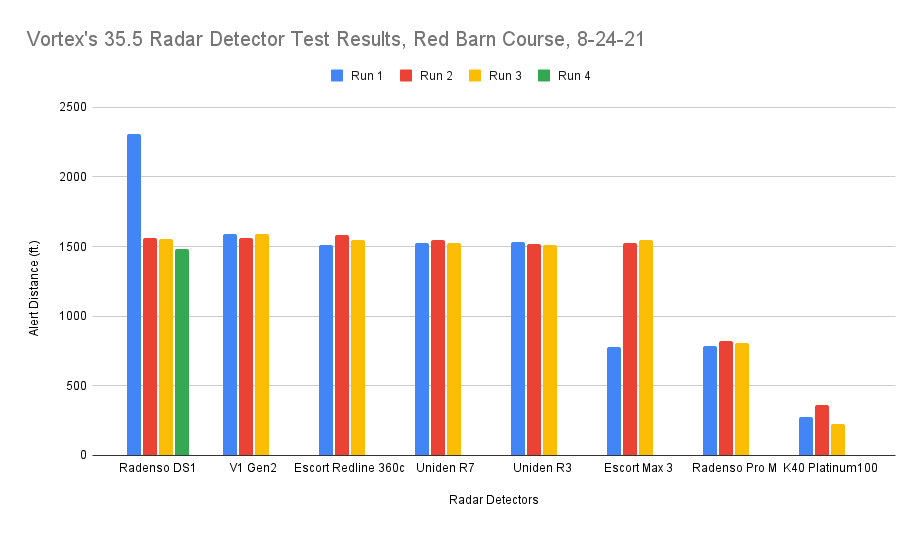 35.5 was tough and I got the shortest detections of the day here. Things were pretty terrain limited on 35.5. There still were several detection zones though. The DS1 managed one alert just after the red barn. Most detectors alerted after that. The Pro M's alerts were shorter still while the K40 basically got C/Owned, giving no useful advanced warning. The K40's performance was so bad that as a sanity check, I ran one more DS1 run immediately afterwards and that 4th run was right around that same main terrain limited location alongside the other detectors.
Overall Averages
and then if we look at the average of all 3 radar frequencies for all the different detectors, here's how things looked overall: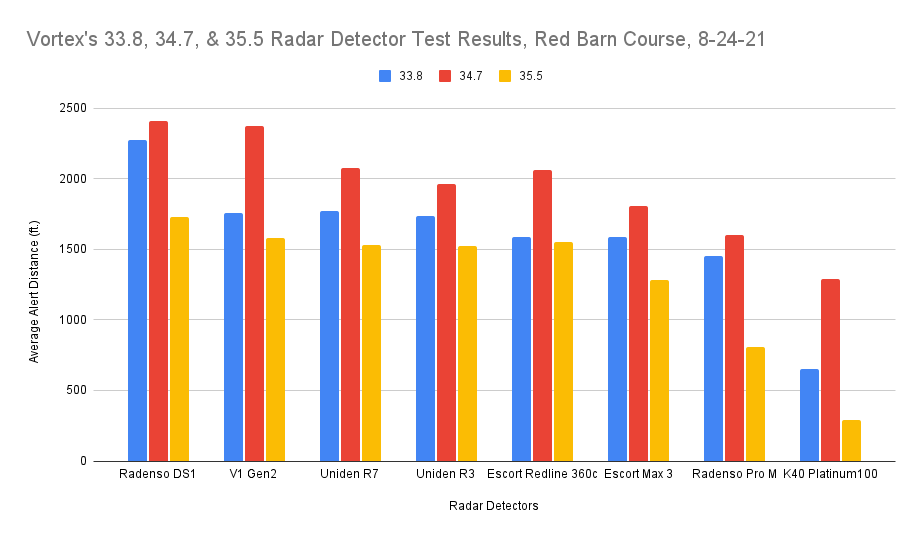 So like in my last test, the DS1 did excellent in this test too, managing to get the longest range overall detections on all 3 Ka frequencies. Sometimes it was a big difference, sometimes it was small. Either way, it's clearly no slouch.
Even though I don't think the DS1 is a detector you should buy on range alone and that there's lots of other important things to consider too, if you want long range detection, the DS1 should be a great choice.
This test gives me a lot more confidence that the DS1 offers excellent performance. Once other people start getting their DS1's in, I'm looking forward to seeing more testing to see if others report the same thing. It's pretty wild to see the DS1 beating out other detectors like this. Big claims require lots of evidence and so I think we still need more testing to verify if it really is the longest range detector on the market. Either way, it's clearly a very strong performer and that's my main takeaway here.
Join the full discussion on RDF here.
This website contains affiliate links.

Click here to read my affiliate disclosure.