So you know that big 34.7 shootout I posted recently? Well the real reason for that test was to do a little beta testing. 😉 I also brought along an unreleased Radenso DS1 and it turns out it's looking like a beast.
The Radenso DS1 is a single antenna detector (so no arrows) and it features a very impressive level of sensitivity.
Here's how it compares to the competition: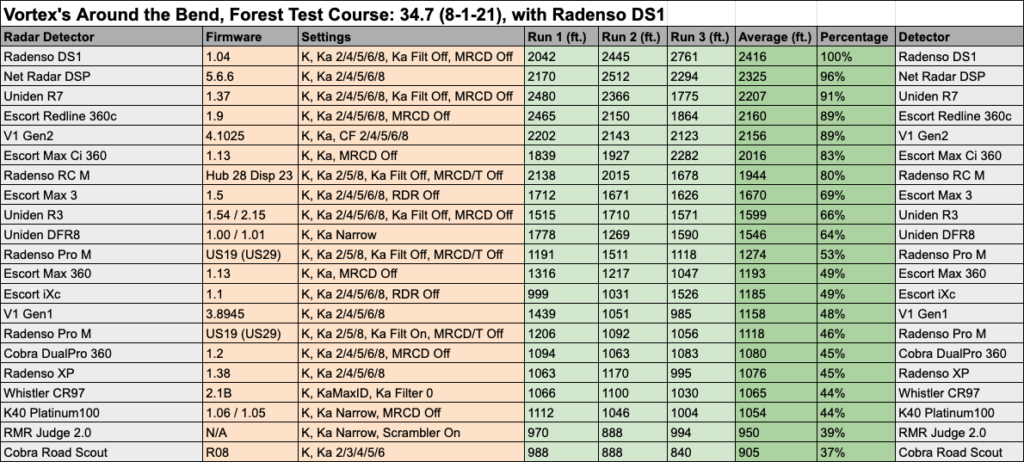 So yeah, the DS1 beat out everything else including the R7, RL360c, V1 Gen2, and all the other big dogs that normally top shootouts. Wow…
Now keep in mind that this is only one test against one radar gun (DSR 2X on 34.7) in one situation with one copy of the detector so we still need a lot more test results, but so far things are looking extremely promising with this new detector!
I don't have permission to share anything else about the DS1 at this time besides what's shared above. Once Radenso is ready, they'll go ahead and start releasing more info about the detector and I'll have more info to share with you then too.
Until then, you can join the full discussion on RDF here.
Great job so far Radenso!
You can purchase a Radenso DS1 here starting Sept 1st.
This website contains affiliate links.

Click here to read my affiliate disclosure.