Radenso just released firmware 24 for the Radenso RC M radar detector.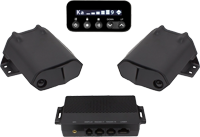 FW24 is a minor update that fixes a few bugs with the detector:
KA mute (some couldn't mute certain KA alerts)
Lockout mute (some units didn't mute a locked out alert)
Update error fix (Some had issues updating the firmware. They were locked out with "ERR" on the display.)
Note: If you happen to update and see ERR with this latest firmware (most people are), Radenso recommends you try updating a second time. The screen will be blank and won't appear to be powered on, but give it some time with the files on the USB drive and it should begin to update. Click here for support with this update.
This website contains affiliate links.

Click here to read my affiliate disclosure.