Want to learn how to use your Radenso Pro M and how to set it up for where you drive? Let's take a look at all the buttons and menu options of the Radenso Pro M.
Radenso did a great job of setting up the detector to be quiet out of the box with settings that are optimal for most drivers around North America. However, you may want to change things depending on where you drive or your own personal preferences.
The Radenso Pro M user manual does a great job explaining things. Let's go into more detail here.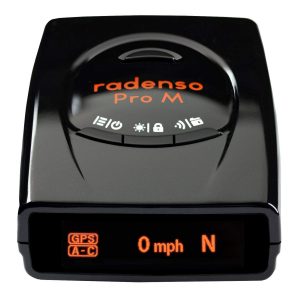 Note: This guide is current as of firmware US22. As the detector gets updated, the settings may change and so I'll keep this guide updated accordingly. You can always check for and download the latest Pro M firmware here. (To check which firmware version you currently have, press and hold the middle button while powering on your Pro M.)
Purchase a Radenso Pro M here.
Radenso Pro M Buttons
The three buttons on top let you control the detector and dive into the menu. The icons on top of the detector tell you what a short press and long press does for each button.
Pressing any of the top buttons during an alert will mute your detector.
Here's the main functions of the top buttons.
Left:

Short Press: Settings Menu
Long Press: Power On/Off

Center

Short Press: Brightness adjustment
Long Press: Mute On / Off (mutes all X / K band signals until you unmute)
Long Press during a false alert: Lock out this false alert so the detector mutes it every time you drive by

Right

Short Press: Change the Sensitivity
Long Press: Create Manual User Mark so you get notified every time you pass by this same location. Long press again during a user mark alert to delete it.
The side buttons adjust the volume. They also let you change the different settings in the menu.
Radenso Pro M Settings
Press the left button to enter the settings menu.
Press the left button to cycle through the different top level options. 
The middle button changes to the next sub-option. The middle button also activates the last few options such as doing a factory reset or clearing all your lockouts.
The volume up and down buttons on the side let you change the actual settings.
The right button exits the menu.
Auto City
Sensitivity adjustments.
Highway: Full sensitivity at all speeds.
City: Reduced sensitivity at all speeds.
Auto City: Full sensitivity at high speeds, reduced sensitivity at low speeds.
Auto city speed limit
If you select Auto City, this option will be available.
The first option allows you to adjust the speed thresholds.
Example: 30 / 60
First Number: Low speed muting for X/K band. Below this speed, your Pro M will visually alert to X and K band signals, but will stay silent. Ka and Laser will visually and audibly alert.
Second Number: Below this speed, your detector will run in City mode at reduced sensitivity. Above this speed you'll run in Highway mode at full sensitivity.
City Level
Next you can adjust the sensitivity for each band. This option is available if you select City or Auto City modes.
Example: X4, K2, Ka0
The number adjusts how aggressive the filter is, 0-9. Think of it as how strong the signal needs to get before you get alerted.
0 means no filtering and full sensitivity. 9 means the most filtering and the least sensitivity.
Be careful not to get these backwards! You'll usually want more filtering (higher numbers) for X and K than on Ka. 😉
Display Mode
Information shown on screen when no alert is present.
Speed / Compass
Speed / Time
Speed / Voltage
Voltage
Time
Speed
Units
Adjusts the units for speed and distance.
English: MPH and feet
Metrics: KPH and meters
Alerts
Choose what and how the detector displays during an alert.
Freq: Shows the band, signal strength (1-9), and frequency
Bar: Shows the band and signal strength visually in bars, more bars for a stronger signal
Voice
Enables voice alerts and speaks the menu options.
Auto Mute
Reduce the volume of an alert after eight seconds.
Alert Tones
Here you can change and customize the alert tones for the different bands. There are 15 unique tones to choose from. This is useful if you don't like the default alert tones, you want X and K band to sound different, etc.
X Tone
K Tone
Ka Tone
MD Tone (MultaRadar CD)
MT Tone (MultaRadar CT)
Gatso Tone
Laser Tone
1-Beep
When you pick up a previously locked out signal, you can have the detector give you a single beep to let you know it's picking up a signal, but locking it out for you, or stay totally silent.
Speed
Low speed muting of X and K band. (It's similar to the low speed muting for City / Auto City modes, except this applies to all sensitivity modes, including Highway mode.)
Off
5 – 130 mph in 5 mph increments
X
Enable or disable X band detection.
K
Enable or disable K band detection or adjust the frequency range the detector scans for.
Off: Disable K band detection
Wide: 23.950 – 24.250 GHz (24.100 GHz ± 150 MHz)
Narrow: 24.010 – 24.190 GHz (24.100 GHz ± 90 MHz)
SNarrow: 24.085 – 24.185 GHz (24.135GHz ± 50 MHz)
K TS Rej
K Band Filter. The name means traffic sensor rejection, similar to TSR/TSF/TMF with other detectors, but the blind spot filter is also built in to this filter as well. The higher the filter, the more aggressive it is.
Ka
Enable or disable Ka band detection. If you select Ka Narrow, you open up additional options for Ka band segmentation. In the US, only 33.8, 34.7, and 35.5 are used.
Off
Wide: 33.4 GHz – 36.0 GHz
Narrow: Band segmentation. Each segment is ± 120 MHz.

Ka 33.8
Ka 34.3 
Ka 34.7
Ka 35.5
Ka Filter
This helps filter out false alerts on Ka Band.
Ka POP
Detection of 67ms Ka POP.
Laser
Enable or disable laser detection.
MRCT
Detection of the MultaRadar CT used in Chicago and NYC.
Off
Wide: Enable MRCT detection of frequencies used both in North America and the lower frequencies also used Europe.
Narrow: Enable MRCD detection of frequencies used in North America.
MultaRadar detection range and performance is other unaffected by the Wide / Narrow options.
MRCD
Detection of the MultaRadar CD, used Alberta (Edmonton and surrounding areas), Maryland, & Washington D.C.
Off
Wide: Enable MRCD detection of frequencies used both in North America and the lower frequencies also used Europe.
Narrow: Enable MRCD detection of frequencies used in North America.
Gatso
Enable detection of the Gatso RT2 and RT3, used in Des Moines, Iowa.
MR Filter
If you enable either MRCD or MRCT detection, the MultaRadar Filtering option will show up as an option. 
The MultaRadar Filter helps to filter out false alerts from other frequency modulated radar sources (like BSM radar) that aren't also MultaRadar sources.
Off
Low
High: Most aggressive filter. This is what most people run and it's the recommended setting.
Startup Sound
Enable or disable the startup sound, a three-beep jingle.
GPS Connect Announce
Enable or disable the announcement when a GPS signal is acquired.
GPS detection
Choose which types of fixed known locations you want the detector to alert to. These are alerted to using the GPS location, not radar or laser.
Press the middle button to switch between the different options.
Speed Cam
RedLight Cam 
Section 
User Area 
GPS Warning Distance
Choose how far away you get notified to the different GPS user points above.
Normal: ~800 ft.
Farther: ~1,250 ft.
Farthest: ~1,650 ft.
Time
Time is set via GPS. If the hour is wrong, you can set an offset to choose the correct hour for your time zone.
Factory Reset?
Reset all your settings back to factory defaults.
This does not erase your lockouts or any other user points.
Delete all user locations?
Delete all of your manually created user points.
Delete all false alert areas?
Delete all of your GPS lockouts.
Radenso's Default / Recommended Settings
Radenso sets the default settings to be optimal for most drivers so it's ready to go out of the box without you having to mess around with the settings. Here are the default / recommended settings.
AutoCity: 30 / 60
City Level: X4 K2 Ka0
Display Mode: Speed/Time
Units: English
Alerts: Bar
Voice: On
Auto Mute: On
X Tone: 1
K Tone: 1
Ka Tone: 2
MD Tone: 3
MT Tone: 3
Gatso Tone: 3
Laser Tone: 4
1-Beep: Off
Speed: 15 mph
X: On
K: Narrow
K TS Rej: High
Ka: Wide
Ka Filter: On
Ka POP: On
Laser: On
MRCT: Off
MRCD: Off
Gatso: Off
Startup Sound: On
GPS Connected Announce: Off
GPS Detection

Speed Cam: On
RedLight Cam: On
Section: On
User Area: On

GPS Warning Distance: Normal
Vortex's Personal Settings
There's no one set of settings that are ideal for everyone. That's why they give us the ability to change them. 😉
Here are the settings that I use myself. They are basically designed to quiet the detector down a bit more, disable X band since it isn't in use up here, give me more information like the signal frequency, disable the manual user point alerts since I don't use that feature, and stuff like that.
If you want different settings or you live in an area with the X band or MRCD/MRCT, for example, you should adjust your settings accordingly.
Additionally, I'm still experimenting with the different alert tones
Note: I've put a (*) in front of each setting that I've changed from the defaults.
AutoCity: 30 / 60
City Level: X4 K2 Ka0
*Display Mode: Speed/Compass
Units: English
*Alerts: Freq.
*Voice: Off
Auto Mute: On
X Tone: 1
*K Tone: 12
Ka Tone: 3
MD Tone: 3
MT Tone: 3
Gatso Tone: 3
Laser Tone: 4
1-Beep: Off
Speed: 15 mph
*X: Off
K: Narrow
K TS Rej: High
*Ka: Narrow

Ka 33.8 On
Ka 34.3 Off
Ka 34.7 On
Ka 35.5 On

Ka Filter: On
*Ka POP: Off
Laser: On
MRCT: Off
MRCD: Off
Gatso: Off
*Startup Sound: Off
GPS Connected Announce: Off
GPS Detection

Speed Cam: On
RedLight Cam: On
Section: On
*User Area: Off

GPS Warning Distance: Normal
If you have any questions, please let me know down in the comment area. Additionally, you can head over to the Radenso discussion area on RDF or contact Radenso directly.
Purchase a Radenso Pro M here.
This website contains affiliate links.

Click here to read my affiliate disclosure.