Uniden is introducing two new high end radar detectors which are the successors to the DFR6 and DFR7. They are called the Uniden R1 and the Uniden R3 and they're so good, they're rendering some of the current top of the line benchmark radar detectors virtually obsolete.
So as I mentioned, these detectors are the next generation of the Uniden DFR6 and DFR7 (though they're not replacements to them.. they're the now top-of-the-line models). They're similar in terms of features and design, but they now offer a color OLED display and a frequency display up to 3 digits. However, the big deal about these detectors is that they're now digital (like the Escort Max series detectors) and they offer performance that is able surpass the range of the current top of the line, high performance, long range detectors like the Escort Redline, Radenso Pro SE, and Stinger VIP. It's kind of incredible.
In testing we're seeing the detector run neck and neck with M3's in situations where we're course limited (lots of detectors alert around the same location as you crest a hill or around a bend, for example) and in situations where we see separation between detectors, we're seeing the new Unidens absolutely blow away everything else. For example, here's one test done by @Dukes comparing the Stinger VIP (purple), Escort Redline (Red), and Uniden R1 (green).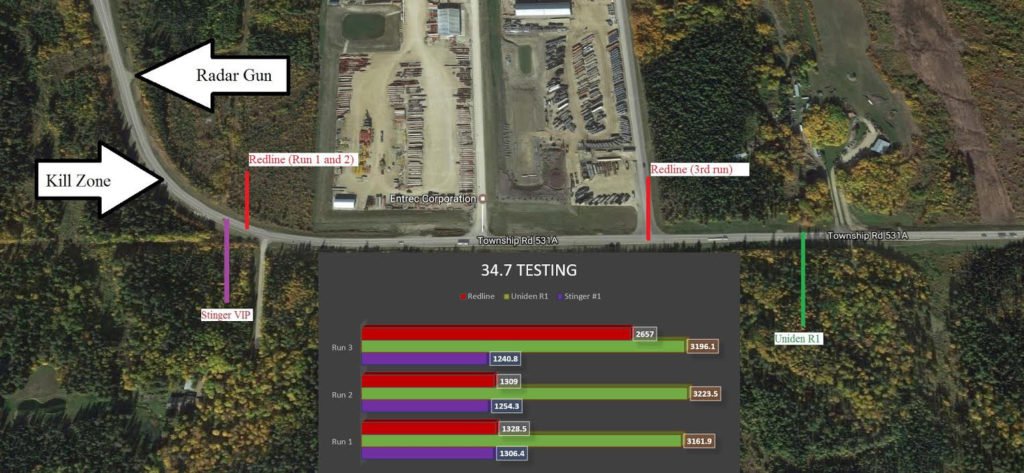 Do you remember how the DFR6/DFR7 were pretty strong on 34.7 but weak on 33.8 and 35.5? Well the new R1/R3 are now stronger than a Redline on all 3 Ka frequencies which is incredible.
The Uniden R1 and R3 offer the same level of performance, but the R3 adds GPS to give you GPS lockouts, low speed muting, and red light camera alerts for more useful features and false alert filtering capabilities around town (similar to the DFR6 and DFR7).
The BSM filtering with these detectors is pretty good too, better than some existing detectors like the Redline (not that that's too hard to achieve nowadays, heh). Due to its extreme sensitivity it picks up more signals than other detectors so it's not going to be as quiet as something like a Radenso XP, but the BSM filter is pretty effective.
Here's a hands on look with the Uniden R3 so you can check out the detector and see all the current features and menu options.
This detector is currently being beta tested and we've been working with Uniden to help brainstorm features, they've been making some awesome new changes, improving the filtering, and so on. We're testing with production grade hardware but beta firmware so I can't give you information about the final product, but the firmware we have now is close to production ready. There's a few changes Uniden wants to make such as improving the BSM filtering even more and also boosting X band performance (they had reduced X band sensitivity to cut down on false alerts but it also impacted range.. so they're giving us full sensitivity and reduced sensitivity now as separate options, for example.)
As far as RDD immunity, this detector is effectively completely stealth to the Spectre Elite, even when the Spectre is being run at max sensitivity. Check this out…
That was one of the tricks that the Escort Redline had.. and this detector is also immune, not to mention it gets better range, has better BSM filtering, and costs less money too!
Speaking of which, let's talk about that. These detectors are now available for preorder and will be shipping around the end of May.
The Uniden R1 (no GPS) will retail for $299.
The Uniden R3 (with GPS) will retail for $399.
If you're looking for a high end, long range, high performance radar detector, this has now become THE detector to get. This detector is going to be extremely popular and I know that availability initially will be very limited so if you're interested, I would definitely recommend you pre-order.
This website contains affiliate links.

Click here to read my affiliate disclosure.