So the Max360 is Escort's latest and greatest, newest radar detector with all the bells and whistles, including arrows! It takes their previous best selling radar detector, the Max2, and gives it a second antenna pointing backwards so that it can have arrows just like the V1, and now you have an automatic, plug-and-play, ease to use radar detector that can do it all for you without minimal setup, no extra accessories required, and it's now basically like the jack of all trades. The Max360's abundance of useful features and convenient user experience has made it one of the most popular radar detectors on the market for the everyday driver. Let's take a look through this Escort Max360 review and find out if it's the best radar detector for you too. (Updated November 2017)

Escort Max360 Review
So the video I posted up above is the short version of my video review that covers the highlights. If you'd like to watch a comprehensive and in depth video review, here's the full version that's just over an hour long.
Escort Max360 Radar Detector Overview
The Max360 is Escort's first detector with arrows. The V1 has had this feature for nearly 3 decades now, but their patent for arrows expired back in 2012 and so now Escort is introducing this same feature to close the gap and remove the V1's primary competitive advantage. It is essentially a Max2 with a rear antenna to give it arrows to make it more like a V1, and they've also copied a few other small things that the V1 does to close the gap. They've also improved upon a couple things the V1 does while in other ways it's not as refined as the V1, so there's a mix of good and bad. There's also been some welcome improvements beyond what we had with the Max2, so it's more than just arrows. The detector is also pretty large and heavy (the largest and heaviest on the market) though that doesn't seem to be a big deal once it's actually on my windshield.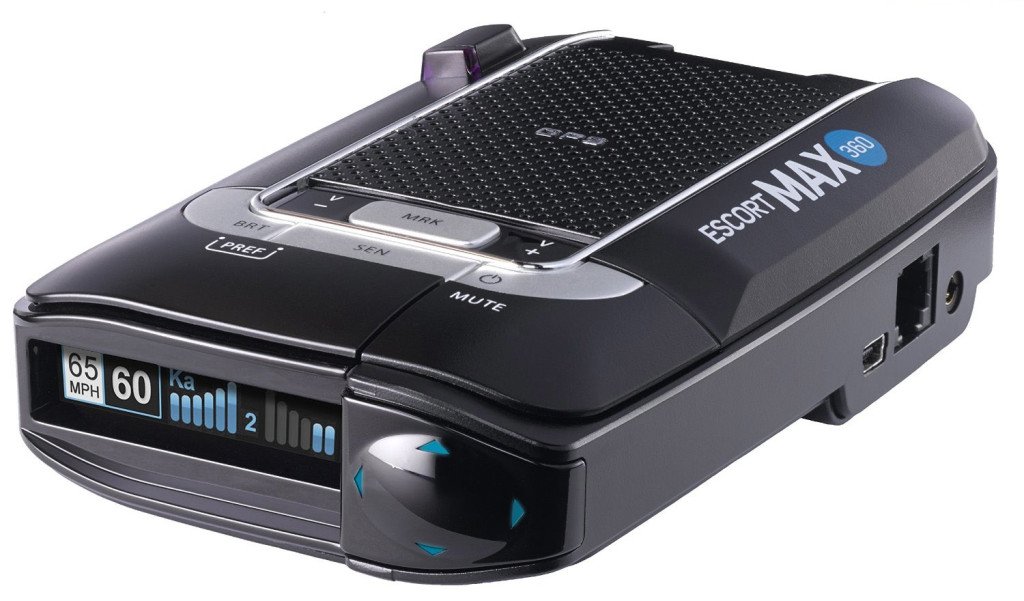 Would I recommend it? Yes, but like with any detector, it's not going to be the best choice for everyone. Depending on your needs, where you drive, and even your personality and preferences, the Max360 may be the perfect choice or perhaps another detector may be better suited to you. So let's dive deeper into this Escort Max360 review and take a look at some of the specifics to get a better feel for how this detector fares.
Max360's Performance
This is arguably one of the most important attributes of a radar detector. Performance. The better it can detect radar and warn you of threats in the area, the more likely it is to save you from a speeding ticket.
This detector will give you the same level of performance as the Max/Max2. I've found the Max360 to consistently be a standout performer on 33.8, the main Ka band frequency I see around here, so I'm very happy about this.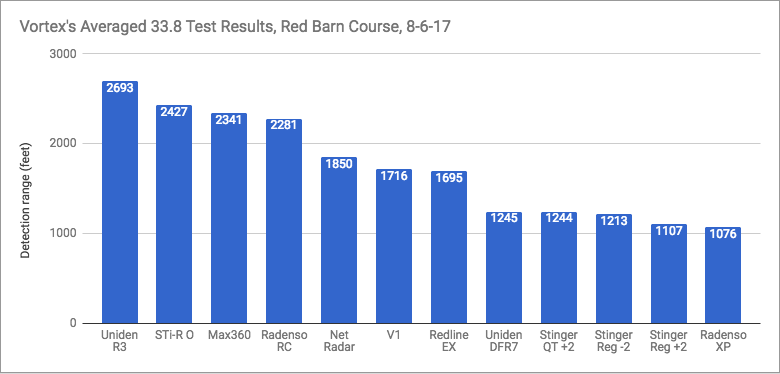 On other frequencies such as 34.7, it's less of a standout performer.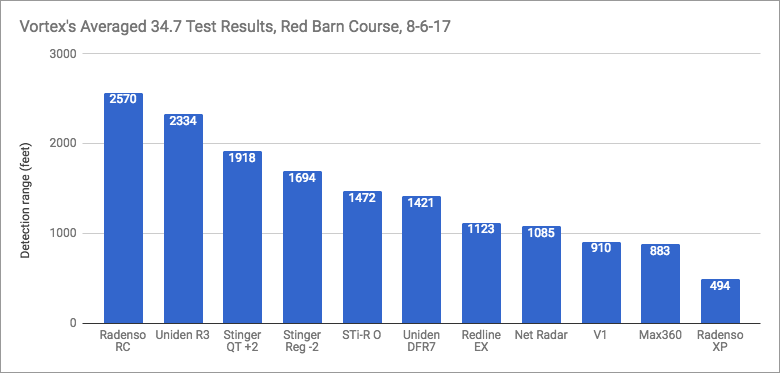 Many others have tested their Max360 over the years and have found similar results. The Max360 isn't necessarily the best performing radar detector ever, but it can still provide sufficient range in most every situation which is what a radar detector needs to do to keep you protected.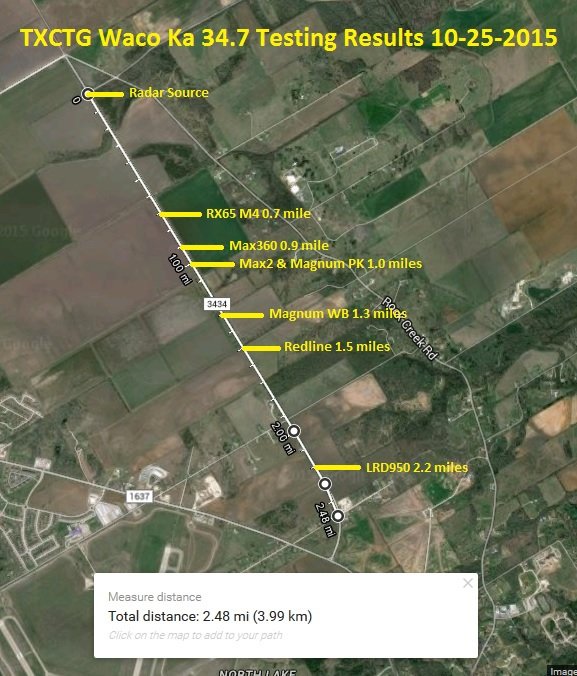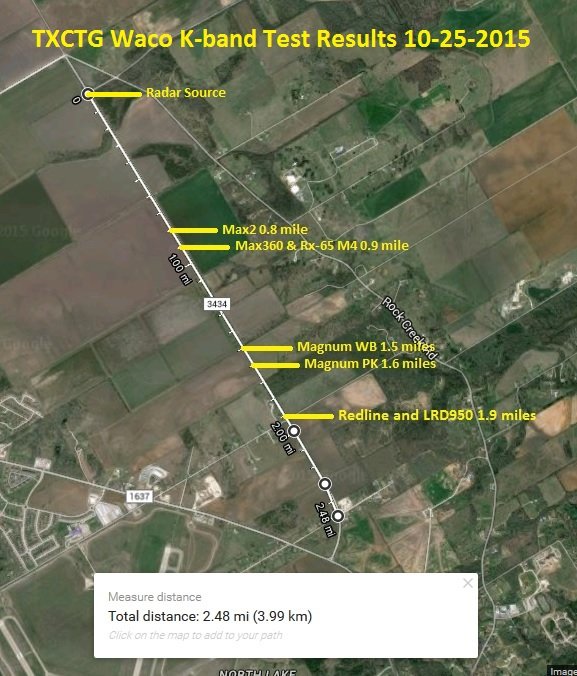 The MWCTG tested the Max360 and it gave plenty of warning time, but it got beat by the other detectors the tested with including the Redline, STi-R O, and Stinger VIP.
So while it may not be the range king on all bands against all guns, it will still do the job. Here's a very good real world detection against I/O 35.5. It has no problem here and should be adequate in many situations for you too.
I've also done some basic QT testing and it seems to be a pretty quick detector. A custom swept V1 and BS/RDR Redline are both faster, but the DSP definitely helps speed things up with making the detector fast without having to rely on disabling some of the Ka filters or cutting out some of Ka band and potentially missing an out of tune gun which is something I really like. That's one of the benefits of a digital detector: being able to scan a wide range of frequencies while still maintaining good performance.
Max360's False Filtering
Along with radar detection performance, the ability to filter out false alerts is also vitally important. Who cares if you have awesome performance if you're getting endless false alerts, begin tuning out your detector, and you stop paying attention to the alerts that it's giving you?
The Max360's implementation of GPS lockouts is the easiest to use out of any brand. Unlike some other detectors from Radenso or Uniden, Escort's lockouts are automatic (thanks to a patent that's good through 2020). Just drive around and it does it all for you without you having to press a button to lock a signal out. Unlike the V1 which can also do autolockouts so long as you pair it with your phone, the Max360 doesn't require additional dongles, a phone to make it happen, or setting up and running any third party apps. It's the most convenient way of doing it and I like that. No phone required. For you guys who want a convenient experience, the Max360 delivers. It's also easier to move from car to car when all you need is a detector and a power cable.
The blind spot filtering has been improved relative to previous detectors. There's now some CAS filtering that's built in (that you can't turn on or off) that lets it filter out some blind spot cars without having to enable TSR and accept the performance penalty that TSR brings. Very impressive stuff. The false filtering isn't perfect by any means and no detector is. You'll still get falses. It's not magic. However, it is one of the best BSM filtering detectors available on the market today.
As for TSR, the delay has been reduced from what we saw with the Max2 so there's no longer a crazy long delay when the filter is enabled. A very nice improvement and it means you're less likely to miss a brief burst of K band radar should you need to have TSR enabled.
You've also got cruise alert to mute signals when you're below a set speed which is handy for quieting the detector down around town, especially in new and unfamiliar areas where the lockouts haven't kicked in yet. Additionally, if you pair your detector with your phone, you can get speed limit information for the road you're on and the cruise alert threshold gets replaced with the speed limit and so the detector will mute signals when you're traveling below the speed limit. Sounds good in theory, but there's some issues with doing this (what if you're in a construction zone or the speed limit information is wrong?) which I'll take about in the section below about bugs and improvements I'd like to see with the 360.
Display
One thing that's pretty awesome about the Max360 is that the screen can display arrows, frequency information, as well as signal strength for front and rear. You get a ton of useful information on the display itself.
The display is also very customizable. There's 7 different ways of displaying signal strength and 3 different ways of displaying the arrows. You can customize the colors of the display and arrows as well to match your vehicle's interior or to differentiate between front/rear, different bands, etc. With the V1 all the LED's are red which makes things harder to ID quickly. With the 360 you can make things different colors which makes it easier to quickly identify things at a glance. Very handy.
I also like that you can have frequency information for the primary threat right on the detector. You can do this with a phone with the V1 and you can get the frequency for every single signal if you go that route, but for a detector that doesn't require a phone, the Max360's display presents more useful information than the V1.
Arrows
So yeah, it's got arrows like the V1. The arrows are smaller than the V1, but they're plenty bright and there's no issue seeing them in practice. They do operate a little differently than the V1 so we'll talk about these in a little more detail since that's the big change with the 360.
There's 3 different ways to display the arrows:
1) Single arrow: The arrows will point to whatever the primary threat is
2) Multiple arrows: The arrows can point to multiple signals, a primary and secondary signal. The arrow for the primary threat will blink (ie. Ka band ahead over K band behind) like the V1 to help make things clearer.
3) Band mode: The colors for the arrows are fixed depending on the band. Laser and Ka are red, K is blue, X is green. You can watch the video I posted above for more info and to see this all in action.
The arrows are also a little more laggy than the V1. The V1 is super quick at flipping from front to rear which makes it easier to tell when you pass a source.
On average it takes about 4 seconds for the arrows to change directions when you pass a source. Here's a comparison with the V1 and Max360.
Sometimes it takes much longer than that. Here's an example passing a K band speed sign where it takes closer to 8 seconds.
Again, this isn't always the case. Here's an example where I found an Acura MDX (which makes just about every detector false to K band) where I did a little blind spot testing. You'll see TSR doesn't help deal with the false. Anyways, when I pass the Acura towards the end of the video, you'll see the arrows flip from front to rear pretty quickly. This is one example where the arrows are very helpful. They can help confirm that the K band false you're seeing is a blind spot false and not an I/O shot up ahead.
So the arrows aren't as refined as the V1, but hey, Valentine has had 30 years to fine tune their arrows. Escort has been working on this for just a few years. Initially the arrows were slow and laggy, especially when you passed the source, but this has been improved since the 360's initial release thanks to firmware updates.
If you pick up a Max360, make sure you update the 360 to the latest version. You can also periodically update the detector as the RLC database is updated, or if you have your detector paired with Escort Live, you'll always get the latest information from the cloud to your phone (but not permanently downloaded to your detector).
Bugs & Improvements to be Made

The Max360 has had a variety of issues initially, but Escort has been continually updating the detector, something I've been covering over the years on my YouTube channel.
One improvement I'd like to see Escort make that they haven't already has to do with Cruise Alert / Escort Live. The issue is that if you pair your detector with Escort Live which gives you speed limit information, if you also have Cruise Alert enabled on your detector to mute signals out at low speeds, the detector will ignore your Cruise Alert speed threshold and instead use the Speed Limit speed which means that the detector will be muted if you're traveling below (what the detector thinks is) the speed limit. While the speed limit is fairly accurate in my experience (it wasn't originally and Escort switched speed limit database providers which improved this), it doesn't take into account things like school zones or construction zones which means that you very well may run into an issue where you're traveling over the speed limit and the detector decides it should mute itself in an area where police like to patrol. Not cool. There's no way to disable this if you're running both Cruise Alert and Escort Live simultaneously. You have to either disable Escort Live or disable Cruise Alert. Running one or the other is fine, but running both creates this issue. Escort knows about this and designed it this way. I don't like it and wish there was a way you could disable this and still use both features. You can see this illustrated in this video.
The latest firmware for the Max360 (1.3 / 1.6) improved the BSM filtering, but people are noticing that the detector sometimes locks up when detecting K band signals. The alert will get stuck on screen and you have to power cycle the detector to get it to resume detecting and alerting normally.
Escort Live also doesn't support arrows. The third party Android app Escargot Drive can display the Max360's arrows on your phone's screen so the detector is already communicating arrow information via Bluetooth. However, Escort has not decided to update their own app Escort Live to display the information that the detector is already making available. I'm not sure why, but that's a bizarre choice. (Escort Live support has never been their strong suit.. in fact they have said on multiple occasions that they're a hardware company, not a software company, when people ask about Live integration.)
Finally, Escort is becoming more and more oppositional towards its customers these days, particularly on their forums where people report issues. Escort's attitude has upset many of its customers with their approach and this also may very well impact them taking issues and bugs seriously and implementing important fixes.
Red Light Cameras & Speed Cameras
One thing that's great about the 360 is that it has a database built in for red light cameras and speed cameras. No additional apps required. It also has one of the best databases on the market. It's accurate, updated pretty frequently, and it's also directional meaning that if an intersection is enforced in one direction of travel but not another, you'll only get alerted if the RLC's are monitoring the direction you're driving. This means you'll get fewer false alerts than with other solutions that alert you when you approach the area independent of direction, but it also means that people sometimes wonder why they go through a RLC intersection and their detector doesn't go off. 😉
One thing that I would like to see Escort improve on is not alerting you to RLC's and speedcams when you're driving down the highway and there's one on a nearby or parallel street. The detector doesn't know if you're on the highway or traveling down city streets and so you will get unneeded RLC alerts when driving down the highway in cities. Some detectors (like the Radenso Pro M-edition and Uniden R3) allow you to delete individual RLC's as desired, but the Max360 doesn't. Another solution to this would be to add mapping information into the database rather than just locations and direction of travel, but this would likely make the database gigabytes to download and require a lot more memory in the detector and Escort (or any other RD manufacturer for that matter) hasn't expressed interest in this approach so they all have the same issue. Being able to manually delete RLC's would be a nice feature.
If you run Waze on your phone (and you should), it also has an excellent database, it's updated regularly, it's directional like Escort's implementation, it's totally free, and it takes into account city streets vs. highways so you do get fewer falses.
So little annoyances like that aside, Escort's RLC alerts are actually pretty good. Sure you can get a better running package overall if you piecemeal other apps in like Waze, but again the Max detectors are designed to be your do-it-all detectors that don't require
Size
Size-wise, the detector is huge. Not absurdly huge to the point of ridiculousness, but it's definitely the biggest detector out there. It's also heavy at nearly 3/4 of a pound.
Is this an issue in practice? Not as much as I thought.
Even in my car which is a compact Miata, it doesn't block as much of my visibility as I thought it would. It's still usable even when mounted high by the RVM.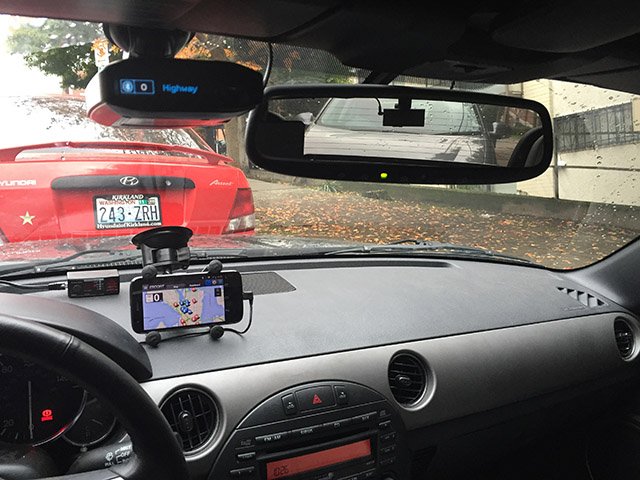 It does block more of my visibility than my V1, and that's something that I am seeing to be a bit of an issue when driving around with it, but that's more due to the fact that the sticky cup drops it down and I can't mount it flush with the top of my car. Also because of the fact that the mount is in the rear of the detector rather than the middle, it sticks out forward which gets in the way of seeing my RVM. The solution is to move it over to the left a little bit so it's more in front of me instead of slightly off to the side by the RVM. I wish the factory mount would let me mount the detector higher so it didn't dip down into my vision, obscuring my view of the road as much.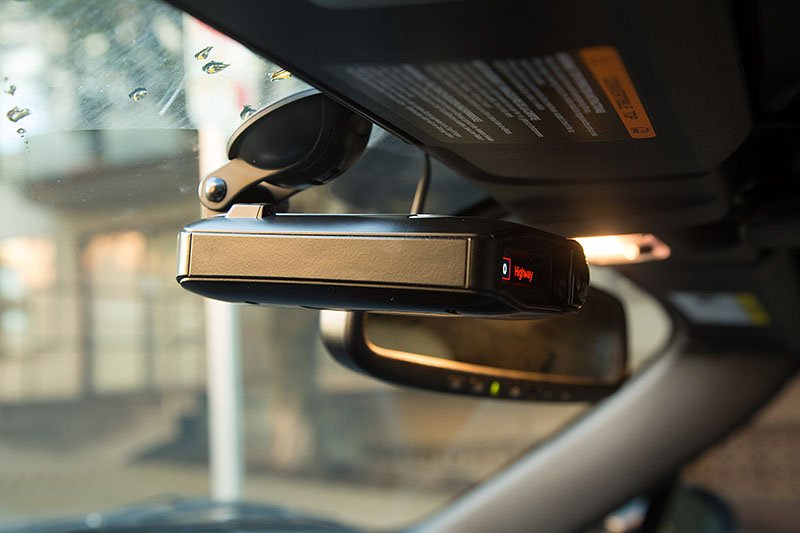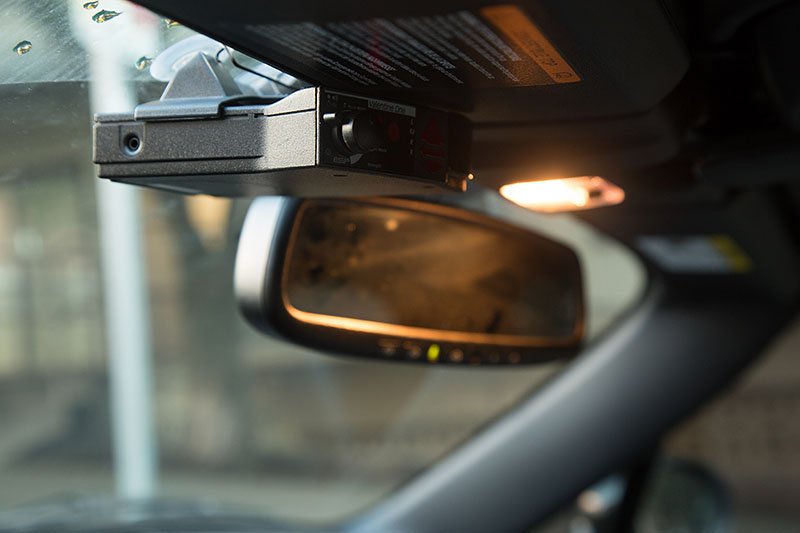 Mount
The previous Max's were known for being kinda bouncy on the sticky cup. There was an update that fixed this to a certain extent, but there's a newly redesigned sticky cup that the Max360 comes with that effectively solves this issue entirely. It uses a shorter connector with less leverage against the mount. The Max360 is solid and stable now, despite its size and weight, and it's nice to have the detector actually be fixed on the windshield. No more bounciness! Yay!!
The sticky cup is also compatible with the Max/Max2/GT-7 as well so if you're upgrading from a previous gen Max, your current sticky cup will work with the 360.
There were some quality controls issues initially with sticky cups exploding, but Escort has since updated the internals of the mount to fix this issue. They have replaced the mounts with updated models and new detectors are all shipping with good mounts so this issue has been resolved.
The main thing is that I wish the mount wasn't so big and didn't make the detector hang down so low and block as much of my visibility. Aftermarket mounts are available as well and depending on your vehicle and placement location, this may not be an issue for you in your vehicle. If you prefer not having anything attached to your windshield at all, you can also consider the Blendmount which works great with the Max360.
Improvements over the Max2
So in addition to the arrows, new display options, improved blind spot filtering, reduced TSR delay, and less bouncy sticky cup, there's even more improvements to the Max360 over the Max2.
The case design is different so we shouldn't have issues with the Max360 splitting in half, removable panels falling off, or lens falling out. It feels much more solid which is a very good thing.
There's also a really high pitched annoying beep when the detector starts up or when you go into the settings. After the initial warnings (ie. X band off, TSR off, etc.), there's a high pitched beep with the Max2. Very annoying if you had your detector volume up from a noisy car the night before and then you start up the next day in a quiet parking lot. That chirp can be kinda ear piercing. That has been changed now to where it's all a lower pitched beep which is much more pleasant to use in practice.
All in all, it's a more enjoyable package to use. They're small things, but the improved build quality, reduced annoyances, no more bounciness, no more crazy long TSR penalty etc. all add up to be a more enjoyable package and I like it more than the Max2. It's more than just arrows. There's been a few other improvements too that they've practically copied from the V1.
Max360 Compared to Valentine One / YaV1
So I've gone over the arrows stuff already. I like that there's more customization and colors offered with the Max360. You get much more information on the Max360 display (ie. frequency display) and you can display the signal strength for two signals at once (front and rear). With the V1 you only get signal strength about one signal. However, if you pair your V1 with YaV1, you can get the arrows, band, frequency, and signal strength for every single signal. So you get more info with the V1/YaV1 over the Max360, but the 360 has more info than the V1 on its own.
They've also added a bogey counter to the 360, just like the V1, so you can be aware of how many signals the detector is picking up on.
The V1 has two volume controls, the main volume and the muted volume. They've sorta copied this with the 360. AutoMute now has 4 different options: High, Medium, Low, and Off. Now you have the option of how far AutoMute drops the volume… so if you want the automuted volume to be louder or quieter, you have more control over how loud or quiet it gets. Not quite as easy to use as the V1 with its physical dial right on the front, but definitely a welcomed improvement.
There's also a V1-like new bogey tone that you can activate. Under tones there's Standard (traditional beeps), Standard+ (traditional beeps with a new bogey tone), and Mild (which is like a calm doorbell). Here's an example of Standard+ in action passing by one auto door opener. As I pass it, the arrows flip from front to rear. The 360 then picks up a new K band signal from the door opener a block up the street, you get a beep, and the front arrow lights back up.
It's not exactly the same as the V1. They have different alert priorities. You don't get a new bogey sound if you first have a Ka alert then get a K band alert, or if you have a K band alert then get a Ka band alert. With the 360, they have to be the same priority in a sense.
So there's a bunch of little things that they've copied. Imitation is the highest form of flattery, I suppose. 😀 It's also taking away, to a certain extent, the competitive advantage of the V1 over the Max detectors, and I think that's a big part of what Escort was going for with the 360.
So new colors, they've copied some features, and they've improved on some things, but the V1 still feels more responsive and refined because alerts display instantly and arrows change directions to follow the signals almost instantly too. The 360 feels like a bit of a "me too," but that's okay. I'm hoping Escort continues to tweak and improve the detector to close the gap even further.
Driving around town, I'm liking the quietness of the GPS lockouts as well. YaV1's lockouts are safer and more sophisticated, but they are a bit noisier because they're much more geared towards avoiding locking out a legitimate threat. Escort's lockouts are simpler and the err on the side of quietness.
YaV1 does a lot more analysis to help avoid locking out a legitimate threat. While both implementations look at the location and frequency of the signal to create a lockout, YaV1 looks at things like the direction of travel (the 360 doesn't) which means locking out a signal when driving in one direction is independent of a lockout traveling the other direction. It also will alert to an additional signal with a similar frequency while Escort's implementation will lockout any and every signal with a similar frequency.
YaV1 errs on the side of safety at the expense of chattiness and taking longer to lock a signal out. Escort's implementation errs on the side of quietness and makes it easier to use at the expense of being more likely to lock out a legitimate signal.
I also like that because the 360 does it all itself, every lockout is muted immediately. With YaV1 there's a bit of a delay between when the detector goes off (immediately), the signal is passed onto the app, the app does its muting processing, and then it tells the detector to mute. So with YaV1, you'll always get an initial beep, but it'll mute by the second beep. That's good if you want to be kept aware of what's going on around you, but it can be annoying if you want a quieter experience and only want to be alerted when there's a new threat in the area. I like both implementations for different reasons. Sometimes I want to know everything that's going around me. Sometimes I want a more relaxed experience and to focus on other things.
So I think the V1 with YaV1 is a little more refined. You get safer lockouts, arrows are far more immediate and responsive, you get more information on screen, all the information about every single signal versus just the primary and secondary signals (sometimes people just want a simpler experience too which is also cool), more advanced muting options, frequency announcements are possible, you can easily create and switch between settings profiles on the fly, etc., but the 360 offers much more as a standalone option if you don't add YaV1 into the picture and you don't have to go through the effort of setting up an app to get the full functionality.
The 360 has bluetooth built in so you don't have to purchase and add on an external bluetooth dongle and the 360 is cross-platform capable so it works with both Android and iOS while on the V1 you have to purchase an iOS or Android specific BT module. The V1 requires third party apps like YaV1 for Android and V1Driver for iOS, as well as some advanced configuration. On the Max360, you don't have to dive into more advanced programming options like custom sweeps to derive maximum performance from the unit at the risk of potentially not alerting to out of tune guns, and the general idea is you can get many of the same features and abilities in an all-in-one easy to use package.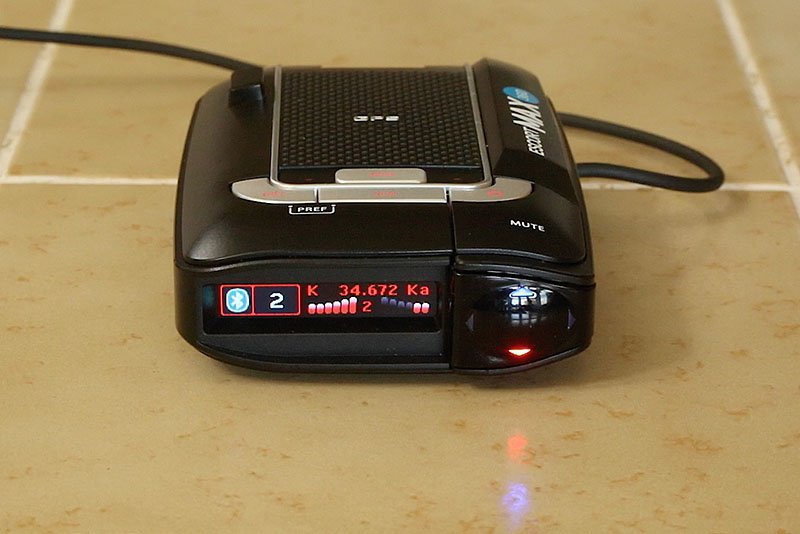 Is It Worth it?
I think the Max360 is a great option for people who want all the bells and whistles and also want something easy to use that does everything for you. It's especially good for people who want both all the bells and whistles while also having a user friendly experience. It's not the cheapest or the smallest detector in the world. In fact it's the largest and the most expensive. However, you get a whole lot of useful features and usability for your money and that's what it's all about.
You can save some cash by going with a V1 with V1Driver or YaV1, but that's a more complicated setup with more components and a third party app to build up and run together. The integration and ease of use is a big selling point for the Max360. It's the best radar detector for the masses who want an easy to use package, especially if they don't know much about radar detectors in general but still want all the bells and whistles.
Even if you like a more advanced experience and more fine tuned control over the nuances like I do, there's really something to be said for taking a break from things sometimes and having things just work without having to focus on things, use so much brainpower, and remember to plug in additional accessories like cell phones. Everything just kinda works on its own and that's pretty refreshing sometimes.
Buying a Max360
Buying from Amazon: If you want a Max360, there's two ways I'd recommend getting it. The standard way is to buy the Max360 from Amazon. You'll typically get it discounted and pay less than full retail. Just be sure that you buy it directly from Amazon and not from a third party seller, this way you get a warranty from Escort. Make sure that it says "Ships from and sold by Amazon.com" when you buy.

Buying direct from Escort: The second option is to buy the Max360 direct from Escort. You'll pay the full retail price of $649 $499, but the benefit is that you'll get a speeding ticket guarantee meaning that if you get a radar or laser ticket in the first year of ownership while running the Max360, Escort will cover the ticket. Some restrictions apply and they don't also cover any insurance premium hikes or points to your license, but this additional layer of protection in case you get a ticket may offer some additional peace of mind. It's up to you which way you want to go. Click here to buy the Max360 direct from Escort with the speeding ticket guarantee.
Full Disclosure
I've tested multiple Max360's so far. All were retail units. The first one was one of the first production units that RDF member @dcpatters sent me. He purchased a detector and sent it to me unopened for testing. Thank you! I've purchased a Max360 retail myself and have been running it for years. I've also had a chance to test other people's 360's as well. The links in this review are affiliate links so I do make a percentage if you buy, but I haven't been compensated in any way for this review and as always, whether or not money is involved, I make a point to give you my objective and unbiased review of every detector, both the good and bad, so you can make an informed decision. Thank you for reading my Escort Max360 review!
This website contains affiliate links.

Click here to read my affiliate disclosure.
Summary
Reviewer
Review Date
Reviewed Item
Author Rating





Product Name
Price
Product Availability