Dashcams are awesome to pair with a radar detector. They'll let you record your saves so you can go back later and review how things went and even share your saves with others.
They're also good in case of an accident, a hit and run, to record license plates around you, and just for your general protection in case anything crazy happens around you.
You can also use the to monitor your car when you're parked as well in case anything happens while you're gone. Additionally, if you go on road trips through beautiful places, you can share clips of your drives with your friends!
Dashcams are different than normal cameras or actioncams like GoPros. These are dedicated cameras that are designed to be permanently installed in your car, they automatically turn on and off with your car, and they're always there in the background when you need them. They're more like set-it-and-forget-it cameras.
I'm curious which ones are the best so I'm regularly testing new ones. There's no possible way I can test every single one in existence, but I like to focus on some of the best and highest rated ones out there. Dashcams are available with different features and below are some of the very best I've tested yet at different pricepoints.
Basic Inexpensive Dashcam: Black Box G1W-CB ($59)
If you simply want a dashcam to record video for you, one of the best bangs for the buck and most popular cameras you'll find are the G1W-C series cameras. They're consistently rated well, offer high quality 1080p video footage, have an LCD on the back to make it easier to frame the camera, change settings, or playback footage, and the price is hard to beat. If you go for cheaper cameras, video quality drops considerably, and so this is basically one of the best inexpensive cameras you'll find that also offers good video quality. If you want an inexpensive dashcam, get this one.
There's a couple different versions of this camera. I recommend the version with the capacitor (G1W-C) which does better in high temperatures like the inside of a car in summer and then getting the black version of the camera (G1W-CB) to make the camera more stealthy and less visible to anyone outside your vehicle.
The camera comes with the suction cup windshield mount and cigarette lighter power cable you'll need, but it doesn't include a memory card so you'll need to get one of those. I'd also recommend picking up a hardwire kit to create a more clean and permanent wiring job in your vehicle.
High Quality Video at an Affordable Price: TaoTronics 2K TT-CD06 ($99)
This one kind of surprised me. I hadn't heard of TaoTronics before, but I've been really impressed with the video quality and overall design of the camera. It shoots at 2K (higher res than 1080p) and the button layout on the bottom makes it the easiest dashcam to operate in practice. It's super simple to start/stop recording, enable/disable the mic, manually mark a video clip for later retrieval, or even snap a photo of anything ahead of you.
The video footage is pretty fantastic and things look nice and crispy. In fact it's better than some other cameras at double and triple the price (granted those do have other fancy features). It's easy to read details like license plates, particularly in the daytime and at night when your headlights or street lights are lighting things up. The camera itself is pretty compact (many are more wide), it has an LCD on the back, and while it doesn't offer GPS or WiFi, many people just want a camera to record good quality footage in a variety of conditions and it does this well. There is a startup and shutdown chime that I wish you could disable, but once you're in your car, it's pretty quiet. The camera comes with a quick release mount for easy removal and remounting. The mount that I have produced a lot of annoying vibration sounds that ruins the audio in the video so the company sent me a replacement camera and the second one was much better and didn't have the same issue. As it should, the mount is nice and solid now as well.
The camera ships with a cigarette lighter power cable that also leaves a slot open to charge your cell phone too. It also comes with the needed cable tucking tools so you can easily tuck the power cable behind your vehicle's trim for a cleaner looking installation. Also unlike some other cameras, it ships with a 32gb card and while it's helpful to have a larger card or multiple just in case, it's nice to have everything you need already included.
All in all, it's the best $100 I've reviewed to date.
Great Quality Dashcam with optional GPS: VanTrue OnDash R2 ($130-150)
If you'd like to get excellent video quality across the board, both day and night, or optionally add GPS information to your dashcam to see where you've been or display your speed on screen, you can step up to the VanTrue OnDash R2. It has a similar form factor to the G1W-CB with the LCD on the back, except it offers higher resolution video (2K instead of just 1080p) for better detail, and the video quality is some of the best I've seen from any dashcam. The mount can introduce some vibration into your final video, but it's not as bad as I initially thought so it's for that reason that I've been running this as my daily dashcam for a little while now.
The camera doesn't have GPS built-in so you'll need to pick up an optional GPS suction cup mount ($22) if you want that functionality. It also doesn't include a memory card so I'll link you to one of those as well. As usual it comes with a cigarette lighter power cable for easy installation or you can use an optional hardwire cable for that clean and slick install.
Front and Rear dashcams for driving and parking: Blackvue DR650S-2CH ($379) & Power Magic Pro ($24)
This is the do-it-all camera that I run in my car full-time. It's a two channel dashcam meaning you have both a front and a rear camera for complete coverage on both sides of your car. It records in 1080p up front and 720p out the rear. It has a nice stealthy black design, both cameras record onto one memory card for convenience, there's GPS built-in so you can optionally record your speed and where you drive, and unlike most cameras, it can seamlessly transition between driving and parking mode so that it's always keeping an eye out for you.
The parking mode can record continuously and can also mark events when it senses motion and/or an impact to your vehicle. The next time you get into your car, a voice will come on and say "An impact was detected in parking mode." You can then pull out your phone, watch the event through the app over wifi, and save that video for later. This is hugely helpful to make for a well-rounded camera. When parked you're running off of your car's battery so you'll want an accessory like the Power Magic Pro which will monitor your car battery and will let your camera record only until your battery voltage is at a high enough level. If it starts dropping too far to the point where you'd have issues starting your car next time, it will go ahead and shut off your camera.
It also has some cloud support like if you're parked near a wifi hotspot at work or at home, it can send a notification to your phone in real time when it detects an impact, you can view the footage in realtime through your phone, you can access saved recordings remotely, and so on. I find this to be a little gimmicky in practice once the novelty wears off, but it is reassuring to be able to remotely see what's going on in your car if you like.
The video quality of the camera is pretty good. I've seen other cameras with better all out video quality, but this camera's main appeal is that it offers the complete package of front and rear protection, automatic transitioning between driving and parking modes, all with a nice stealthy black design and that's why I run it in my car.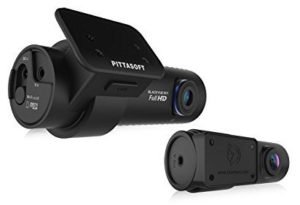 Finally, if you don't want to depend on your car's battery and put it through the extra load of constantly draining it to some extent while parked, you can also take a look at a dedicated external battery for your dashcam. I use the Blackvue B-112 which gives me 9 hours of recording time on my DR650S-2CH when running both front and rear cameras with wifi on or 12 hours of recording time with just the front camera and no wifi.