Amazon Prime Day 2018 is here! Amazon is going giving discounts for Prime members on all sorts of fun stuff.
You can sign up for a free 30-day trial of Amazon Prime here.
I'll keep this post regularly updated on the best deals on both radar detectors and dashcams so check back regularly. (Prime Day runs from Monday at 3pm EDT/12pm PDT to Tuesday 11:59pm EDT/Wed 2:59am PDT.) This'll be my centralized location to post all the best deals in one place as they pop up.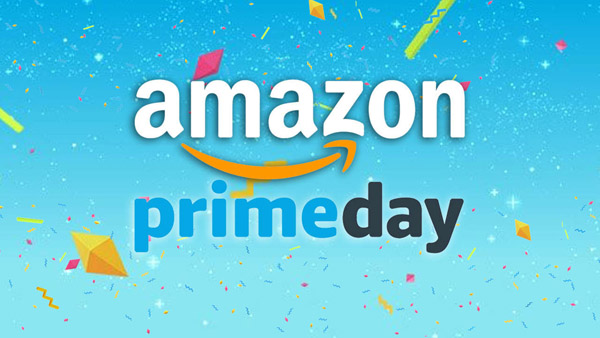 Note: Amazon is crashing today and lots of stuff isn't working…
Radar Detectors: Best Prime Day 2018 Deals
Beltronics GT-360 ($299, originally was $549)
The Beltronics GT-360 is like a reskinned Escort Max360 at an even lower price point. It offers the same performance, automatic GPS lockouts, redlight camera alerts, bluetooth for Escort Live, as well as arrows, but it looks different and is over $100 less than the Max360. You can read my complete GT-360 review here.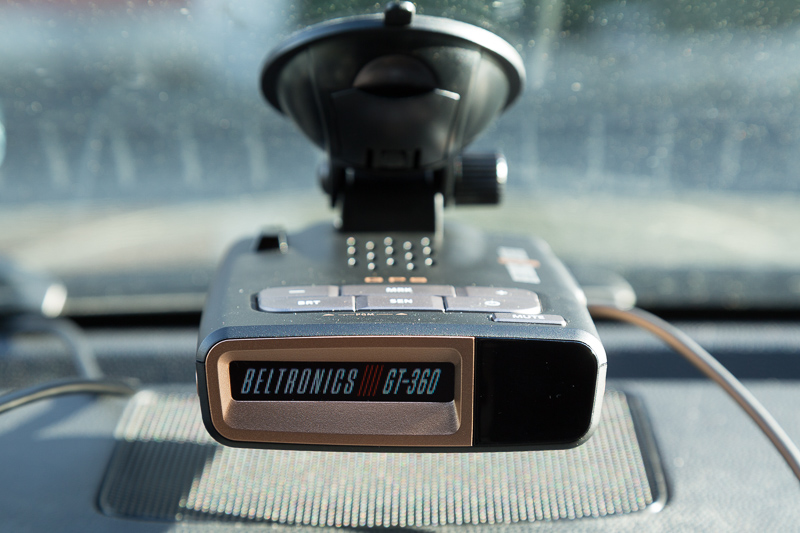 I like the design and arrows of the Max360 better, but at $299, you're not going to find a more affordable detector with arrows, much less with the bluetooth and autolockout functionality that you normally only see on detectors that cost hundreds of dollars more.
Purchase the Beltronics GT-360 here.
Escort Passport Max2 (22% off)
Escort just released a long awaited firmware update for the Max2 to significantly improve its BSM filtering capabilities and with this update, we have a detector that offers reasonable range, good BSM filtering, automatic GPS lockouts (so it can filter out speed signs and automatic door openers), alert you to redlight cameras and speed cameras, and pair with your phone so it can share alerts in realtime with other drivers.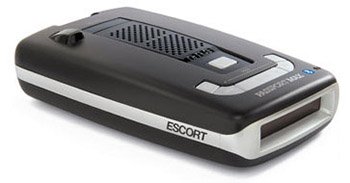 The Max2 is now 22% off, dropping from $354.85 to $298.99 which is a good deal on an easy to use plug-and-play radar detector.
Purchase the Escort Passport Max2 here.
Radar Guns: Best Prime Day 2018 Deals
Bushnell Velocity K Band Radar Gun (20% off)
If you're looking for an inexpensive radar gun for testing purposes, check out the Bushnell Velocity. It's a handheld K band radar gun intended for sports (ie. measuring the speed of a baseball being thrown or a car going down the track), but it's also great for radar detector testing. You can put it in a car on one side of the road (use a rubber band to lock down the trigger) and then drive towards it in another car and see how much range your radar detector will give you. Compare different detectors, see what kind of range you'll get in your typical terrain, see how different filters affect detection range, and so on. For Prime Day, it's discounted by 20% which drops the price down from (an already low) $77.99 down to $62.39.
Purchase the Bushnell Velocity here.
Dash Cameras: Best Prime Day 2018 Deals
Click here to see ALL the Dashcams available for Prime Day.
Single Channel (Front Only) Dashcams:
Aukey DR02 Dashcam (25% off)
If you're wanting a budget dashcam, Aukey has their DR02 dashcam discounted for Prime Day. It's a wedge-shaped 1080p dashcam with an LCD screen on the back for viewing footage and configuring the camera. For Prime Day, it's available for 25% off from $69.99 to $52.19.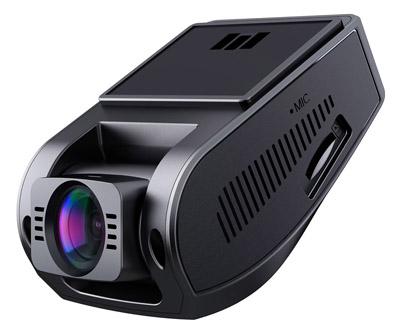 Purchase the Aukey DR02 Dashcam here.
Aukey DR01 Dashcam (25% off)
If you'd like to save a little more cash, the DR01 will also be going on sale soon. It also records at 1080p and has a different form factor and mount. It also has the LCD on the back and for Prime Day, it's 25% off, dropping down from $57.99 to $43.49.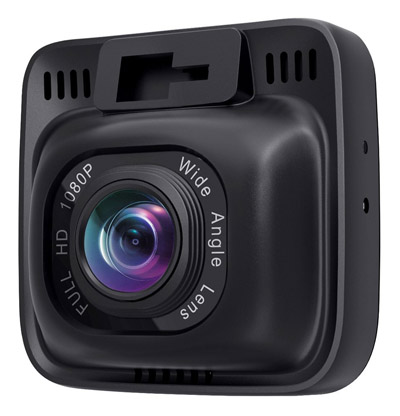 Purchase the Aukey DR01 Dashcam here.
Blueskysea B1W (25% off)
If you don't want the LCD on the back, take a look at the Blueskysea B1W. It's a popular budget dashcam with a tube-shaped form-factor. It records at 1080p and offers WiFi to connect to your phone. Something pretty clever is the lens can be rotated around so you can have the camera record everything up ahead or have it record inside your cabin instead. For Prime Day it's 25% off, dropping from $54.99 to $41.24.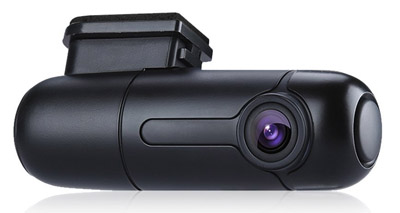 Purchase the Blueskysea B1W here.
Roav C1 Pro Dashcam (29% off)
If you'd like a dashcam with higher quality and more bells and whistles, take a look at the Roav C1 Pro. I've gone one that I've run for a little while now. It records at 1440p, up from 1080p, adds WiFi to pair with your phone and download video clips, GPS to track your speed, and an LCD touch screen to control the camera.
Video quality is pretty good, but the memory card can be difficult to remove and personally I prefer dedicated buttons on the back which are easier to find by feel while driving instead of the LCD's touch screen. Nevertheless, if you'd like a higher resolution dashcam (with memory card included), the C1 Pro is on sale for 29% off its normal price of $105.99 down to $74.99.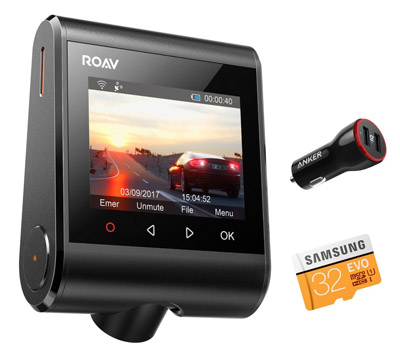 Purchase the Roav C1 Pro Dashcam here.
Vantrue X1 Pro (41% off)
Another 1440p dashcam to look at is the Vantrue X1 Pro. The form factor is different and GPS is an option feature that works via an upgraded suction cup mount, but this is a great way to get a high resolution dashcam for very little money. For Prime Day it's only sale for 41% off, dropping the price down from $134.96 to $79.99.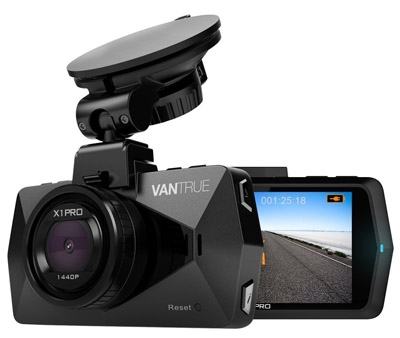 Purchase the Vantrue X1 Pro here.
Dual Channel (Front and Rear) Dashcams:
Rexing V1LG (30% off)
If you'd like a 2-channel dashcam to record both the front and rear of your vehicle, the Rexing V1LG is on sale for 30% off. It adds a second smaller camera that aims out your rear window for more complete coverage. The front camera records at 1080p, the rear at 720p, it has an LCD on the back for adjusting settings and viewing footage, and it has GPS integrated built in to its wedge-shaped body. This is a very affordable way to get a 2-channel dashcam.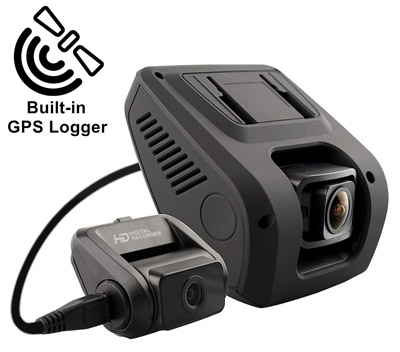 Purchase the Rexing V1LG here.
Vantrue N2 Pro (27% off)
If you drive for Uber or Lyft, you'll probably want a dashcam that can also point inside your cabin and record your passengers too. One of the best options for this is the Vantrue N2 Pro. It features one front facing camera and a second that points rearward into your cabin. Both cameras can record at Full HD 1080p and if you'd like to run the front camera only, it can record up to 1440p. For Prime Day the camera is discounted to 27% off from $200 to $146.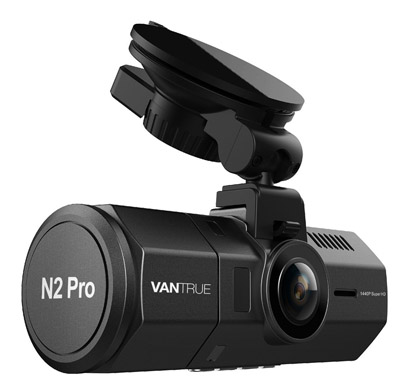 Purchase the Vantrue N2 Pro here and use the coupon PRIMEVNP to save 27%.
Pruveeo C2 Dual Dashcam (36% off)
The Pruveeo C2 also comes with two cameras, one facing forward and a second that can be pointed inside your cabin, and it's larger and more conspicuous to your passengers than the VanTrue if you'd like something more obvious. Both cameras can record at 1080p for full HD recording. If you want to run just one camera, it'll record at up to 2196p. The LCD on the back makes it easy to change settings, aim your cameras, and view your footage. It normally retails for $108.99, but for Prime Day it's 36% off at just $69.99.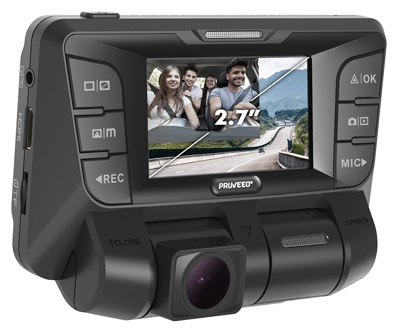 Purchase the Pruveeo C2 Dual Dashcam here.
Bonus Prime Day 2018 Deals
Amazon Echo Dot ($29, usually $49)
Okay, not a countermeasure, but one of the most insanely useful things ever that I use all the time.. the Amazon Echo Dot. I use mine to start my coffee in the morning when I wake up, check the weather, play music, and turn off the lights at night. We're buying a house soon and I picked up several more while they're this heavily discounted so I'll have them everywhere. They're awesome.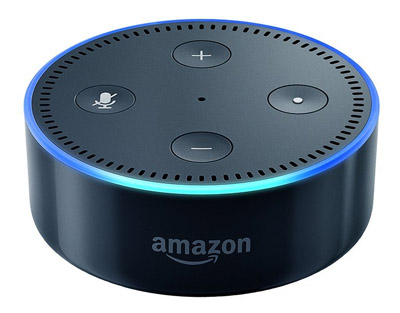 Purchase the Amazon Echo Dot here.
This website contains affiliate links.

Click here to read my affiliate disclosure.